Quinoa chickpea patties are perfect for brunch, a light lunch, or meatless meal. With just 3 Weight Watchers Smart Points per patty, they're healthy and delicious! This quinoa recipe is vegetarian, gluten free, dairy free, and packed with protein. Grab your apron and come on in to my virtual kitchen to learn how easy this quinoa patties recipe is to make.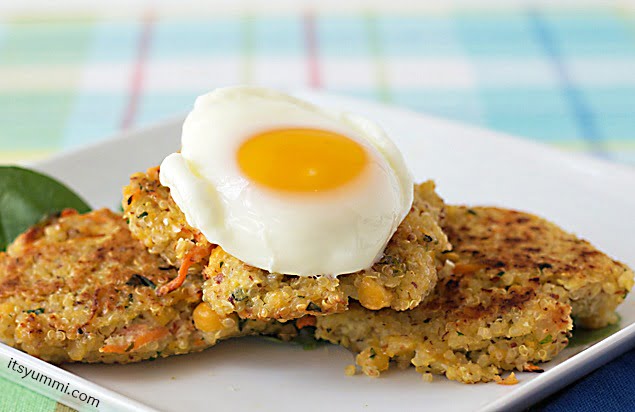 While St. Patrick's Day may be over, I'm keeping the spirit alive with patties of a different kind!
I've even decided to color outside the lines of my typical, very meat-loving food style with something from my meatless recipes box for you. I care enough to give up bacon for a day. That's true love, people! <3
I can see some of your faces getting all sad and frumpy looking right now. Come on gang, stick with me… please?!
I get that this dish isn't the kind of food you'd typically want to munch on while watching your favorite TV show, and it's definitely not going to curb your sweet tooth like my best ever brownies will, but we all need to eat healthy now and then.
And even though quinoa is one of those foods that seems too nerdy to hang around, I promise you that looks are deceiving! Quinoa is the super cool nerd! It's fluffy and because it's so light, it tickles your tongue a little bit. Plus, it's packed with nutrients and protein.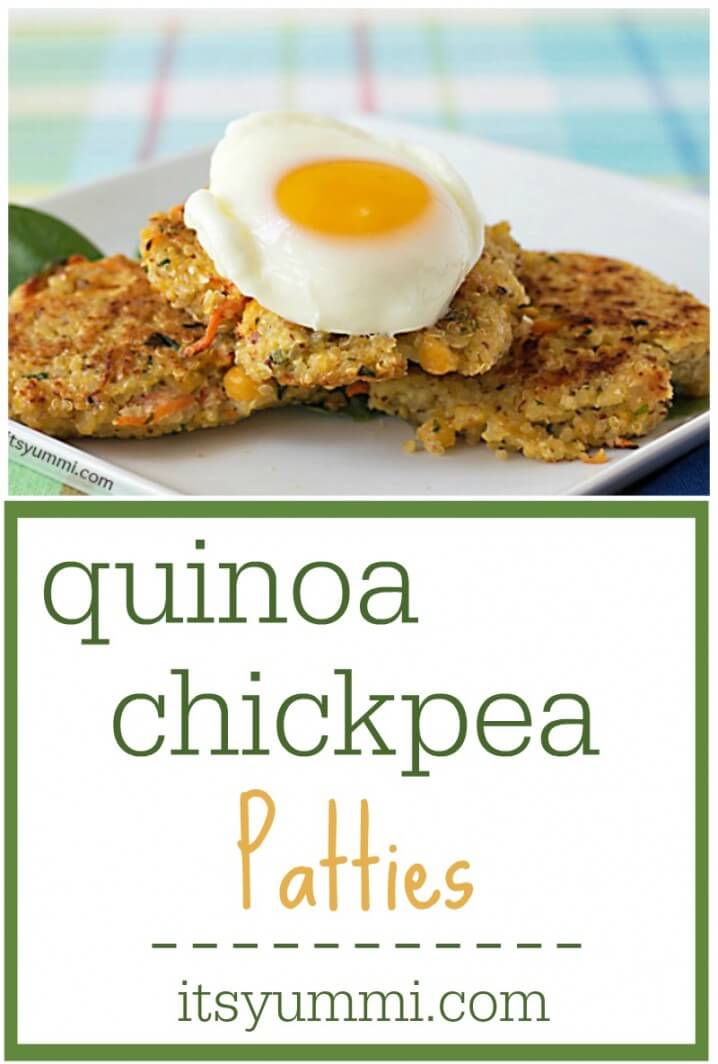 Quinoa's the new rice, and it'll keep your motor running. I recently used quinoa to make a batch of delicious fluffy quinoa muffins with asparagus and cheese. They'll be perfect for Easter brunch!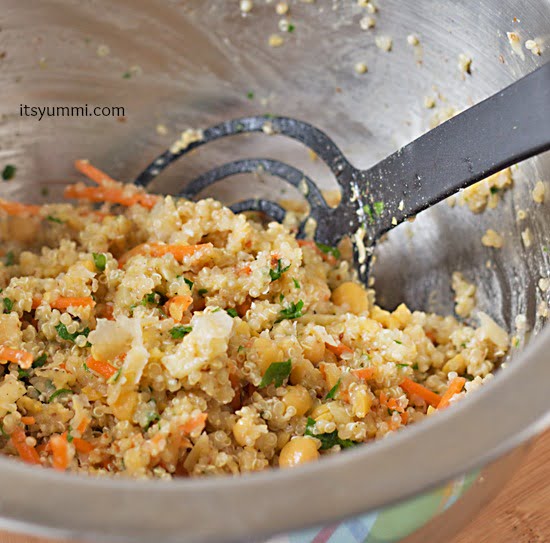 How to Make Quinoa Chickpea Patties
The mixture for the quinoa chickpea patties couldn't be any easier to whip up. Using canned chickpeas and pre-shredded carrots makes putting this together lightning quick, too!
I use organic products for the chickpeas and the quinoa in these patties, but I know that many of you are living under incredibly tight budgets, so don't fret if you can't afford them. That being said, I use canned organic chickpeas (also known as garbanzo beans), only costing an extra twelve pennies per can. Take a look the next time you go grocery shopping and you may find that some of the store brand products are available in organic varieties now. Many of them are just a few cents more per can than the regular generic products.
The quinoa will take about 20 minutes to cook. While it does, you can fix a nice salad to serve with these quinoa chickpea patties. Or, whip up some poached eggs or pesto to serve on top of them, which would taste amazing! My friend Kalyn's recipe for spinach basil pesto is delicious and would be perfect.
Are you ready to cook up some quinoa chickpea goodness?
I can taste the goodness already, and it's yummi!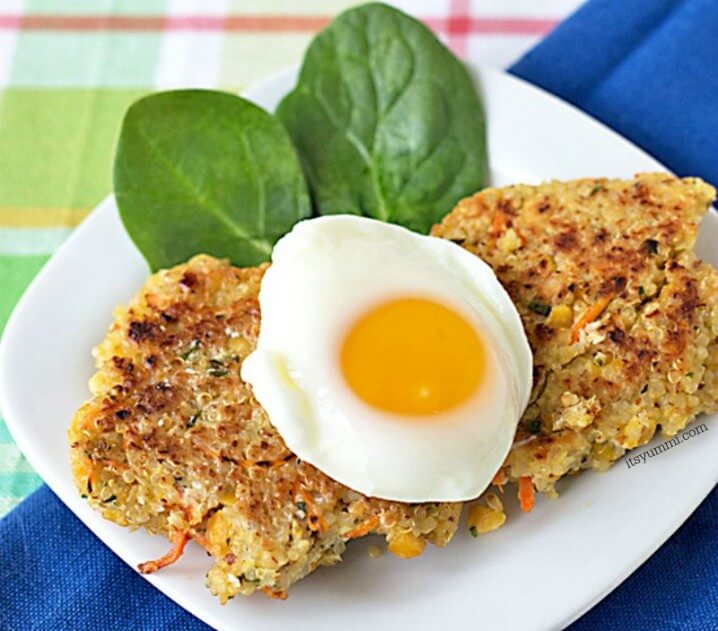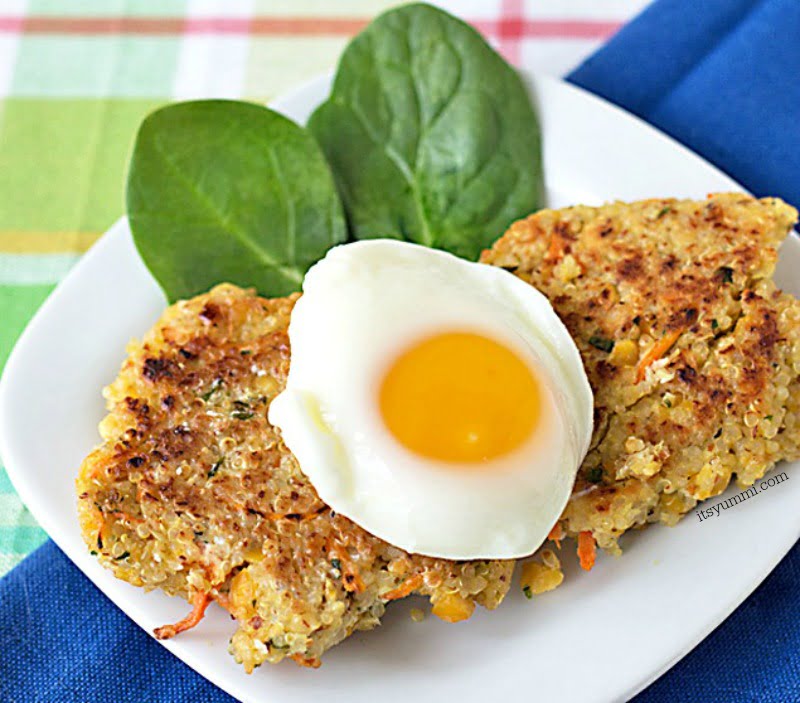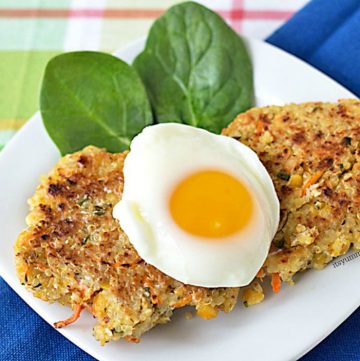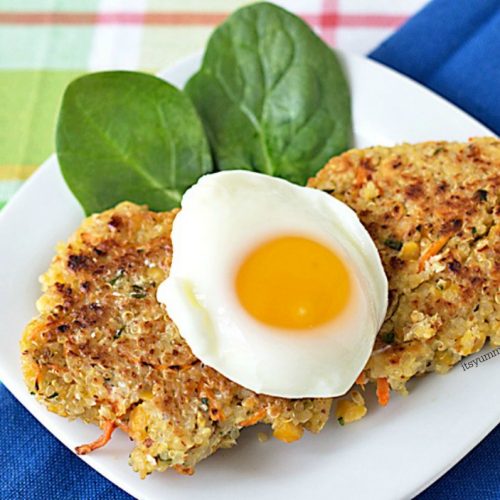 Quinoa Chickpea Patties
These quinoa and chickpea patties are delicious and packed with flavor and healthy benefits like fiber and protein. They're vegetarian, gluten free, and dairy free.
Ingredients
2

Tablespoons

avocado oil or extra virgin olive oil

separated

1

shallot

minced

1.5

cups

(14 ounce can) cooked garbanzo beans

½

cup

superfine almond flour or gluten free bread crumbs

1

cup

cooked quinoa*

½

cup

grated Parmesan cheese

½

cup

grated carrots (about 1 medium size carrot)

¼

cup

fresh parsley

finely chopped

2

eggs

beaten

1

Tablespoon

red wine vinegar

¼

teaspoon

kosher or sea salt

¼

teaspoon

freshly cracked black pepper
Instructions
Place 1 teaspoon oil in a small saute pan over medium heat. Saute the shallots until softened and sweetened, about 5 minutes, stirring occasionally. Remove from heat.

In a large mixing bowl, mash the beans with the back of a fork. Add the cooked shallots and remaining ingredients and use a spoon to combine well.

Gently form into patties about 1/2-inch thick and 3 inches across. In a heavy cast iron skillet (do NOT use a non-stick pan or the patties won't brown), heat remaining olive oil over medium-high heat.

Cook patties until golden brown and crisp, about 3 minutes per side, reducing heat if they're browning too quickly.
Serving Suggestion:
Top patties with a poached egg, cracked black pepper, and scallions to serve. Also great topped with tomato salsa or spinach pesto!
Notes
* 1/2 cup uncooked quinoa = 1 cup cooked quinoa Weight Watchers Smart Points (based on Freestyle program) per patty = 3
Nutrition
Serving:
2
patties
Calories:
1557
kcal
Carbohydrates:
165
g
Protein:
71
g
Fat:
70
g
Saturated Fat:
18
g
Cholesterol:
358
mg
Sodium:
1961
mg
Fiber:
30
g
Sugar:
25
g