These lasagna roll ups are filled with sweet Italian sausage, spinach, ricotta cheese, and a zesty marinara tomato sauce. They're just as comforting and filling as traditional lasagna, but they're a lot easier to make and they take less time to bake!
Confession:  I'm a horrible procrastinator.  Wait…that didn't sound right.  I'm not horrible at it.  Actually, I'm a great procrastinator.  Stellar, really. This post should have been written two weeks ago.  But I procrastinated and now here we are, almost at the end of the year.  Wait. I can explain.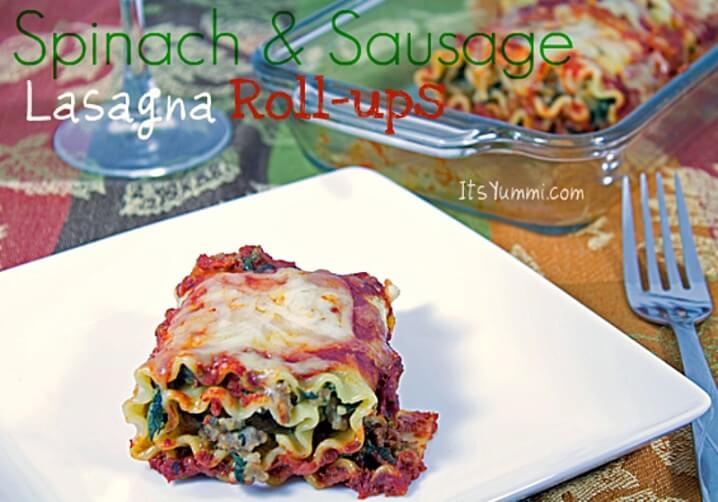 I had a huge burst of kitchen energy the week after Thanksgiving, and I spent most of it in the kitchen cooking and baking.  I even took some great photos. But then the memory card from my camera went missing for a few hours and as I was looking for it, I noticed that it was snowing.  Snow depresses me, friends.
Why do I live in Wisconsin?  It's all about the cheese and the greatest football team in the nation, baby!
Anyhoo, I got all bummed out about the snow, so I decided to curl up under a comfy blanket and listen to some Moody Blues.  'Cause there's nothing better than listening to depressing music when you're depressed.
M'kay, maybe not.
So I ended up falling asleep for a nice afternoon nap, after which, I woke up feeling like I could eat an entire slow cooker full of Italian beef.
When I opened the door to the fridge, these little lasagna roll ups were the first thing to call my name and wave at me. So the gorgeous bundles were eaten before I had a chance to take photos of them.
Fast forward 2 weeks and I made another batch of them. This batch. Which didn't turn out nearly as pretty as the first time, but dang, they sure were delicious!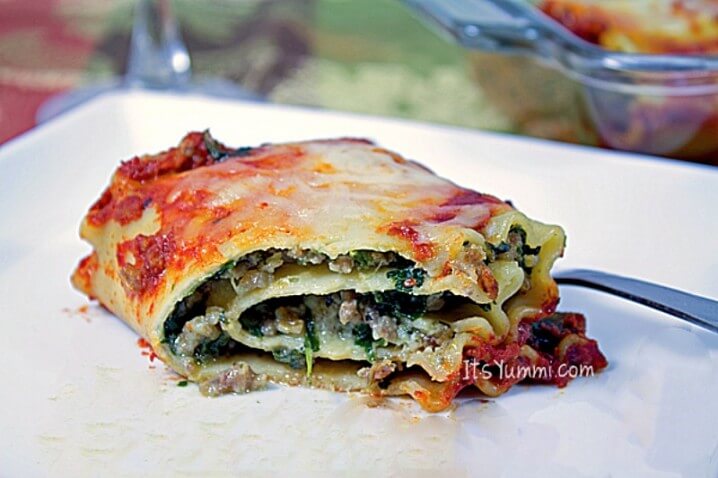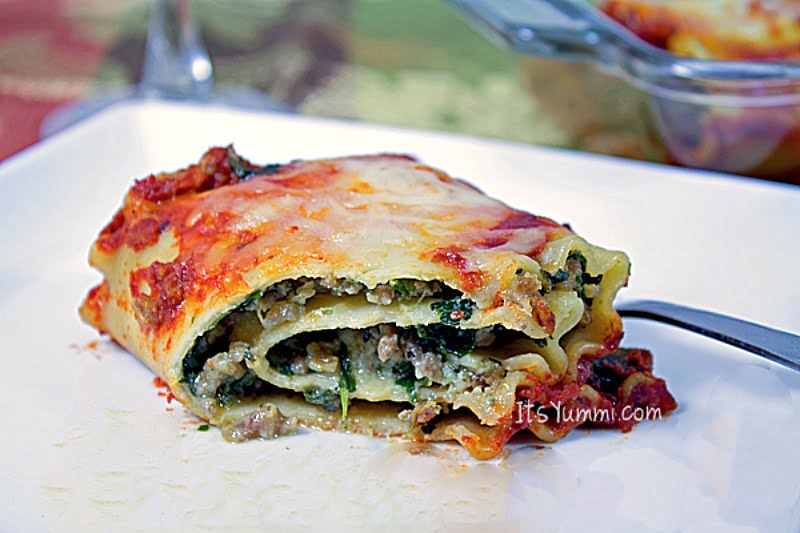 Lasagna roll ups are the perfect comfort food when you're cold, depressed, and stuck in a horrible rut of procrastination.  Or just when you're feeling awesome and just looking for something delicious to eat for dinner.
Whichever.
Whatever you do, don't forget dessert. I recommend some key lime cheesecake, or if you're into chocolate, how about a double chocolate bundt cake. It's topped with my fabulously famous 3-ingredient chocolate ganache (made without heavy cream!)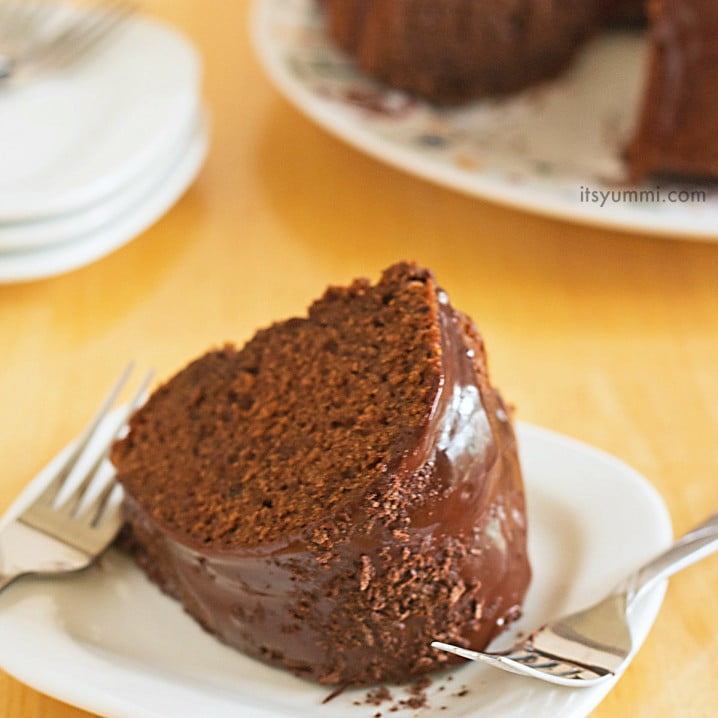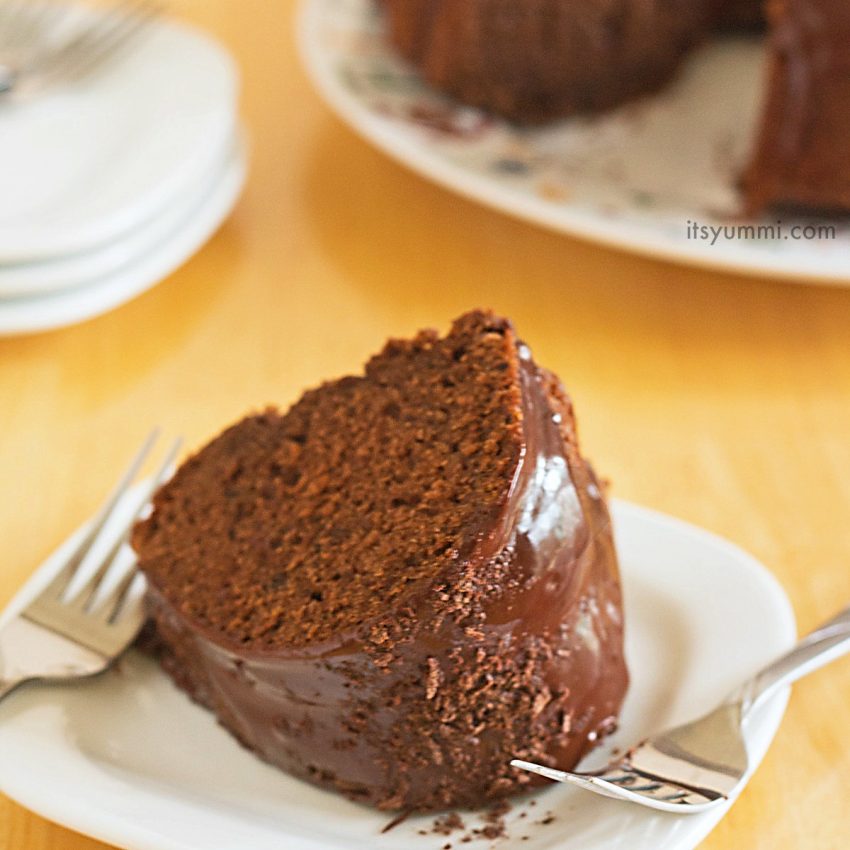 OK. Now back to this lasagna recipe.
What fillings will you use in your lasagna roll ups?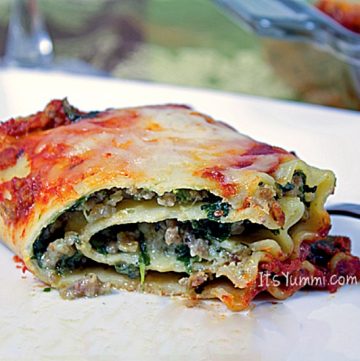 Sausage Lasagna Roll-ups
Tender lasagna noodles are filled with sweet Italian sausage, spinach, ricotta cheese, and a zesty marinara sauce.
Print
Pin
Rate
Ingredients
8

lasagna noodles

,

cooked al-dente

1

pound

ground sweet Italian sausage

1

Tablespoon

extra virgin olive or grapeseed oil

10

oz

frozen chopped spinach

,

thawed and completely drained

8

oz

fat free ricotta cheese

1/2

cup

grated Parmesan cheese

1

egg

salt and fresh pepper

32

oz

marinara sauce (homemade or jarred)

1

cup

part skim mozzarella cheese

,

shredded
Instructions
Preheat oven to 350°.

Ladle about 1 cup marinara sauce on the bottom of a 9 x 12 baking dish.

Heat oil in a 12-inch skillet over medium high heat. Add sausage and cook until browned and no pink remains. Remove from heat, drain, and let cool slightly.

Combine cooked sausage, spinach, ricotta, Parmesan, HALF of the mozzarella, egg, salt, black and red pepper (if using), in a medium bowl.

Place a piece of wax or parchment paper on the counter and lay out lasagna noodles. If necessary, pat noodles dry with paper toweling.

Take 1/4 cup of sausage mixture and spread evenly over one noodle. Repeat until all noodles are covered. Roll each noodle carefully and place seam side down into the baking dish.

Ladle sauce over the noodles in the baking dish. Sprinkle remaining 1/2 cup of mozzerella cheese over noodles.

Cover and bake for 25-30 minutes, or until cheese melts.
Notes
Recipe adapted from Dainty-Chef.com
http://dainty-chef.com/2012/06/spinach-lasagna-rollups.html
Recipe Nutrition
Nutrition Facts
Sausage Lasagna Roll-ups
Amount Per Serving
Calories 67
Calories from Fat 27
% Daily Value*
Fat 3g5%
Cholesterol 12mg4%
Sodium 184mg8%
Carbohydrates 5g2%
Protein 4g8%
* Percent Daily Values are based on a 2000 calorie diet.