Sheetz Breakfast Menu Prices in 2023
Sheetz's breakfast menu is everything you need a breakfast to be with piping hot good food.
Primarily, Sheetz breakfast contains all the essentials, made uniquely – Shmiscuit, Shmuffin, and their breakfast bagel – Shmagel.
You may order a croissant, or a Walker breakfast ranger with bacon, eggs, onions, and guac.
Those who seek a fuller breakfast could order Sheetz's classic breakfast platter with meat, eggs, and other toppings.
Sheetz serves an uber-famous range of breakfast burritos, starting from their classic Grande burrito to Western burrito and sausage, egg & cheese burrito.
Don't worry. Sheetz breakfast does include your favorite mini hashbrowns and French toast sticks.
Sheetz also serves another popular range of breakfast items – Breakfast – Eat Shmart.
Now, this range consists of four unique breakfast options.
You may enjoy their Farmhouse Flatbread, the Kickin' Chicken, Wildwest flatbread, and Protein showdown with flatbread, cheese, and egg white.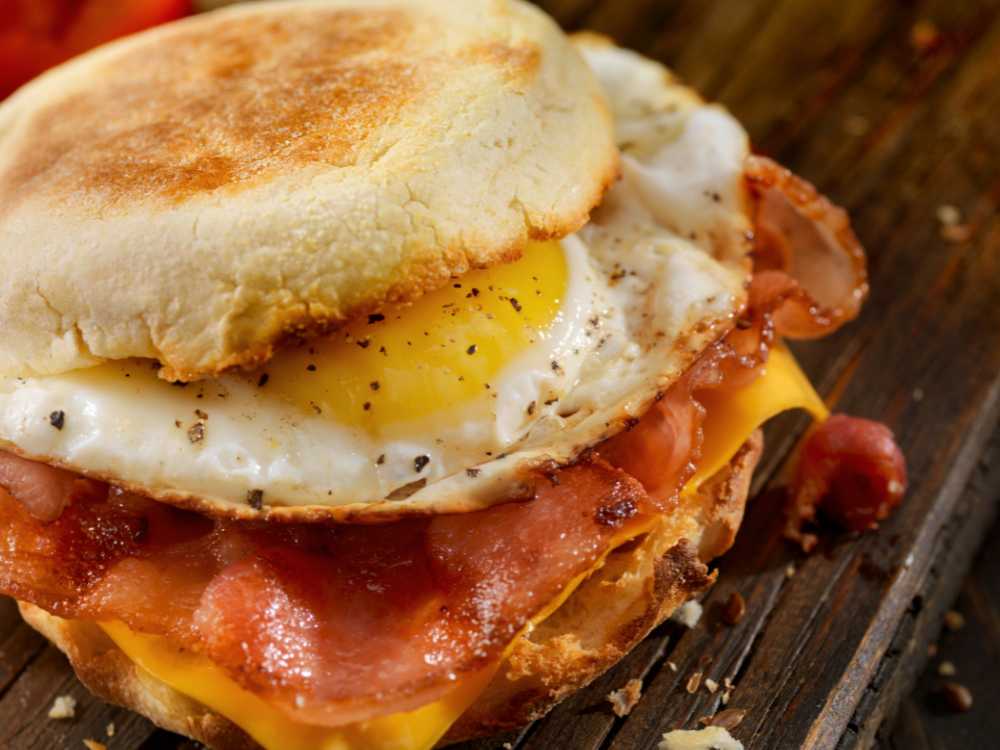 Sheetz Breakfast Items
Sheetz Breakfast Sausage Biscuit
Sheetz's Shmiscuit is their fan-favorite breakfast biscuit. This comes to you with eggs, sausage (or any other meat), eggs, and cheese.
Customization is at your discretion with toppings, meat, and your choice of cheese.
Sheetz Breakfast Sandwich
Sheetz has a couple of breakfast sandwiches.
Their Kickin' chicken breakfast sandwich consists of an English muffin, pepper jack cheese, chicken sausage, and egg white.
Sheetz Breakfast Pizza
Sheetz breakfast pan pizza comes with cheese and pepperoni and in many sizes.
Sheetz Breakfast Menu
(prices are obtained from Grubhub.com)
| | |
| --- | --- |
| Items | Price |
| French Toast Sticks | $3.49 |
| Mini Hashbrowns | $2.49 |
| Bacon, Egg, And Cheese Burrito | $2.49 |
| Sausage, Egg, & Cheese Burrito | $2.49 |
| Grande Burrito | $5.79 |
| Western Burrito | $2.49 |
| Walker Breakfast Ranger | $4.59 |
| Classic Breakfast Platter | $6.29 |
| Shmagel | $4.19 |
| Croissant | $3.49 |
| Shmiscuit | $3.49 |
| Shmuffin | $3.49 |
Breakfast – EatShmart
| | |
| --- | --- |
| Items | Price |
| Wildwest Flatbread | $3.99 |
| Protein Showdown | $4.59 |
| Farmhouse Flatbread | $4.59 |
| Kickin' Chicken | $4.39 |
Does Sheetz Sell Breakfast All Day?
Absolutely. Sheetz's all-day breakfast is such an amazing feature to have.
No matter what time you walk in, if you're craving any of their breakfast items, feel free to order them.
Sheetz's all-day breakfast is available throughout the week from Monday to Sunday.
Sheetz Breakfast Hours Serves and Stops
Sheetz doesn't have standard breakfast hours. Instead, Sheetz serves breakfast all day round.
Most Sheetz restaurants are open 24 hours every day.
Since Sheetz never ceases serving breakfast, you get this amazing opportunity to order breakfast anytime you wish from Monday to Sunday.
FAQs
Does Sheetz Have Pre Made Breakfast Sandwiches?
Actually no. Sheetz serves made-to-order breakfast sandwiches every day rather than pre-made ones.
How Much Are Mac and Cheese Bites At Sheetz?
Sheetz mac and cheese bites may typically cost you about $3.49.
Does Sheetz Have Scrambled Eggs?
Of course. Sheetz serves scrambled eggs on their menu.
You could order scrambled eggs with your breakfast platter as well.
What Kind of Meat Does Sheetz Use?
Sheetz restaurant claims to use pure Angus beef that is fresh and juicy.
What Oil Does Sheetz Use For Fries?
Sheetz fries are fried to perfection using vegetable oil.
Does Sheetz Have Egg Whites?
Absolutely. Egg whites are an option in many breakfast items at Sheetz.
Is There Any Sheetz Pdf Menu?
That's gonna be a NO. Sheetz currently doesn't have its menu in PDF format.
How To Access Sheetz Secret Menu?
Go to the very bottom of the section – Hot Dogs and Brats.
Once you click on Hot Dogs and Brats, the section – Pop's Kitchen, will appear, written in water-marked letters.
Click on this to have access to Sheetz's secret menu.