Slow Cooker BBQ Sticky Rice
BBQ sticky rice is a fusion of flavors from Asian and the deep south. Sticky rice is typically found in Asian dishes, but this version has been kicked up southern style with a sweet and spicy BBQ sauce. Taken a step further, it's a snap to make in a slow cooker. Come on in to my virtual kitchen and I'll show you how to whip up some of this BBQ sticky rice!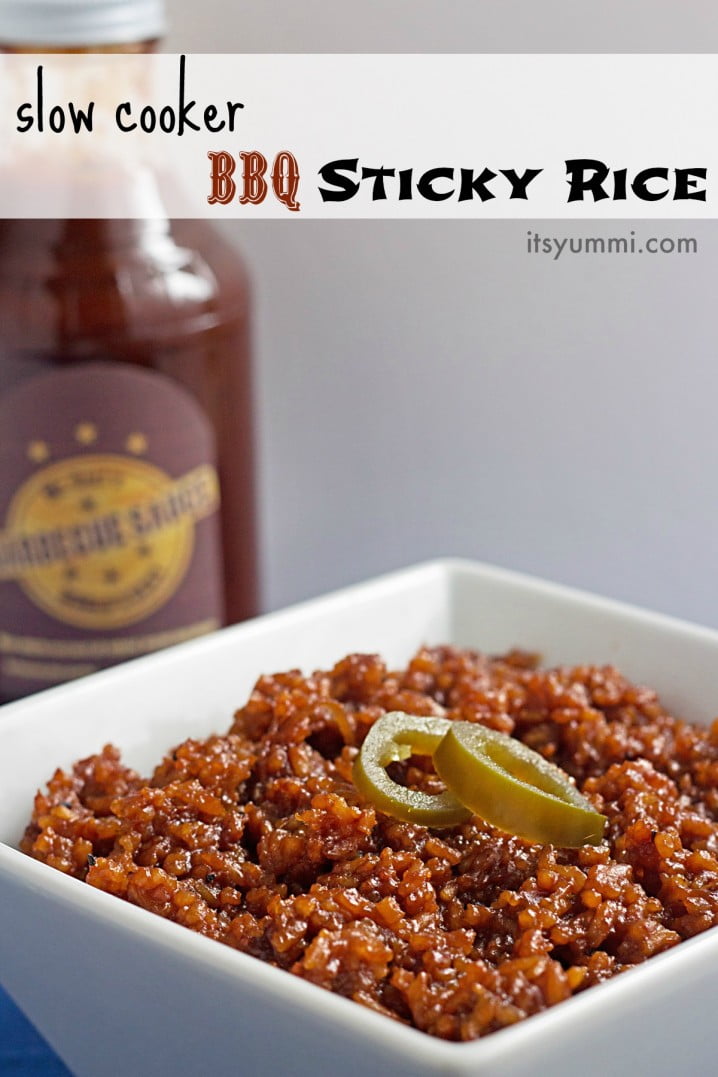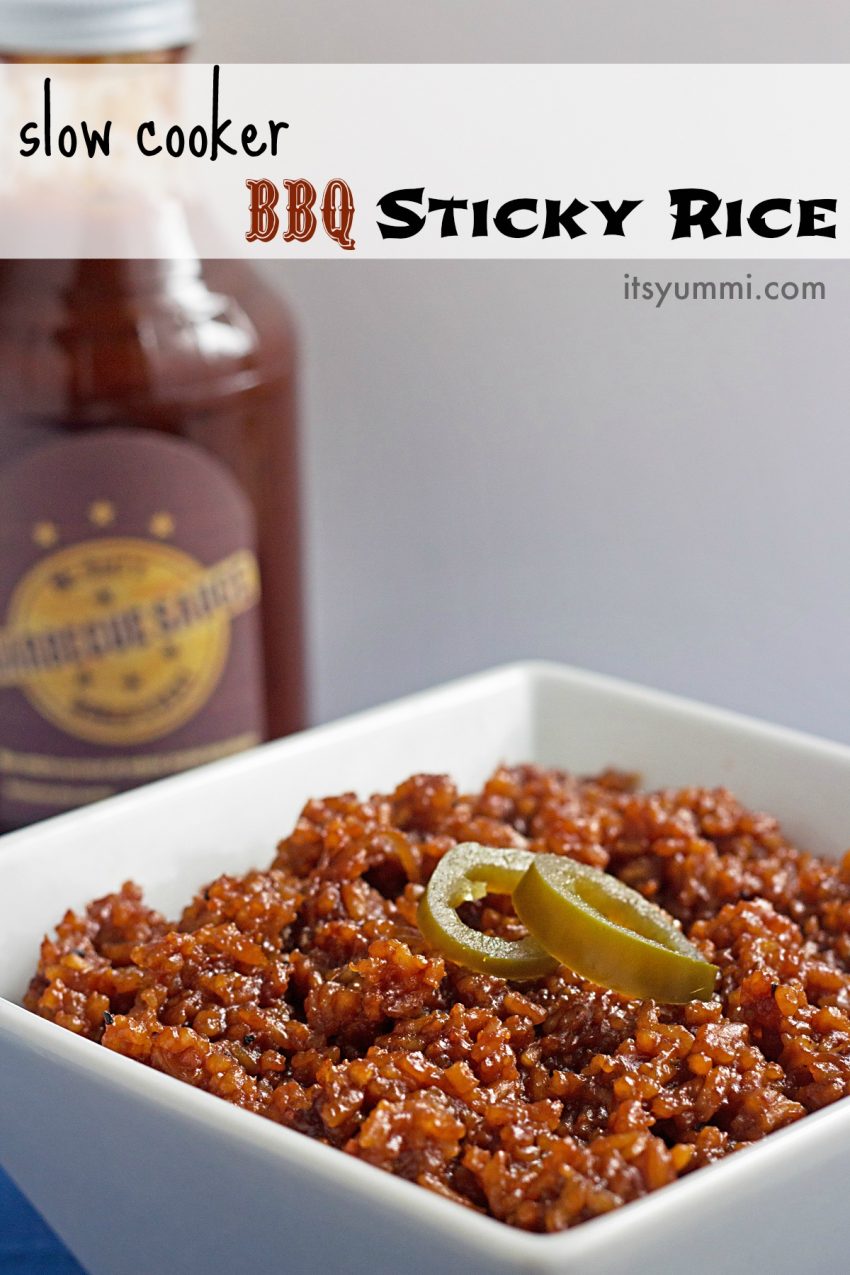 It's still hotter than Hades in northeastern Wisconsin, so I've been getting great use out of my slow cooker this week.
I love the slow cooker recipes I've created! CLICK HERE to see all of my slow cooker recipes.
I typically use my slow cooker in the fall and winter because it's so great for making soup, chili, and hearty dishes like my Italian meatloaf. I didn't realize until recently, though, that slow cookers are also amazing for use in the warm weather months. Seriously, how could I overlook the fact that I don't need to have my oven turned on to create a spectacular meal?
This BBQ sticky rice is a perfect example. It's a yummi side dish on its own, but you could add some chicken from the grill to it, or serve it up with ribs or a steak and you'll have a full blown meal that didn't over heat your house.Fabulous, right?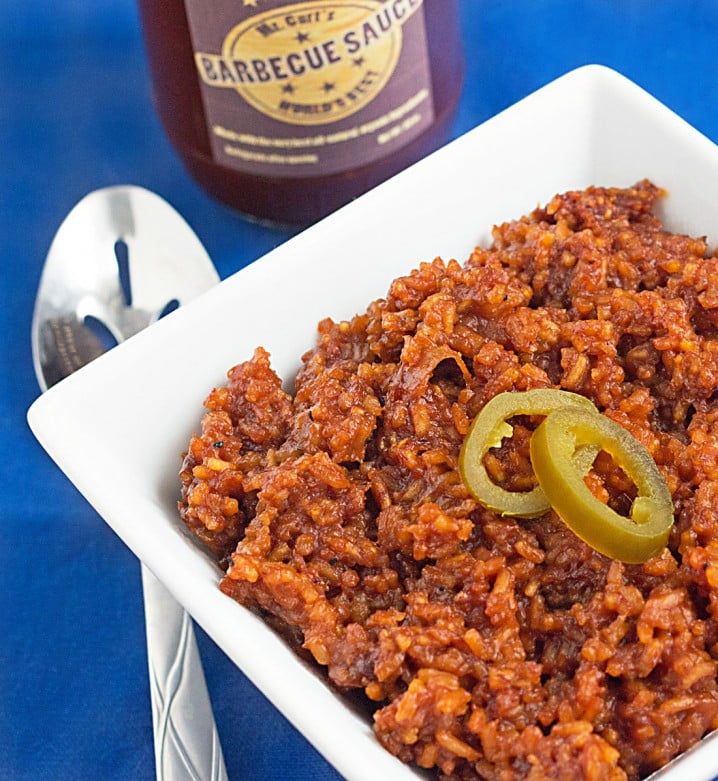 There's a secret to the awesomeness of this BBQ sticky rice, though.
It's in the barbecue sauce! I purchased it from my sweet blogging friend, Mary. She's the awesome woman and foodie behind "All Things Cooking with Mary & Friends". Her recipes are down home comfort food. They're easy to make and delicious to eat! Mary's husband Curt is the genius craftsman behind the BBQ sauce recipe. According to Mary, her husband worked for 20 years to perfect it, and I can taste every bit of that hard work in his creation.
It's sweet, but not too sweet, with just a touch of smoky flavor, and a gentle kick of heat right at the end. It's not overpowering or too vinegary like so many barbecue sauces are. It's got a smooth finish and a spunky flavor that I really wanted to just eat by the spoonful. It's absolutely delicious!
I hope you love this BBQ sticky rice!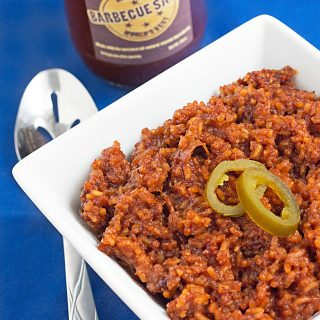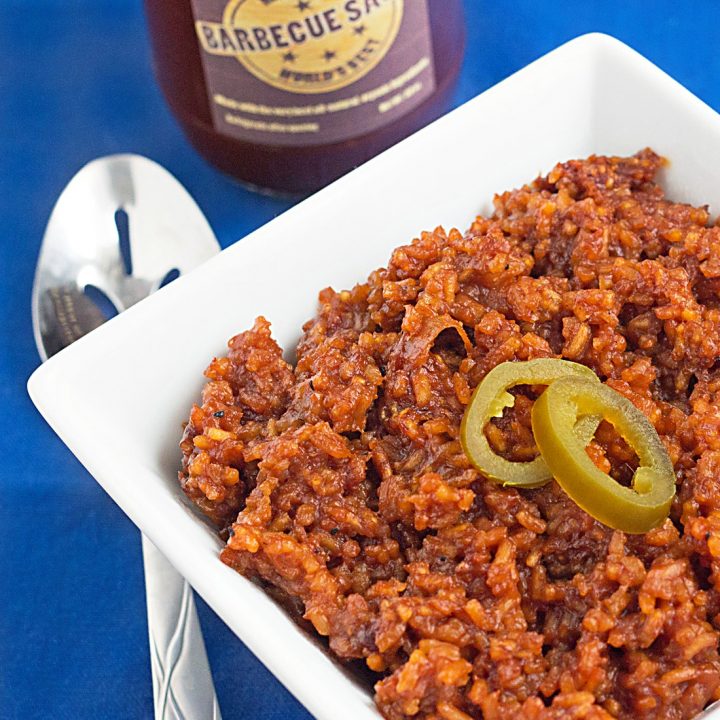 Slow Cooker BBQ Sticky Rice
Fragrant Jasmine rice is slow cooked and infused with the flavor of a sweet and spicy BBQ sauce. It's a flavor of the south meets Asian cuisine fusion that you'll love!
Ingredients
1

cup

uncooked short or medium grain rice. Instant and long grain rice are not recommended

as they don't contain enough starch to become sticky during cooking.

1

medium onion

finely minced (optional)

20

ounces

(2 liquid cups) BBQ sauce

4

ounces

(1/2 liquid cup) water

plus more if necessary
Instructions
Spray a slow cooker with non-stick spray or line with a slow cooker liner. Place rice, onion, and BBQ sauce, and water into slow cooker and stir to combine.

Set slow cooker to high and cook for 2-3 hours, stirring half way through cooking time. If rice appears dry and hasn't yet started puffing up, add 1/4 cup more water.
Nutrition
Calories:
2
kcal
Carbohydrates:
1
g
Sodium:
1
mg