Sweet and Spicy Bratwurst Chili Recipe
This 5-can "dump and go" sweet and spicy bratwurst chili recipe is made with Wisconsin bratwurst and it comes together so easily and quickly, you'll want to make it tonight! Slow cooker adaptable and freezer friendly, too!
UPDATE: All giveaways mentioned in this post have ended and giveaway forms previously embedded into this post have been removed.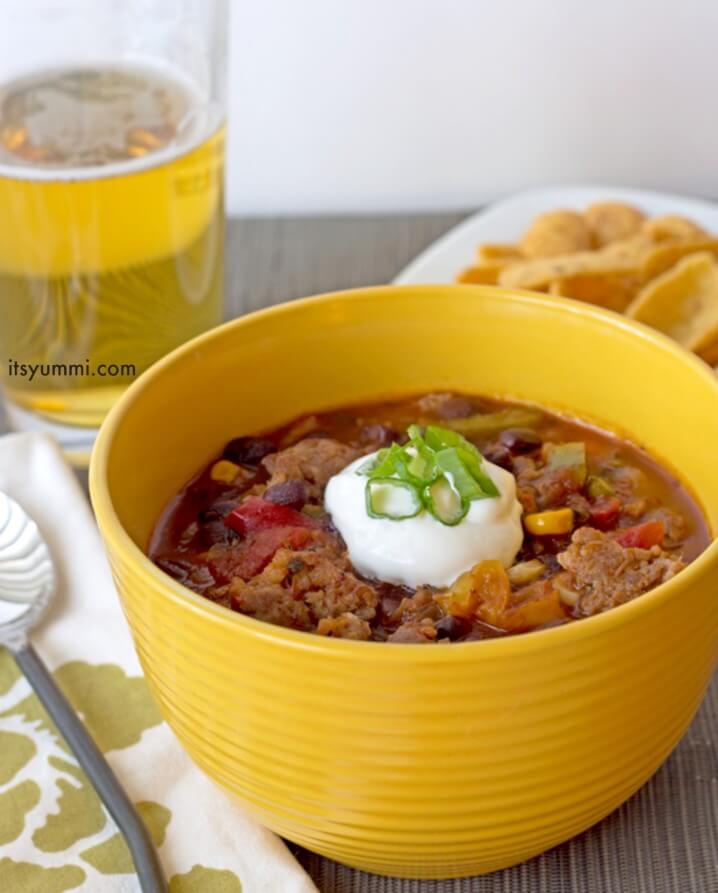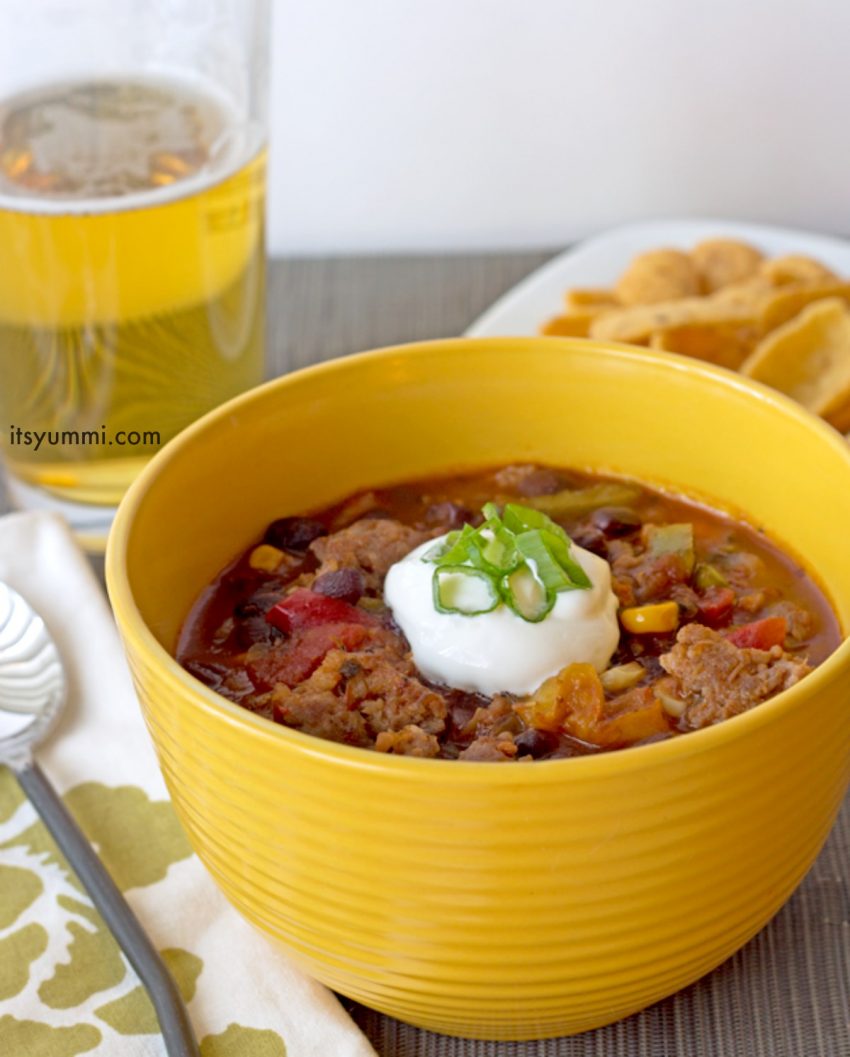 I can't believe my big 5-0 is TOMORROW!  Brian's planning to take the rest of the week off of work to help me celebrate, because he's leaving on a week long business trip on Monday.  He's my rock, and I love that he understands how much I'll miss him.  OKAY, maybe he just needs a break from work, but hey, I can pretend anything I want to about his reasoning 😉
TODAY'S recipes: My SWEET AND SPICY BRATWURST CHILI RECIPE (get the recipe below) , SARA made BROWN BUTTER HAZELNUT BIRTHDAY BROWNIES MONICA made BLUEBERRY CROSTADA These recipes are so good that your eyes may roll back into your head a little. No worries, though, because it's not permanent… the easiest cure is to make and eat them! Oh, and wait until you see the GIVEAWAY PRIZES that are up for grabs!  CRAZY GOOD! I'm SO happy that you're here to get in on this celebration! As a recap, here are the bloggers and brands that are celebrating with me this week: THE BLOGGERS
THE BRANDS
There'll be a whole new giveaway each day Monday through Thursday, so please stop back here each day to see what new prizes and recipes are up for grabs.
So here are the prizes up for grabs today:

THREE winners will each receive a copy of the book "50 Best Plants on the Planet" from Melissa's Produce Winner number 4 will receive a copy of the book"Surprise-Inside Cakes", by Amanda Rettke (the blogger behind "I Am Baker") Winner number 5 will receive their choice of a $25 Amazon gift card OR $25 Paypal cash *Disclaimer: I received a copy of "50 Best Plants on the Planet" with no obligation to review it. My thoughts and ideas on the book, and on Melissa's Produce, are my own. No additional compensation has been or will be provided.
Here's why today's giveaway is near and dear to my heart, and why will YOU will be just as excited about it as I am! Some of you may already know the full story, but for those who don't, I was given an amazing opportunity to attend a produce marketer's conference in New Orleans last October. While I was there, I had the good fortune and honor to meet and chat one-on-one with the CEO of Melissa's Produce. He was beyond generous with his time, and as we were wrapping up our conversation, he handed me a copy of their beautiful book, "50 Best Plants on the Planet".
It's not just any book, though. It's a produce encyclopedia with coffee table photography and produce inspired recipes all rolled into one GORGEOUS book. I've learned SO much about produce from that book, it's mind blowing. Living in Wisconsin makes it pretty difficult to get my hands on really great produce year-round, but the generous family at Melissa's have helped me out several times, sending me samples of hard to come by fruits and veggies.  They acquire and sell produce from their 280,000 square foot office, warehouse complex, and state-of-the-art CCOF/QAI Certified Organic Packing Facility.
WOW, right?! I hope that they'll invite me to visit their warehouse some day, because I'd love to take a tour and show you all some photos of how they're able to receive produce shipments from all over the world, including ORGANIC products, and have them arrive so beautiful and fresh when they arrive at their final destination…in my case, in the middle of a cold Wisconsin winter!  I buy most of my Melissa's products at Wal-Mart, but when I need something I can find, I head to their Web site and order it up.
I'm extremely impressed with the company's Web site. It's beyond easy to navigate and the resources available to visitors really "WOW" me. The site is updated monthly with recipes, food facts, and features that are easy and convenient to read, and really educational, too. I wish I known about Melissa's a LONG time ago, but now that I've found them, I'm quite certain that they'll have to file a stalking report to prevent me from hanging out on their website and social media pages. They're on Facebook, Twitter, Pinterest, and even Instagram! So if you have a shipping address within the United States of America, here's your opportunity to enter this amazing birthday giveaway.
Now let's move on to my delicious bratwurst chili recipe.
I should probably have titled this recipe "5-can dump it stew" or "lazy chef's chili" because although it's packed with flavor, making it taste like it stewed for hours, it literally takes 15 minutes to make.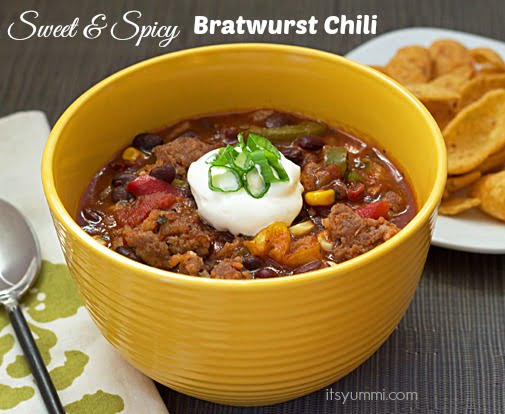 Oh, and if you're more of a traditionalist when it comes to chili, I've got a couple of other recipes that you'll definitely want to check out.
Turkey Chili Con Frijoles (with beans)
Chili Cheese Corn Dog Casserole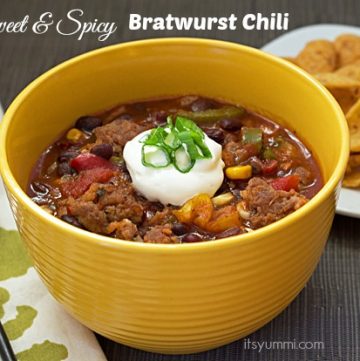 Sweet and Spicy Bratwurst Chili
Spicy bratwurst is combined with sweet fruit salsa, black beans, tomatoes, and a bit of heat to create this quick and easy dinner. 5 cans + 15 minutes = "dinner's done"!
Ingredients
1

medium onion

diced

1

medium green bell pepper

diced

1

garlic clove

minced

1

Tablespoon

salted butter

1

lb

uncooked ground bratwurst (or pre-cooked brats

diced)

16

oz

(2 cups) fruit salsa (I use Renfro's Pineapple Habenero)

16

oz

(2 cups) black bean & corn salsa (I use Newman's Own®)

12

oz

can cooked black beans

well rinsed and drained

2

chipotle peppers in adobe sauce

finely chopped

1

cup

frozen corn niblets

14

oz

(roughly 2 cups) diced Mexican style w/green pepper and onion or fire roasted tomatoes

8

oz

cranberry-apple preserves
Instructions
Melt butter in a large soup or stock pot. Add onions, peppers, and garlic and sauté until onions are translucent, about 3 minutes.

Add bratwurst and cook until it's browned, about 8 minutes.

Add remaining ingredients and bring to a boil, then reduce heat and simmer for 5 minutes.

Garnish with blue corn chips, green onions, shredded cheese and/or sour cream.
Notes
SLOW COOKER VARIATION: If you really want to, this recipe can be made in a slow cooker. Just brown the ground bratwurst and place it into a slow cooker with all of the other ingredients. Set it to low for a couple of hours and BOOM... you have dinner waiting for you when you get home.
Nutrition
Calories:
71
kcal
Carbohydrates:
8
g
Protein:
3
g
Fat:
3
g
Saturated Fat:
1
g
Cholesterol:
8
mg
Sodium:
264
mg
Fiber:
1
g
Sugar:
4
g