Strawberry Yogurt Cookies (Healthier Desserts Recipe)
Strawberry yogurt cookies are soft, chewy, yogurt-based cookies. They're a healthier desserts recipe that is low in fat and calories, but high in flavor and great taste!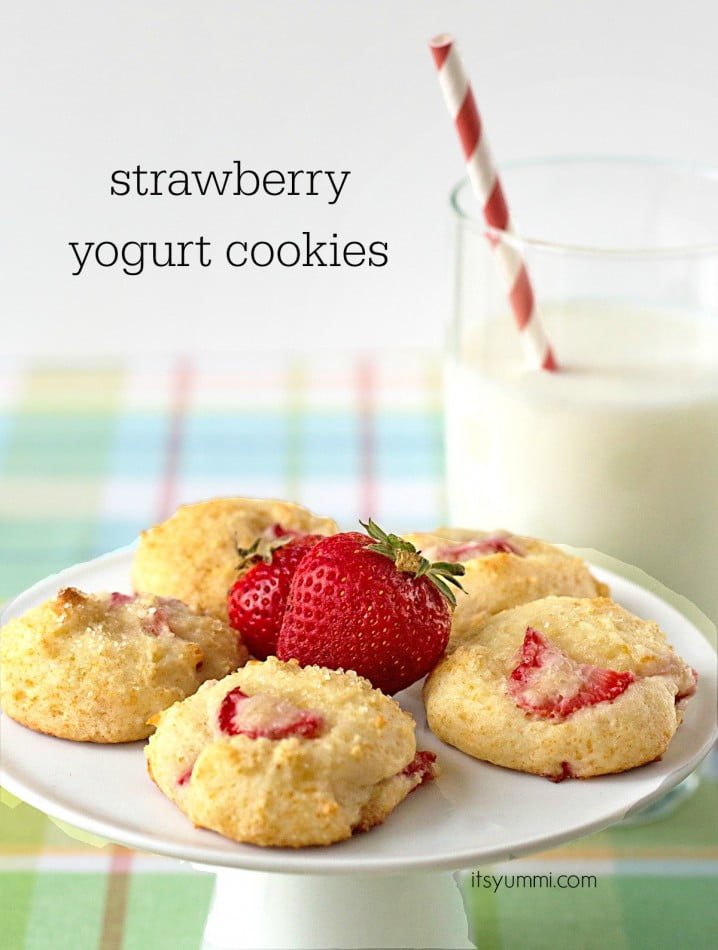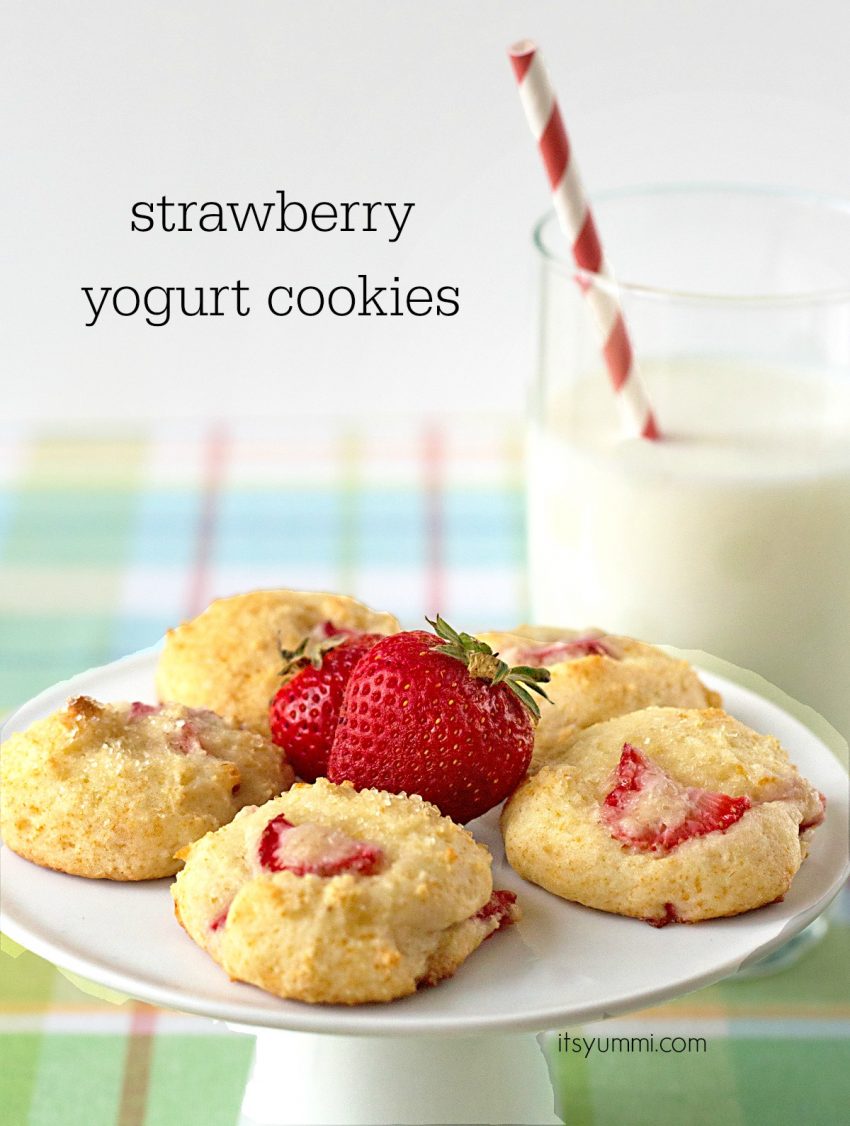 Are there times when living day-to-day life feels more like you're running a marathon? I feel that way a lot, but with Stonyfield yogurt's help and my recipe for strawberry yogurt cookies, I'm going to show you how to give your daily "run" a delicious boost of energy!
Disclosure: As a member of the Stonyfield Clean Plate Club, I received coupons for free product for this post. All opinions remain my own. Thank you for supporting the brands that help make this blog possible.
You may have heard me mention in other posts that I'm a proud member of the Stonyfield Clean Plate Club. I love the products, so it's easy to be a supporter of the brand. I'm super excited to announce that Stonyfield is one of the sponsors for today's Boston Marathon! Here's how they're getting involved:
They're sponsoring 10 runners who just missed the cut off due to this year's large amount of sign ups.
They're handing out hundreds of thousands of cups of organic yogurt on race day – to runners, their families, volunteers, etc.
They're giving away a bunch of healthy living themed prizes, including a year long gym membership on the day of the marathon! YOU can win too ~ simply tweet or instagram photos with the hashtag #StonyfieldSuperFan.
Gary Hirsherg, the co-founder of Stonyfield, expressed the passion of America's love and passion for the Boston Marathon perfectly when he said, "Like the members of Team Stonyfield, we felt compelled to participate in this year's race to show our deep love and support for the city of Boston and New England community. "We're so proud of our inspiring team and are excited to be working with the Boston Athletic Association to make this year's race a celebration of Boston's tremendous spirit and resiliency."
Stonyfield helps me fuel my daily marathon by giving me an affordable organic product that I can use easily every day. I add it to my morning smoothies. It's packed with protein, low in fat, and it's easily portable when I need to take it on the go. It gives a zing to smoothies, sauces, and salad dressings. When I was in culinary school, my baking instructor explained how Greek yogurt can be a great substitute for unhealthy fats like butter, oil, and sour cream in baked goods like cookies, muffins, and cakes. I was a huge skeptic that any cookie made with yogurt instead of butter would taste good, but oh my WOW, was I wrong!
My final exam for Science of Baking class was a cookie "makeover". I had to take a full fat, high calorie cookie and make it healthier by reducing the fat and calories by over 30 percent. Greek yogurt became my fat replacement, and the result was an amazing cookie transformation (and an "A" grade in the class!) To this day, I continue using Greek yogurt as a replacement for full fat products, not only in baked goods, but in all of my cooking.
One of my favorite yogurt-based recipes is my chilled cucumber soup. It's so refreshing on a hot Summer day!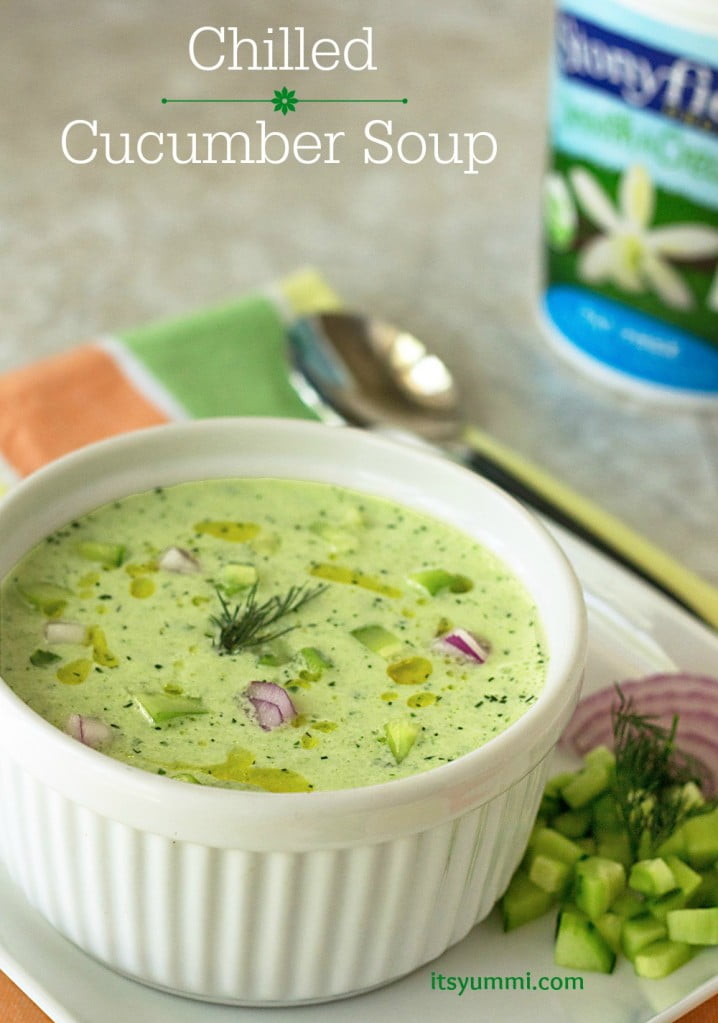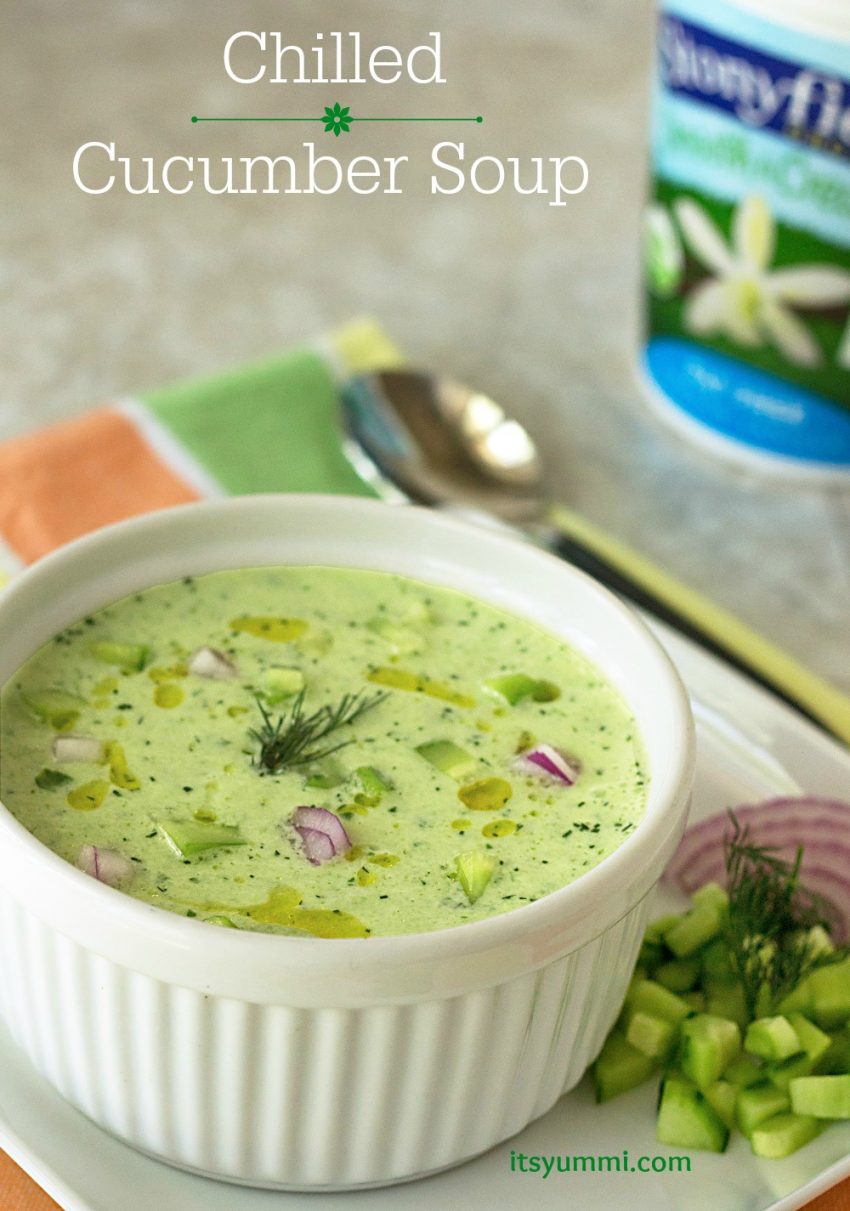 These strawberry yogurt cookies are a perfect example of how reduced fat dessert recipes can be moist and delicious!
The consistency is a cross between a muffin and angel food cake. The cookies are sweet and soft, with a little bit of chewiness, and they have a bright burst of flavor from the fresh strawberries. They taste amazing when they're warm, but I think they were perfect the next day, too, with a tall glass of milk.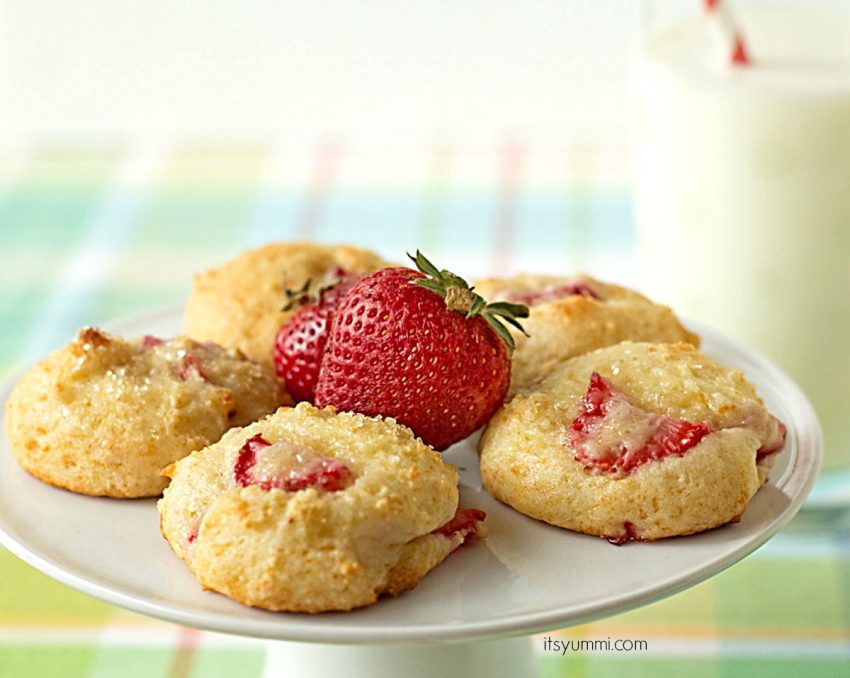 I hope you enjoy these strawberry yogurt cookies as much as I did!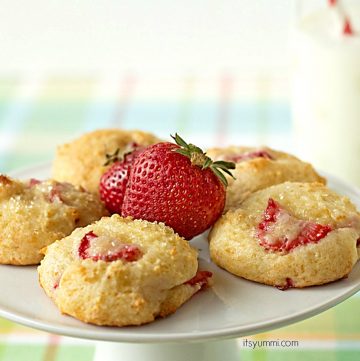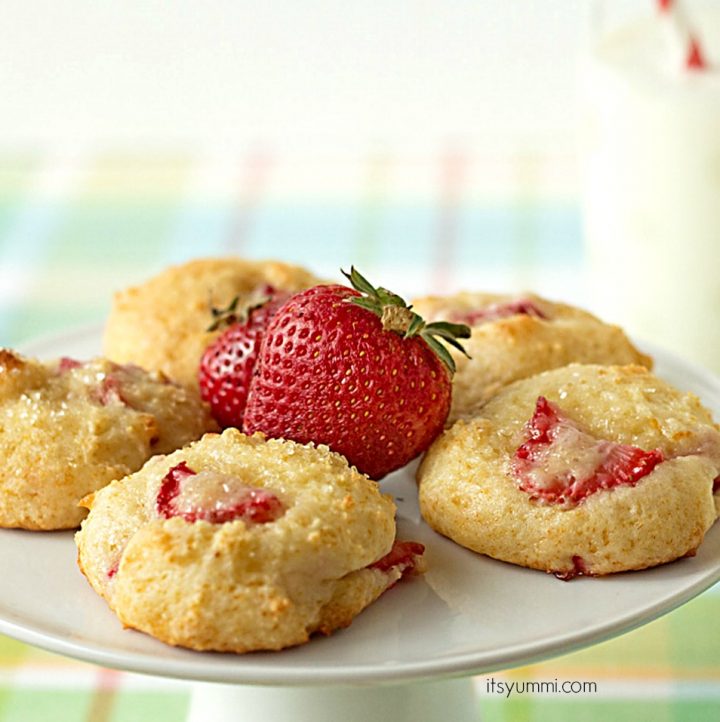 Strawberry Yogurt Cookies
These strawberry yogurt cookies are soft and chewy, low in fat and calories, but high in flavor and great taste!
Ingredients
1

cup

whole wheat pastry flour

¾

teaspoon

baking powder

¼

teaspoon

baking soda

⅛

teaspoon

salt

⅔

cup

Erythritol

⅔

cup

Greek yogurt

1

egg white

lightly beaten

1

lemon

zested

¾

teaspoon

fresh lemon juice

¼

teaspoon

vanilla extract

1

cup

sliced strawberries

¼

cup

sanding sugar

optional
Instructions
Heat oven to 375°F.

Line rimmed baking sheet with parchment paper or a silicone baking mat

In a medium mixing bowl, combine flour, baking powder, baking soda, and salt. Whisk together and set aside.

In a small bowl, whisk together sugar, yogurt, egg white, lemon zest and juice, and vanilla until fully combined. Add the flour mixture to the yogurt mixture and stir just until no flour lumps remain, but try not to over mix. Gently fold in the strawberries.

Drop dollops of batter, about 2 tablespoons in size, onto prepared sheet, about 1 inch apart. Sprinkle the tops of each cookie with a small amount of sanding sugar.

Bake for about 10 minutes, or until the edges barely begin to brown. Allow to cool slightly before transferring to a cooling rack, or serving warm.

If stored in an airtight container, cookies will keep for 2-3 days.
Nutrition
Calories:
36
kcal
Carbohydrates:
6
g
Protein:
2
g
Fat:
1
g
Cholesterol:
1
mg
Sodium:
57
mg
Fiber:
1
g
Sugar:
1
g