If you love the iconic Girl Scout Thin Mint cookies, you're gonna LOVE this recipe for Thin Mint Truffle Cupcakes!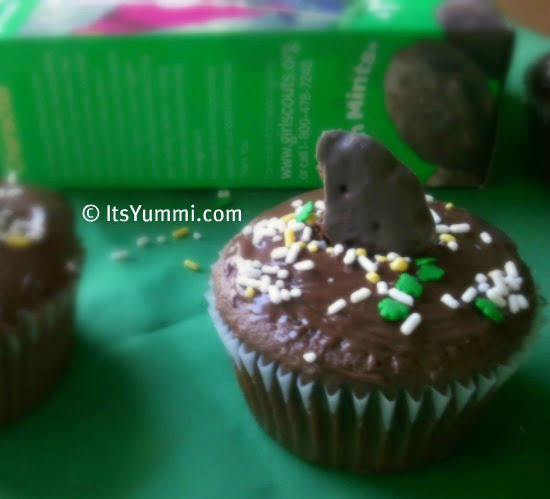 Confession:  In my forty *throat clearing growl* plus years of life on this Earth, I've never let one year slip by without indulging in a box or six of Girl Scout Thin Mint cookies.  Back in my girlhood, I was a cookie selling MACHINE.  I was the one who made all of the other green skirted girls sob their hearts out because they couldn't win the beloved cookie badge.  God bless the poor, defenseless soul that dared to walk in my path with a pocket full of change and a hunger for something sweet.  As I grew older, my craving for minty goodness increased to the point where I could smell the cookies baking WEEKS before those cute little girls even began to start selling!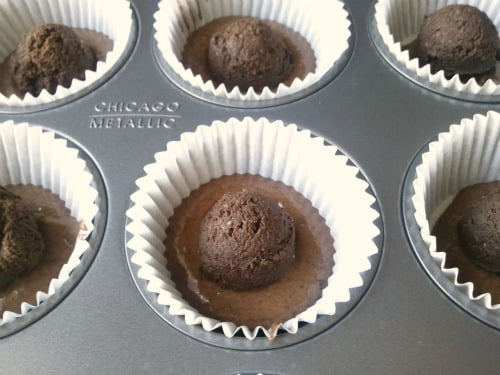 A few years ago, some genius at the Keebler Corporation who I'm convinced used to be a Girl Scout insider, created a Thin Mint knock-off, adorably named Grasshopper cookies.  They're as close to the real thing as a girl can get in the middle of summer, so I use them as backup once my stash of the original scout cookies has long been depleted from the back of my freezer (you DO know that's the best way to eat them, right?  Good.  Let's move on.)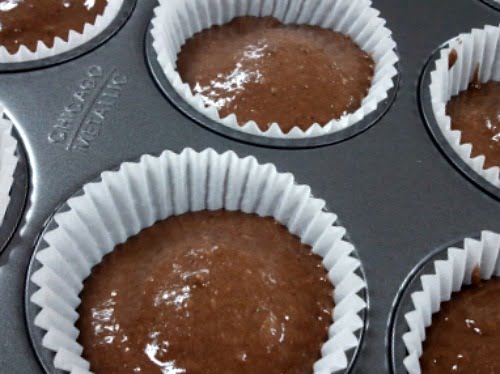 A week or so ago, when 99% of the food bloggers were preparing for St. Patty's day by posting yummilicious recipes for all things green & minty, yours truly was baking up a batch of sinful chocolate cupcakes with creamy, truffle-filled centers.  Umm….Why in the name of all good things did you NOT POST the recipe, Becca?  I'm SO glad you asked!!  I…I…  I have absolutely no idea.  But I'm making it up to you right now.  Indulge, my friends.  One bite of these cupcakes and I'm quite confident that you'll forgive me.  Just please promise me that you won't harm any Girl Scouts in your mad dash for mint cookies.  Grasshopper cookies are sold at nearly every corner convenience store.  Relax..everything is going to be fine.  Bake these now and you can thank me later.  🙂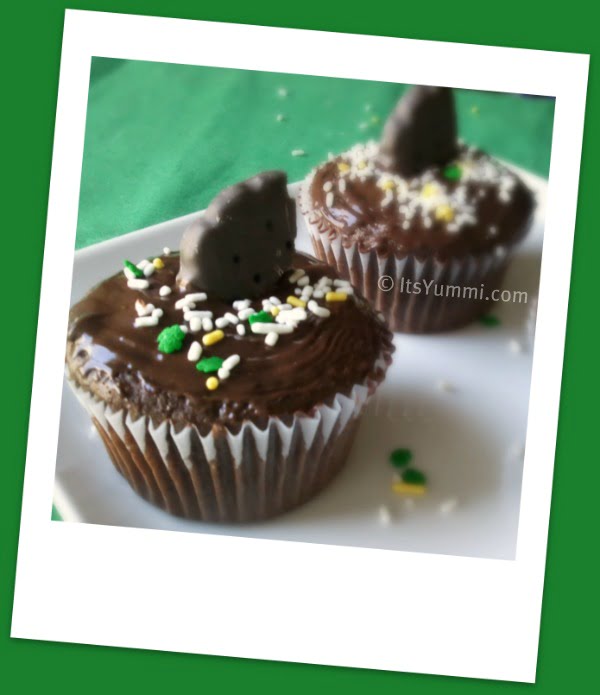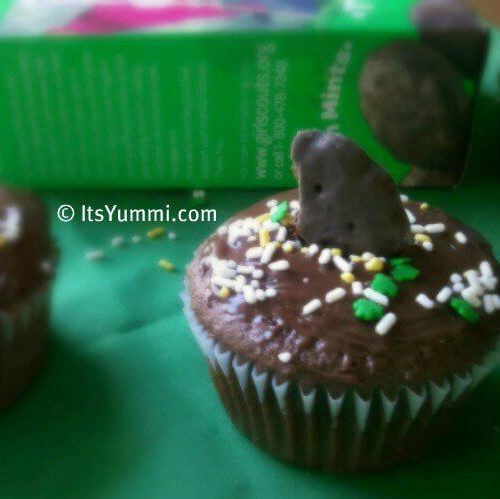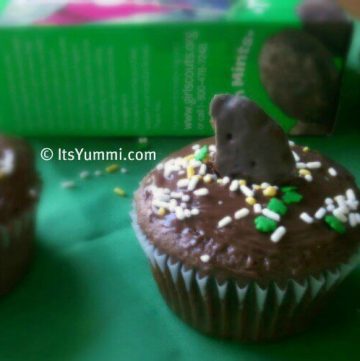 Thin Mint Truffle Cupcakes
Stuffed cupcakes with a chocolate mint filled made with Thin Mints cookies!
Print
Pin
Rate
Ingredients
TRUFFLE CENTERS
24

chocolate mint cookies (Girl Scout Thin Mints or Keebler Grasshopper)

,

finely crushed (I used a food processor)

4 1/2

ounces

chocolate cream cheese

,

softened (or plain cream cheese + 1 tsp cocoa powder)
CHOCOLATE CUPCAKES
24

chocolate mint cookies (Girl Scout Thin Mints or Keebler Grasshopper)

,

crushed

2

cups

flour

1

cup

unsweetened cocoa powder

1 1/2

teaspoon

baking powder

1 1/2

teaspoon

baking soda

1/4

teaspoon

salt

1 3/4

cups

sugar

1/4

cup

sour cream

1/2

cup

melted butter

,

cooled

2

eggs

1

cup

milk

,

any variety
CHOCOLATE PEPPERMINT GANACHE
3

oz

bittersweet chocolate

,

(chips or finely chopped bar)

1/3

cup

heavy cream

1

teaspoon

unsalted butter

3/4

teaspoon

peppermint extract
Instructions
Truffle Centers
Blend crushed Thin Mints and cream cheese until fully mixed. Shape into 1" balls, place on a baking sheet, and refrigerate while making the cupcake batter.
Cupcakes
Heat oven to 350 F. Line 24 cupcake wells with paper liners.

Combine flour, cocoa, baking powder, baking soda, and salt in a bowl. Set aside.

Beat sugar and melted butter together on medium speed until well combined. Add eggs and beat to combine.

Combine milk and sour cream together.

Beginning with the flour mixture, add flour and milk alternately with three additions of flour and two additions of milk mixture, beginning and ending with flour. Beat until just combined. Stir in the crushed cookies until combined.

Fill cupcake liners 1/3 full with batter. Place truffle into the center of each liner and top with more batter until 2/3 full. Bake for 19-26 minutes or until tops of cupcakes spring back when lightly touched.

Cool in pan on rack for 5 minutes, then remove from pan and transfer to a wire rack to cool slightly.

While cupcakes are still warm, make the ganache. Place chocolate in a medium to large bowl. Bring heavy cream, butter, and mint extract just to a boil. Pour hot cream mixture over chocolate and let sit for about 5 minutes. Stir until the mixture is smooth and glossy (may take about 3 minutes of stirring)

Dip the top of each cupcake into the ganache and turn upright or use an offset spatula to spread an even layer of ganache over the top of each cupcake.

OPTIONAL: While the ganache is still wet, decorate with colored sugar, sprinkles, or other toppings as desired.
Recipe Nutrition
Nutrition Facts
Thin Mint Truffle Cupcakes
Amount Per Serving (1 cupcake)
Calories 301
Calories from Fat 108
% Daily Value*
Fat 12g18%
Cholesterol 35mg12%
Sodium 334mg15%
Potassium 179mg5%
Carbohydrates 44g15%
Protein 4g8%
Vitamin A 270IU5%
Calcium 53mg5%
Iron 2.3mg13%
* Percent Daily Values are based on a 2000 calorie diet.