These tips for roasting a whole chicken or turkey will help you prepare your holiday bird with ease!
Thanksgiving is less than 2 weeks away, so it's time to bring out the arsenal of main dish recipes. Because so many people fix poultry for holiday meals, here are my tips for roasting a whole turkey or chicken.
Brian and I are a family of two, so we rarely roast a whole turkey. It's too much food, and besides the mess, we don't have much room for leftovers in our tiny refrigerator. If we're in the mood for turkey, I'll roast a turkey breast. But, truthfully, if you have the kitchen tools that OXO was nice enough to send to me, even in a tiny kitchen, you can roast a whole turkey with so much simplicity, it's incredible!
This #OXOTurkeyDay post was written on behalf of OXO. I was provided with free samples of several of their products in exchange for writing this post. All thoughts and opinions are my own. There are also Amazon affiliate links in this post.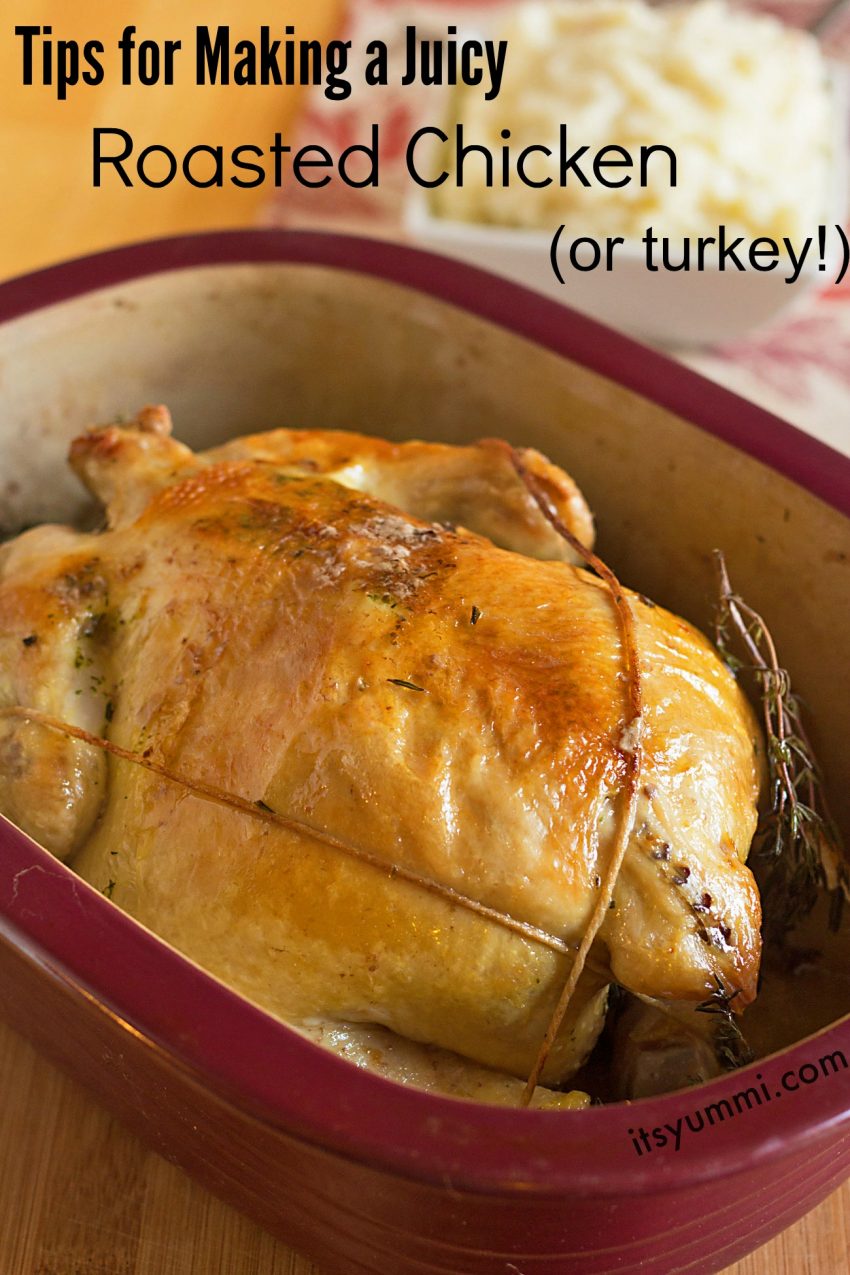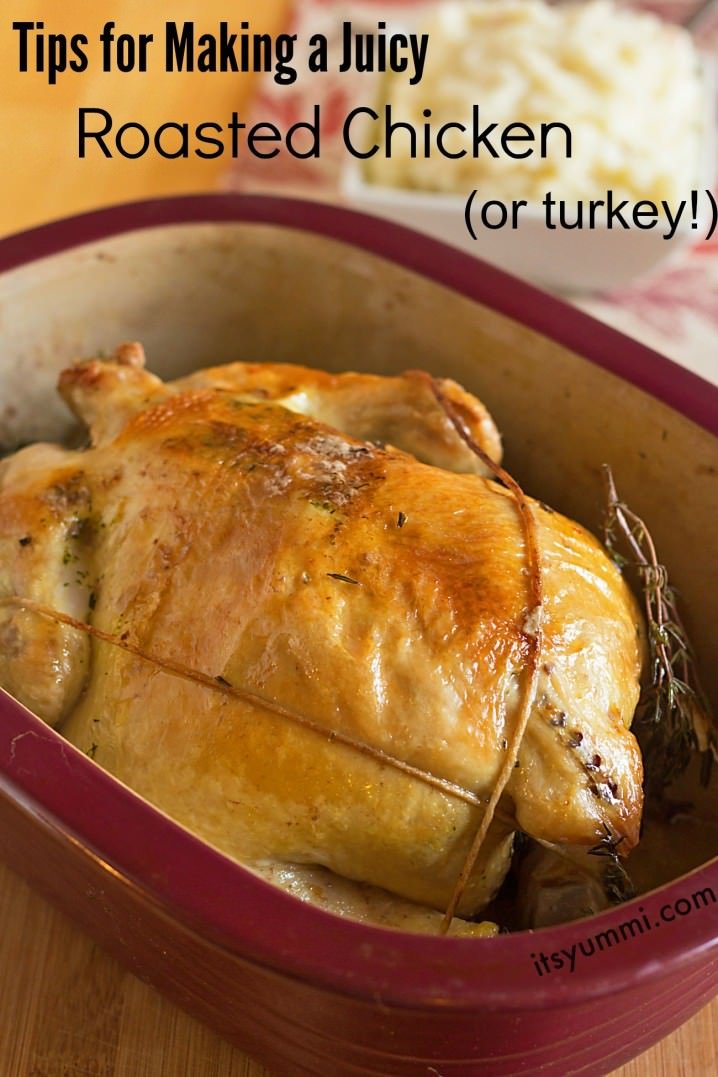 There are lots of ways to roast your Thanksgiving bird. Some people prefer putting the meat into a brine for a couple of days prior to roasting. I talked about how to do that last year, in this post.
A brine is a salt water solution, so it's probably not the healthiest preparation for those with high blood pressure, but it sure is danged tasty! Meat that's spent some time in a brine is usually very juicy and tender after cooking. This year, I decided to use the tried and true method of trussing and basting my bird. For flavor in my herb roasted chicken were butter, onion, lemon, poultry seasoning, and fresh herbs.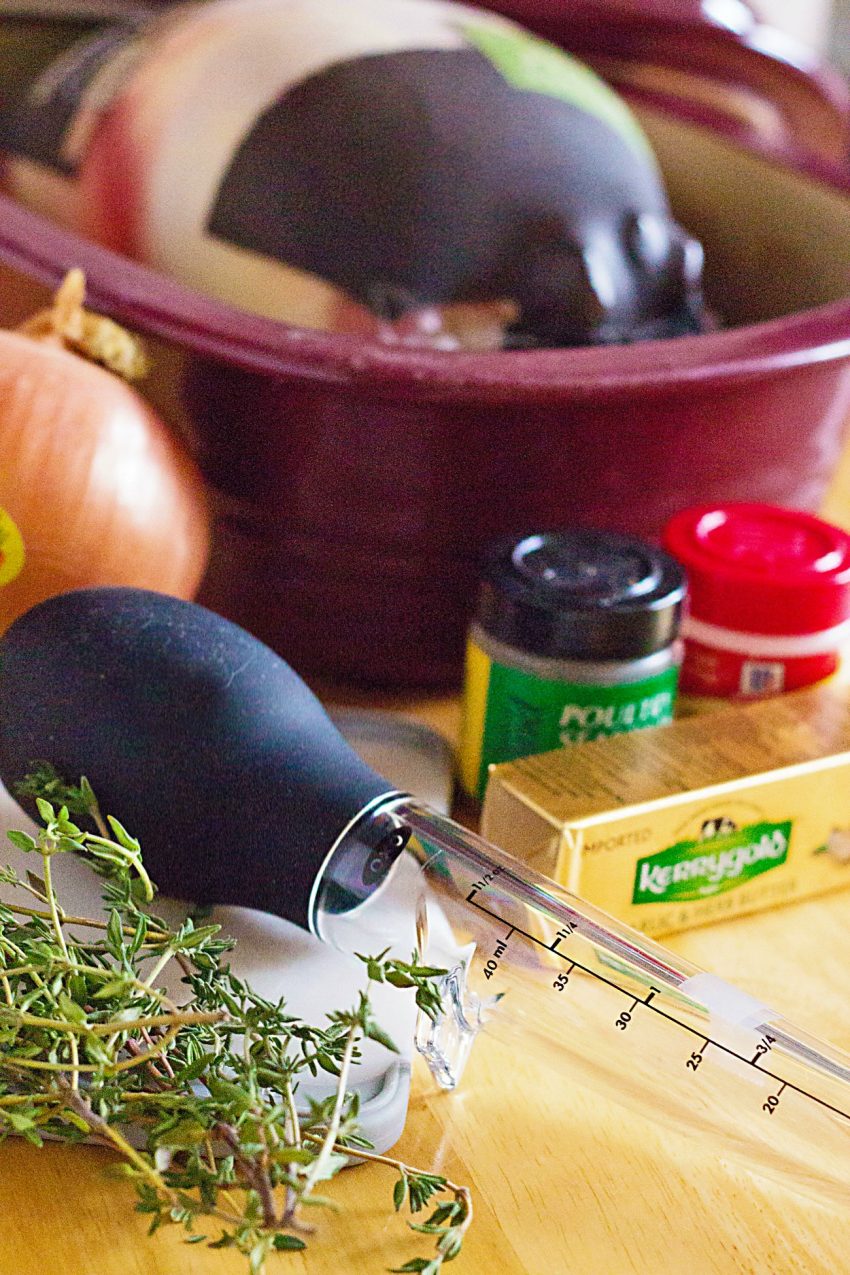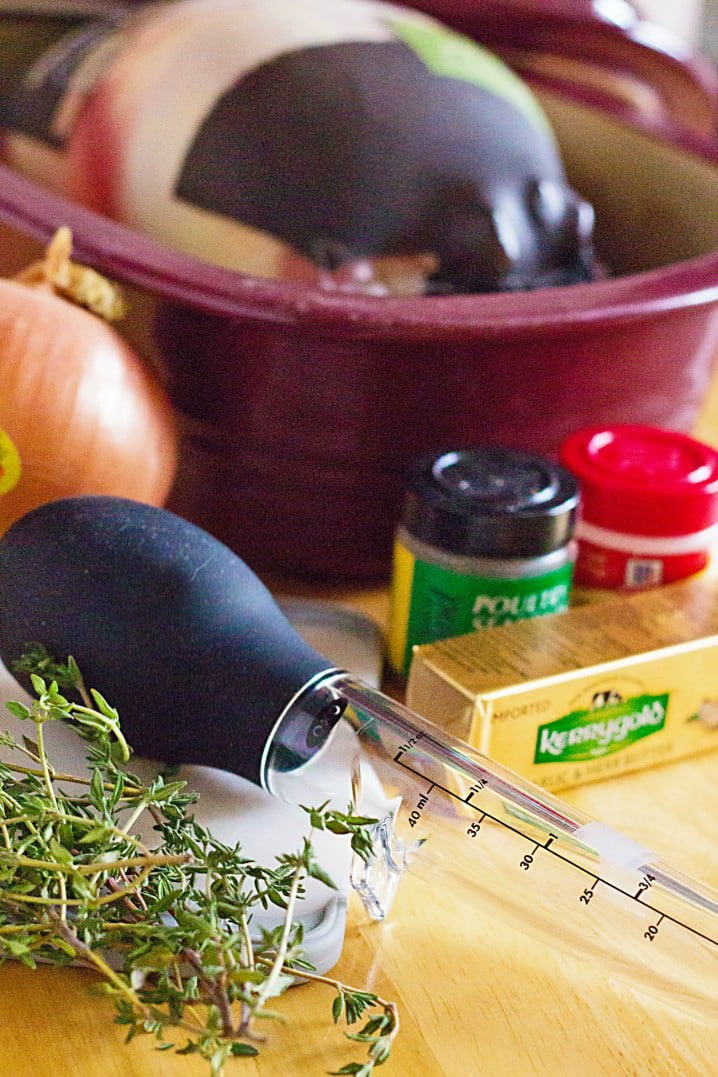 Tips for roasting do little good, unless you know how to truss a bird!
Massage the bird with very soft herb butter inside the cavity, between the skin and the breast meat, and all over the exterior skin. Then, fill the cavity with some wedges of lemon or orange, a fresh wedge of onion, and some fragrant, fresh poultry herbs. I used springs of thyme, rosemary, and some sage in my chicken. Once that's done, sprinkle a little bit of dry poultry seasoning over the top of the bird and you'll be ready to truss the bird closed.
When it's trussed, the wings are tucked in against the body, and the legs are together, closing the cavity of the bird. This allows steam to form inside the cavity, creating a wonderful sauna room for fresh spices, herbs, and citrus. Heavenly magic will happen in there!
For trussing, you'll need twine, someone to hold the twine (since your hands will be gunky with raw poultry), and something to cut the twine with. Oh, and you'll want to use cotton twine (it doesn't melt and stick to the meat like other materials can). To make the job easy peasy, just get an OXO Perfect Cut Twine Dispenser. This handy little number helped out big time, since I was home alone when I made this roast chicken dinner. It even comes with a spool full of cotton twine.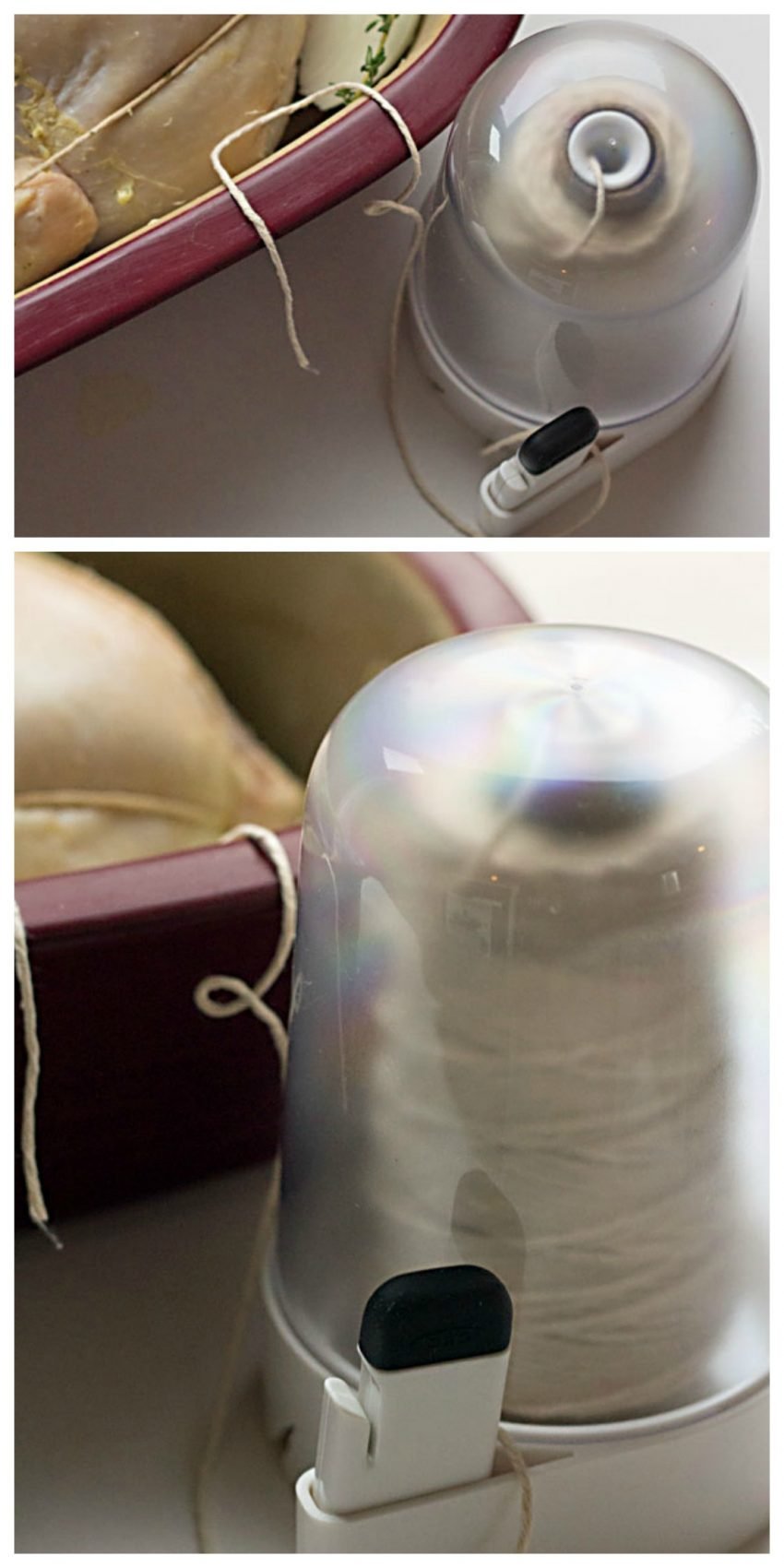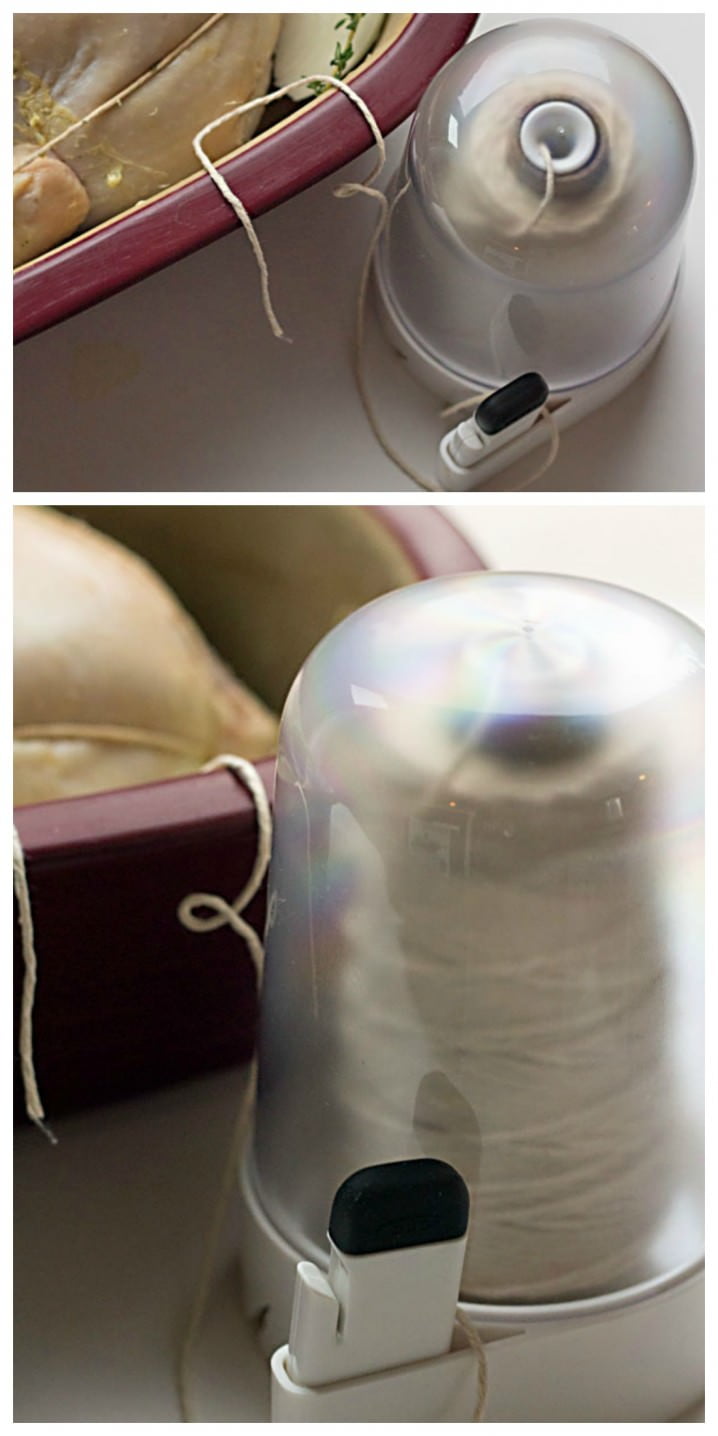 I even found you a great video guide to trussing. Take a peek. It's not hard at all.
As the bird cooks in the oven, you'll want the breast meat to stay moist. That's where basting with melted butter comes in.
Since you slathered your bird with butter before cooking, there'll be a wonderful mixture of butter and poultry fat forming at the bottom of the roasting pan. Use a basting bulb to soak up and disperse over the top of the bird once or twice during cooking. I baste my chicken twice during a cook time of 90-minutes. If you're basting a turkey, the cooking time will be longer, so a guide of basting every 45 minutes should be plenty. The OXO Angled Turkey Baster was perfect for the job. The small plastic stand that's built-in helps to keep kitchen counters clean.
Another of my tips for roasting a whole chicken or turkey is to make sure that you don't overcook it.
To avoid a dry bird, I recommend using a cooking thermometer. There are loads of them on the market, in all price ranges. This one is my personal favorite. It has a probe that you fit into the thickest portion of the breast. It will stay in the bird and read the temperature all during the cooking process. There's a magnet on the back of the display so that it sticks nicely to the top of the stove. It has an alarm that will go off when your meat reaches the desired internal temperature (recommended an internal temp of 163 for a safe, properly cooked chicken or turkey).
Because of carryover cooking, the bird will continue to cook after you've removed it from the oven, bringing it to a food-safe temperature for serving of 165 degrees F. When you're transferring the bird from the roasting pan to the cutting board, you need to be really careful, because it'll be very hot and very slippery, too. One of the safest ways to work the transfer is with two large serving forks or a poultry lifter. OXO sells one that allows you to lift even the heaviest of turkeys with a single hand. Purely awesome, you guys!
Resting the Bird and Making the Gravy!
Allow your chicken or turkey to rest on a cutting board for at least 15 minutes before carving it. This will allow the juices in the bird to settle into the meat. If you carve it too soon, the juices will all end up on the cutting board, leaving your poultry dry. Sad day. Don't let that happen!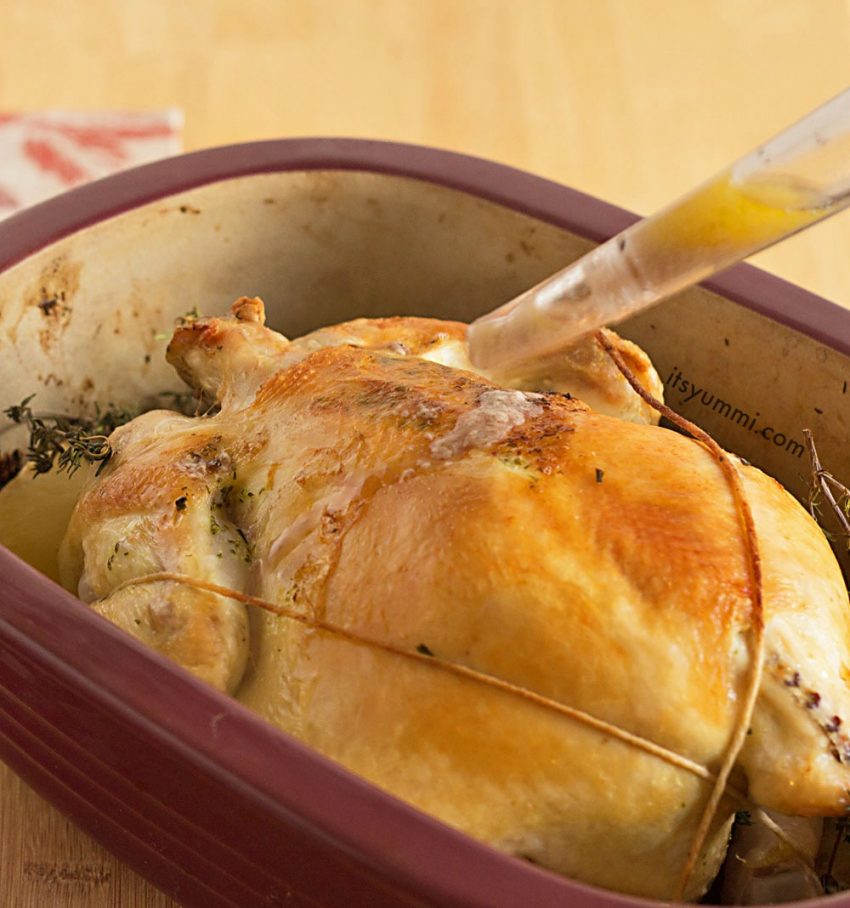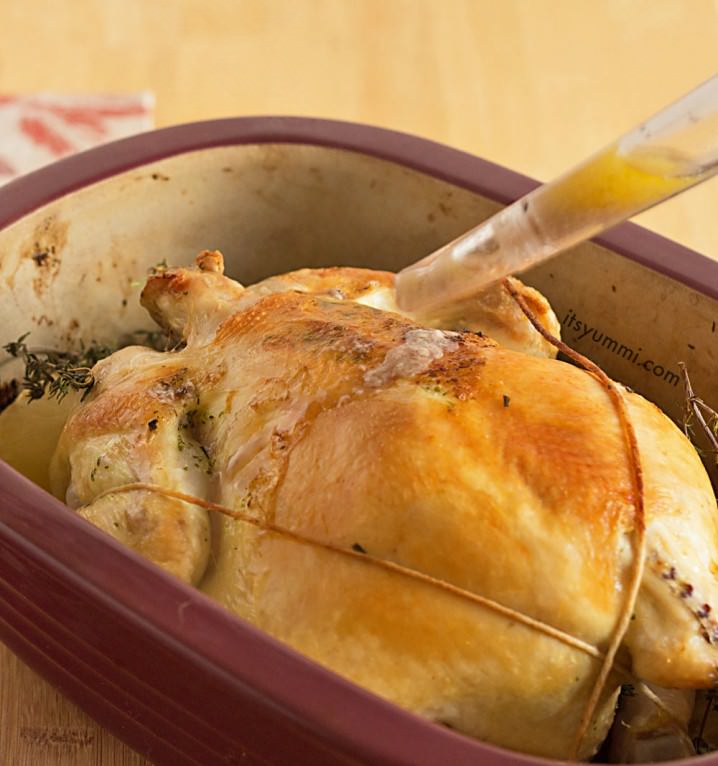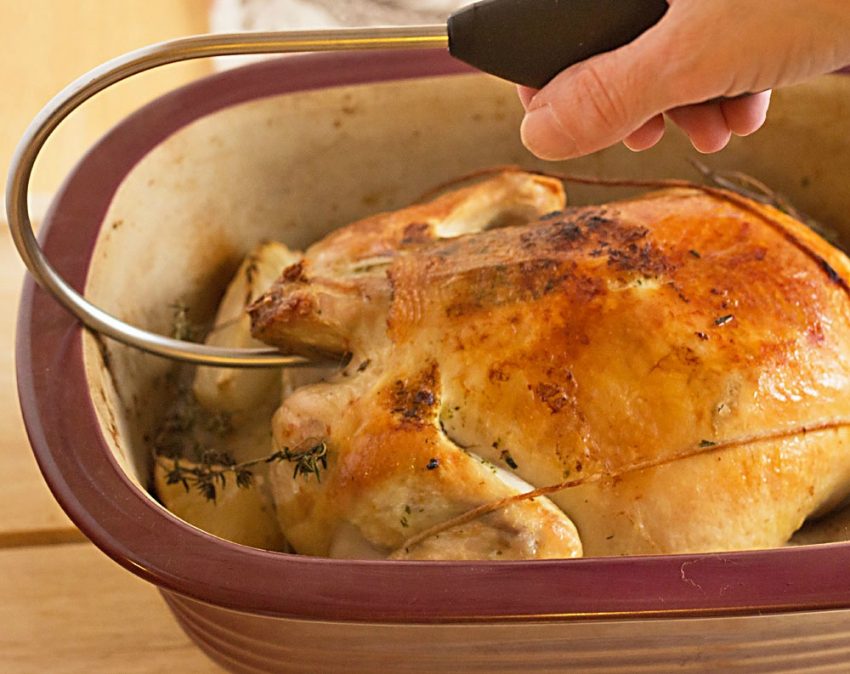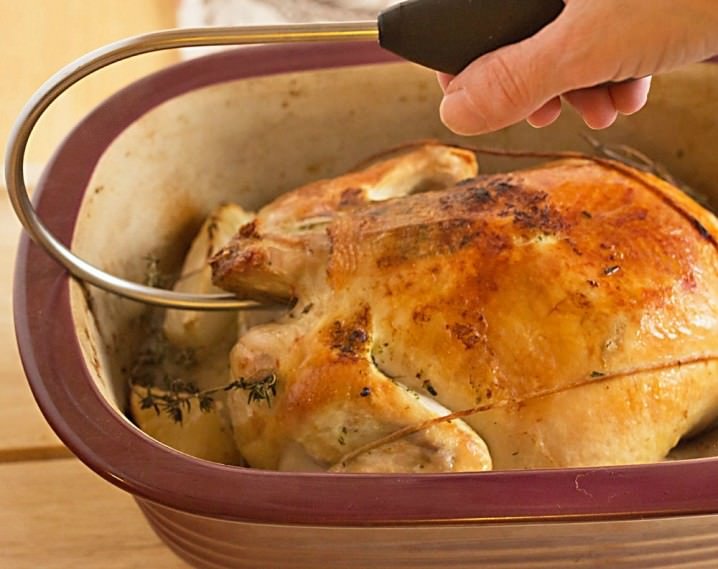 While your bird rests, pour the contents of the roasting pan into a fat separator like this one. The strainer at the top will catch big pieces of fat and food, allowing the juices down into the separator. The plug in the spout forces the fat to separate from the juices. They'll rise to the top after a minute or so. Then, pull the plug out and pour the separated juices into a saucepan for making a delicious pan gravy.
This is also the perfect time to put the biscuits and dinner rolls into the oven!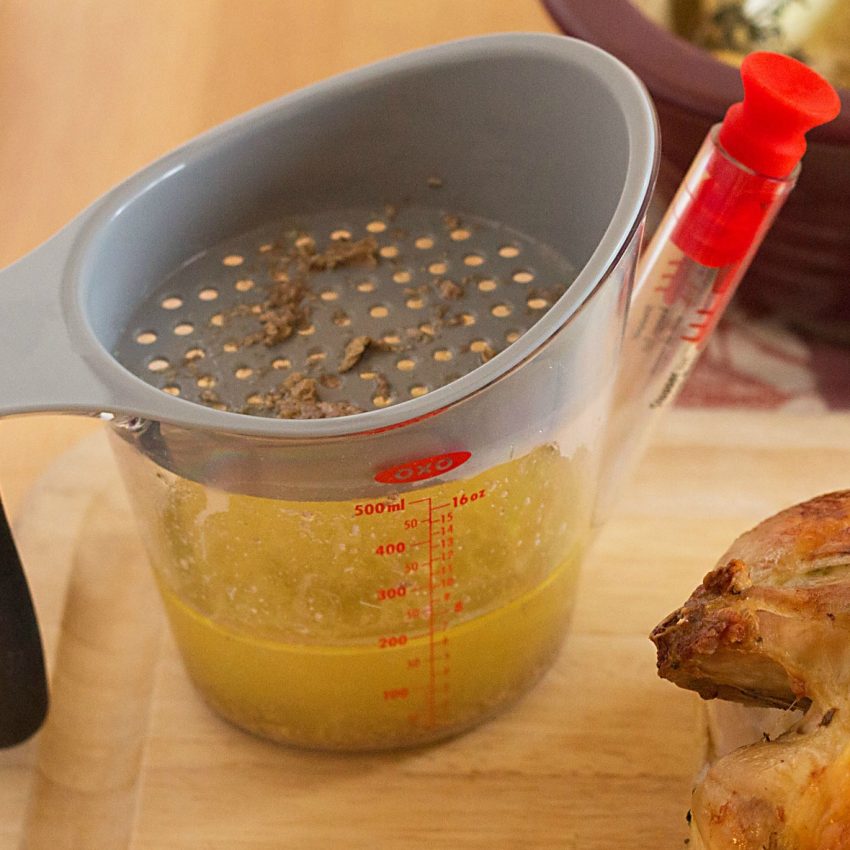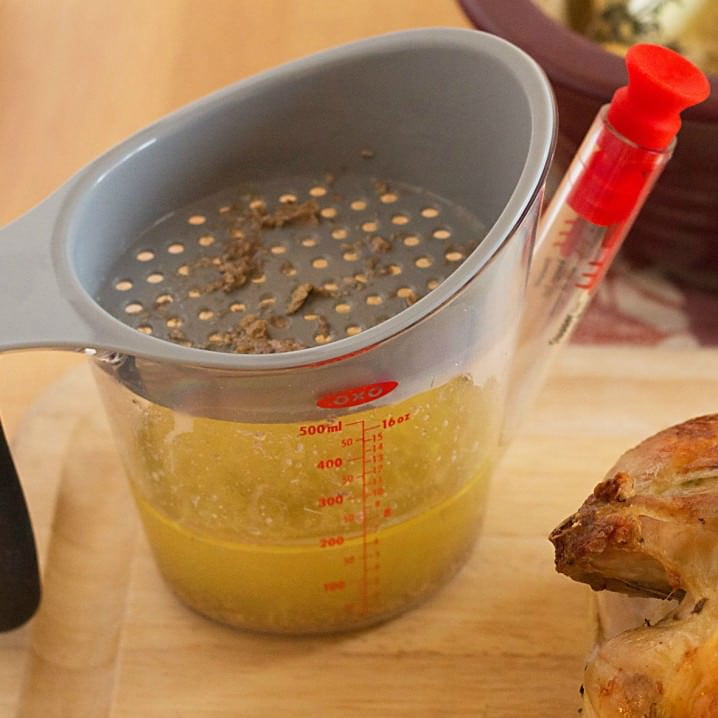 Now you have tips for roasting a whole chicken or turkey!
It's time for you to put some juicy bird into your stomach, and some amazing kitchen tools into your life.
Is there anything that you struggle with when preparing Thanksgiving dinner? Do you need tips for roasting other types of meat?
Leave me a comment below and I will try to help!