Looking for a quick, easy, and healthy dinner idea?  My baked turkey meatballs with grilled onions will help you get a yummi, nutritious dinner on your table in less than 30 minutes!  Come on in to the virtual kitchen and I'll show you how to whip up a batch for dinner tonight!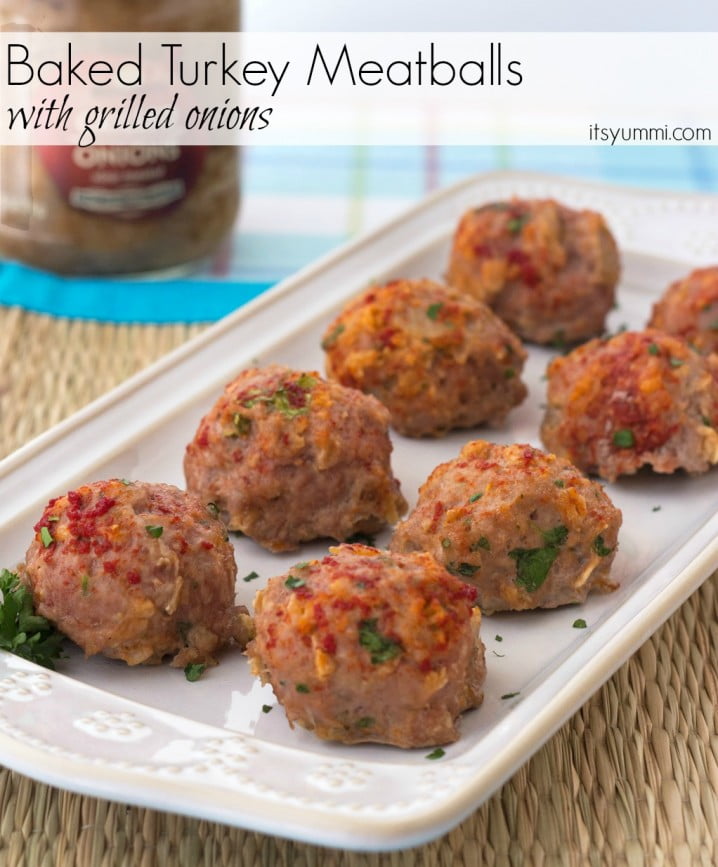 I'm running crazy busy this weekend, so I pulled this recipe from my favorite Pinterest board to whip up for dinner tonight.  Actually, these baked turkey meatballs freeze so beautifully that I recommend making a triple batch so you can freeze them for a quick and easy meal any night.  To do that, just prep them as outlined in the directions below, place them onto a rimmed baking sheet that's been lined with parchment paper, and put the whole kit and kaboodle into the freezer until the meatballs have frozen. It'll take a couple of hours. Then, transfer them to airtight freezer bags, label them, and pull them out when you need them. Reheat in the oven, microwave, slow cooker, or on the stove top.  Easy peasy!
They're great as a main dish, served with pasta and sauce, over rice with some veggies, or with potatoes and gravy. They're perfect as an appetizer, too!  Serve them up with my Asian dipping sauces or some fresh marinara sauce or pizza sauce. My friend Joan has an easy go-to pizza sauce recipe HERE!
I originally made this recipe for my good friends at Gill's Onions. They have a delicious line of onion products that are grown and manufactured using sustainable practices and they're super convenient to use!  Check out the products here and then hop over to your local grocery store for them and stock up. They're good eats

Get the recipe for these baked turkey meatballs on the Gill's Onions website ~~~> CLICK HERE TO GET THE RECIPE
MORE FABULOUS MEATBALL RECIPES
Meatball Pepperoni Pizza Pasta
Easy Chicken Meatballs ~ Culinary Ginger
Swedish Meatballs ~ Serena Bakes Simply From Scratch
Jalapeno Popper Turkey Meatballs ~ Food Faith Fitness