Asparagus Quiche (vegetarian quiche recipe)
Asparagus Quiche is a delicious, savory egg custard pie, filled with fluffy eggs, fresh asparagus, Swiss, and Gruyere cheeses. This vegetarian quiche recipe is perfect to make for a spring holiday brunch or a quick weeknight dinner.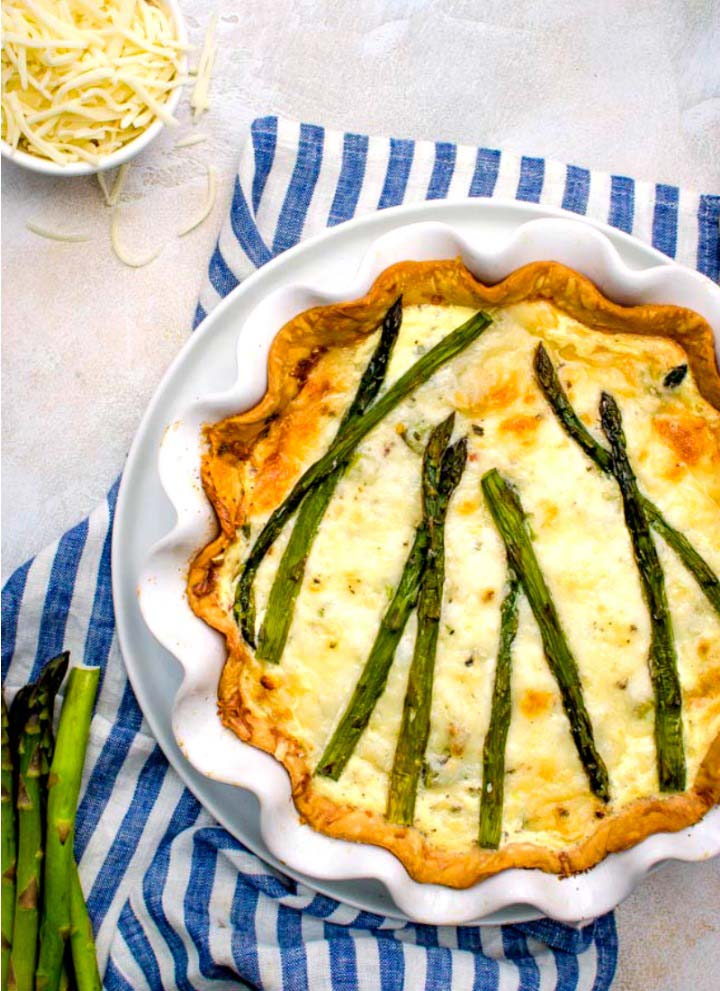 What is quiche?
In the world of baked egg recipes, quiche falls somewhere between breakfast strata and egg frittata. In a nutshell, quiche is egg custard. Most often, they include savory ingredients like ham or bacon, fresh vegetables, and unless it's vegan quiche, cheese is a must.
Quiche is almost always baked in pie form, with a tender, flaky crust. However, crustless quiche is a great option for those on a low carb or gluten-free diet.
Growing up in a family of 8, we ate quiche pretty often. It's a very budget-friendly meal, it's easy to make ahead, and it tastes great for breakfast, lunch, or dinner.
Besides, my mom grew a garden, so there were always fresh veggies on hand, including asparagus. That's when I became hooked on asparagus quiche.
Health Benefits of Asparagus
Because asparagus is one of my favorite vegetables, I like to use it in as many recipes as I can. When it's cooked to perfection, asparagus has a sweet taste like candy and a snappy crunch that I can't get enough of. The best thing is, asparagus is a healthy, low carb veggie, packed with nutrients and fiber.
1 serving of asparagus equals 1/2 cup, or roughly 5 average-sized spears, 8 thin spears, or 3 thick spears.
How much asparagus will I need for asparagus quiche?
This asparagus quiche recipe calls for 1/2 pound of fresh asparagus. By weight, that equals 8 ounces or 225 grams. The size of the spears doesn't make a difference in the end result, so use whatever size you prefer. Personally, I like thin asparagus spears, but they tend to overcook in a quiche.
1/2 pound of asparagus is, on average, equal to 15 thin, 10 standard-size, or 6 large spears.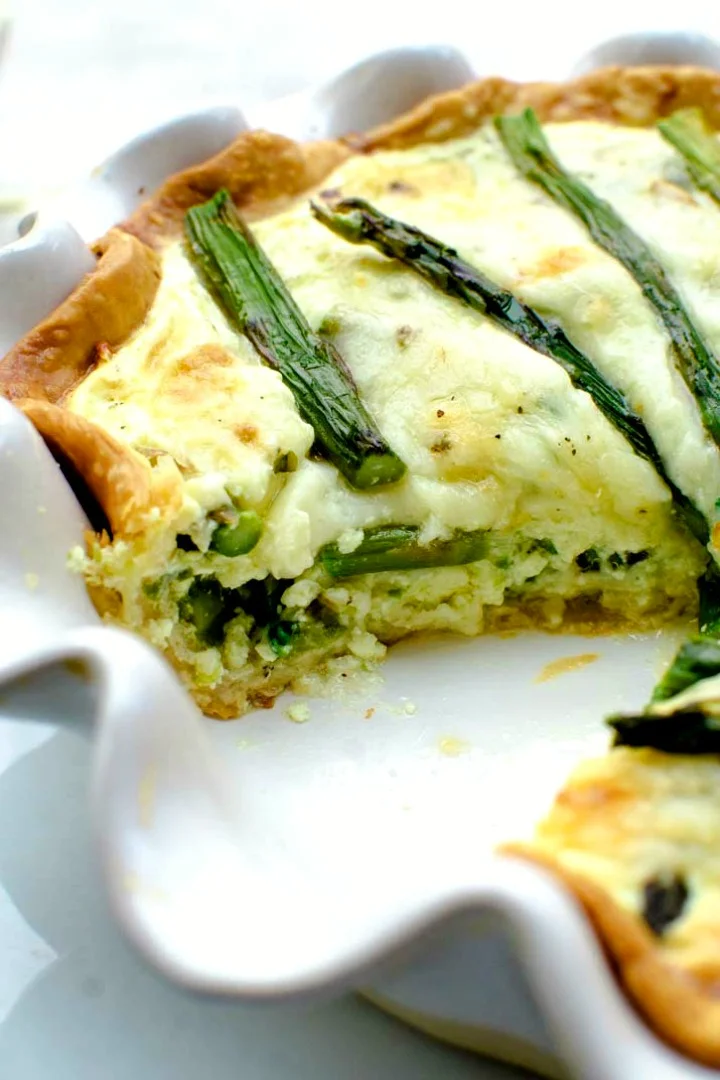 Healthy substitute for heavy cream in quiche
The reason so many quiche recipes call for cream is because it gives the quiche a rich, creamy taste. The good news is, quiche is an egg custard pie, and custard is made with milk. So, to cut some of the fat and calories, you can use milk as a substitute for all or part of the cream. When I have it on hand, I usually make quiche with half-and-half.
NOTE: The lower in fat the milk is, the less rich and creamy your asparagus quiche will be. I recommend not using anything less than 2 percent milkfat; it can cause the quiche to become watery and bland.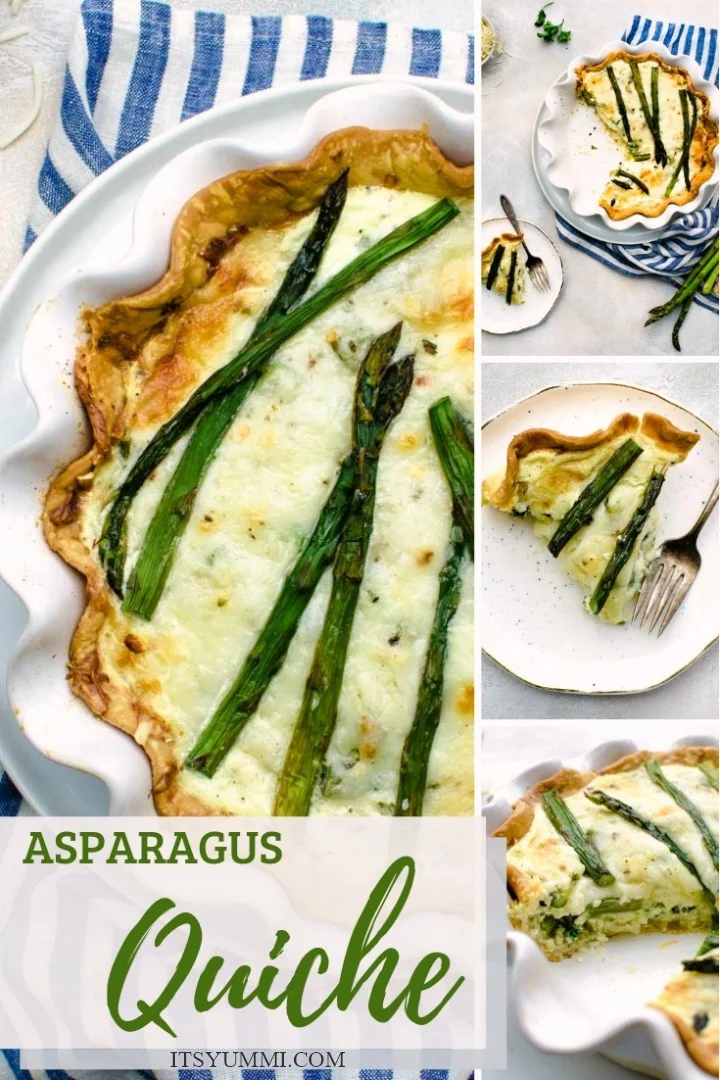 How to serve asparagus quiche
Normally, eggs are served warm, but in the case of this vegetarian quiche recipe, I think it's equally delicious served cold!
FINAL THOUGHTS
Have you heard the satirical saying, "Real men don't eat quiche."?
Well, my friends, that is a blatant lie. Despite the fact that this is a vegetarian quiche recipe, my meat-loving husband is known to devour half of an asparagus quiche in one day.
What's not to love about fluffy eggs and cheese combined with asparagus, or any filling you could want, all nestled into a tender, flaky crust?
Looking for more egg recipes? I've got a bunch!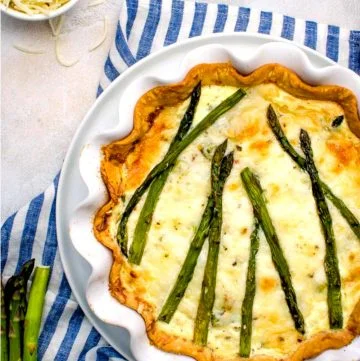 Asparagus Quiche | vegetarian quiche recipe
This vegetarian quiche recipe is perfect to make for a spring holiday brunch or a quick weeknight dinner. Tender asparagus and cheese nestled inside of a creamy egg custard pie. What's not to love?!
Ingredients
1

9-inch pie crust

homemade or store-bought

½

pound

fresh asparagus

trimmed (see notes regarding size of spears)

2

green onions (scallions)

thinly sliced

1

tablespoon

all-purpose flour

2

cups

shredded Gruyere or Swiss cheese

or a combination of both

4

large

eggs

beaten

1

cup

heavy cream

or other milk of your choice

½

teaspoon

salt

¼

teaspoon

dried tarragon

or 2 teaspoons fresh tarragon

⅛

teaspoon

cayenne pepper

optional
Instructions
Bake crust at 425° F. for 6-7 minutes. Remove from oven and set aside. Reduce the oven temperature to 350° F.

Blanch the asparagus spears by boiling them in water for 2 minutes, and then place them immediately into an ice water bath to stop the cooking.

Drain and cool. Cut the asparagus into 1/2-inch pieces.

In a bowl, combine the asparagus pieces and onions; add flour and toss to coat. Spread evenly across the bottom of the crust; sprinkle shredded cheese over the veggies.

Whisk together eggs, cream, salt, tarragon, and cayenne; pour over asparagus mixture.

Bake at 350° for 25-35 minutes, or until a knife inserted near the center of the quiche comes out clean.

Let quiche sit for 10 minutes before cutting.
Notes
Recipe adapted from tasteofhome.com/recipes/asparagus-quiche
Nutrition
Serving:
1
slice
Calories:
386
kcal
Carbohydrates:
13
g
Protein:
16
g
Fat:
29
g
Saturated Fat:
15
g
Cholesterol:
182
mg
Sodium:
395
mg
Potassium:
174
mg
Fiber:
1
g
Vitamin A:
1160
IU
Vitamin C:
2.3
mg
Calcium:
382
mg
Iron:
1.8
mg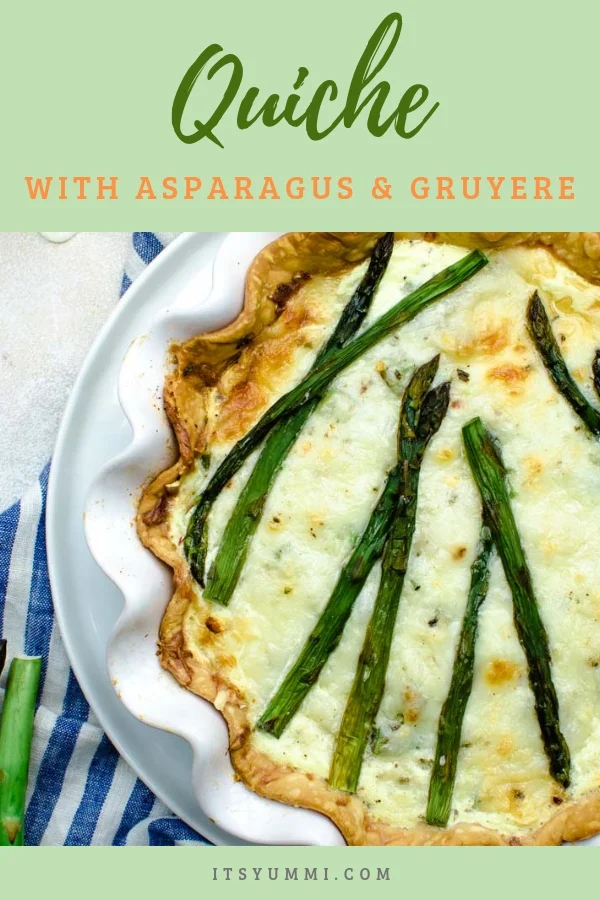 This asparagus quiche post, originally published on 11/30/2011, is now updated with improved photography and content. Enjoy!