Welcome apple lovers! Step into my virtual kitchen and let me show you how to make the flakiest, juiciest, most delicious caramel apple galette that your lips will ever touch! Sound too good to be true? Give it a try and see if you shout "It's yummi!"
A little known fact about me: I'm a musical junkie. I grew up with the arts all around me. My parents were very active in the community theater, as were my younger brother and I, and one of my sisters was a piano prodigy, so it wasn't uncommon for any or all of us to break out in song over the dinner table. Matter of fact, the first production I was a part of was Fiddler on the Roof. I was 10 years old and my dad had the lead role of Tevia. I played the third daughter, Chava. As a result, I entertained bored everyone to tears with nightly practice sessions of "Matchmaker Matchmaker". I always felt like I needed to make a big production out of the practice, so I'd stand on the dining room chair for full theatrical effect. Daddy always had such a look of pride on his face…until one time when I threw my arms out during a rendition of Gershwin's "Let's Call the Whole Thing Off". As my arms flailed around like a drunken sailor, I toppled off of my chair and landed on the dining table…right into a bowl of mashed potatoes. "Potatoes, po-tah-toes, tomatoes, toh-mah-toes, let's call the whole thing off! " *Kerplunk*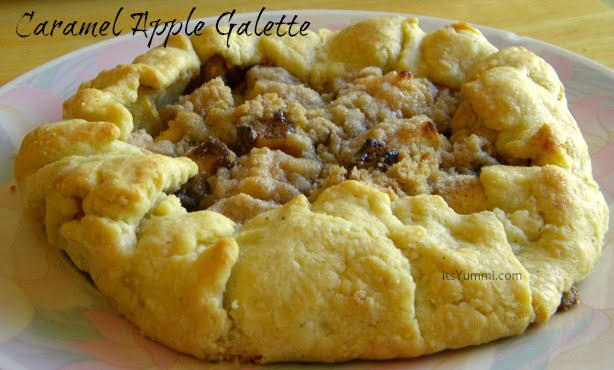 My point is that there are many ways to describe the same thing. Like this caramel apple galette…um, crostada…er crostata.
Joy the Baker calls them crostadas. I have another food blogger friend who argued with me for 10 minutes about how they're crostaTAs, and then I just got frustrated and used Swagbucks to clear up the confusion. That's when I learned that they can also be called galettes. Oh geez, let's call the whole thing off. As long as it's eaten and enjoyed, I don't think it matters one iota what they're called. Let's just call them yummi and leave it at that.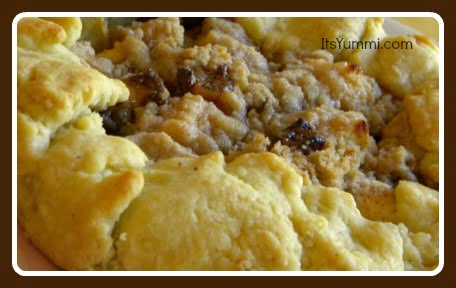 NOTE: This recipe looks REALLY long. Don't let it intimidate you. It's only detailed because I make my own pie dough. You can easily omit that step and use refrigerated pie crust. Easy peasy!
Recipe inspired by Joy the Baker's "Apple Pie Crostadas" from her cookbook "100 Simple & Comforting Recipes"
Caramel Apple Galette
Caramel Apple Galette
A rustic flaky pastry crust surrounds juicy apples and chocolate caramel candies in this delightful, rustic dessert
Ingredients
FOR THE CRUST
8.8 ounces (2 cups) all-purpose flour
2.2 ounces (1/2 cup) cake flour
1 teaspoon ground cinnamon
1/2 teaspoon salt
4 oz. (1 stick) unsalted butter, VERY cold and cubed
4 oz. (1/2 cup) shortening, VERY cold and cubed
5-6 T. ice water
1.5 tsp. cider vinegar
1 egg (for an egg wash)
FOR THE FILLING
4-5 crisp apples, peeled, cored, and diced (I used Pink Lady apples)
1/4 cup light brown sugar, firmly packed
1 Tablespoon all-purpose flour
1 teaspoon ground cinnamon
A dash of ground nutmeg
2 teaspoons fresh lemon juice
1/2 teaspoon lemon zest
5 Rolos candies, quartered
FOR THE TOPPING
1/4 cup all-purpose flour
1/4 cup granulated sugar
A pinch of salt
1/4 cup ground cinnamon
2 ounces (1/2 stick) cold, unsalted butter, cut into cubes
Directions
Heat the oven to 400 degrees F. Line a large baking sheet with parchment paper and set aside.
FOR THE CRUST
Combine the flours, cinnamon, and salt in a food processor by pulsing 3 times.
Place cubed butter into the processor and combine with flour by pulsing 5-6 times.
Add shortening and pulse 5-6 times.
Add cold water and cider vinegar slowly while pulsing. Mix until it is almost incorporated into a ball.
Flatten into a disc, wrap tightly in plastic wrap, and chill for 30 minutes
FOR THE FILLING
While the crust is chilling, peel, core, and chop the apples. Place into a medium-sized bowl. Add sugar, flour, cinnamon, nutmeg, lemon juice, and lemon zest, then toss with a wooden spoon. Let stand at room temperature until the crust is ready to be rolled out so that the apples can macerate (break down and create juice)
FOR THE TOPPING
In a medium-sized bowl, whisk together the flour, sugar, salt, and cinnamon. Add butter and using your fingers, quickly incorporate the butter into the dry ingredients. The butter pieces will be the size of rolled oats or small pebbles.
ASSEMBLY
Roll out pie dough into a 10-inch circle, or cut a few smaller circles out for single serving pies and place onto the prepared pan. Pour prepared apples into center of dough circle(s), leaving a 1.5 inch border around the edges. Top with quartered Rolos and topping mixture, then bring the edges of the dough up and over the apples, creating a pleated edge. Don't worry if it doesn't look perfect. A rustic appearance is a good thing! Brush the crust with egg wash (1 egg and a teaspoon of water whisked together). If desired, sprinkle the crust with some granulated sugar.
Bake for 30-35 minutes or until pie edges are golden brown. (If you're making smaller servings, cooking time will be reduced to 15-20 minutes.) Remove and let cool completely.Sprinkle the topping over the filling.
Loading nutrition data...
Thank you so much for visiting me today!
If you make this recipe, I'd love it if you'd share a photo and/or give your feedback over on my Facebook page, Cooking with Chef Bec!