Cheesy sausage biscuits are a grab 'n go favorite when you need breakfast in a hurry. Tender, fluffy biscuits are topped with breakfast sausage and lots of shredded cheese. Slice 'em and fill with scrambled eggs for a great breakfast sandwich, too.
Happy weekend, gang! I hope this post finds you sitting in your happy place doing something you absolutely love to be doing.  If you're not there yet, get comfy and start.  Life's too short to be doing anything less than that!
I've decided to start a new weekend trend of highlighting some of my favorite food products (edible and otherwise). One week I might profess my love for a certain brand of creamy peanut butter and the next I could be highlighting my favorite stand mixer, or telling you all about how awesome the customer service team is at Festival Foods (and it IS fantastic!)  If you've got favorite foods and/or cooking equipment that you think I should take a gander at, send me a note via my contact form and I'll see if I locate it locally for review purposes.
I think it's fun experimenting with new brands, and who knows, you might have something awesome in your kitchen that should be sitting in my kitchen too!    Please bear in mind that none of these posts will be sponsored.  In other words, I'm not getting paid to say anything good, bad, or indifferent about them.  I just think they're products that you might enjoy as much as I do.  Okie dokie? Let's get started!
This week, I'm highlighting my very favorite baking pan.  It helped me to create these cheesy sausage biscuits!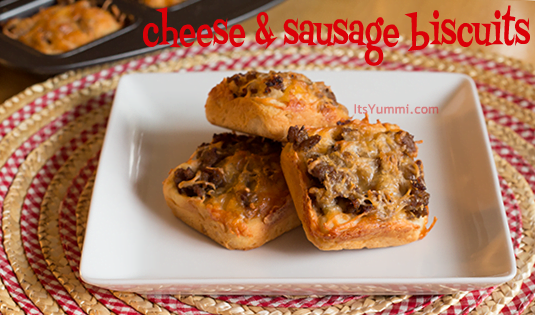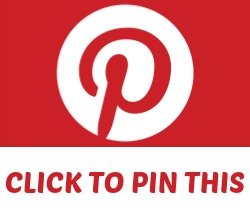 They look yummi, am I right?!  Aside from the fact that they've got ooey gooey cheese and crumbled pork sausage on the top, there's a light buttery  homemade biscuit holding that combo together. Fat grams and calories?  Well… YES, there are plenty to go around in these little heaven-sent cheese and sausage biscuits.  However, I made these for Brian to take to his co-workers for their Friday breakfast pig out.
What kind of girlfriend would I be if I didn't make something fully loaded with artery choking ingredients?  What's that?  I'd be reasonable?  Umm… hello.  Do I know you?  Rather, do you know me at ALL?  OK, let's move on.
It's entirely possible to make these cheese and sausage biscuits a little bit more heart smart.  Just use turkey sausage and some low-fat or low-carb biscuits and some low-fat cheese.  In this particular case, I said NO to the LOW and I'm not ashamed.  They're perfectly portioned…as long as you can stop at one or two.
Now let's talk about the adorable square shape of these biscuits.  This was made possible only because of my this awesome brownie pan.  I'm not really sure why they call it a brownie pan, because in all honesty, I think I've only made 2 batches of brownies in it.  I use this pan for all sorts of things!
Mini lasagnas, blueberry cream cheese streusel cakes, mini meatloaves (which are the perfect size for making meatloaf sandwiches, by the way), and now these biscuits.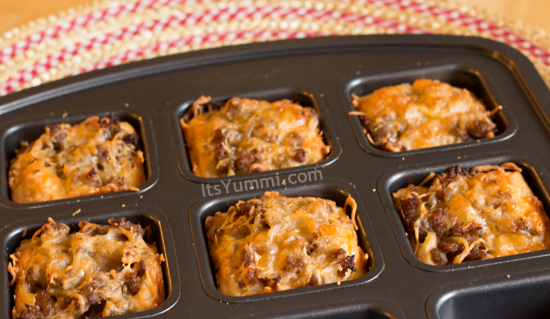 There's really not much to complain about where this pan is concerned.  Except maybe for the fact that the 12 wells could be just a tiny bit deeper.  They're not as deep as the wells of a cupcake pan…they're about three-fourths of the depth of a standard size cupcake.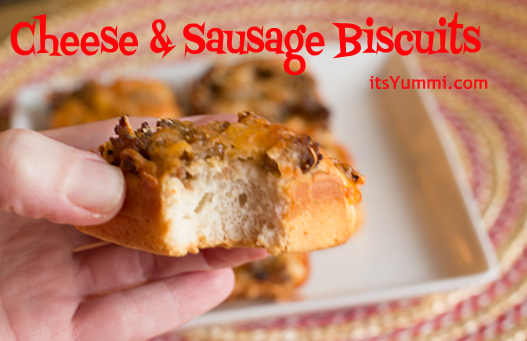 I've used it for layered recipes without a problem, but it makes for a tight squeeze when you're trying to stuff Snickers bars between layers of cookie dough.  Oh, I didn't mention that recipe, did I?  It's coming!  Make this recipe for cheese and sausage biscuits first and let me know what you think.  It doesn't get much easier peasier than 3 ingredients and 12 minutes in the oven!  Oh, and if you don't want to use canned refrigerated biscuit dough, use my recipe for homemade Bisquick!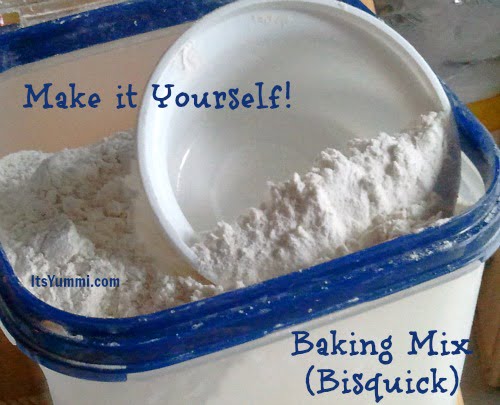 I hope you love these cheesy sausage biscuits!
Have an awesome weekend!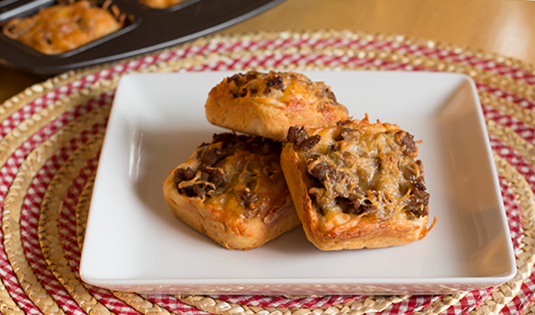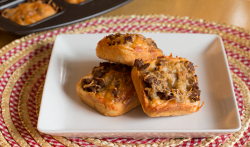 Cheesy Sausage Biscuits
Light, flaky biscuits topped with crumbled pork sausage and real Wisconsin cheddar cheese!
Print
Pin
Rate
Ingredients
1

can of refrigerated biscuit dough (I used Pillsbury Grands)

,

or you can make your own biscuit dough

1/2

pound

ground Italian pork sausage

1

cup

cheddar (or your favorite variety) cheese

,

shredded
Instructions
Heat oven to 350 degrees F.

Place a paper liner into the bottom of each well, or lightly spray wells with non-stick cooking spray.

In a medium sized frying pan over medium high heat, cook the pork sausage until it has browned and no pink remains; Drain grease and set pork aside to cool.

Using kitchen shears or a knife, cut each piece of biscuit dough in half. Use your fingers to press a piece of dough evenly across the bottom of each well of the pan.

Place pan into oven and bake for 5 minutes. Remove pan from oven and use your fingers to press the partially baked dough down into the pan; USE CAUTION! The dough will be hot!

Sprinkle cooked sausage evenly over the top of each biscuit; Repeat with shredded cheese; Place pan back into oven and cook for 7-9 minutes, or until cheese has melted and biscuits are lightly browned.

Remove pan from oven and allow biscuits to cool in pan for 1-2 minutes before carefully removing them. Serve while still warm.
Recipe Nutrition
Nutrition Facts
Cheesy Sausage Biscuits
Amount Per Serving
Calories 288
Calories from Fat 153
% Daily Value*
Fat 17g26%
Cholesterol 46mg15%
Sodium 634mg28%
Carbohydrates 20g7%
Protein 14g28%
* Percent Daily Values are based on a 2000 calorie diet.