Chilled Cantaloupe Soup Recipe
Chilled cantaloupe soup is a refreshing way to cool down this summer! With simple and affordable ingredients like fresh cantaloupe, creamy yogurt, ginger, and a refreshing burst of mint, this may become one of your new favorite summer soup recipes. Enjoy it for breakfast, lunch, a light dinner, or even as a dessert soup!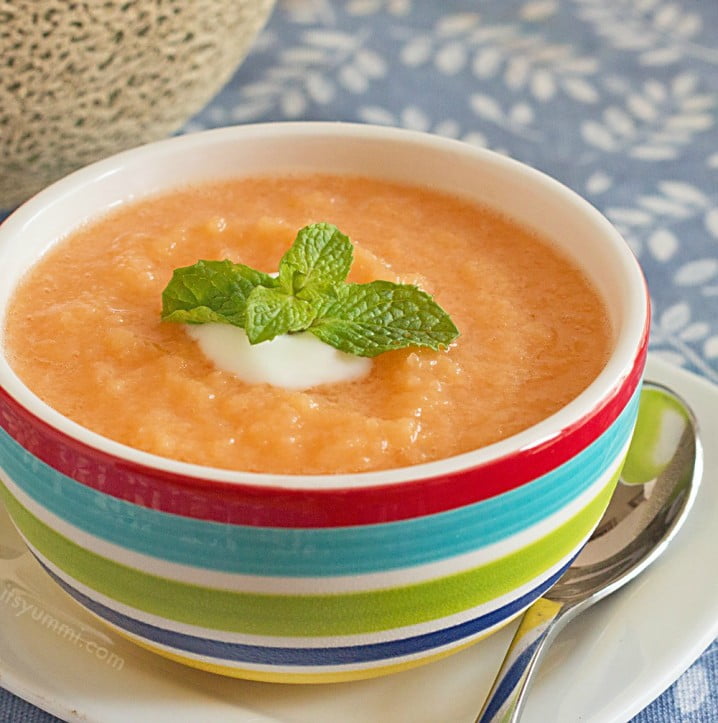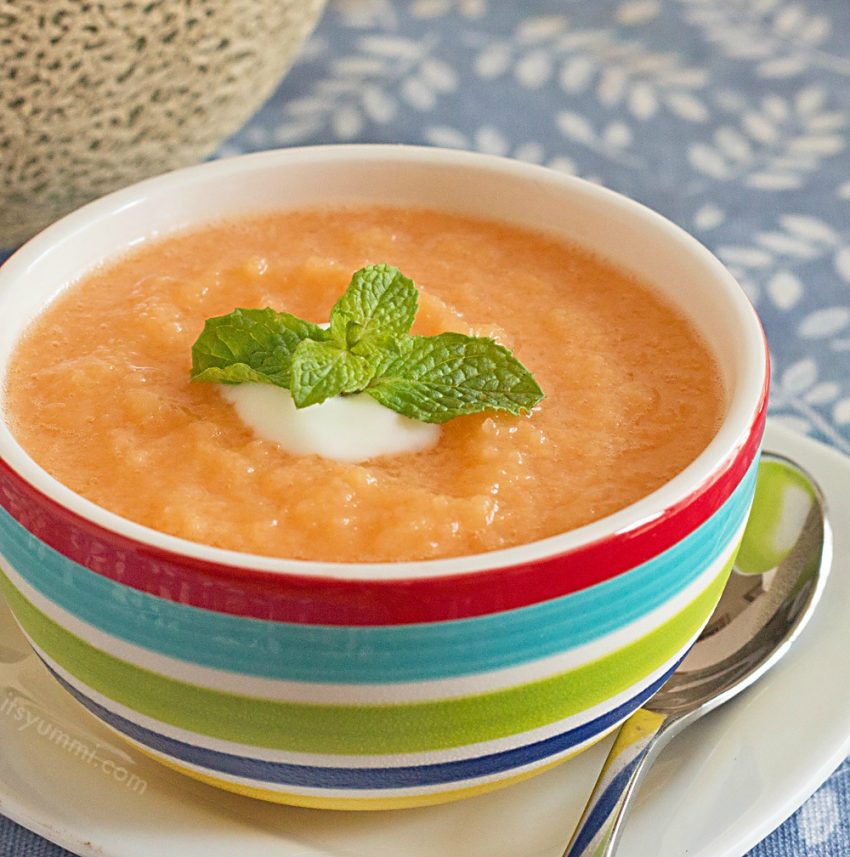 This post was compensated by Collective Bias, Inc. and their client, Pick 'n Save. As always, all opinions are my very own. All of the ingredients used in this chilled cantaloupe soup recipe can be purchased at your local Wisconsin grocery store, Pick 'n Save.
When it comes to foods that I identify with summer, fresh melons are pretty close to the top of my list. I can't think of a more iconic summer picnic treat than watermelon, can you? Cut it into a big boat, and fill it with an assortment of fresh fruit. Yum!
Let's not overlook the smaller melons, though. If you ask me, no fruit salad is complete without fresh cantaloupe or honeydew melon tossed in. When they're fresh and ripe, those simple fruits can be hydrating and refreshing, which is why I enjoy them so much.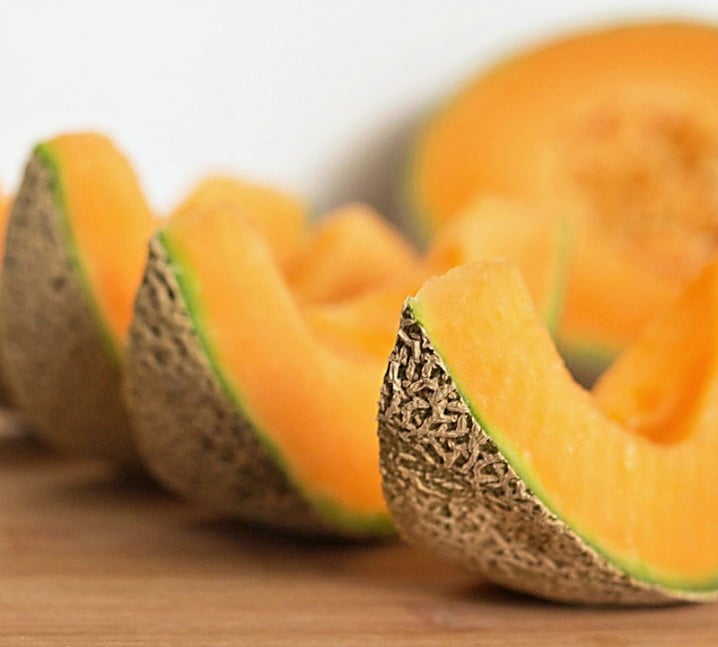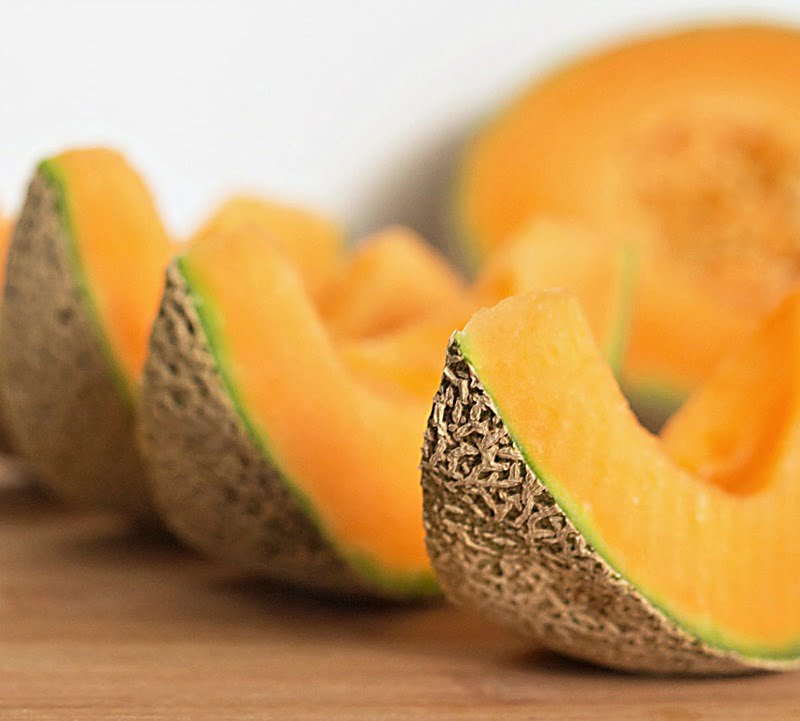 Food Facts – Melons (specifically, cantaloupe benefits)
Cantaloupe and specialty melons are members of the cucurbit (Cucurbitaceae) family, which also includes several warm season vegetables such as watermelon, squash and cucumber.

Cantaloupe (also known as a muskmelon) is scientifically known as a Cucumis melo. That species is broken down into 6 subspecies of melons, and there are so many varieties worldwide that they aren't even tracked! Muskmelon and Honeydew melon are the two most prevalent melons in the United States, followed by watermelons.
Like most melons, cantaloupe are high in citric acid (vitamin C) and they're a great source of vitamin A and potassium.
One whole, medium sized cantaloupe (about 552 grams) has 42% of the recommended daily allowance of potassium, 337% for vitamin C, and 373% for vitamin A. Just like bananas, a cantaloupe a day will keep the leg cramps away!
How to Tell When Cantaloupe is Ripe
While selecting the ingredients for my cantaloupe soup, I wanted ripe, ready to use melons. The key signs to freshness in melons is by using a simple, 3-step process:
Hold the cantaloupe in your hands with the root end (the part where it was detached from the vine) facing up. It should smell fruity, just like it will taste.
Next, use your thumbs to press gently on that same root end. It should be slightly soft and have a little bit of give to it, but not so much that it feels mushy. If it's rock hard, it's not ripe yet.
Best Ways to Use Cantaloupe
My favorite way to eat cantaloupe is to cut it in half and remove the seeds. Then I top it with vanilla flavored Greek yogurt and low fat granola. I use a spoon and eat it right out of the rind that way. It makes a super healthy breakfast, and it keeps me full for quite a while in the morning.
You can also cut some up and use it to make a cantaloupe smoothie, or even a cantaloupe face mask!
For a quick, easy, and healthy dinner option, I place chunks of cantaloupe onto skewers and lightly char them on the grill. Then I drizzle honey over them and get ready for a feast, because grilled fruit has amazing flavor!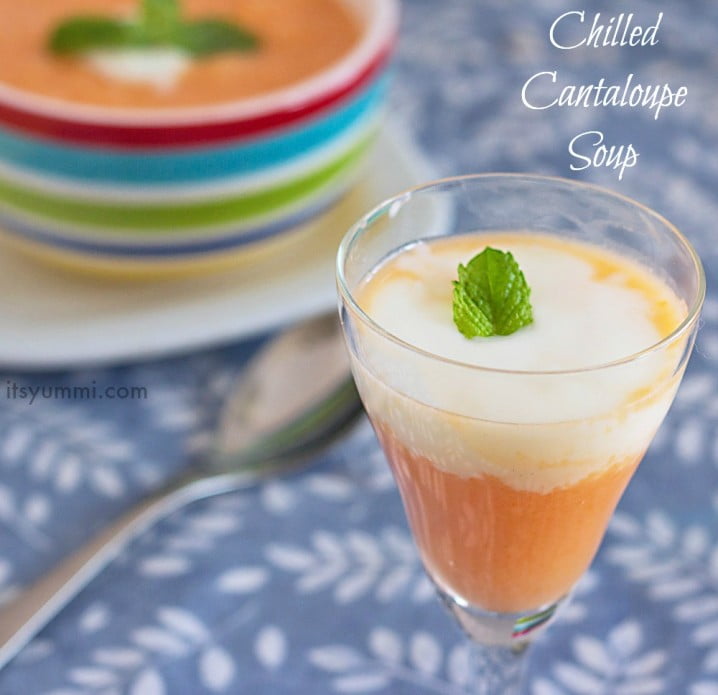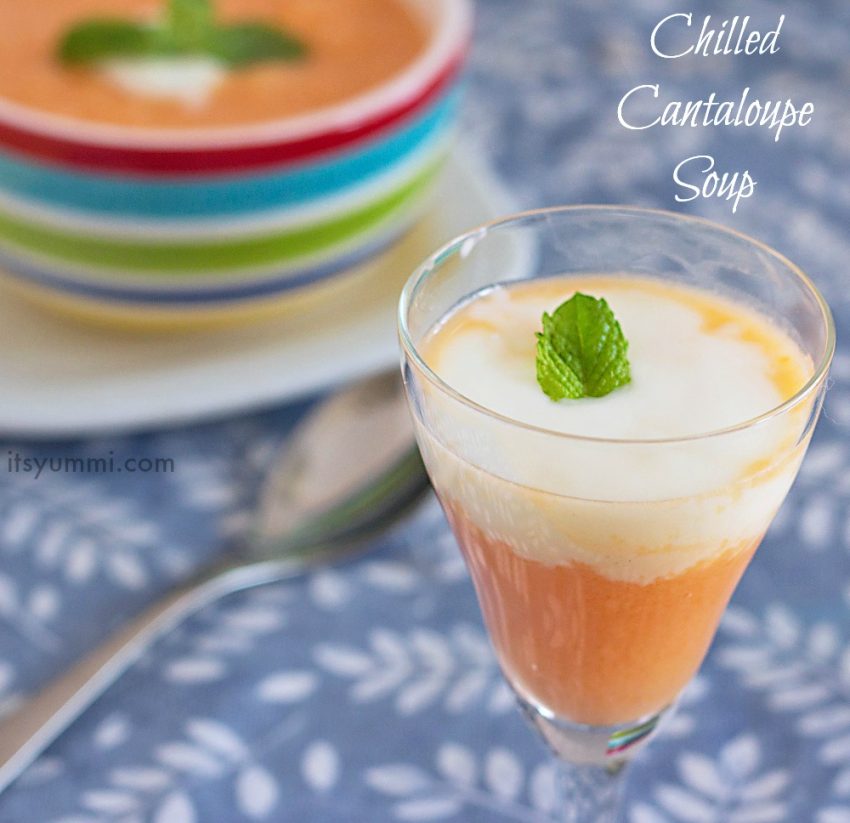 Chilled cantaloupe soup is my lunch of choice in the summer. It's light, healthy, creamy, and incredibly refreshing, especially on hot days. The secret to its creaminess starts with Greek yogurt. I prefer full fat, vanilla flavored Greek yogurt, mainly because of its rich flavor, but any variety will work.
It's so convenient that Pick 'n Save carries many of my favorite food brands, and their produce section is clean. It makes it easy to get in there and find what I'm looking for.
Please enjoy this chilled cantaloupe soup recipe!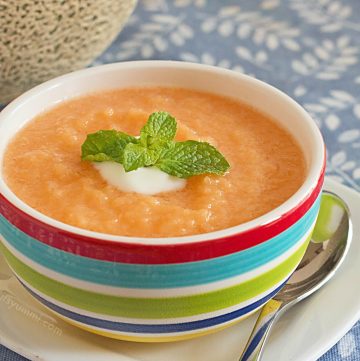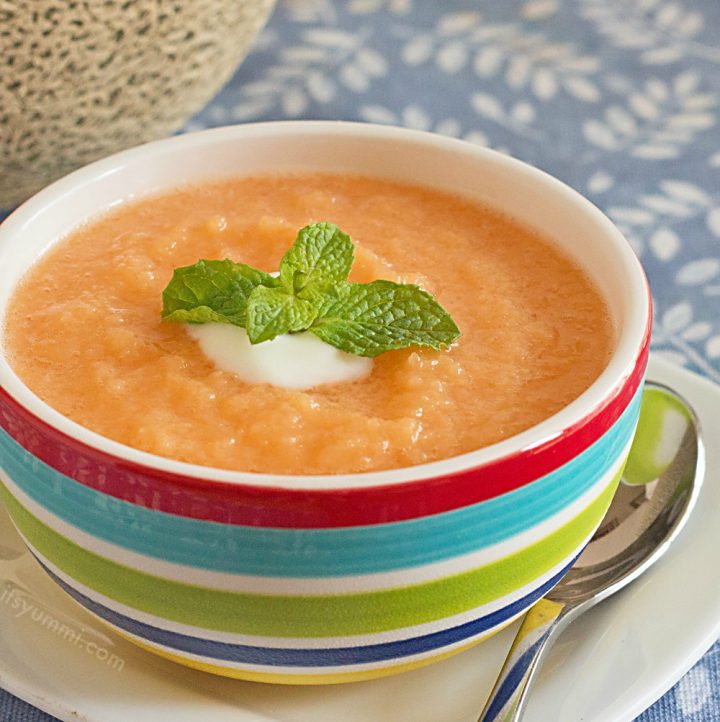 Chilled Cantaloupe Soup
This chilled cantaloupe soup has a base of Greek vanilla yogurt, an extra touch of sweetness from fresh mango, and refreshing ginger and mint for a delightful summer treat!
Ingredients
1

medium cantaloupe

peeled, seeded, and cut into large cubes

2

ounces

(1/4 cup) mango juice or fresh mango chunks

6

ounces

(3/4 cup) vanilla yogurt

plus extra for garnish.

1

Tablespoon

light colored honey – I used organic orange blossom

2

teaspoons

freshly grated ginger

Fresh mint leaves

for garnish
Instructions
Place half of the cantaloupe, the mango, and half of the yogurt into the bowl of a blender or food processor. Pulse to combine, then add remaining ingredients except for garnish and blend on medium until consistency is smooth and creamy.

Transfer to serving bowls and chill well before serving for best flavor. Just before serving, garnish with a dollop of yogurt and fresh mint.
Nutrition
Calories:
3
kcal
Carbohydrates:
1
g
Sodium:
1
mg
Sugar:
1
g
More Delicious Cold Summer Soups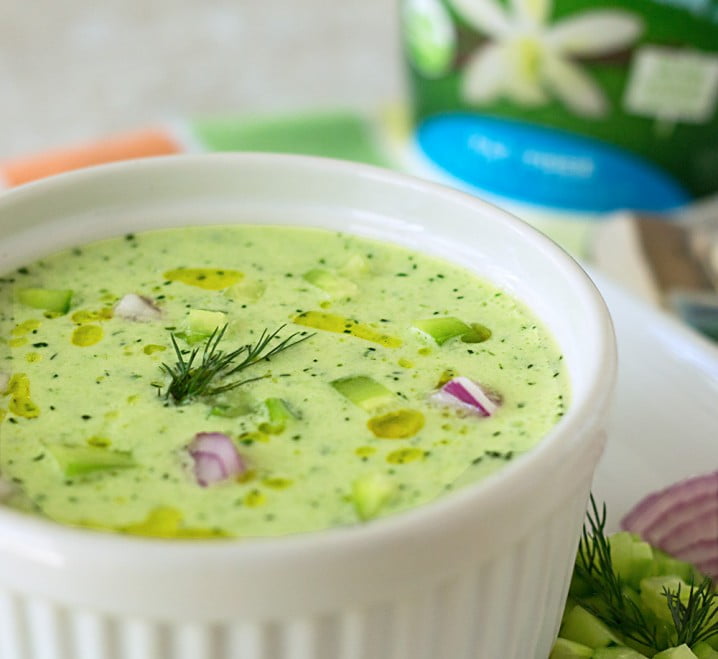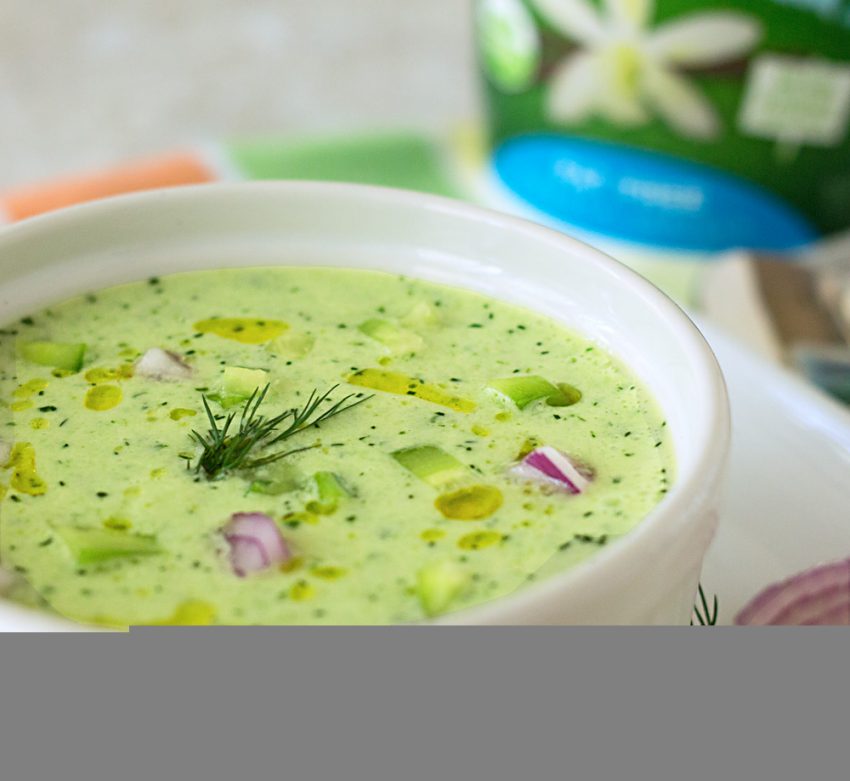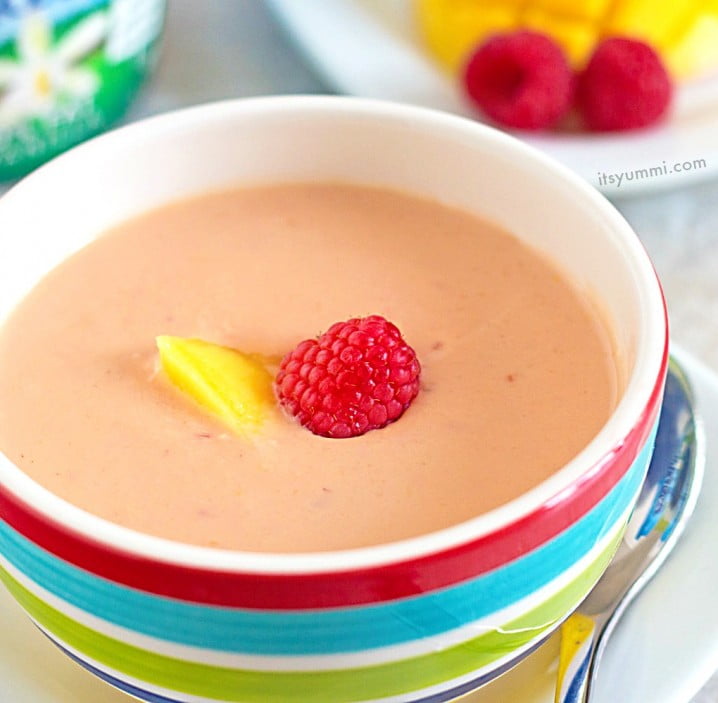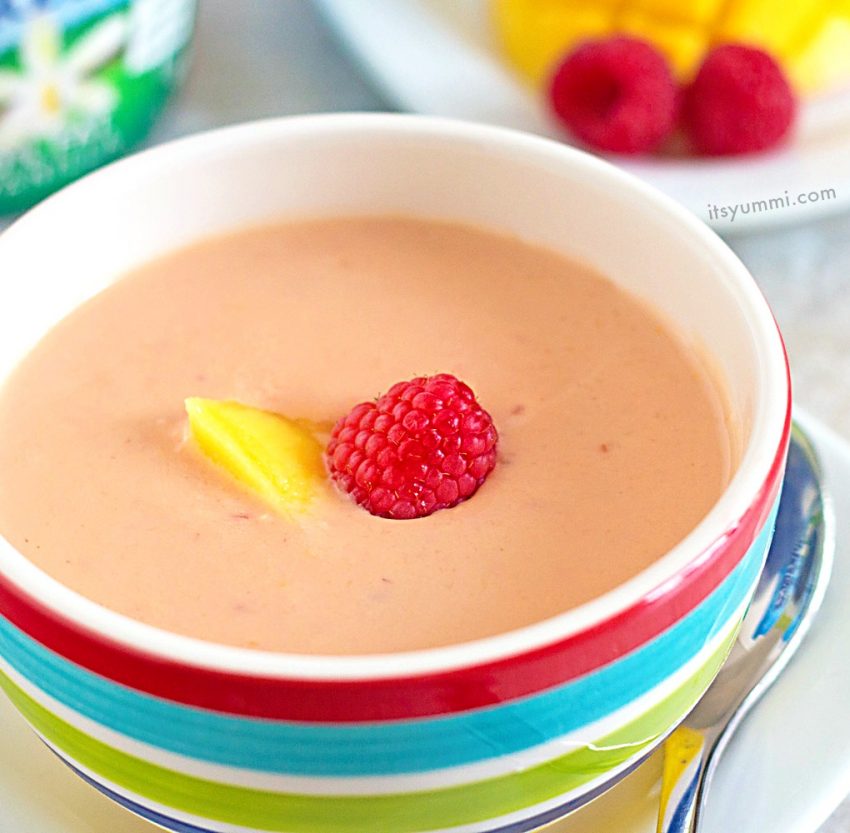 Hang out with Pick 'n Save
If you love Pick 'n Save as much as I do, you can hang out with them all across the Internet by following them here:
Website
Facebook
Twitter
Pinterest