Double Chocolate Bundt Cake
Double chocolate bundt cake is the star of any dessert table. Moist, decadent, and not overly sweet, this bundt cake is infused with coffee and topped with delicious dark chocolate ganache. Come on in to the virtual kitchen and get your chocolate fix!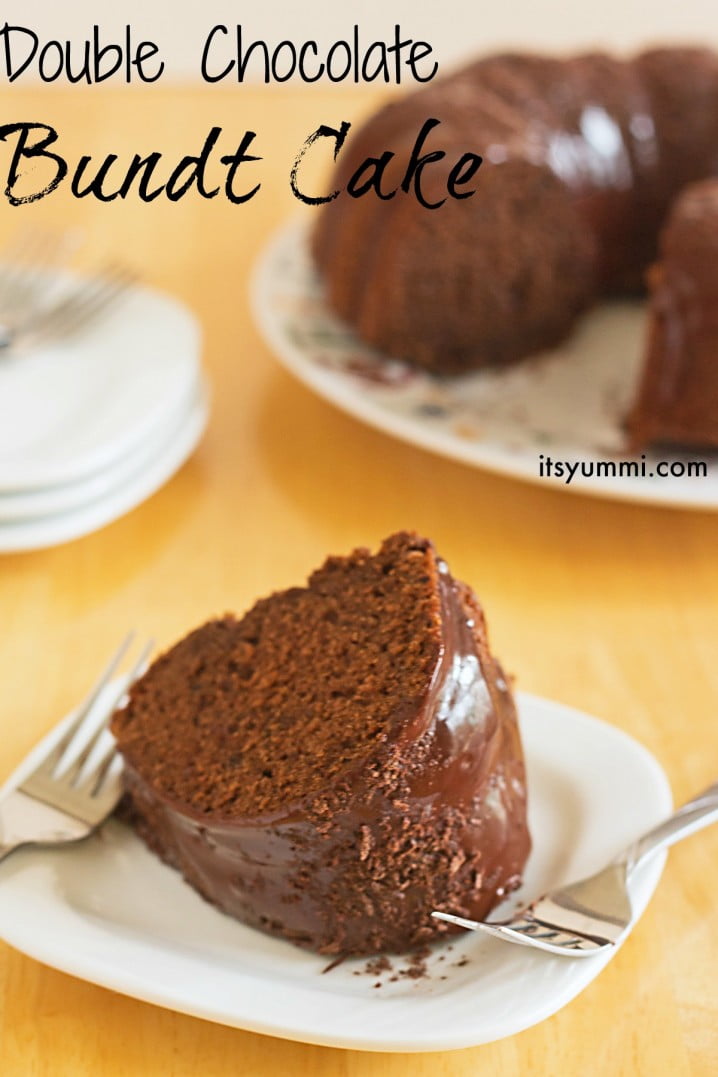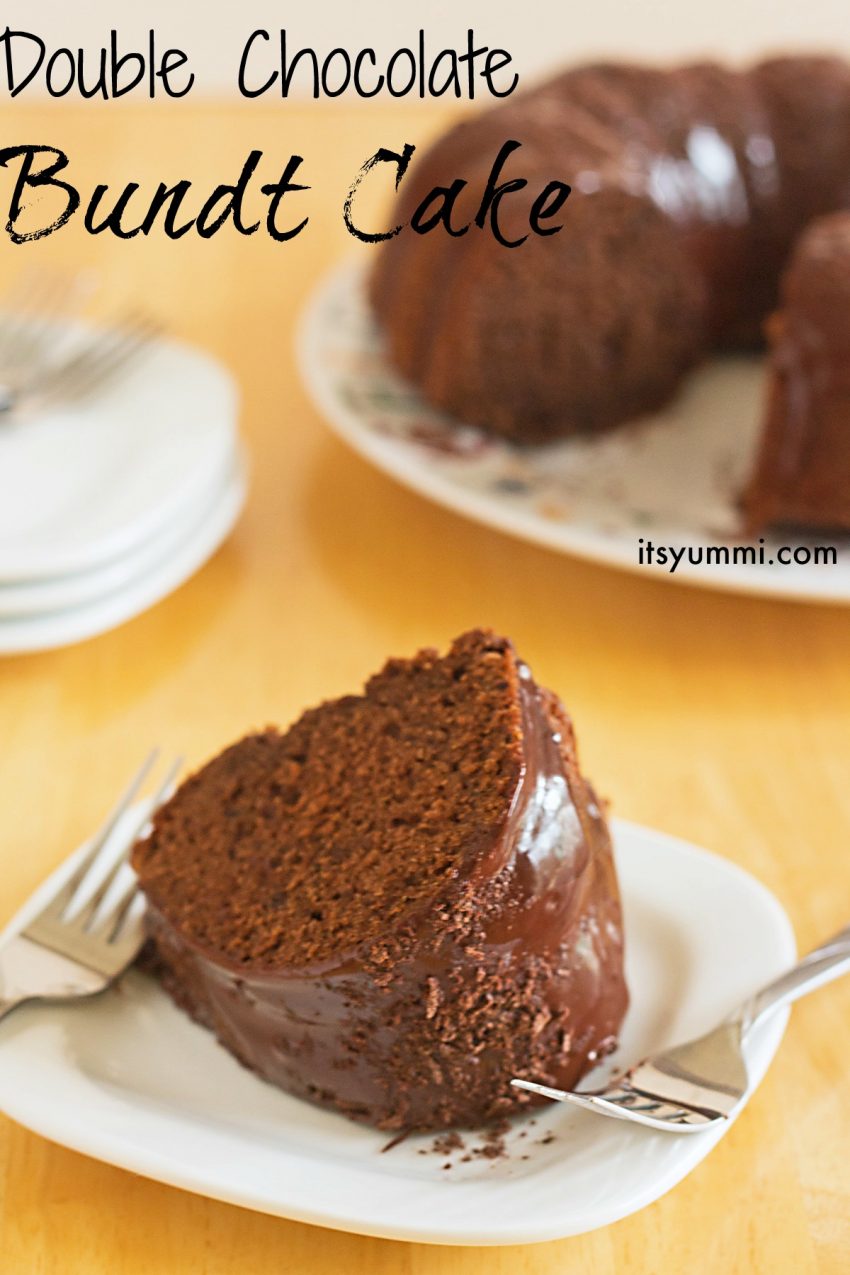 If you're new to this blog, you probably haven't yet heard how my husband Brian earned the nickname, Hasome. It's a pretty cute story… check out my "Boo's Best Chocolate Chip Cookies" post.
Anyhoo, Hasome's 57th birthday was this past Saturday. My plans to pamper him with a round of golf and dinner of mustard peppercorn rubbed rib eye steak and this chocolate bundt cake were thwarted. Sadly, 3 days before the big day, I broke a tooth, requiring an emergency tooth extraction. It's a bit difficult to think clearly and prepare food when you're doped up and feeling crappy.
I felt better by Saturday afternoon, so I did bake up the double chocolate bundt cake, and we went out to a local steak house for dinner. Hasome says nobody makes dessert as delicious as mine, so I felt good knowing that I could at least make his birthday cake. I used a bar of organic, fair trade dark chocolate from the CSA box. The moment I saw it, I knew it was the perfect chocolate to make chocolate ganache with.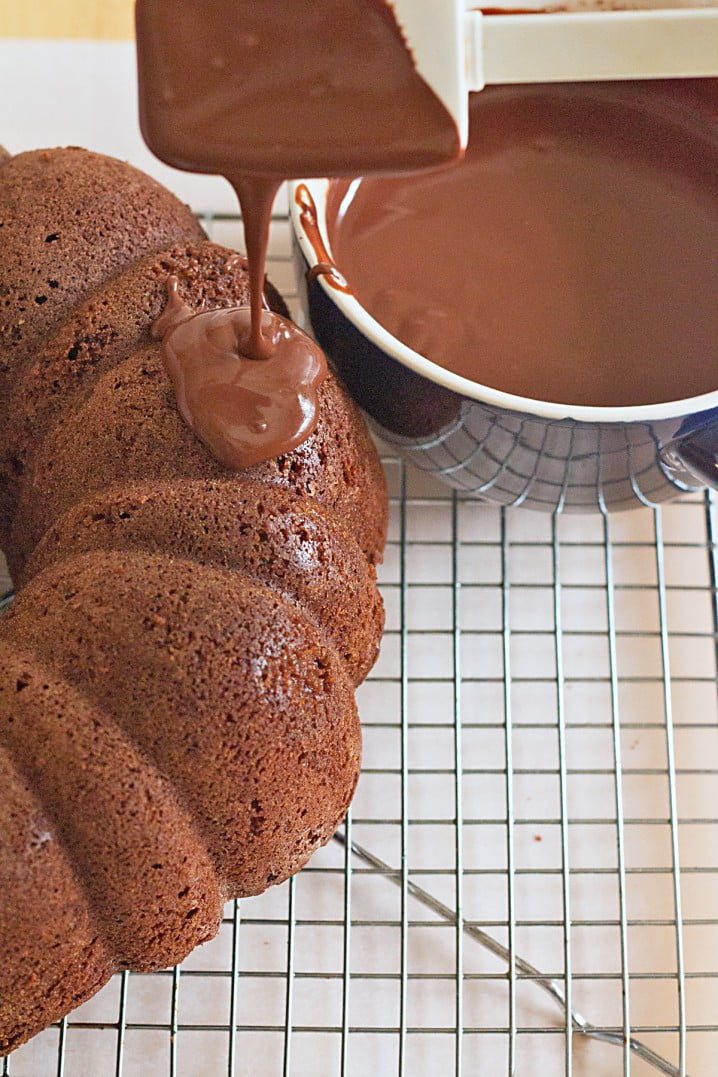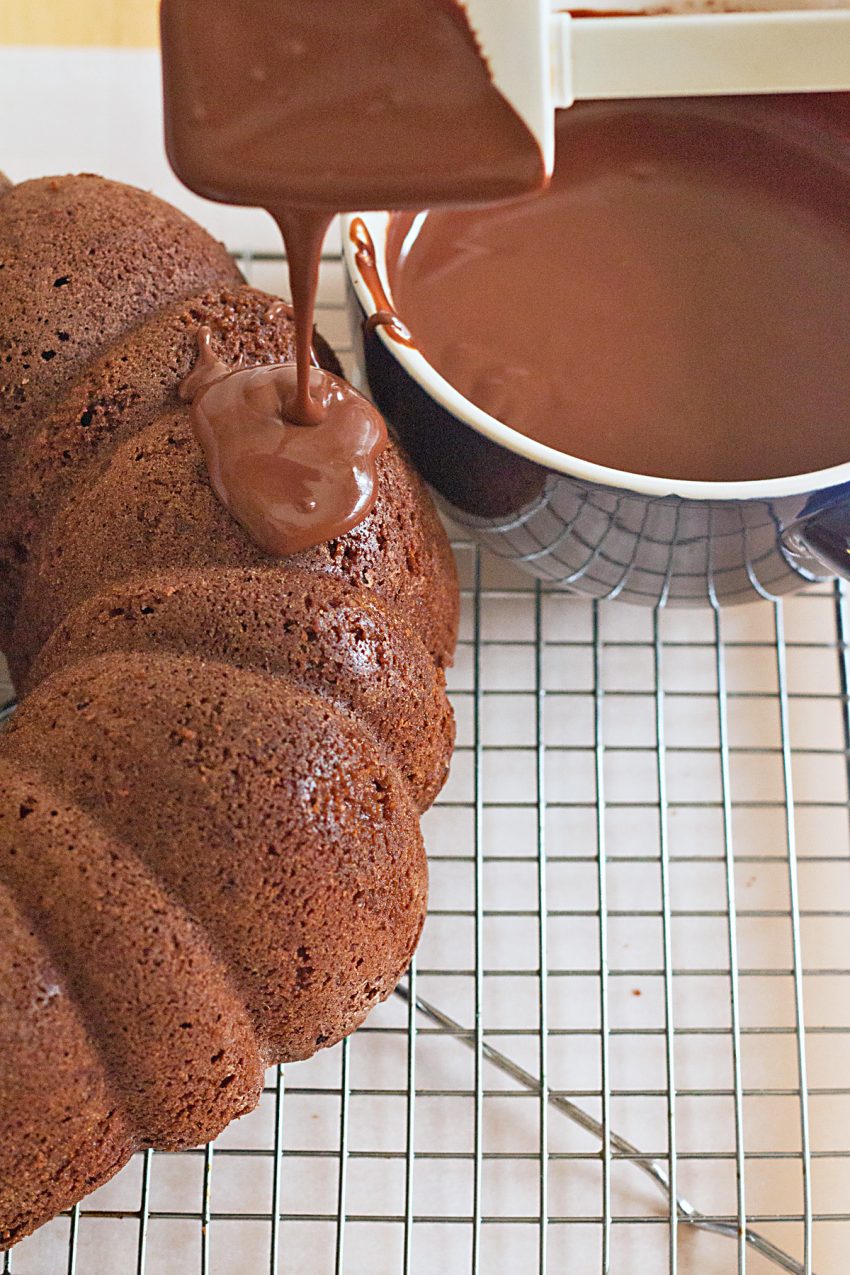 The double chocolate bundt cake recipe is Martha Stewart's. The recipe is tweaked a bit, to enhance the flavors and add extra moisture to the cake.
Instead of sour cream, I used a new organic product from Stonyfield called Petite Creme. It tastes very similar to creme fraiche, and it's sinfully delicious! I also substituted cake flour for some of the all purpose flour to give it a softer crumb (texture). Brewed coffee replaces some of the milk in the recipe.
Even if you're not a coffee drinker, trust me and use it in this recipe. Coffee enhances the flavor of chocolate, adding richness and depth.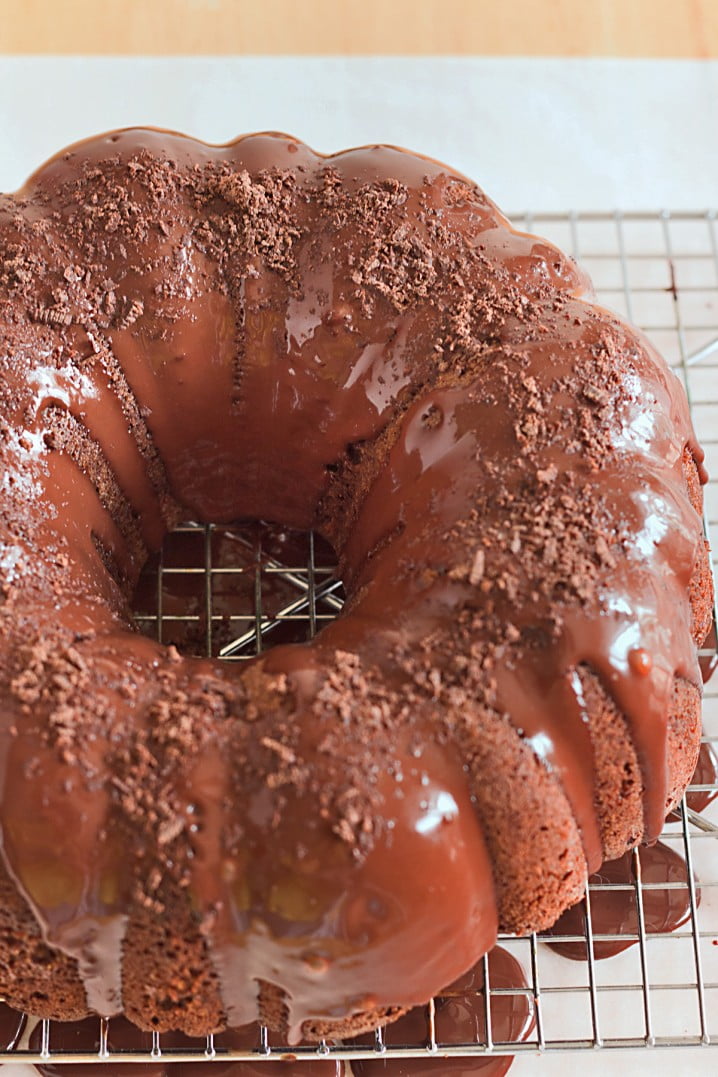 I used a cheese grater to make dark chocolate shavings for the garnish.
Be sure to serve this double chocolate bundt cake with a big scoop of ice cream.
I prefer vanilla, but maybe I will live on the wild side, and go for double chocolate ice cream!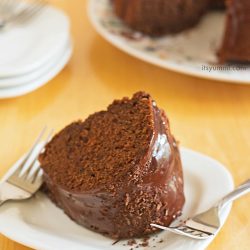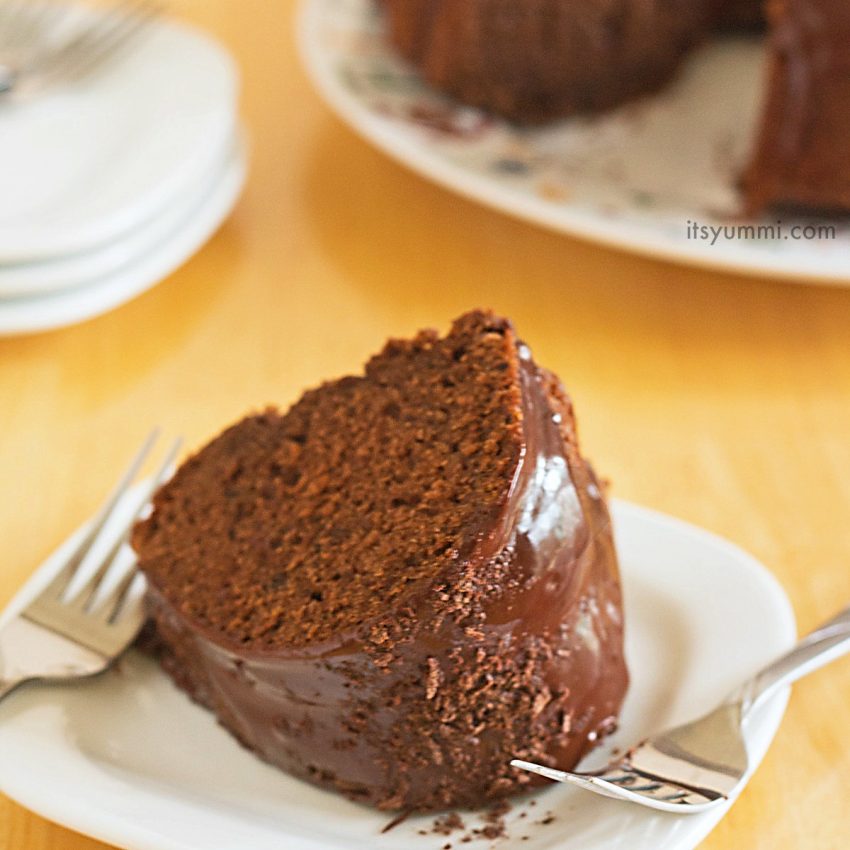 Double Chocolate Bundt Cake
Dark cocoa cake is infused with coffee and topped with a rich bittersweet chocolate ganache. This cake is moist, decadent, and absolutely delicious!
Ingredients
FOR THE CAKE

8.4

ounces

(2 cups) cake flour

2.2

ounces

(1/2 cup) all-purpose flour

½

cup

unsweetened cocoa powder

1

teaspoon

baking soda

½

teaspoon

sea or kosher salt

2

ounces

(1/4 liquid cup) whole milk

2

ounces

(1/4 liquid cup) brewed coffee

4

ounces

(1/2 cup) Stonyfield Petite Creme (vanilla) or sour cream

8

ounces

room temperature unsalted butter

plus more for greasing pan

10

ounces

(1 1/2 cups) granulated sugar

4

large eggs

1

teaspoon

vanilla bean paste or pure vanilla extract

FOR THE GLAZE

3

ounces

bittersweet chocolate

chopped

4

ounces

(1/2 liquid cup) heavy cream

2

Tablespoons

unsalted butter

2

tablespoons

brewed coffee

Grated dark chocolate

for garnish
Instructions
FOR THE CAKE
Heat oven to 325 degrees F. Use butter to grease a 14-cup Bundt pan. Place flour, cocoa, baking soda, and salt in a large bowl; whisk to combine. Place milk, coffee, and Petite Creme (or sour cream) in a small bowl; stir to combine.

Place butter and sugar into the bowl of a stand mixer fitted with the paddle attachment. Mix on high speed until light and fluffy. Reduce speed to medium and beat in eggs, 1 at a time, then add vanilla. Reduce speed to low and alternate adding 1/3 of the flour mixture and 1/3 of the milk mixture at a time, ending with flour. Spoon batter into pan. Bake 45-55 minutes, or until a tester inserted in center comes out clean. Transfer pan to a wire rack and allow cake to cool in the pan. Invert cake onto serving plate or work table.
FOR THE GLAZE
Place chocolate in a heat proof bowl. Heat cream in a small saucepan until simmering, then pour over chocolate. Leave untouched for 2 minutes. Add butter and coffee and mix until smooth. Let ganache stand for a few minutes, stirring occasionally, until slightly thickened. Pour glaze over cooled cake. Garnish with dark chocolate shavings and whipped cream or ice cream, if desired.
Notes
Adapted from Martha Stewart Living; 2008, as seen on MarthaStewart.com
Nutrition
Calories:
7
kcal
Carbohydrates:
1
g
Cholesterol:
2
mg
Sodium:
3
mg