Mustard Peppercorn Rubbed Rib Eye Steak
Rib eye steak, rubbed with a blend of dark grain mustard and cracked black peppercorns, then grilled to juicy perfection. How good does that sound?! Served with a side of cheesy potato grilling packets, this dinner is perfect for tailgate parties, cookouts, or just a nice evening at home.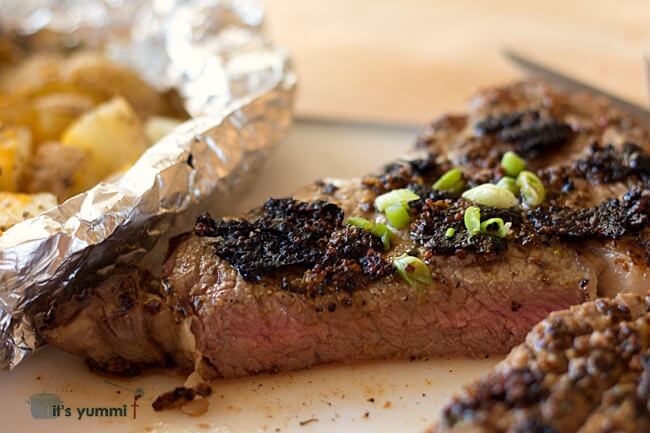 This past Sunday, as part of a sponsored post for Collective Bias® , Brian and I tailgated indoors! This post will discuss the juicy (pun intended!) details of the butcher meat sale at Pick 'n Save, and the enormous amount of money I saved by using their new card loadable coupons and some other online coupon resources. I was compensated for this post, but as always, all thoughts and opinions are my own.
Rib eye steak is a protein that doesn't make its way to our dinner table very often. I assure you that it's not for lack of wanting it there.
To be honest, Brian and I are on a super tight grocery budget. Since most of the available funds go to purchasing produce and other healthy ingredients, I don't typically splurge on expensive cuts of beef unless we're celebrating a special occasion. This week was different, though. I found a crazy good deal on my favorite tailgating foods at Pick 'n Save, including a thick, Angus beef rib eye.
I couldn't pass up the opportunity to tailgate through the Packer game with this mustard peppercorn rubbed rib eye steak.
Over the past year, I've slacked off a bit on being a coupon shopper. I used to get my Sunday paper and scissors and go to town. I used to save anywhere from 20-35% off of my normal grocery spending. But the newspaper price increased and the coupons were for items I didn't consume, so I just stopped clipping one day. Of course, the groceries started getting more expensive too. I was really getting bummed out until I learned that Pick 'n Save started a card loadable coupon program! It's simple as pie to use and convenient doesn't begin to describe it.
You might freak a little bit (in a good way!) when you see how easy this is. Pick 'n Save offers the best selection and quality of fresh ingredients and meal inspiration to help make our lives a little easier, and this is how they do it…
Just visit the digital coupons area of the Pick 'n Save website, browse through the coupons (the customized search feature made it easy for me to browse through only the coupons I wanted and needed), click "clip coupon" to upload them to your FreshPerks card, and then hand the card to your cashier at checkout. Easy, quick, done.
By the way, I'm lovin' the new store logo! It's so fresh and clean looking. Pick 'n Save has re-branded 69 of the Milwaukee area stores, and they're bringing a whole new meaning to the phrase "new every day". New recipes on their website, new savings in the store, and a new attitude towards helping families to create easy, every day meals.
So back to the delicious recipe.
I found a great price on potatoes and shredded cheese, so making some grilling packets sounded like the perfect side to go with the rib eye steak.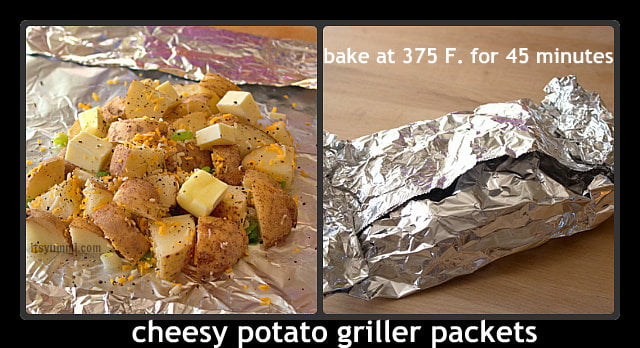 Yummi, right?!
Make sure to spray your aluminum foil with non-stick spray if you aren't using the easy release kind, otherwise, you'll probably end up with deliciously gooey cheese stuck to aluminum.
I diced up a couple of Tablespoons of cold butter and scattered it throughout the potato and cheese mixture before folding it up into a packet. Of course it added a couple hundred calories and loads of fat, but this was a special event and I wasn't going to skimp on taste!
If you're cooking them indoors like I did, you bake up your foil packets on a sheet pan in the oven at 375 degrees for about 40-45 minutes. If you're cooking them on the grill, you might want to check them after 30 minutes to see how they're doing. In either case, if you need a quicker cooking time, chop up the potatoes a bit smaller.
This gorgeous rib eye steak just oozes deliciousness!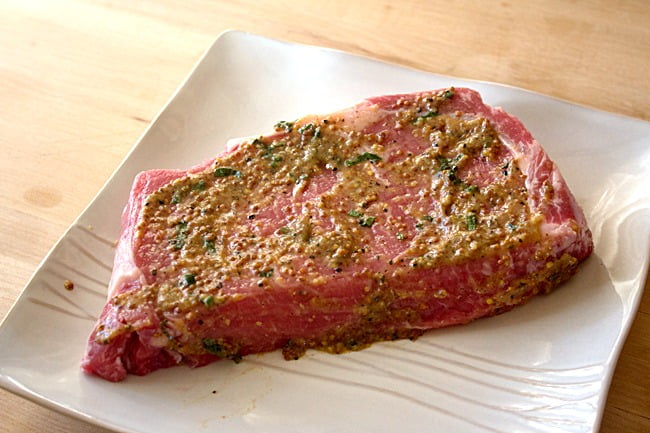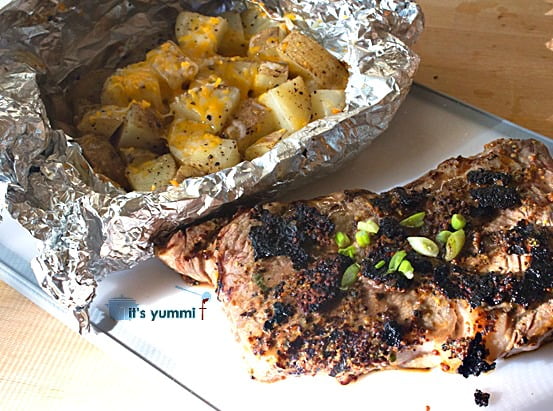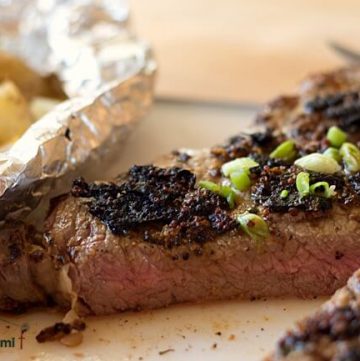 Mustard Peppercorn Rubbed Rib Eye Steak
Thick, juicy boneless rib eye steak, coated in a flavorful rub of dark grain mustard and black pepper, then grilled up with a beautiful crust!
Ingredients
1

pound

boneless beef rib eye steak

2

Tablespoons

dark grain mustard (or 1/2 teaspoon dry mustard powder)

1

Tablespoon

cracked black pepper

1

Tablespoon

fresh tarragon

snipped/chopped thinly

1

teaspoon

extra virgin olive oil

1

teaspoon

salt
Instructions
Mix all ingredients except for steak in a small bowl. Stir to combine.

Lightly pat the steak dry with paper toweling. Use fingers to evenly apply rub over entire surface of steak, making sure to coat both sides.

Cook steak over a charcoal or gas grill, or use an indoor grilling pan, until the internal temperature reaches high enough to achieve desired doneness of steak.

Remove steak from heat; To achieve the juiciest steak possible, allow it to rest on a platter or cutting board for at least 5 minutes before slicing and serving.
Nutrition
Calories:
51
kcal
Protein:
4
g
Fat:
4
g
Saturated Fat:
2
g
Cholesterol:
13
mg
Sodium:
48
mg