Easy Sausage Sheet Pan Dinner
This easy sausage sheet pan dinner is a delicious and quick weeknight meal! Garlic smoked sausage, sweet potatoes, and bell peppers are lightly seasoned and roasted in this 20 minute, one pan dinner recipe.
The nice folks at OXO sent me a few of their cooking tools and I used two of them to create my sausage sheet pan dinner recipe. I didn't receive any monetary compensation, and all thoughts in this post are my own.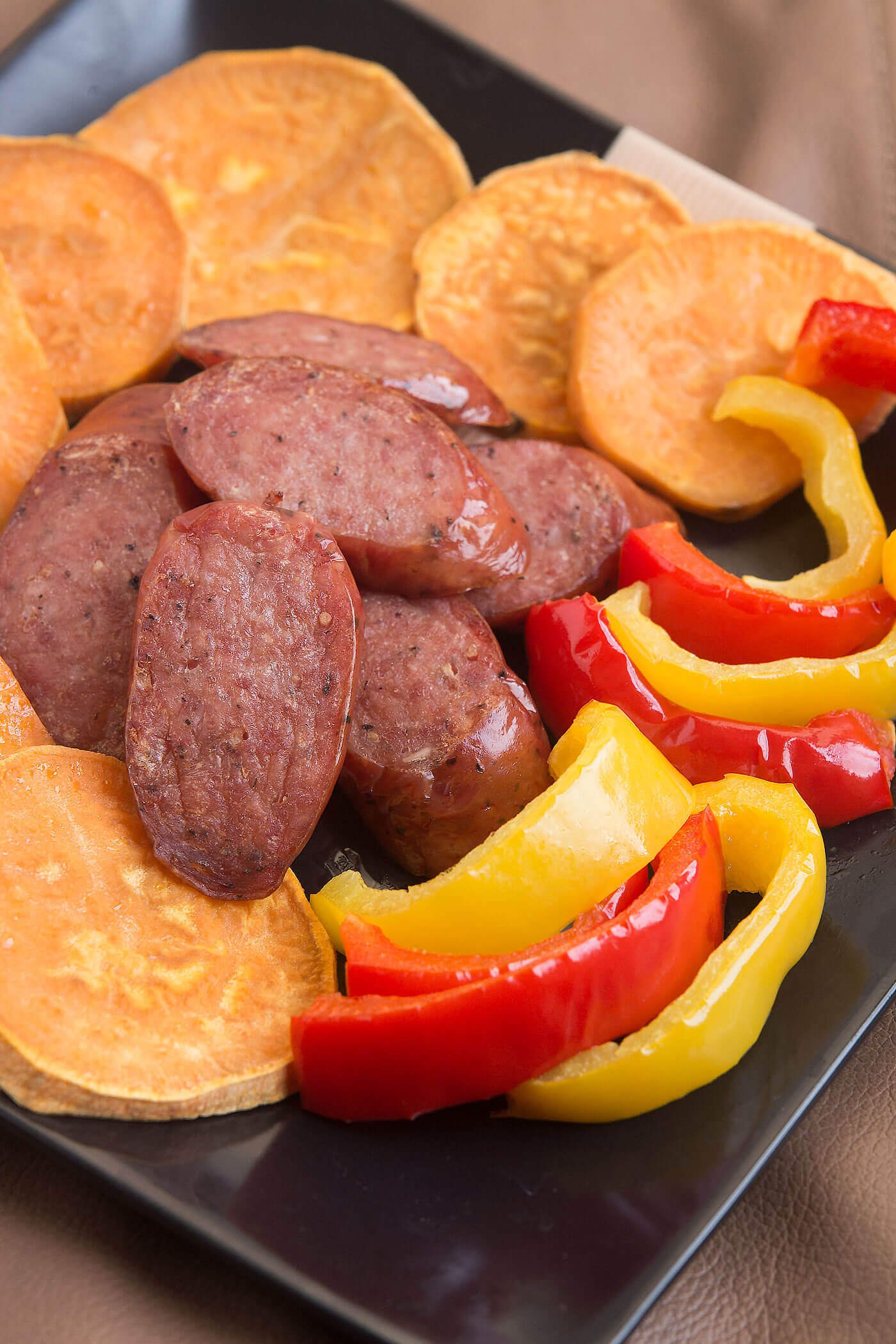 Sheet pan meals have been really popular for the past year or so. If you look on Pinterest or Google, you will find links to thousands of delicious looking sheet pan recipes. I'm not exactly sure why I waited until now to jump on the sheet pan band wagon.
I mean, I have used a sheet pan to make meals on, like when I made low carb steak fajita sliders. But truthfully, I don't make much of anything in the oven these days. I have become completely enamored with making meals in my Instant Pot. It's an amazing appliance, but one thing an electric pressure cooker can't do that an oven can is to roast foods. And I love roasted meats and vegetables!
Because of my German heritage, many of the meals eaten at our house included smoked sausages, bratwurst, and kielbasa. I absolutely love them, and because they are pre-cooked, smoked sausages are incredibly easy to use in making quick meals. Unless you buy them raw, sausages are, for the most part, a heat and eat protein.
OXO tools I used to make the easy sausage sheet pan dinner recipe:
When OXO shipped me a Non-Stick Pro Half Sheet Jelly Roll Pan, I knew that it would be perfect for creating this easy sausage sheet pan dinner recipe on. The sheet pan is extremely well constructed; much sturdier than most of the baking sheets I have used in the past. It has a double layer of non-stick coating (PFOA-free). The square-rolled edges add reinforcement for structure, strength and durability.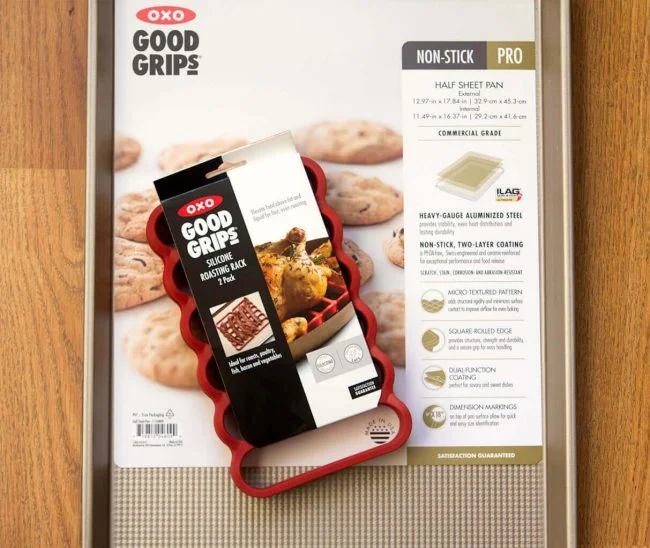 In addition to the sheet pan, OXO also sent me a few other really nice kitchen tools. I used a couple of them when making our Thanksgiving meal last week.
Good Gravy Fat Separator: Easily separates the fat for healthier gravies, soups and sauces.
Silicone Roasting Rack: The rack elevates food above fat and liquid for healthier cooking. It also allows air to circulate around food for faster, more even roasting, which is why I used it to hold the meat when I made the sausage sheet pan dinner.
Flavor Injector: It injects marinades and other flavorings into meat for delicious flavor and juiciness. Two needles for thick and thin marinades store inside the injector tube when not in use.
Chef's Precision Digital Instant Read Thermometer: The Instant Read Thermometer provides quick, accurate measurements for cooked meat. The pivoting head allows reading temperature from any angle.
I'm not sure if you can see it in this photo or not, but another thing I like about the OXO bakeware is that it has sizes printed on the top. This makes it easy to grab the right pan for each job.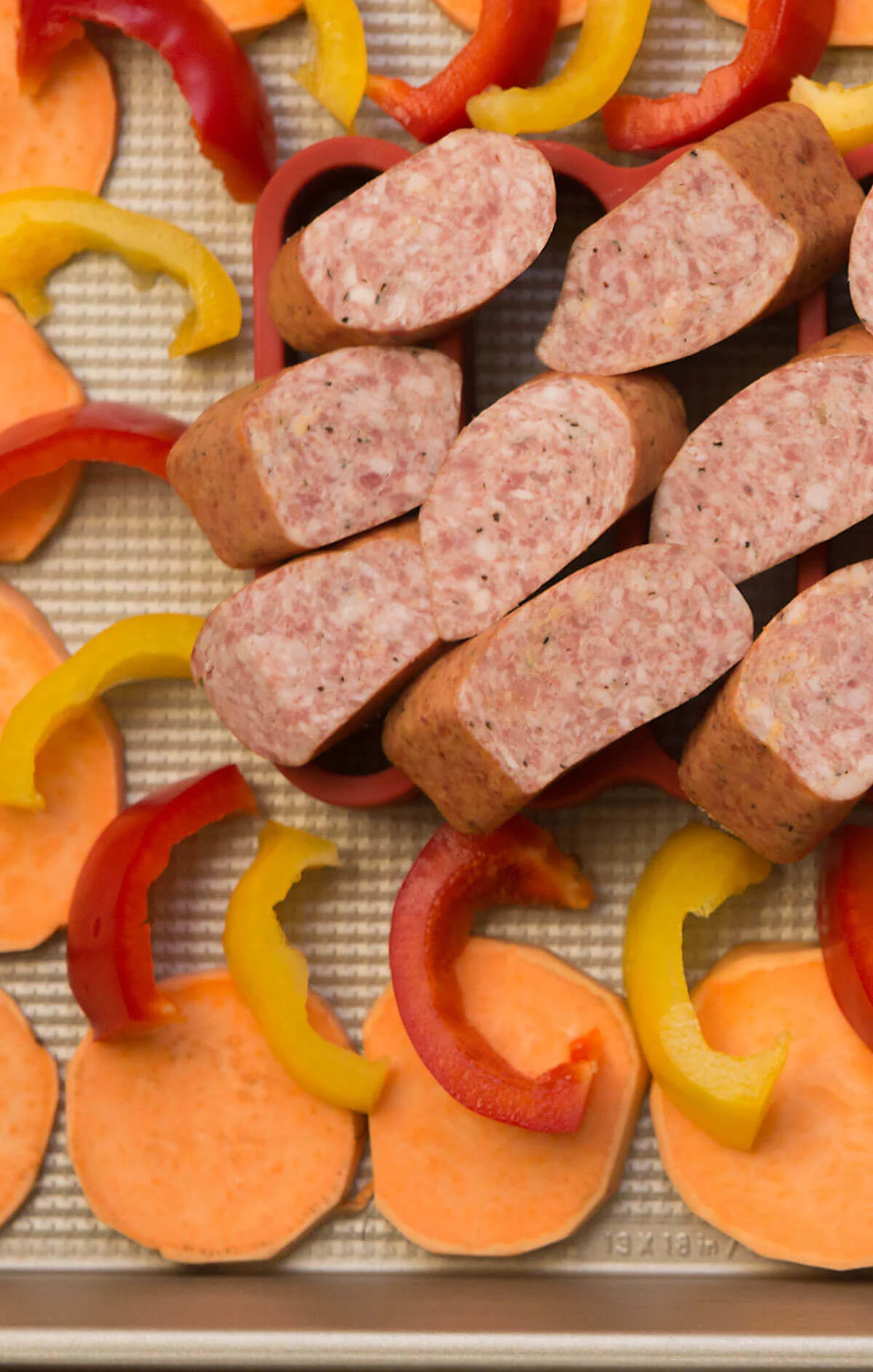 I also used another OXO tool to prep the meal that I've been using for a long time; a swivel peeler. It's super sturdy and the blade is still sharp, even after several years of use. Plus, it has a nifty little divot tool at the tip for removing potato eyes and blemishes on fruit and veggies.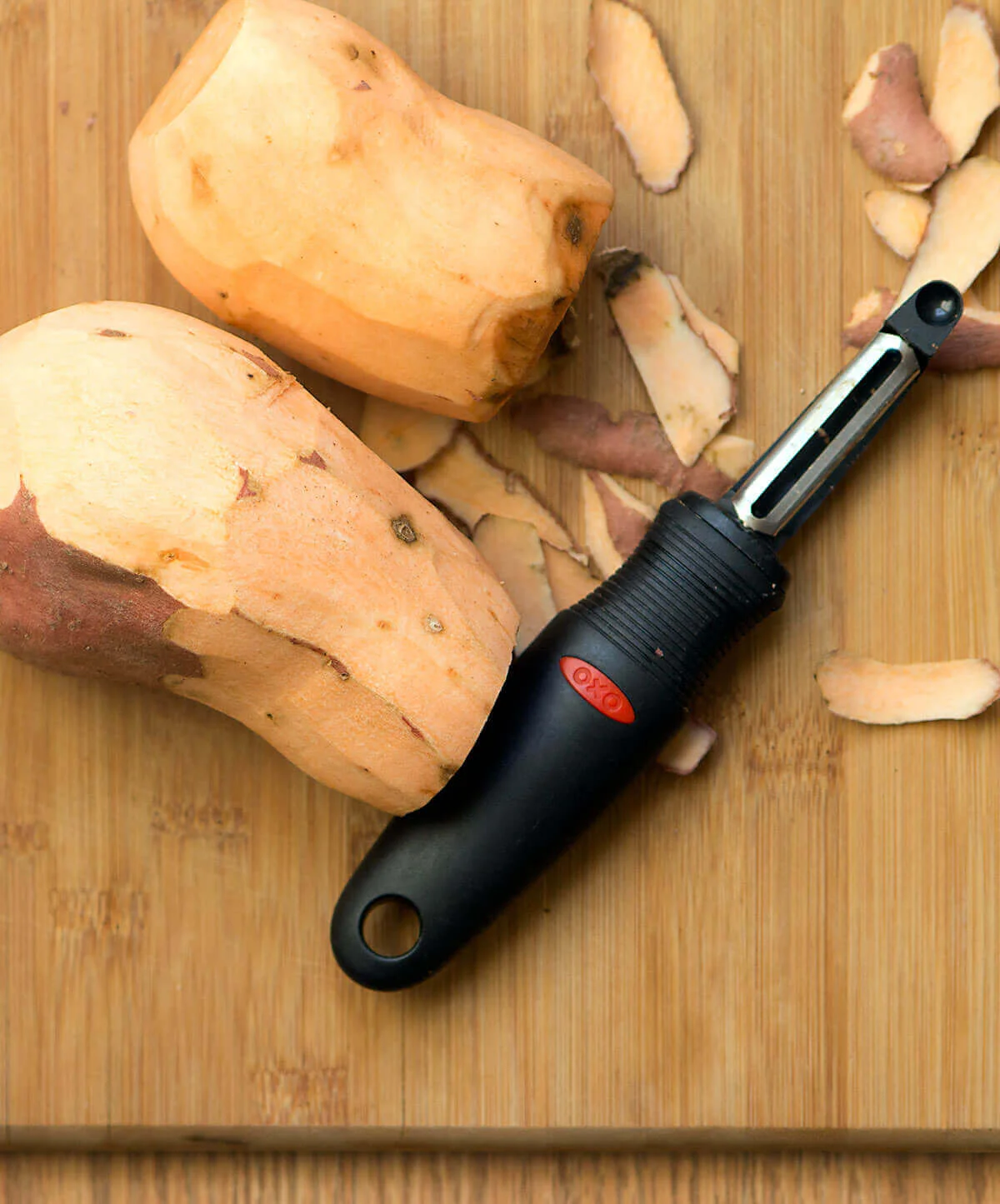 My smoked sausage sheet pan dinner recipe has everything you could want in a wholesome meal; protein and healthy veggies that are packed with fiber and nutrients.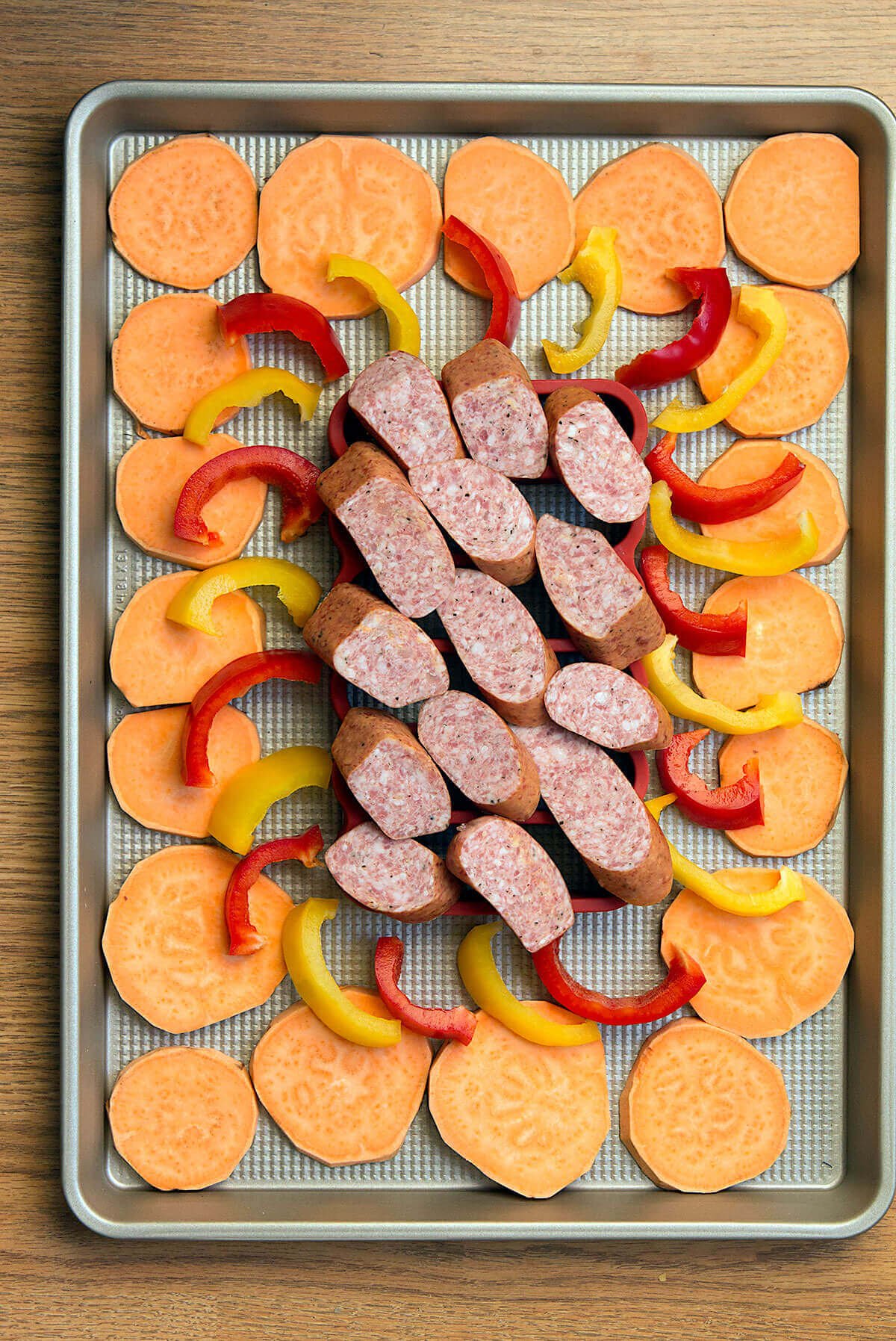 If you want to cut the fat and calories in the meal down a bit, you can use a healthier sausage, like turkey or chicken sausage. Because there are just two of us in the family, the recipe is posted for 2 servings, but it is easy to adapt for more. You can overlap the sweet potato slices a bit if you need to, or just cut the sweet potatoes in half lengthwise and roast them on the pan that way.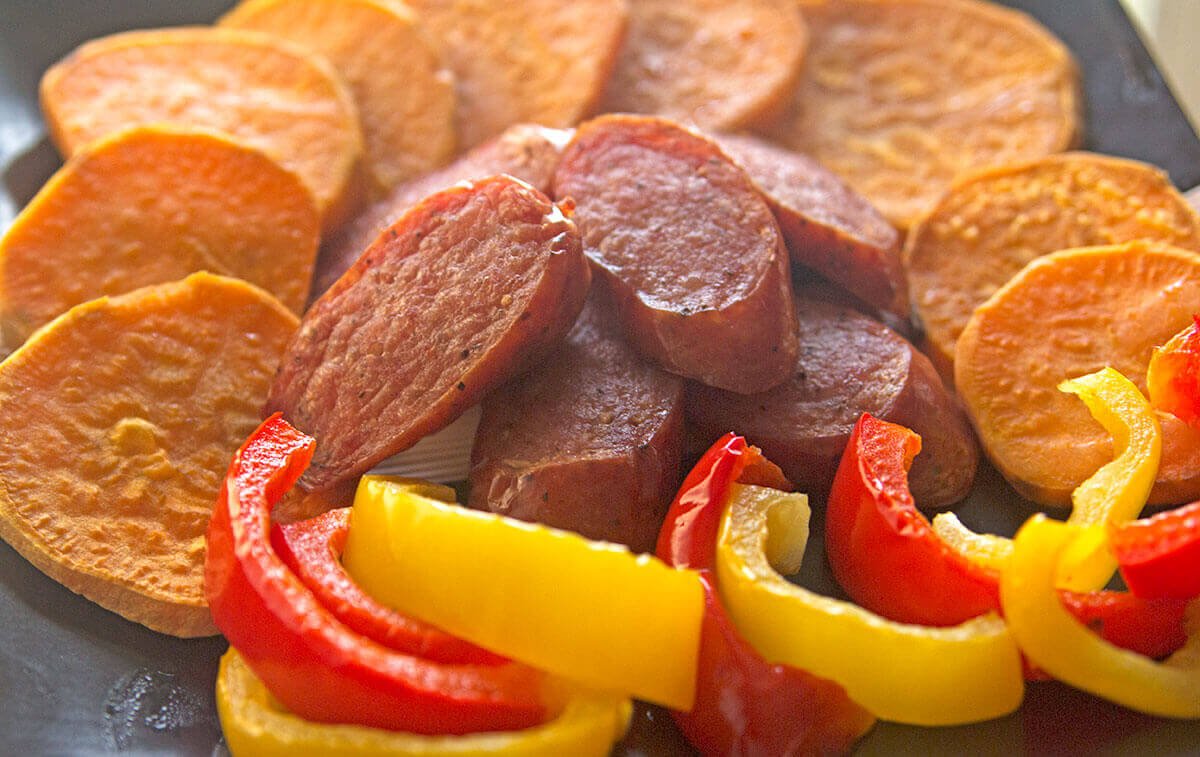 I hope you enjoy this sausage sheet pan dinner recipe as much as Brian and I do!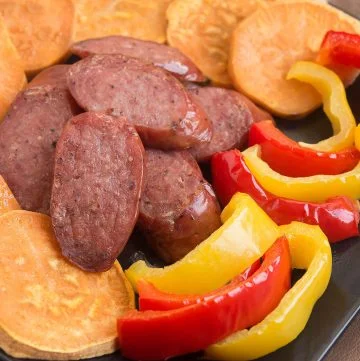 Sausage Sheet Pan Dinner
This easy one-pan dinner includes garlic flavored smoked sausage, sweet potatoes, and red and yellow sweet bell peppers. To make this recipe Whole30 compliant, use a brand of sausage such as Aidell's, which is non-GMO, nitrate-free and sugar-free.
Ingredients
½

pound

smoked sausage links

2

small

sweet potatoes

1

yellow bell pepper

1

red bell pepper

1

tablespoon

avocado oil

½

teaspoon

cracked black pepper

½

teaspoon

sea salt
Instructions
Heat oven to 400 degrees F.

Core, seed, and slice bell peppers into 1/2 inch wide strips. Wash and peel sweet potatoes, removing any eyes if necessary. Slice potatoes into 1/2 inch thick rounds. Slice smoked sausage links diagonally into 1 inch thick slices.

Lay meat and vegetables onto a large rimmed baking sheet. Drizzle potatoes and bell peppers with avocado oil, or other healthy oil of your choice. Sprinkle meat and vegetables with black pepper and sea salt.

Place pan into oven and bake for 20 minutes, or until sweet potatoes and peppers are fork tender.

Remove pan from oven, transfer food to a platter, or serve directly from the sheet pan (careful, it will be hot!). Enjoy!
Notes
Avocado oil is my healthy oil of choice, but feel free to use any high smoke point oil of your choice. Options include, but are not limited to: coconut oil, grape seed oil, or peanut oil.
I used garlic seasoned smoked sausage, but you can use any type of sausage or kielbasa that your family enjoys. To make this recipe Whole30 compliant, use a brand of sausage such as Aidell's, which is non-GMO, nitrate-free and sugar-free.
Nutrition
Serving:
1
g
Calories:
439
kcal
Carbohydrates:
10
g
Protein:
14
g
Fat:
37
g
Saturated Fat:
11
g
Cholesterol:
80
mg
Sodium:
1547
mg
Potassium:
466
mg
Fiber:
1
g
Sugar:
2
g
Vitamin A:
2125
IU
Vitamin C:
185.1
mg
Calcium:
15
mg
Iron:
1.7
mg
Don't forget to Pin the sausage sheet pan dinner recipe!