IHOP Catering Menu Prices of 2023
IHOP catering menu includes a variety of options including breakfast, dinner, and lunch, items, as well as sides, appetizers, desserts, and beverages.
Some of the popular items on the menu include pancake stacks, sandwiches, burgers, salads, and hot entrees.
The catering menu can be ordered through the ezcater website, and the offerings may vary by region.
Listed below are the generally popular offerings of the IHOP catering menu.
IHOP's breakfast options include some of the most popular choices, their famous pancakes, which come in a variety of flavors such as buttermilk, blueberry, and Rooty Tooty.
They also offer French toast, waffles, and crepes, which can be customized with a variety of toppings such as fruit, whipped cream, and syrup.
For those looking for something savory, IHOP also offers their most popular breakfast item scrambled eggs, savory crepes, and chicken and waffles.
An additional catering menu section is dedicated to breakfast sides such as hash browns, bacon, sausages, and fruits to complete the meal.
Apart from breakfast, the IHOP catering menu offers main meals of sandwiches, burgers, and hot entrees.
Their BLT Sandwich and Cheeseburger are the most popular customer choices.
Amongst the entrees, the Turkey and Fixings meal is the most-ordered.
There are multiple other delicious offerings to choose from such as Spicy Chicken Sandwich, Mega Monster Burger, Country Fried Steak, and Chicken Cordon Bleu.
Appetizers can be ordered to complement the meal. Their Crispy Chicken Strips appetizer is a customer favorite.
For those looking for a lighter bite, the catering menu lists salads, with the most ordered being their House Salad.
Additional options are Citrus Chicken Pecan Salad, and Crispy Chicken Cobb Salad.
Beverages are also on the catering menu, also subject to differences according to site. However, the Box of Coffee is a popularly ordered choice.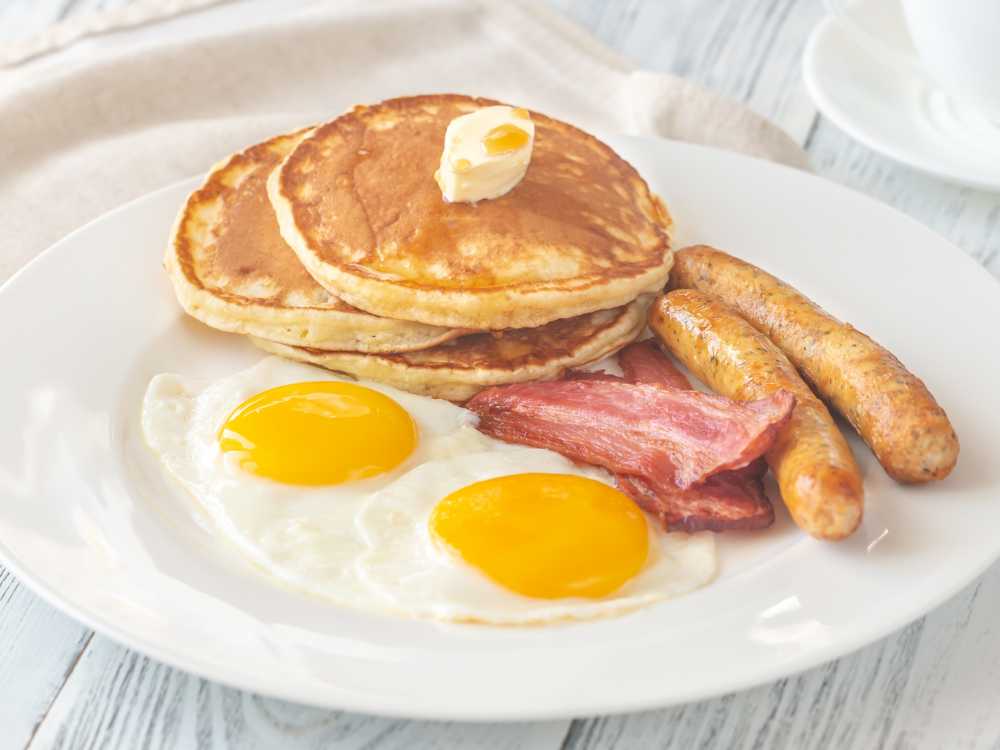 IHOP Breakfast Catering Platter (Combo Boxes)
Items
Serves
Price
Combo Box
Choice of: scrambled eggs, entree, breakfast potatoes and 40 pcs of your choice of breakfast meat.
Small
10
$95.00
Medium
15
$145.00
Large
25
$190.00
Choice of Entrée: Most Popular, French Toast, Pancakes
Choice of Syrup: Strawberry, Original, Sugar-Free, Blueberry
Choice of Breakfast Meat: Most popular, Sausage, Bacon, Ham
Extra: Mustard, salt & Pepper, Ketchup, Tabasco, Cholula
Griddle Faves
All Item Serves 10 Person
| | |
| --- | --- |
| Items | Price |
| French Toast | $25.00 |
| Buttermilk Pancakes | $20.00 |
Choice of Syrup: Strawberry, Original, Sugar-Free, Blueberry
Sides
All Item Serves 10 Person
| | |
| --- | --- |
| Items | Price |
| Hickory-Smoked Bacon | $25.00 |
| Fruit | $30.00 |
| Scrambled Eggs | $25.00 |
| Pork Sausage Links | $25.00 |
| Blueberry Compote | $10.00 |
| Glazed Strawberries | $10.00 |
| Crispy Potatoes | $30.00 |
| Sliced Ham | $25.00 |
Beverages
All Item Serves 6 Person
Items
Price
Box of Coffee
Regular/Decaf
$18.00
Hot Tea
$18.00
Juice
choice of: Apple/Orange
$21.00
Delivery Methods
| | |
| --- | --- |
| In Store | Yes |
| Drive Thru | No |
| Home Delivery | Yes |
| Curbside Pickup | Yes |
Important Links of IHOP Catering
Find IHOP on Social Media
People Also Search
Is IHOP Catering Available For Delivery Everywhere?
IHOP catering is available for delivery in most American states through ezcater, and a list of locations can be found on the website.
Is it Possible To Find IHOP Menu Item Recipes To Recreate At Home?
Recipes for IHOP menu items are not available, as the restaurant seeks to maintain the unique flavors of its dishes.
Are There Any IHOP Coupons Available?
IHOP offers coupons for use at their franchise locations, and members of their rewards program may also have access to additional discounts and deals.
Where Can Nutritional Information For IHOP Catering Menu Items Be Found?
Nutritional information for catering menu items can be found on the official IHOP website, as they are derived from the main menu.
What is The Most Widespread IHOP Catering Menu Item?
The most widespread catering menu item is IHOP's signature Original Buttermilk Pancakes.
Final Thoughts
IHOP catering offers a diverse range of breakfast and lunch options that are perfect for any occasion.
From classic pancakes and waffles to savory sandwiches and salads, the catering menu lists items with a wide variety of tastes and preferences.
IHOP catering prices are reasonable and the portions are generous, making it a great choice for feeding a large group.
Whether you're hosting a business meeting, a family gathering, or a special event, IHOP catering is a convenient and delicious option, that offers the well-known and well-loved taste of IHOP at home.