Slow Cooker Beef Stew is classic comfort food done right. With minimal prep this traditional stick-to-your-rib dish, cooked with red wine invites all your senses to partake in the deliciousness. Vibrant colors, tender meat, hearty vegetables, the smell of red wine filling your house – all there for the taking and your enjoyment.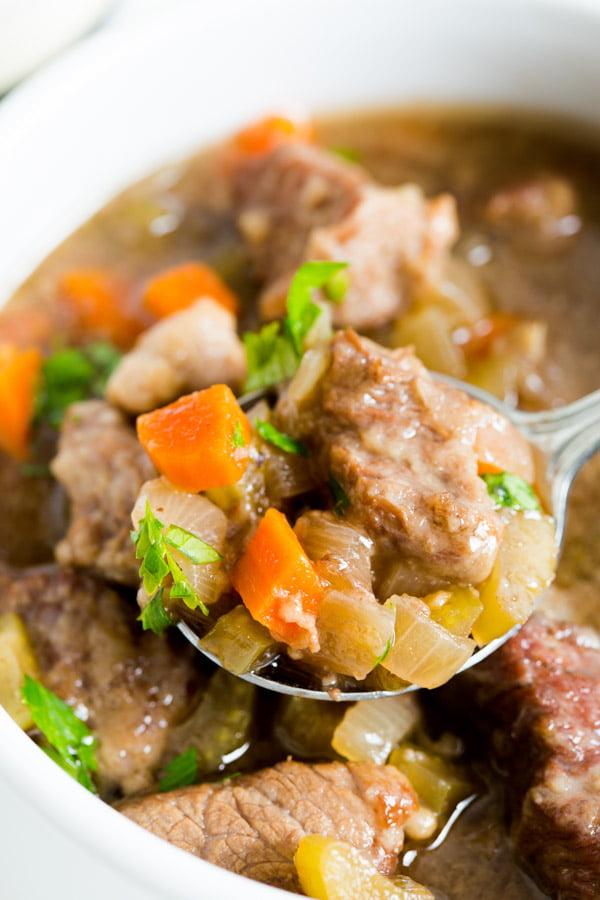 The Secret to Slow Cooker Beef Stew
To make the best slow cooker beef stew there are a few things outside of the slow cooker you need to do. First is to sear the meat. While you can certainly throw your meat into a crockpot and let it cook, searing the meat adds another level of flavor that carries over to the vegetables and stock. The use of red wine in this dish is the key to unlocking hearty, earthy flavors. Cooking out the alcohol before adding it to the slow cooker will get rid of the bitter flavor, but leave the robust red wine notes.
How to make beef stew
Grab a large Ziploc bag. I use the gallon size for ease. Cut your beef into 1-inch cubes, pat dry with a paper towel, and add the beef to the bag. Then add the flour, salt, and pepper. Zip the baggie closed with air inside so that it puffs like a balloon. Make sure it is zipped tightly, then shake vigorously.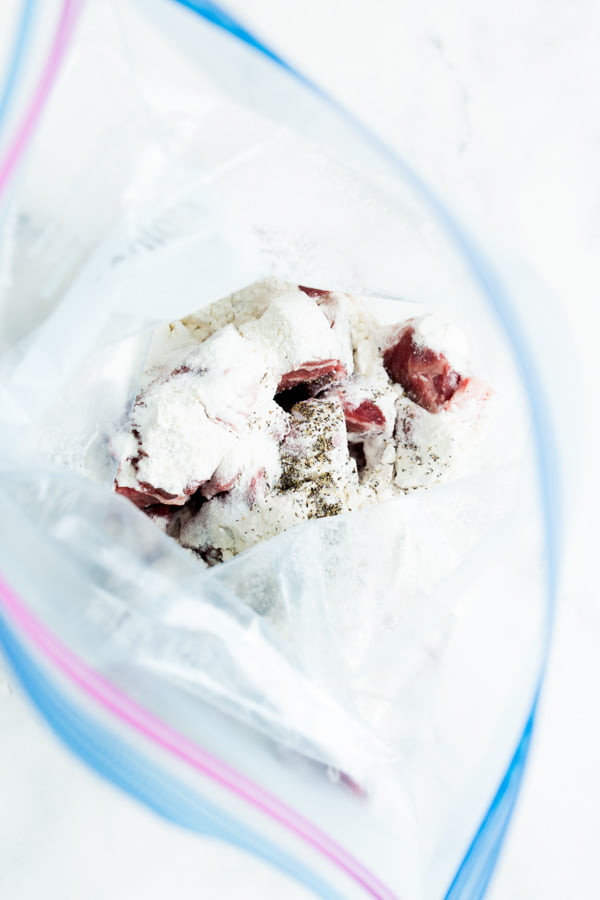 Add the oil to a hot skillet and dump the meat in, searing on all sides. Once they've been seared, remove them and add them to the crockpot.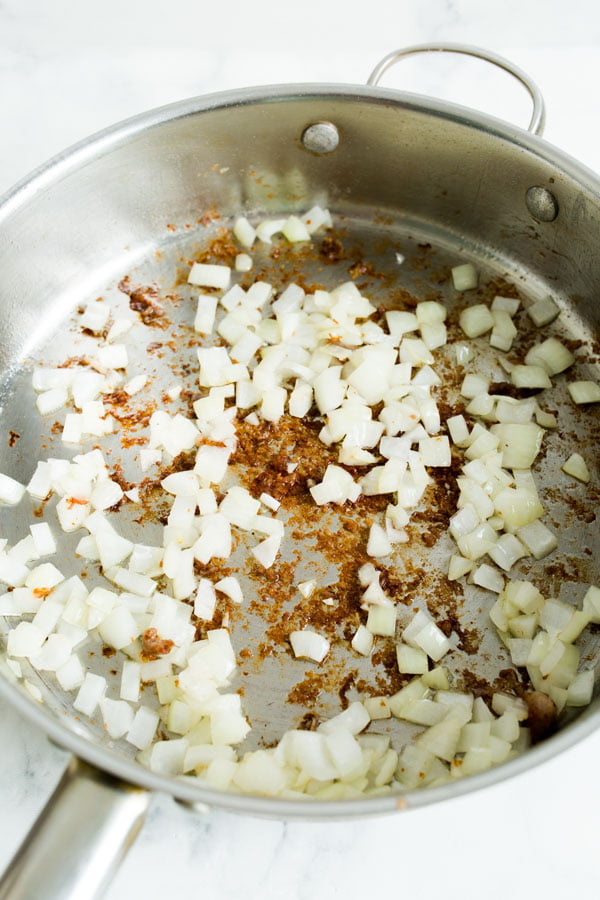 Now add another Tablespoon of oil and start to sauté the diced onion. As the onions become tender, slowly pour in the red wine to deglaze the pan. Using a whisk or a wooden spoon, scrape the bottom of the pan to loosen all the bits leftover from searing the meat.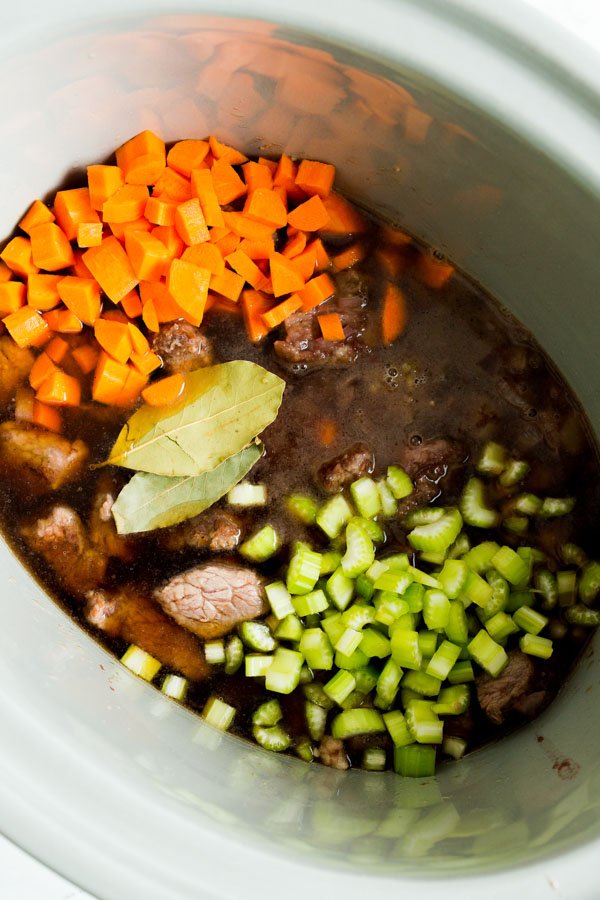 Now comes my favorite part. Toss all of the ingredients into the slow cooker and set on low for about 6-8 hours or high for 3-4. The length of time you need to slow cook the stew will depend on the size of your slow cooker and the size of your meat. Smaller pieces of meat will break down more quickly and a larger slow cooker will heat more thoroughly. A smaller slow cooker that is overfilled will fail to cook evenly or to the temperature we want.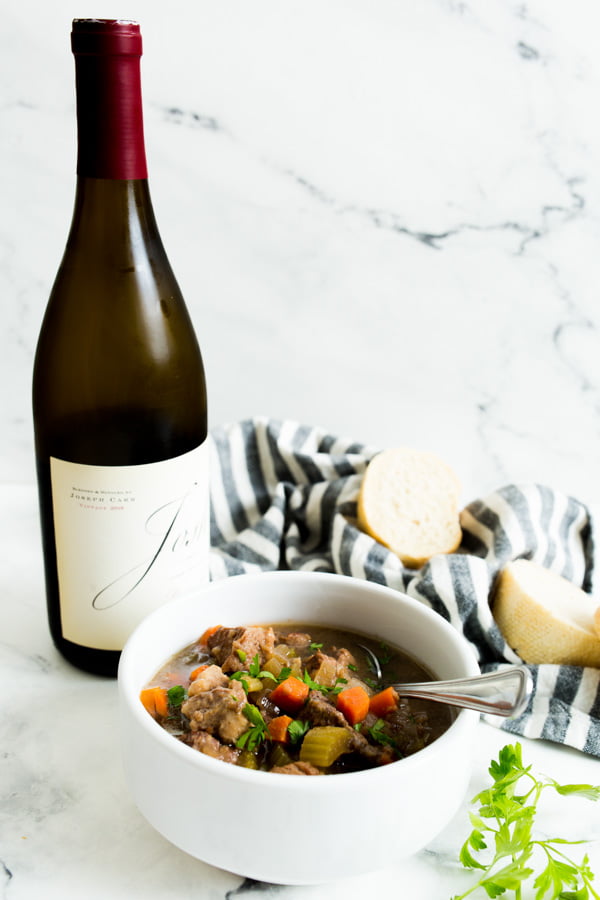 Once it's done, serve with bread, mashed potatoes, a side of rice, or even solo topped with fresh parsley. If you have some of your wine leftover, serve with a glass to accentuate the flavors in the stew. You'll know your stew is done by the vegetables and meat being fork tender.
Best Wine for Beef Stew and Substitutions
As I said before, use a wine you will drink. However, if you don't typically drink red wine, a bottle of cabernet or merlot will suit you just fine. Try to grab one that is mid-priced for better flavors. If you would like to substitute the red wine, you can use more beef broth, red grape juice, or a few Tablespoons of red wine vinegar. We want the flavor as well as the acidity to help break down the meat.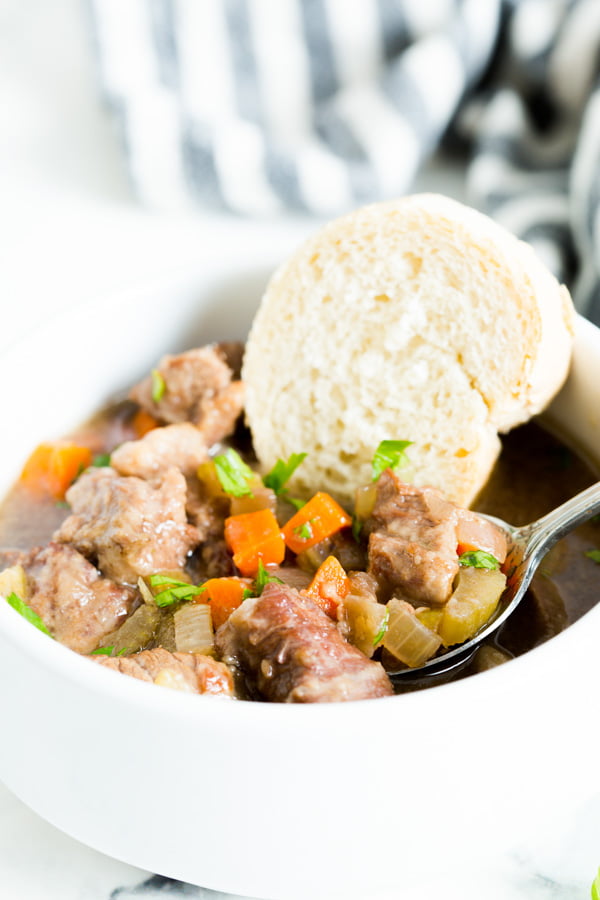 Best Beef for Beef Stew
For a hearty dish that takes hours to cook, you'll want a heartier piece of meat. That means looking for chuck roast (shoulder) or a rump round (rear) when at the store. There are also packages labeled stew meat, but there is no cut of meat from a cow that is actually called stew meat. The heartier the meat is the more connective tissue is has. When this connective tissue breaks down it produces gelatin, giving you that buttery texture while you chew. This is different than the fat on the side of a tender steak that breaks down to produce oils as it cooks.
What to serve with Beef Stew
Other Slow Cooker Meals You'll Love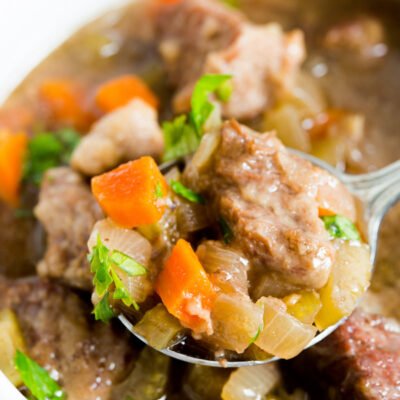 Crockpot Beef Stew
Slow Cooker Beef Stew is classic comfort food done right. With minimal prep this traditional stick-to-your-rib dish, cooked with red wine invites all your senses to partake in the deliciousness. 
Equipment
slow cooker

knife

cutting board

Ziploc Bag (Gallon Size)

12 inch skillet

whisk

Wooden Spoon

Paper Towels
Ingredients
1

lb

beef stew meat

¼

Cup

all-purpose flour

2

cloves

garlic (minced)

½

teaspoon

salt

½

teaspoon

pepper

1

teaspoon

paprika

2

bay leaves

2

teaspoons

Worcestershire sauce

½

cup

red wine*

2

cups

beef stock

3

stalks celery

chopped

1

medium-sized yellow onion

diced

3

whole carrots

cut into bite-sized pieces, or 1.5 Cups baby carrots
* If you don't want to use alcohol in this recipe, substitute an equal portion of beef broth. Please note that all of the alcohol will be removed during the cooking process.
Instructions
Place meat into a gallon sized plastic bag. Add the flour, salt and pepper and shake to coat the meat.

Heat 2 tablespoons olive oil in a large skillet over medium-high heat.

Shake off any excess flour, then add the stew meat and cook, turning as needed, just until it's evenly browned on all sides (this is called searing the meat). Don't overcrowd the pan or your meat won't brown properly. If necessary, sear the meat in batches. It takes a few minutes. Leave any grease in the pan and add the meat to your crockpot.

Take your diced onion and put it in the same skillet, with 1 tablespoon olive if needed), and cook until the onions are translucent. (This means you will begin to see through the onions & they are soft.)

Add the red wine and deglaze the pan (This means lifting the good bits from the bottom of the skillet. This flavorful concoction is also known as fond).

Pour the contents of the skillet into the crockpot.

Add the garlic, bay leaf, paprika, Worcestershire sauce, beef stock, celery and carrots.

Cover and cook on Low setting for 8- to 10 hours, or on High setting for 5 to 6 hours.
Nutrition
Calories:
210
kcal
Carbohydrates:
9
g
Protein:
29
g
Fat:
6
g
Saturated Fat:
2
g
Polyunsaturated Fat:
0.3
g
Monounsaturated Fat:
2
g
Cholesterol:
70
mg
Sodium:
634
mg
Potassium:
670
mg
Fiber:
1
g
Sugar:
1
g
Vitamin A:
267
IU
Vitamin C:
1
mg
Calcium:
42
mg
Iron:
3
mg