There are LOTS of Yummilicious changes happening around this site, and I can hardly wait for you to see all of them in action! It will be a few days before everything can be revealed, but one of the biggest changes will be a completely new layout for this this blog as I go from using a free to a self-hosted website. I can't wait for you to see my new look, so please stay tuned and keep checking back so that you can catch the big reveal!

In the meantime, let me fill you in on another big change. My effort and mission here have always been to bring you great recipes while giving you the tools (directions) to make them and food knowledge to help you understand what you're eating. Well silly me… I've neglected you the opportunity to save money while you're making those great meals. Well, my friends, that is going to change…starting NOW!

Let's face it, the bulk of the cost for our meals lies in our proteins. Beef, pork, poultry, fish, and to some extent, even vegetarian meat substitutes like tofu are the primary cost factor in our meal planning. To combat that cost, each week, I will look through several of the grocery store circulars to find where the best deal on proteins can be found. I will then post a recipe using one of the proteins that is on sale, and I will also post links for you to print out any manufacturer's coupons that can be used to help you buy other ingredients that will go into the dish. But WAIT, there's MORE (yes, that did sound just like an infomercial, didn't it…) I'm going to take things one step further for you and perform a cost analysis on the recipe so that you will have an idea of how much the meal will cost you to prepare. Obviously, prices vary from store to store, so it won't be exact unless you've purchased all of the ingredients at the same price that I was able to get them at, but the important point is that what I'm doing will hopefully save you lots and LOTS of money!

Exciting, right?! Are you ready to get saving? GREAT… Let's get this money saving party started!

In my opinion, a hearty beef stew ladled into a bowl over mashed potatoes and served with a side of fresh garden salad is about as fully rounded as a square meal can get. Because I'm on the go at culinary school and/or work every day, I am happy to make meals that are simple & easy like this crockpot beef stew. It's a perfect dish for those hectic days! You can start it early before the day gets too crazy and come home to a house filled with heavenly scents. It's also perfect for the cold & rainy nights. It's sure to warm you up from the inside out.

Crock Pot Beef Stew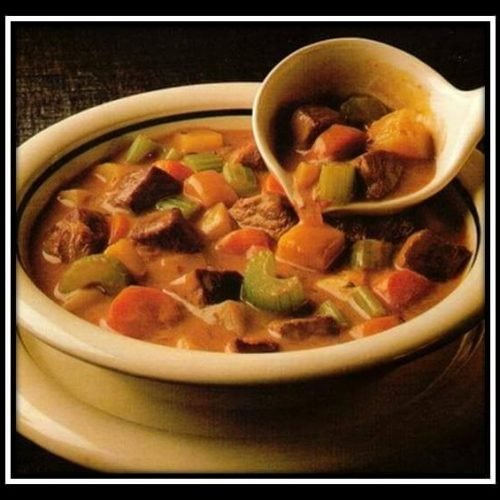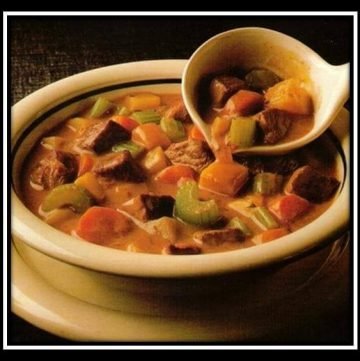 Ingredients
1

lb

beef stew meat

1/4

Cup

all-purpose flour

2

cloves

garlic (minced)

1/2

teaspoon

salt

1/2

teaspoon

pepper

1

teaspoon

paprika

2

bay leaves

2

teaspoons

Worcestershire sauce

1/2

cup

red wine*

2

cups

beef stock

3

stalks celery

,

chopped

1

medium-sized yellow onion

,

diced

3

whole carrots

,

cut into bite-sized pieces, or 1.5 Cups baby carrots
* If you don't want to use alcohol in this recipe, substitute an equal portion of beef broth. Please note that all of the alcohol will be removed during the cooking process.
Instructions
Place meat into a gallon sized plastic bag. Add the flour, salt and pepper and shake to coat the meat.

Heat 2 tablespoons olive oil in a large skillet over medium-high heat.

Shake off any excess flour, then add the stew meat and cook, turning as needed, just until it's evenly browned on all sides (this is called searing the meat). Don't overcrowd the pan or your meat won't brown properly. If necessary, sear the meat in batches. It takes a few minutes. Leave any grease in the pan and add the meat to your crockpot.

Take your diced onion and put it in the same skillet, with 1 tablespoon olive if needed), and cook until the onions are translucent. (This means you will begin to see through the onions & they are soft.)

Add the red wine and deglaze the pan (This means lifting the good bits from the bottom of the skillet. This flavorful concoction is also known as fond).

Pour the contents of the skillet into the crockpot.

Add the garlic, bay leaf, paprika, Worcestershire sauce, beef stock, celery and carrots.

Cover and cook on Low setting for 8- to 10 hours, or on High setting for 5 to 6 hours.