Maple Brown Sugar Oatmeal (Meal Prep Oatmeal)
Maple Brown Sugar Oatmeal packed away into perfect meal prep oatmeal jars to make breakfast easier and a healthier start to the busy day.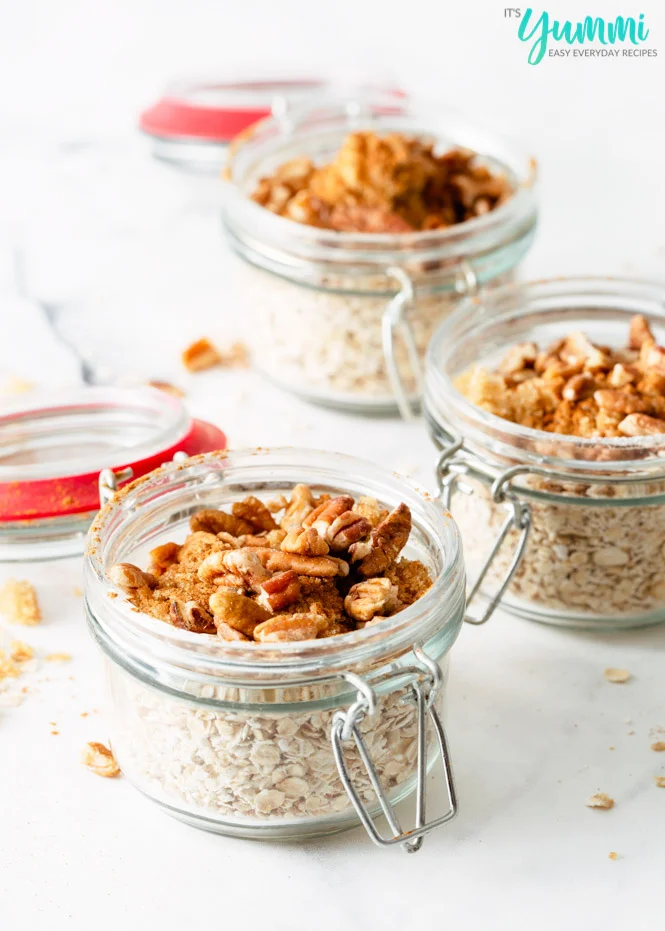 Brown sugar oatmeal has been something we consume on the regular. It's easy to make in the office with some hot water and easily portable. It's just cost efficient, easy to make and good for you. All the checks on the boxes to make this a staple recipe a winner. Our Carrot Cake Steel Cut Oatmeal recipe is right up there too.
Well this maple brown sugar oatmeal recipe is everything we love about oatmeal packets… but better.
Oatmeal packets not only are a little expensive when you realize what you are getting BUT they are packed with quite a bit of extra sugar in them that really isn't necessary.
We try to find a balance with packaged foods, they are convenient at times when needed. However, we just find making our own oatmeal packets is more cost efficient AND more control over the nutrition. Alot like our DIY Bisquick recipe, it's just more convenient for the pocketbook to make it yourself.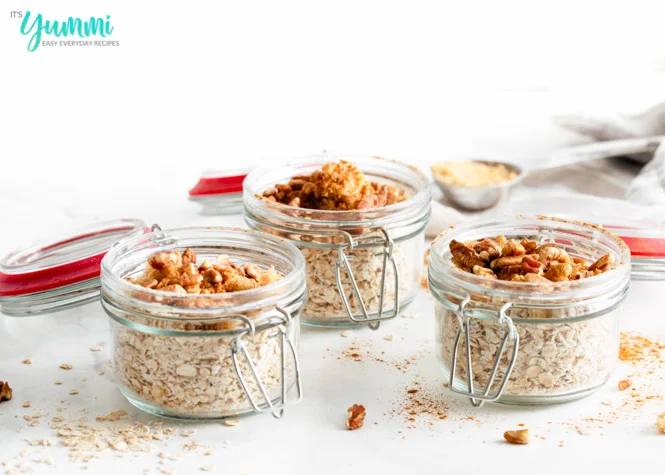 Maple Brown Sugar Oatmeal and a Breakfast Meal Prep for all occasions
We've used this recipe for years now. It's so versatile so lets go into a few ways this is a fantastic recipe.
Meal Preps – Yessssss. First one. We like to either double or triple this batch and place into serving jars like you see here. Pour 3/4 cup of hot water, close the lid and wait 4-5 minutes before enjoying! We like to add a splash to milk to ours if it's available too.
Batch Making – You can make a HUGE batch of this recipe and place into a large airtight container to have it on hand for future breakfasts at home. Just add hot water and wait OR microwave on high for about 1 minute.
Traveling – this is something I've been doing for years. I love bringing a few batches of this recipe in a few bags to take with me when we are traveling. It's perfect for those mornings in the hotel when you want to not spend a ton of money on breakfast. It's super handy.
Another fantastic meal-prep for breakfast would be our whole wheat blender waffles!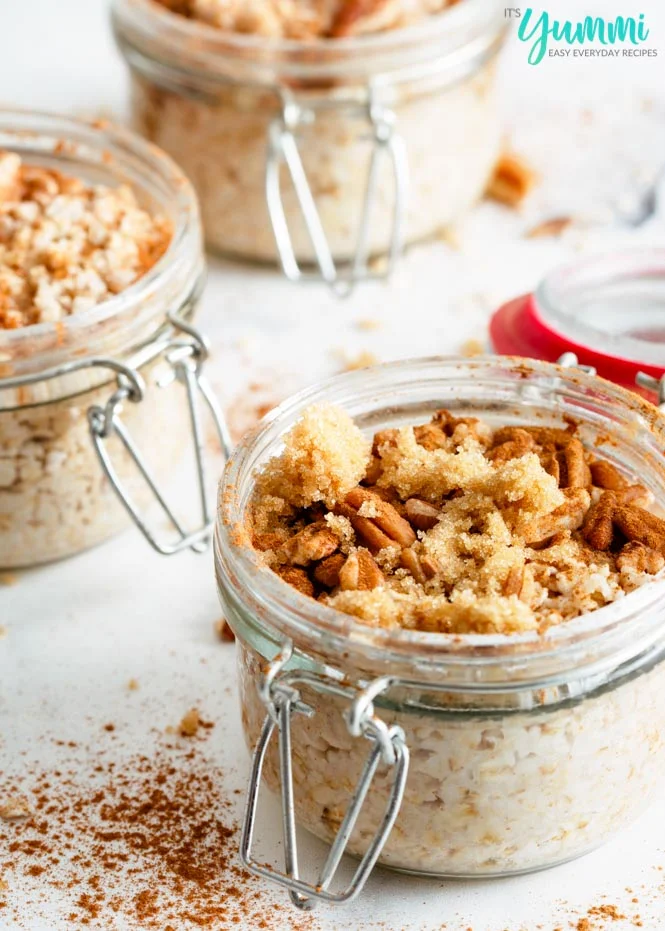 Why is oatmeal good for you?
Oatmeal is packed with great fiber content and its glycemic index is fantastic because of its soluble fiber content. We are severely lacking in fiber with our typical western diets so it's really a vital way to get it in.
Bonus – with that fiber content it oatmeal actually keeps you full! It's curbs cravings and helps consume less calories in the long-run. Think we can all love oatmeal a bit for that fact.
How to have this oatmeal fit your specific diets
Gluten-Free – If you are following a gluten-free diet just be sure to use specific gluten-free quick oats. Traditional oats is commonly manufactured with wheat so it's important to purchase ones that are not cross contaminated. The ones we link to in the post below are that type of oat.
Dairy-Free – Woot! These are naturally dairy-free and actually vegan as well, double woot. Not changes need to be made for this dietary need.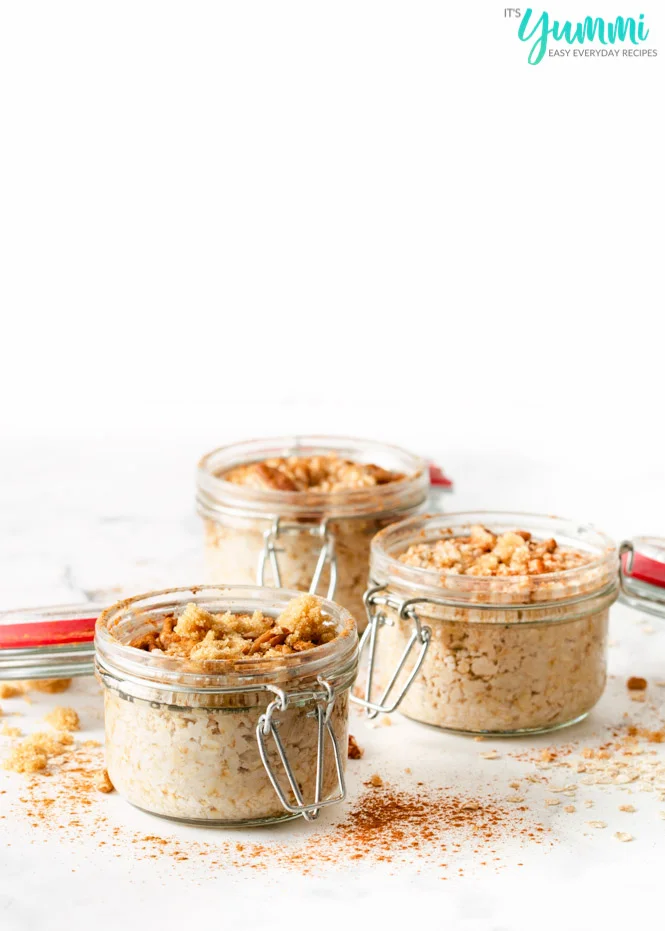 Other recipes using oats you might like: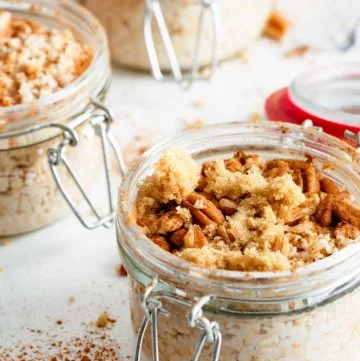 Maple Brown Sugar Oatmeal
Maple Brown Sugar Oatmeal packed away into perfect meal prep oatmeal jars to make breakfast easier and a healthier start to the busy day. 
Ingredients
½

cup

quick cooking oats

1

Tablespoon

brown sugar

⅛

teaspoon

ground cinnamon

¼

cup

chopped pecans

(optional but calculated in nutrition info)

½

teaspoon

maple syrup

¾

cup

hot water
Instructions
In a small jar add oats, brown sugar, cinnamon and pecans.

When ready to eat pour hot water over oats, stir and close lid on jar.

Allow it to sit for 4-5 minutes, or until oats are tender. Add maple syrup, stir and Enjoy!
Nutrition
Serving:
1
jar
Calories:
392
kcal
Carbohydrates:
45
g
Protein:
8
g
Fat:
22
g
Saturated Fat:
2
g
Sodium:
14
mg
Potassium:
255
mg
Fiber:
6
g
Sugar:
15
g
Calcium:
38
mg
Iron:
3
mg