Pappadeaux Happy Hour Menu & Time in 2023
Yearning for a heavenly seafood? The Good news is, with Pappadeaux Happy Hour you don't need to have deep pockets to enjoy a hearty meal.
They have something to offer for everyone whether you want to have lunch, dinner, or just need to grab a refreshing drink on the way.
Pappadeaux spreads affordable happiness through its happy hours from 3:00 pm to 6:30 pm every Monday through Friday.
Their reasonable rates along with a vast variety on the menu can prove to be a paradise for every seafood lover.
To get a glimpse of what's cooking in the Pappadeaux Happy Hour menu, read on; Let's start with the exquisite range of beverages.
Strawberry Mangeaux Tango
Crescent City Sangria
Garden of Eden
Swampthing
Margarita
Tito's Martini
Pinot Grigio, Chardonnay or Merlot
Coors Light Draft
Breckenridge Brewing Seasonal
And that's not all. Let's have a look at their mouthwatering main course;
Catfish Beignets
Fried Calamari
Mini Fondeaux
Petite Po-Boy
Hot boiled Shrimp
Crispy Fried Alligator
As you may have noticed, the happy hours time span is such that it covers both the lunch and dinner timings.
Or if you are just craving to munch on something light, even then Pappadeaux Happy Hour is a highly accessible option.
Besides, the luxury of authentic seafood at such affordable prices is something really amazing about Pappadeaux Happy Hours.
Their pricing starts from as low as $4.95 and the highest-priced item is for $14.95.
One of the things I like the most about Pappadeaux Happy Hour is that they are also offering a variety of cocktails in happy hours at reduced prices.
This means, if you are just craving for a drink on your way back home from work, Pappadeaux is the place to be.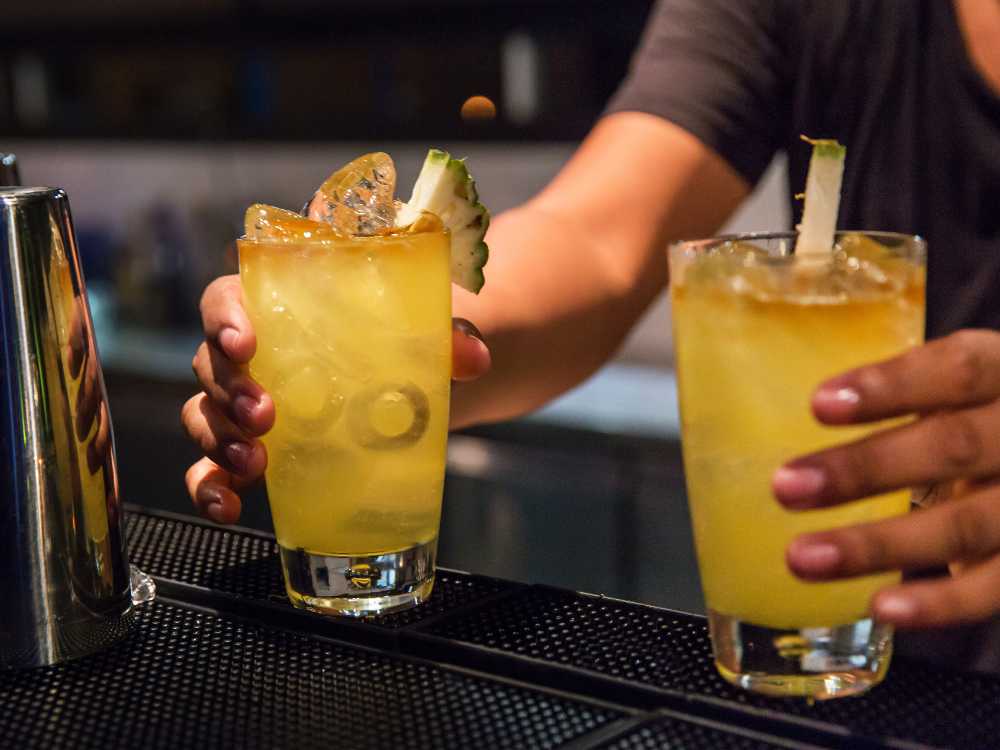 Pappadeaux Happy Hour Time
| | |
| --- | --- |
| Days | Time |
| Monday | 3 pm to 6.30 pm |
| Tuesday | 3 pm to 6.30 pm |
| Wednesday | 3 pm to 6.30 pm |
| Thursday | 3 pm to 6.30 pm |
| Friday | 3 pm to 6.30 pm |
Pappadeaux Happy Hour Menu Foods
Items
Price
Petite Po-Boy
(Fried Catfish Or Shrimp)
$6.95
Catfish Beignet
(Including Shoestring Potatoes)
$4.95
Hot Boiled Shrimp
$9.95
Fried Calamari
(Artichoke Hearts + A Spicy Marinara Sauce)
$6.95
Crispy Fried Alligator
(Including Fresh Cut Potato Sticks)
$7.95
Mini Fondeaux
(Including Blackened Shrimp And Crawfish + Parmesan Crostini)
$8.95
Pappadeaux Happy Hour Drinks
Items
Size
Price
Crescent City Sangria
(Warre's Port, Red Wine, Licor 43, Peach & Lemon Juice)
$10.95
Strawberry Mangeaux Tango
(Strawberry, Cîroc Mango Vodka, Frozen Margarita & Lemon Juice)
$10.95
Swampthing
(Raspberry And Melon Liqueurs Layered Including Margarita & Frozen Hurricane)
Regular
$12.95
Large
$14.95
Garden of Eden
(Cucumber And Lime Juice, Tito's Handmade Vodka Including A Chile Salt Rim)
$10.95
Tito's Martini
(Dry Vermouth & Tito's Handmade Vodka)
$10.95
Margarita
(On The Rocks Or Frozen)
Regular
$8.95
Large
$10.95
Coors Light Draft
(ABV: 4.2% & LIGHT LAGER)
regular
$3.95
large
$4.95
Chardonnay, Pinot Grigio
or Merlot
$5.95
Breckenridge Brewing Seasonal
regular
$4.95
large
$5.95
Helpful Links
Here are a few useful links including the official website link of Pappadeaux, the link to help you find out about your nearest outlet, and online menu link.
FAQs
Which is The Most Ordered Drink Among The Pappadeaux Happy Hour Beverages?
One of the most in-demand drinks of happy hour is Swampthing. It is a unique and colorful blend of melon and raspberry with a Margarita.
Do They Really Serve Alligators?
Fried alligator is one of the main course options you get on the happy hour menu.
They actually do serve real farm-raised alligators for those wanting to try sometime new.
Which is The Oldest Pappadeaux Location?
Pappadeaux started its journey from Westheimer and has been serving authentic seafood since 1986.
Does Pappadeaux Has Locations All Over USA?
Pappadeaux has outlets in seven states of the USA with more than 90 outlets.
Can I Order From Happy Hour Menu Online?
The happy hour's menu by Pappadeaux can be availed by dine-in customers only. They do not provide home delivery for happy hours menu.
What's The Best Dish To Order At Pappadeaux Happy Hour?
If you are looking for something light, their Crawfish Beignets would prove to be a great choice.
On the other hand, their shrimps are quite fulfilling if you are feeling really hungry.