I learned how to make this romantic recipe for baked tilapia en papillote in culinary school a few years ago. The fancy shmancy name threw me into fits of hysteria (yes, I can be a teensy bit overly dramatic at times), because I thought fancy shmancy meant "difficult to make".  Turns out, I was incredibly wrong!
En papillote is a simple French term that means "in parchment".  Tilapia for two (fresh or thawed from frozen will work), seasoned with herbs, butter and lemon, then baked to perfection inside of a heart-shaped piece of parchment paper.  Healthy, beautiful, delicious, and romantic… grab your apron and I'll show you how easy this is to make!
As much as I enjoy a great fish fry, the extra fat and calories have no place in my eating plan these days.  But I'm a discriminating eater… I need FLAVOR in my food, especially where white fish like Tilapia is concerned.  It can be disgustingly bland without the addition of some fresh herbs and spices.  
Typically, herbs like thyme. lemongrass, or dill are used to flavor fish, but I really love the flavor of rosemary, and besides that, it makes a gorgeous garnish. By wrapping the fish up inside of parchment paper, you're effectively steaming it in its own juices. Add a little melted butter and fresh herbs, and you've got a party goin' on! Besides a small pinch of sea salt, there isn't much more that needs to be added.  Of course, it shouldn't stop you from creating a great veggie ensemble inside that packet of love.  Toss in some asparagus spears, zucchini, sliced cherry tomatoes, onions, or anything else that your stomach is hungry for.  You'll end up with a heart shaped packet of love!
To make the parchment packet, we need to whirl back in time to elementary school. Remember those Valentine's Day cards you made in art class? Same technique applies here. Fold a piece of parchment paper in half, but rather than cutting a nice curved edge, cut it slightly angled. That way the edges will seal up more easily for you.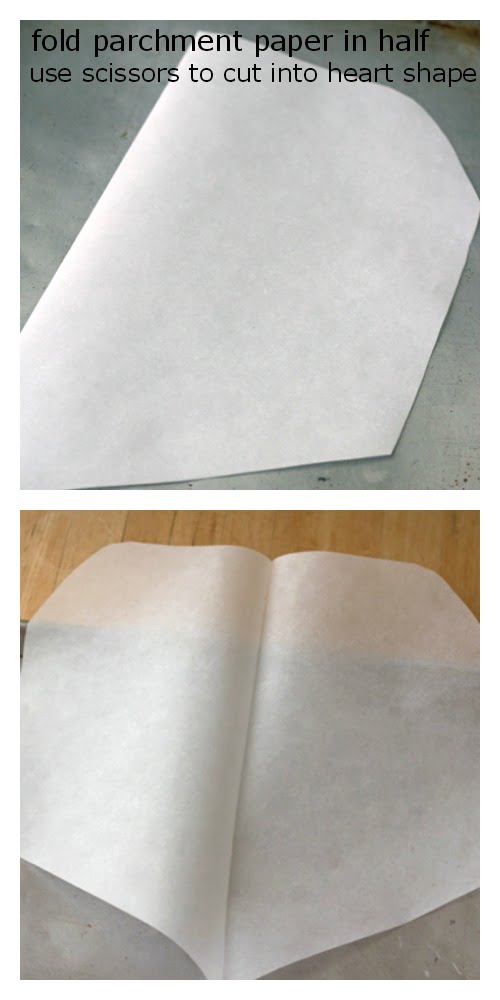 Next, lay slices of lemon on one side of the parchment paper. Be sure to leave room around the edges so that you can fold everything up into a nice tight package.  Rub both sides of the fish with softened herb butter, set it on top of the lemon slices, and add fresh herbs of your choice on top. If you want to add raw veggies to your packet, now would be the time.  Then, fold the parchment paper together again and starting at the pointed bottom, start making small folds all the way up and around the edges of the packet.
Place the packet on a baking sheet and cook at 400 degrees for 10-12 minutes.  The easiest (and prettiest) way to serve them is to place the entire sealed packet on a dinner plate and let each person use a knife to slice the top of their packet open.  What they'll find inside is delicious, romantic food love!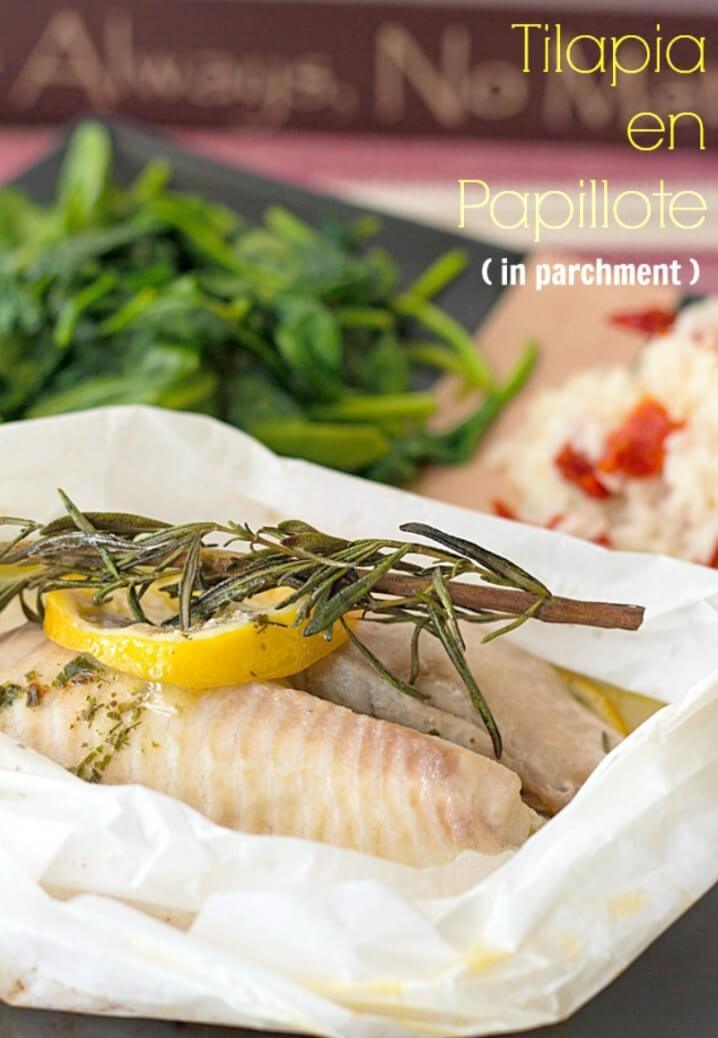 If  you'd like to make a romantic dessert to go with your tilapia dinner, I suggest my double chocolate raspberry cheesecake tart. If you're trying to keep things healthier, then go with my chocolate cherry cheesecake bites. Smaller portion sizes for the big win (and no double chin!)
I hope you love this healthy tilapia recipe!