Maple Sausage Cinnamon Roll Bundles
Cinnamon roll bundles are a sweet breakfast treat with a savory center. For this easy cinnamon rolls recipe, cinnamon roll dough is wrapped around maple flavored breakfast sausage, then baked until golden. Drizzled with maple syrup, these cinnamon roll bundles are a semi-homemade, easy-to-make treat for breakfast or brunch.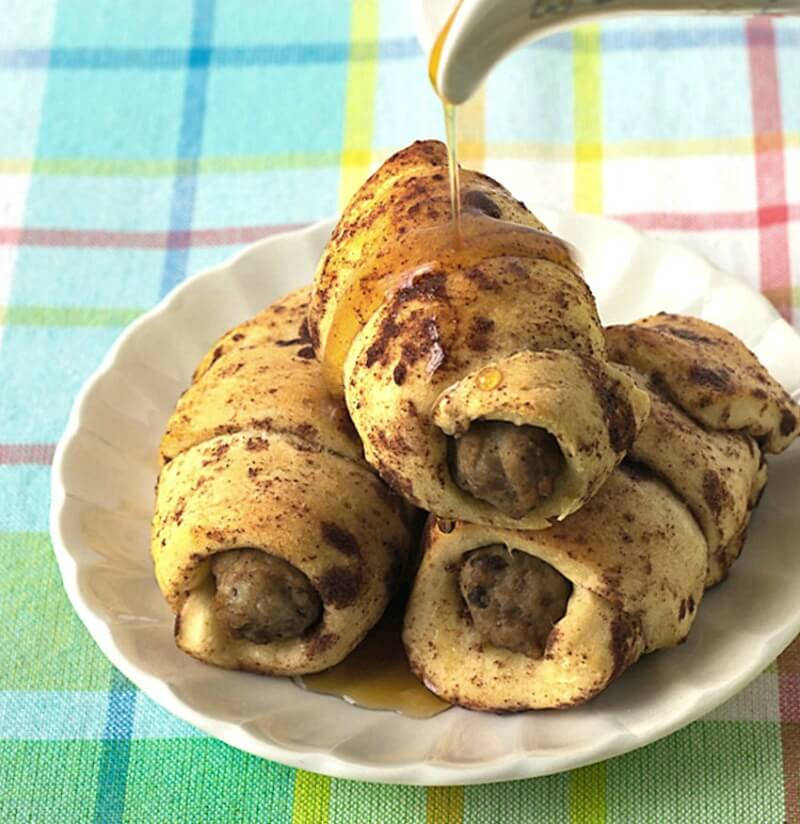 During the week, other than a low sugar protein bar with my morning coffee, I'm not much of a breakfast eater. But when the weekend rolls around, I do enjoy making us a nice breakfast.
Usually some moon over Miami eggs and a pork product like bacon or sausage. Occasionally, a short stack of pancakes or hash brown casserole. However, all of that changes if I'm offered doughnuts or cinnamon rolls. It doesn't matter what day of the week it is, I'm a sucker for baked treats with a base of sweet dough.
Wanting a quick and easy sweet treat to make for Easter weekend inspired me to create this cinnamon roll bundles recipe. If you know me well, you know that I preferr baking from scratch… unless it involves yeast. Baking with yeast drives me a little batty because it's so finicky. Yeast wants the PERFECT temperature and humidity for it to rise. If the water is too cold, the yeast won't grow…. too hot, and it will die.
See what I mean? Dear FINICKY YEAST: You hate me, and I just don't have the patience for you. Buh-bye.
That's why I use ready-to-bake cinnamon roll dough when I make cinnamon roll bundles.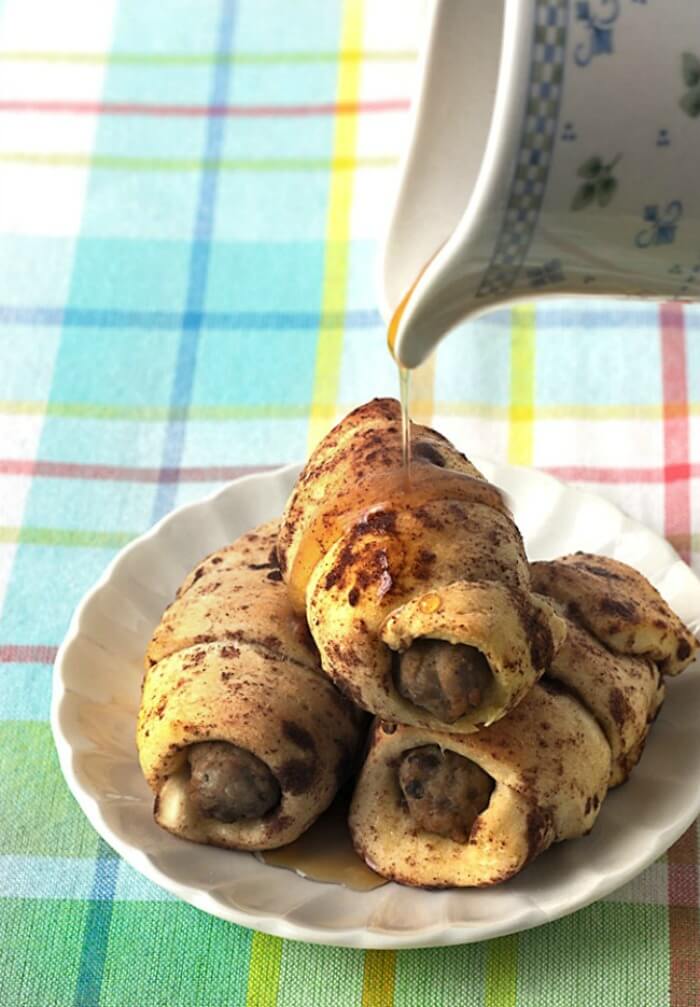 However, if yeast is your thing and you enjoy making cinnamon roll dough from scratch, go for it! Just use the risen, unbaked dough to make the sausage stuffed cinnamon rolls.
If you want to make cinnamon rolls from scratch, here are recipes from blogger friends of mine that will be perfect to use:
Holly, from Spend with Pennies, has a copy cat CinnaBon recipe. *insert drool here*
Christi at Love from the Oven has a make ahead cinnamon rolls recipe.
There's also a perfect overnight cinnamon rolls recipe from my sweet friend, Dorothy, at Crazy for Crust.
By using prepared, ready-to-bake cinnamon roll dough, you can prep the cinnamon roll bundles in about 8 minutes. I haven't tried prepping and refrigerating them the night before you want to bake them, but as long as the dough is fully risen and ready to bake before you assemble them, I think that would work fine. When you're ready to bake them, they'll need 18-20 minutes in the oven.
A Saturday morning without these sausage cinnamon roll bundles is like a day without sunshine!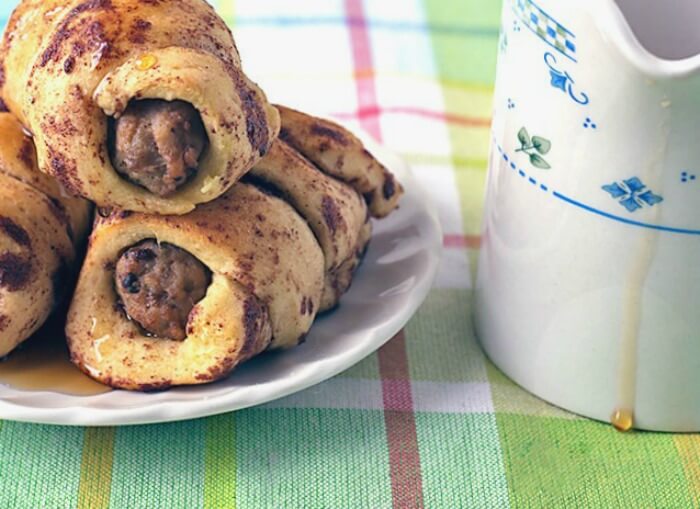 After you make these, it would be super sweet if you would snap a quick photo and share it with me on my Facebook page! I would love to hear what you think of the recipe, too.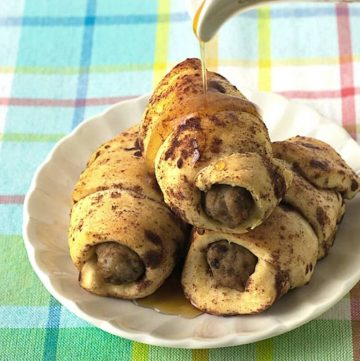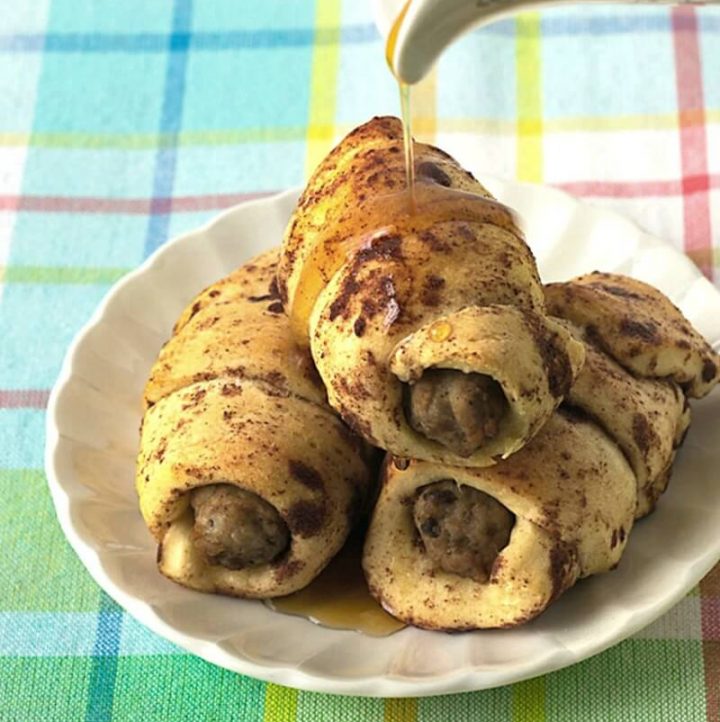 Maple Sausage Cinnamon Roll Breakfast Bundles
Maple breakfast sausage is rolled up inside of cinnamon roll dough and baked. These breakfast bundles are SO good!
Ingredients
6

cinnamon rolls

unbaked

12

cooked breakfast sausage links
Instructions
Heat the oven to 350 degrees.

Place a silicone baking mat or piece of parchment paper onto a baking sheet.

Open the cinnamon rolls, separating each roll and unrolling the dough into one long strip. Use a knife to cut each cinnamon roll strip into two equal sized pieces. Wrap each sausage link with one piece of dough, keeping the cinnamon filling on the inside of each bundle. Then pick up any of the cinnamon filling that falls off and press it onto the outside of the unbaked bundles.

Place the pan with the bundles into the oven and bake for 15-20 minutes, or until the dough is golden brown.

Remove pan from the oven and serve the warm sausage stuffed cinnamon rolls with a side of cream cheese frosting or maple syrup for dipping.

Makes 12 bundles.
Nutrition
Serving:
1
g
Calories:
252
kcal
Carbohydrates:
17
g
Protein:
9
g
Fat:
16
g
Saturated Fat:
5
g
Cholesterol:
35
mg
Sodium:
620
mg