Slow Cooker BBQ Baked Beans
Slow cooker BBQ baked beans are a favorite side dish of mine! I'm a member of the Collective Bias® Social Fabric® Community, and I created this baked beans recipe post as part of a social shopper amplification for #CollectiveBias and its advertiser. I was compensated, but all thoughts and opinions stated here are my own.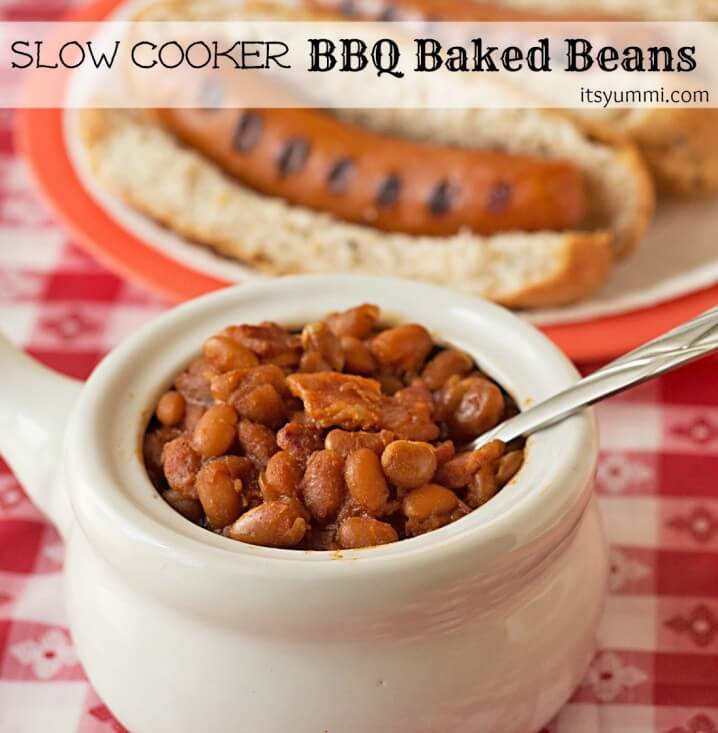 It's time to #StartYourGrill and fill your grill with delicious sausage recipes, and make my Slow Cooker BBQ Baked Beans to go with them!
You'll probably want to pull out your best grilling recipes after you read this post. Trust me on this, gang, because there's not much better than a great day of cooking on the grill. I've got the perfect side dish for whatever you're planning to cook up out there, too.
Just take a look at these slow cooker BBQ baked beans, and try not to drool onto your keyboard.
I lived in the northwest suburbs of Chicago for about 8 years, and that's when I fell in lusty love with Chicago style hot dogs. When served with the authentic toppings of yellow mustard, diced onion, sweet pickle relish, tomato slices, a dill pickle spear, sport peppers, and the ever important sprinkle of celery salt, the masterpiece was known as being "dragged through the garden".
Incidentally, under no circumstances, should a Chicago style hot dog have ketchup on or near it!
I don't eat hot dogs very often, but I bought Hillshire Farm American Craft sausages at Walmart last week. I thought it would be delicious to dress one up, Chicago style, and I was right.
For the tastiest results, serve the dogs in steamed poppy seed hot dog buns, with a side of slow cooker BBQ baked beans!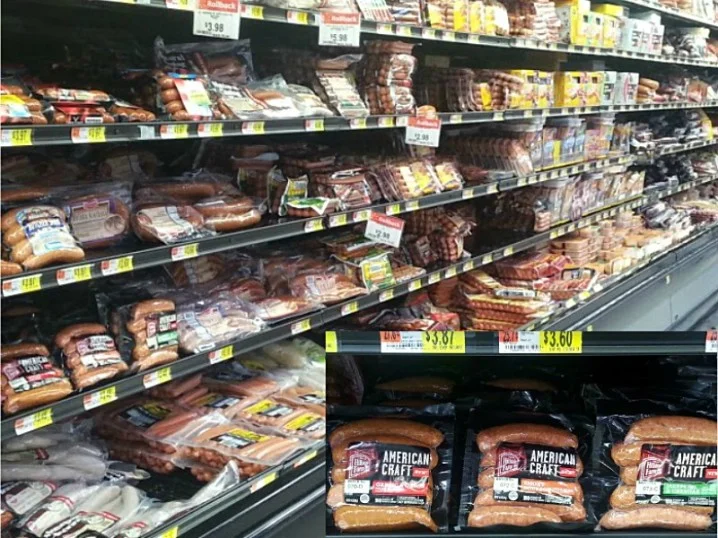 I looked for poppy seed hot dog buns, but couldn't find any, so I bought whole grain buns instead. The sausages are precooked, so a quick run over the hot grill is all that's needed to prep them. Easy peasy!
Making Chicago style hot dogs is a messy business, and apparently, they aren't very photogenic. I want to give you a glimpse of them anyway, though. I hope you'll be inspired to cook up a couple of dogs, and hopefully, they'll sit up pretty on your plate and smile for the camera!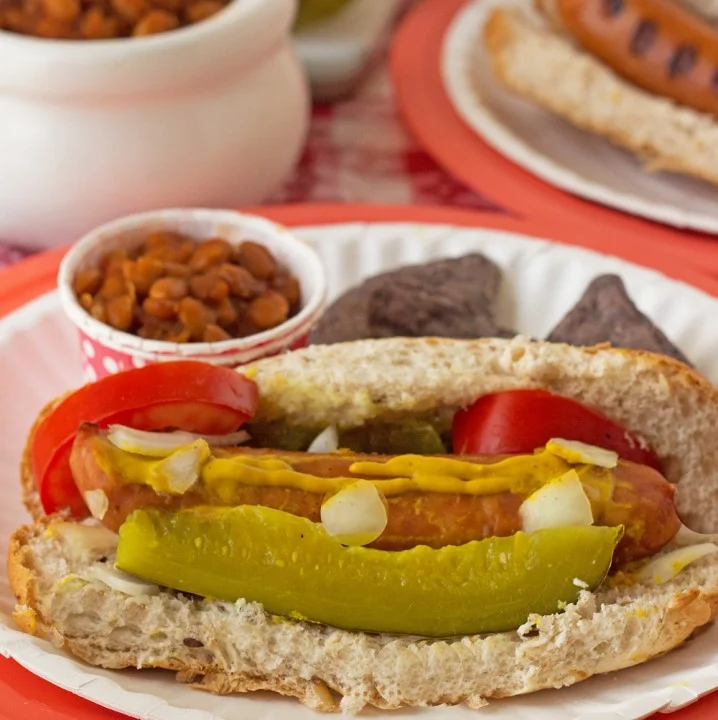 The sweet pickle relish is hiding underneath the tomatoes, but trust me, it's there. I LOVE sweet pickle relish! Oh, and I couldn't find sport peppers at the store, either. My poor functioning gastric system is probably all the healthier for that.
This is a photo of my delicious ingredient line-up, or rather, most of it. The diced onions and the celery salt are hiding.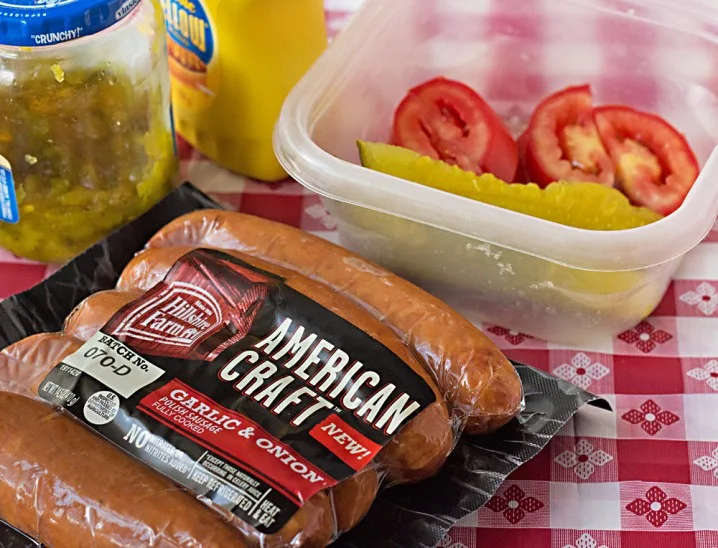 I've been aching to make slow cooker BBQ baked beans from scratch for a long time. Choosing to make a slower cooker version is smart, because it allows for resting and relaxation on the cook's part. In my case, relaxation was the name of the game. Beans are the perfect partner for sausages, because they go together like bread and butter. The depth of flavor you get with slow cooking them is amazing.
I didn't have a recipe of my own to use, so I asked my friends on Facebook for links to their recipes. I figured that they'd come through for me, and I was right! My friend Mary shared two recipes of hers, and I ended up adapting this recipe. I love the flavors that she uses, and it adapts well to a slow cooker, too.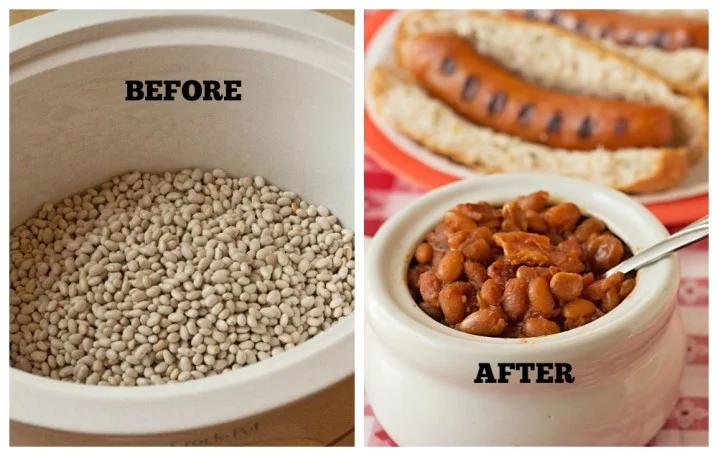 These slow cooker BBQ baked beans are the bomb dot com!
It is so awesome to transform a bag of dried beans into such a delicious side dish! Please give the recipe a try, and if you do, use the comments below to let me know what you think of it.
I would love for you to share your favorite grilling recipes with me in the comments below, too.
Enjoy this slow cooker BBQ baked beans recipe!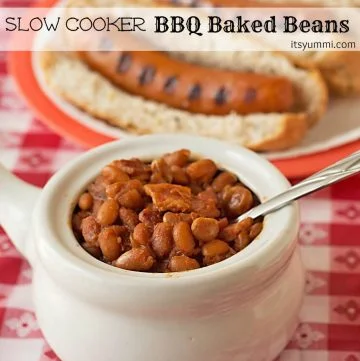 Slow Cooker BBQ Baked Beans Recipe
Cooked low and slow, these slow cooker BBQ baked beans are smokey, with just a tinge of sweetness, and loaded with bacon and delicious spices.
Ingredients
3

cups

dried navy beans

(or other white beans)

9

cups

hot water

1

ham hock

4

slices

thick cut bacon

diced

1

large

onion

diced

2

teaspoons

salt

optional, depending on how salty your pork products are

1

Tablespoon

black pepper

1

teaspoon

mustard powder

¼

cup

molasses

¼

cup

brown sugar

1

cup

tomato sauce

1.5

cups

water

½

cup

BBQ sauce

2

Tablespoons

Worcestershire sauce

1

teaspoon

liquid smoke

optional
Instructions
Place dried beans onto a rimmed baking sheet. Sort through and discard any pebbles or broken beans. Place beans into a large pot and cover with at least 9 cups of water (more if your pot will allow it). Soak dried beans for 8 to 12 hours.

After soaking beans, drain water, rinse beans, and place them into a large (6-quart or larger) slow cooker. Tuck the ham hock into the center of the beans, then add the onion and bacon.

In a large bowl, combine hot water, salt, pepper, mustard, molasses, brown sugar, tomato sauce, BBQ sauce, Worcestershire and liquid smoke. Stir to combine, then pour contents over the beans.

Cook beans in the slow cooker on low power for 4 hours, then increase to high and cook for an additional 3 hours. Test beans for softness. If additional time is needed, cook on high until beans are completely softened, but not mushy.
Nutrition
Serving:
0.5
cup
Calories:
333
kcal
Carbohydrates:
49
g
Protein:
16
g
Fat:
8
g
Saturated Fat:
2
g
Cholesterol:
19
mg
Sodium:
770
mg
Potassium:
931
mg
Fiber:
13
g
Sugar:
17
g
Vitamin A:
120
IU
Vitamin C:
2.8
mg
Calcium:
118
mg
Iron:
4
mg