Steak Taco Recipe Using Pan Seared Steak
Try this steak taco recipe using pan seared steak and you may never want your steak tacos cooked any other way! A quick steak marinade keeps the meat tender and juicy. Pile on your favorite taco toppings and enjoy!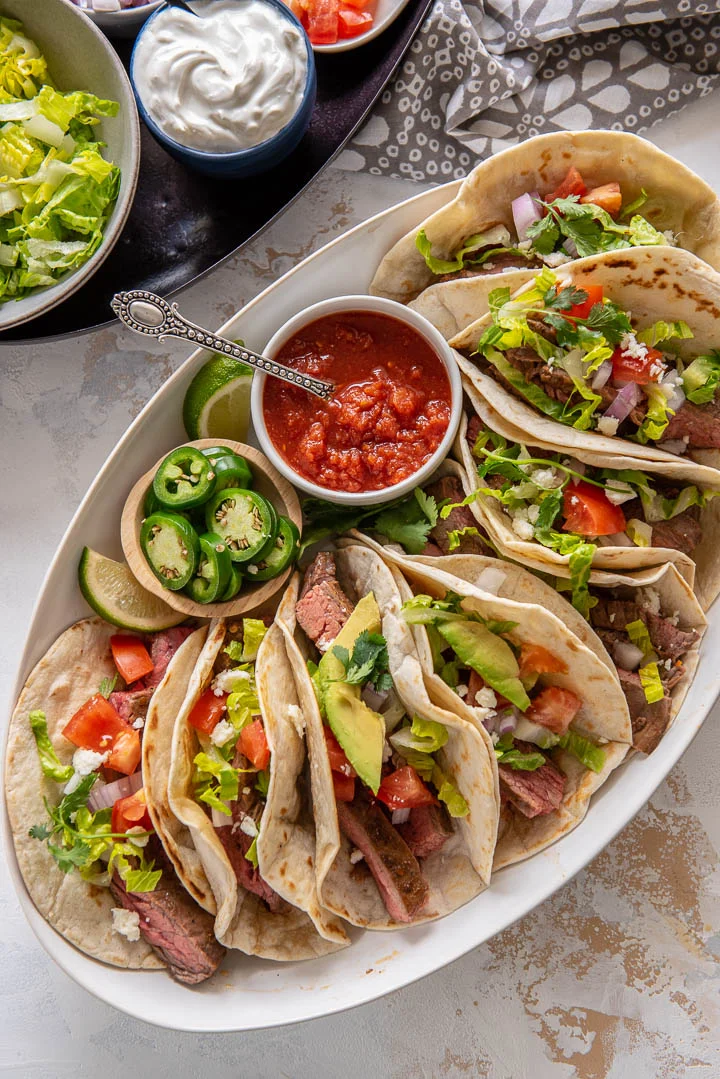 Why aren't these grilled steak tacos?
There is no denying the deliciousness of grilled steak tacos. When the weather outside is nice, Brian cooks a lot of our meals on the outdoor grill, and steak is included on the menu more often than not.
But the sad fact is, living in northeastern Wisconsin means more snow days than grilling days.
I don't think it's a problem. In the off-months, I cook steak indoors; it's quick and easy to do. Thanks to the power of my stove top and oven, making Mexican dinners like steak tacos is a snap!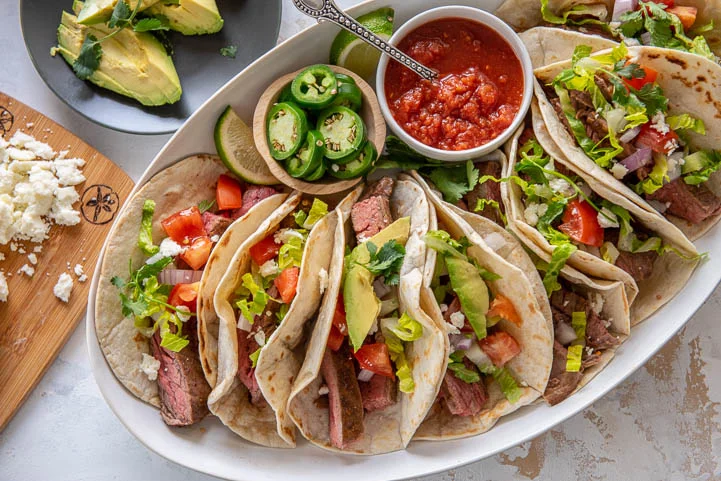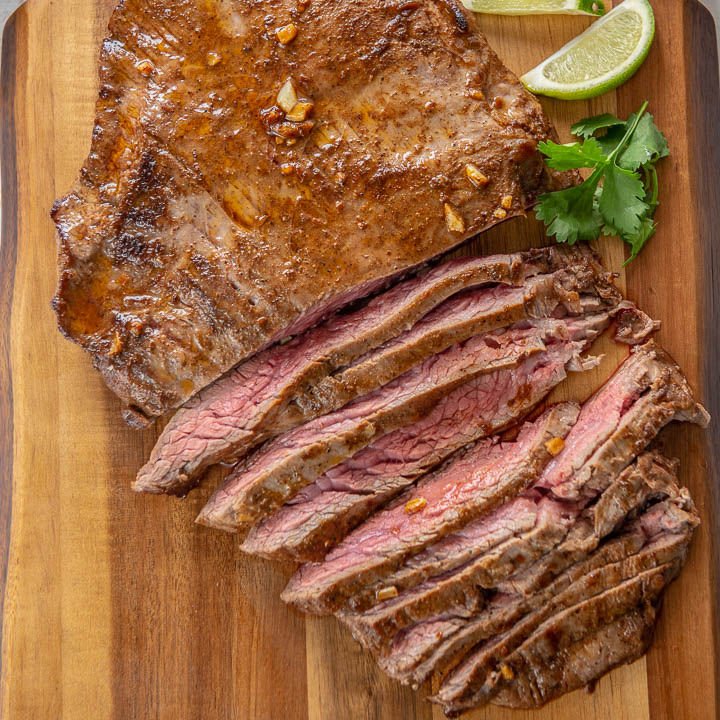 What kind of steak is best for tacos?
Ask anyone of Mexican heritage what steak is best for tacos and you will likely hear "skirt steak or flank steak." In that case, why on earth am I making sirloin steak tacos?!
While thin cuts such as the flank and skirt cook beautifully on a grill, they are not appropriate cuts of steak to cook in an oven. Why? Because they have such a short cook time, they tend to over cook in the oven.
When you cook steak in the oven, you need to use cuts of beef that are at least 1 1/2 to 2 inches thick. Sirloin steak is a perfect candidate!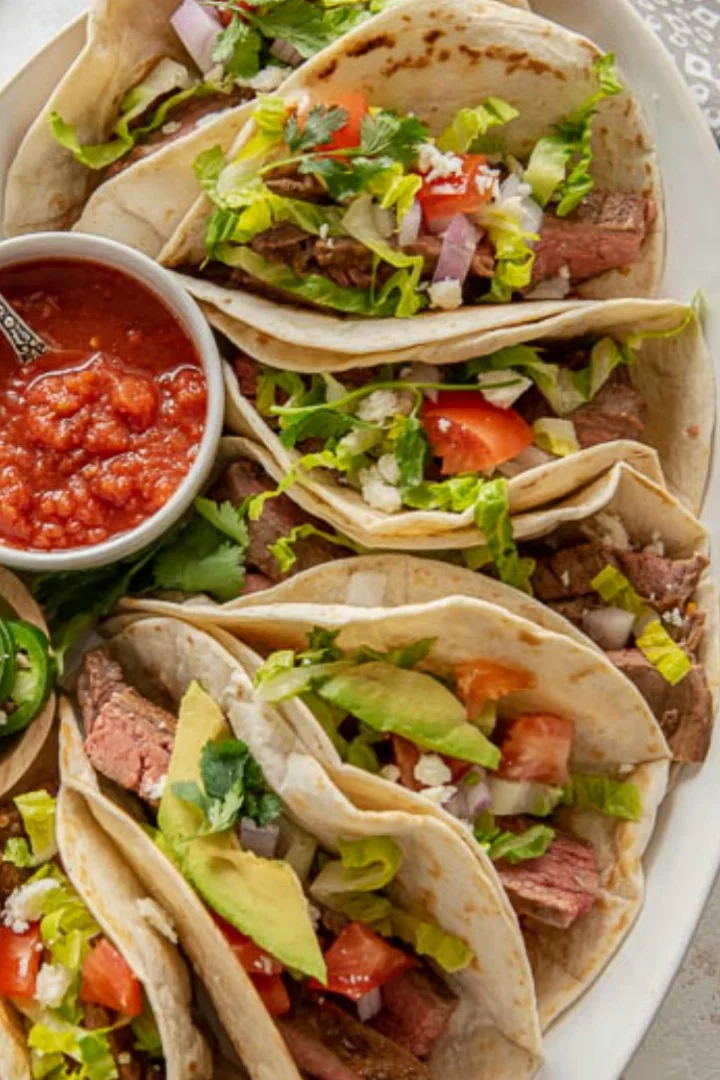 What about the toppings?
Let your taste buds help you select the right toppings for your steak tacos. After all, you should enjoy what you're eating! However, here are some ideas:
diced red onions
chopped tomatoes – I like to remove the seeds but it's not necessary if you enjoy them.
jalapeno slices – If you're a fan of spicy food, leave the membrane and seeds intact. Otherwise, removing them tones down the spice level.
shredded lettuce
sour cream
avocado slices
crumbled Cojita cheese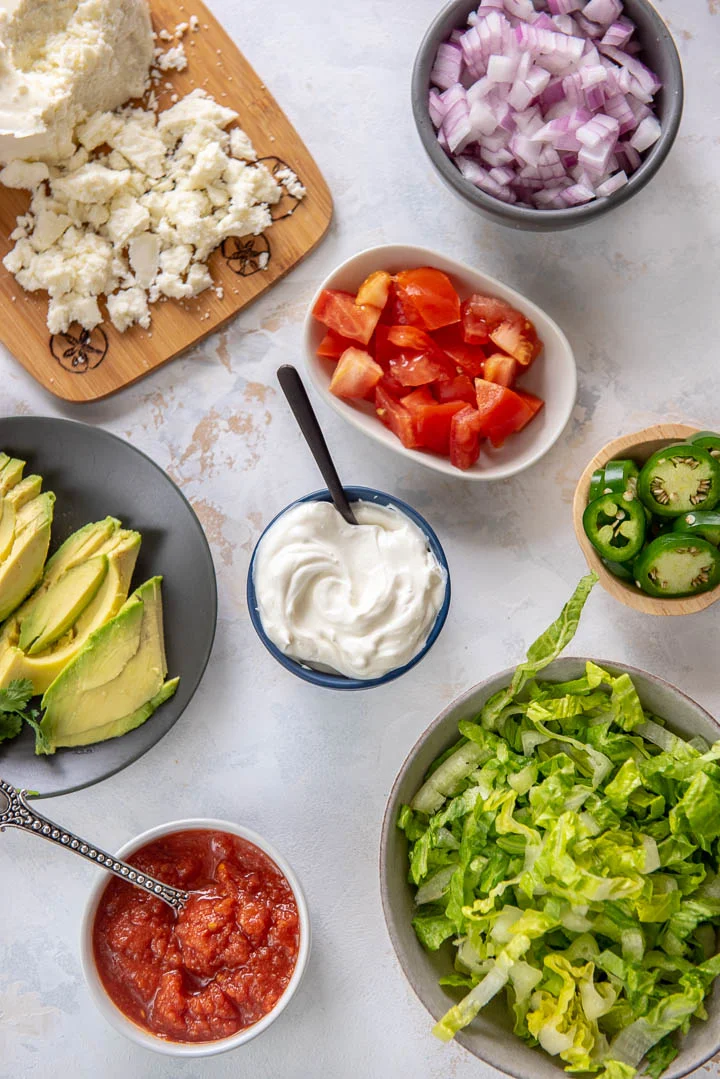 Other Mexican foods to serve
If you're hosting a Mexican themed dinner (Cinco de Mayo, anyone?), you'll probably want to serve other Mexican foods. I like to make low carb appetizers like Steak Fajita Sliders. Aside from tacos and Spanish rice, I like to serve Tex Mex Vegetarian Quesadillas.
How to make this steak taco recipe
The method for preparing the steak for this steak taco recipe begins by searing the steak in a cast iron skillet on the stove top.
I recommend cast iron because it retains heat so well. In addition to that, it's oven-safe, so after searing the steak, I move the cast iron skillet with the steak right into the oven.
Read more about the cooking process and how to shop for the right steak in this pan seared steak recipe post.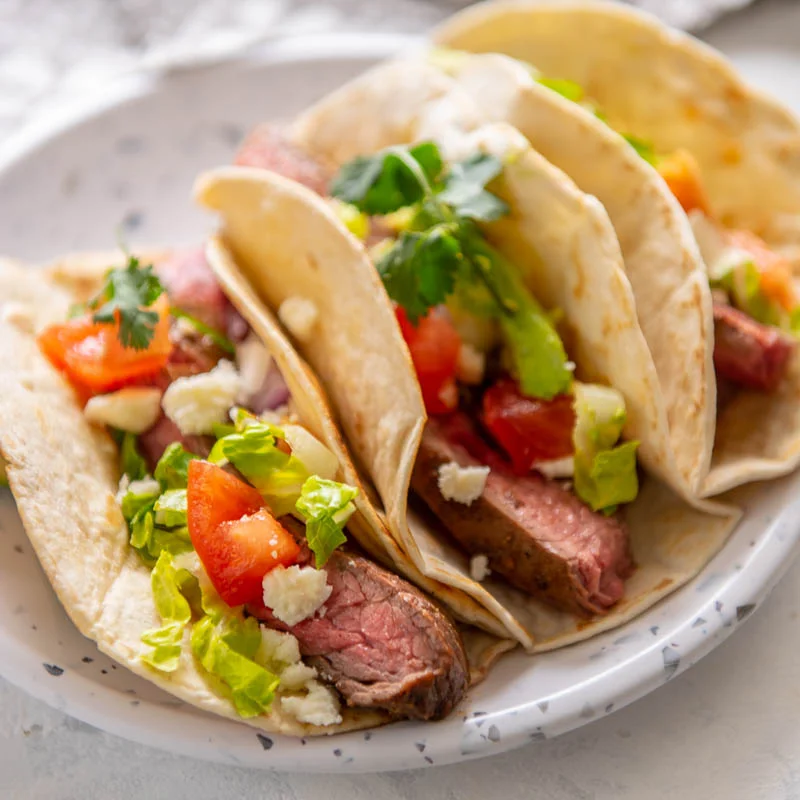 If you love tacos (come on, who doesn't love tacos?), there are plenty of other options aside from my steak tacos recipe! My blogging friends have fantastic ideas for other versions.
Rather than steak tacos, maybe you would you prefer seasoned chicken tacos or bacon tacos (yes, please!). If you want to use your slow cooker or Instant Pot to help you, make these slow cooker pork tacos.
Other taco recipes to try: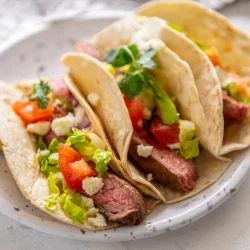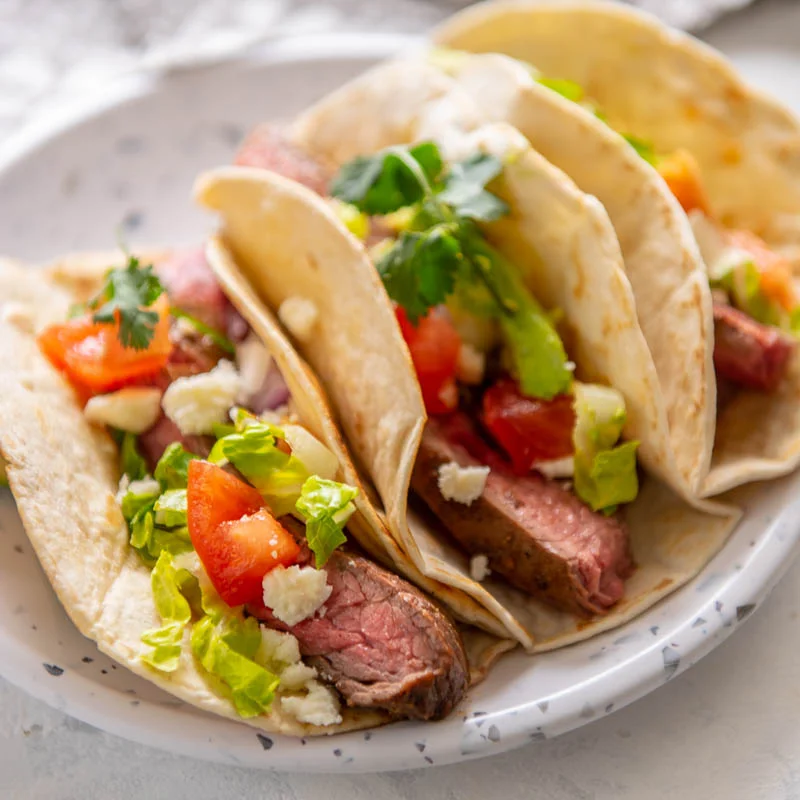 Steak Taco Recipe Using Pan Seared Steak
This steak taco recipe is made using pan seared sirloin steak. It's seared quickly in a hot pan and the oven finishes cooking the steak to juicy perfection. Load these tacos up with all of your favorite fixings!.
Equipment
ThermoPro TP18 Ultra Fast Thermocouple Digital Instant Read Meat Thermometer

Lodge Cast Iron Skillet
Ingredients
For the Quick Steak Marinade:
¼

cup

Worcestershire Sauce

1

tbsp

balsamic vinegar

1

pinch

salt (optional)

½

tsp

black pepper
For the Steak:
1 ½

tsp

avocado oil (or other high smoke point cooking oil)

1 ½

pounds

sirloin steak

at room temperature *SEE NOTES)
For the Tacos (all toppings shown are optional)
8

flour tortillas

or hard taco shells

1

avocado

cut into thin slices

2

Roma tomatoes

diced

4

oz

Cotija cheese

crumbled (or other cheese of your choice)

½

cup

light sour cream

1

cup

pico de gallo

or salsa

1

handful fresh cilantro

chopped
Instructions
Make the quick steak marinade by whisking marinade ingredients together in a bowl. Transfer marinade to a zip top gallon-sized plastic bag or non-reactive dish. Add in the steak, seal the bag or cover dish with plastic wrap.

If you are using a lean cut of meat, allow steak to marinate at room temperature for 30 minutes. For fattier cuts of beef, marinate refrigerated for 6 hours or up to 24 hours.

As the steak marinates, prepare taco toppings and set aside for later.

Set your oven to 400 degrees F.

Heat a cast iron skillet or other oven proof skillet over medium-high heat on the stove top until the pan is searing hot.

Add a tablespoon of avocado oil (it has a very high smoke point, so it won't burn once you put the pan into the oveand sear the steak for 1 minute on each side.

Once the steak has a good sear, place the cast iron skillet into the preheated oven. For a medium-rare steak, cook for 8-10 minutes, or until a meat thermometer registers 140 degrees Fahrenheit in the thickest portion of the meat. If you prefer your steak well done, wait until the thermometer reaches 150 If you want your steak rare, cook it to 135 degrees F.

Remove the pan from the oven and transfer the steak to a cutting board or plate. Tent the steak with aluminum foil and allow it to rest for at least 10 minutes. The steak will continue to cook (this is called "carryover cooking") and it will temp up about 5 degrees it rests.

After the steak has rested, cut it across the grain into thin slices.

Serve the steak warm on tortillas along with your favorite taco toppings.
Notes
When you are cooking steak in an oven, the steaks should be at least 1 1/2 inches thick. Steaks thinner than that are more likely to over cook in the oven. If you don't want to use sirloin, just be sure that the steak is thick enough.
Nutrition
Serving:
2
tacos
Calories:
670
kcal
Carbohydrates:
52
g
Protein:
48
g
Fat:
30
g
Saturated Fat:
11
g
Cholesterol:
139
mg
Sodium:
1428
mg
Potassium:
1207
mg
Fiber:
5
g
Sugar:
13
g
Vitamin A:
859
IU
Vitamin C:
15
mg
Calcium:
319
mg
Iron:
6
mg