Pan Seared Steak – Cooking Steak in an Oven
Making pan seared steak is a great way to cook steak indoors! Sear it on a stove, then finish cooking steak in the oven. This method creates tender, juicy, perfectly cooked steak, inside and out!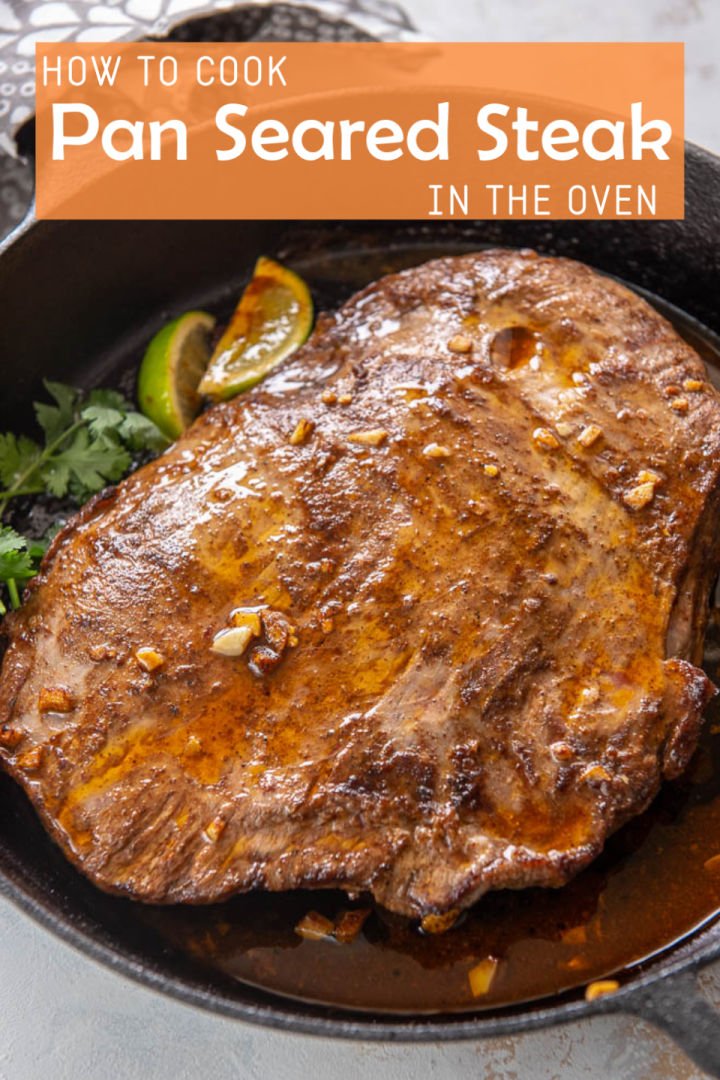 A quick note about pan seared steak:
The images in this post show a pan seared sirloin steak but this method of cooking steak indoors can used to make other thick cuts of steak, such as:
pan seared ribeye steak
t-bone steak
porterhouse steak
cowboy steak
tomahawk steak (you will need a very large skillet to cook this bad boy!)
If you want to, you can even use this method to make things like pan seared thick-cut pork chops.
So, if you want the best steak recipe for cooking steak indoors, you're in the right place. Your oven will team up with you to cook a pan seared steak to perfection!
What's the best way to cook steak indoors?
If grilling steak isn't an option for you, you can cook it in the oven. The best way to do this is with a two-step cooking process.
Searing the steak in a skillet on the top of the stove.
Finish by cooking steak in the oven.
If you try to cook steak on the stove top from start to finish, you're inviting trouble. Why? Because the skillet needs to be incredibly hot in order to sear the steak. The crust that forms during searing will prevent heat from reaching the center of the meat. As a result, you have steak that is raw on the inside.
No matter what method you use to cook your steak, please purchase the best cut of beef you can afford. If your wallet can handle it, splurge on a premium-grade, grass fed, hormone-free cut.
Why should you spend that extra money? Because grass-fed cattle are free to roam during the day, so the meat is beyond tender, and the taste difference is amazing!
How to get a great deal on beef
Incidentally, you do not have to hand over your first-born child to purchase a good cut of beef. (Although, some parents of defiant teenagers may be tempted to do so!)
To get a king's cut at a pauper's price takes nothing more than being a smart shopper.
Start by looking at the "use by" date stamped on the package.
If the "use by" date is the same date you are shopping, take the steak to the customer service desk. Then, ask to speak with the manager of the meat department or the store manager.
Turn on your charm and bargain with the manager for a discount on the purchase of the steak. Many store managers are happy to sell them to you at a reduced cost rather than lose money by not selling them at all.
In my experience, plenty of sparkling personality and showing gratitude works. The manager usually discounts the price 15 to 20 percent. Proper manners (please and thank you) go a long way in the bargaining process, too.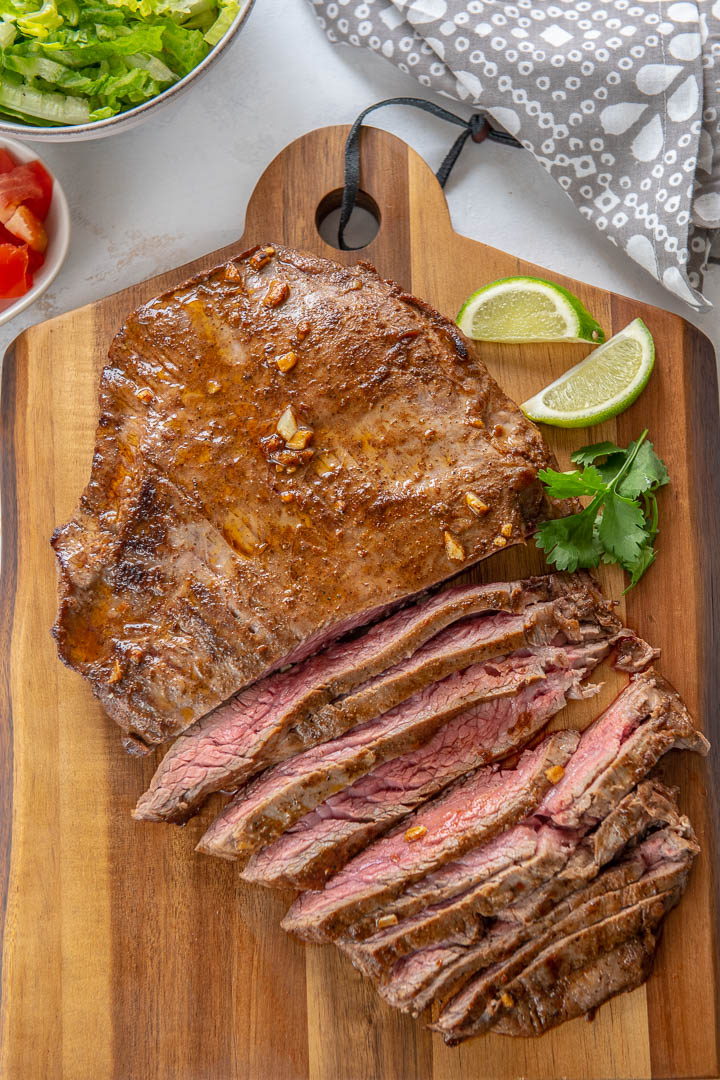 Should I marinate steak before pan searing?
There are few things more depressing than spending money for a great cut of beef, only to prepare it poorly. As a result, you end up with steak that's dry and lacking in flavor.
Many chefs and fans of great steak will say that marinating isn't necessary – just a small dash of salt and pepper. I understand what they mean and I agree, for the most part.
Season with sass!
It's important not to over-season a good cut of beef, but IMHO, there is nothing wrong with adding an extra layer of flavor. There are some very simple ways to do it.
Dry Rub: To season leaner cuts of beef such as sirloin, filet, and strip steak, I prefer a dry rub. For ribeye and t-bone steaks, I like to use this mustard peppercorn rub. It's a wet dry rub, if that makes sense. 😉
Marinade: To tenderize fattier cuts, while also adding flavor, I use a marinade. My 4-ingredient quick steak marinade includes Worcestershire sauce, an ingredient that adds flavor to steak while also tenderizing it.
Dry Rub and Marinade Together: Because dry rub adds flavor but does not tenderize the meat, some people prefer to use a dry rub and marinade together. I have never prepared steak that way, so I can't really comment on how well they work together.
Incidentally, if you're wondering how long to marinate steak, that depends on the cut. Leaner cut of beef need 15 to 30 minutes to marinate, while fattier cuts should marinate for at least 6 hours. You can even leave them to marinate in the fridge for up to 24 hours.

How long do you cook steak in an oven?
Professional chefs will tell you that a perfectly cooked steak has a nice sear on the outside with the center cooked to medium-rarer. In fact, I know of a few restaurant chefs who will flat out refuse to cook steak past medium-rare.
But hey, if you enjoy eating steak that has black char on the outside and a center that is over cooked and dry, who am I to stop you? 😉
In all seriousness, use the chart below according to how you want your steak cooked. Keep in mind that the steak will continue to cook for a few minutes as it rests after coming out of the oven.
The temperatures shown are when you should remove your steak from the oven or grill. The internal temperature will increase 3 to 5 degrees from these figures.
Rare: 130 to 135°F
Medium Rare: 140°F
Medium: 150 to 155°F
Well Done: 160 to 165°F
The best pan seared steak!
Here it is, friends; my favorite and best steak recipe for indoor cooking. I hope you'll use this information soon to help you create the perfect steak.
Here are other ways that you can cook steak: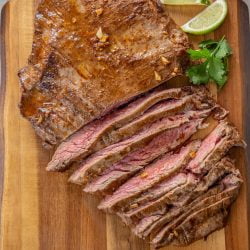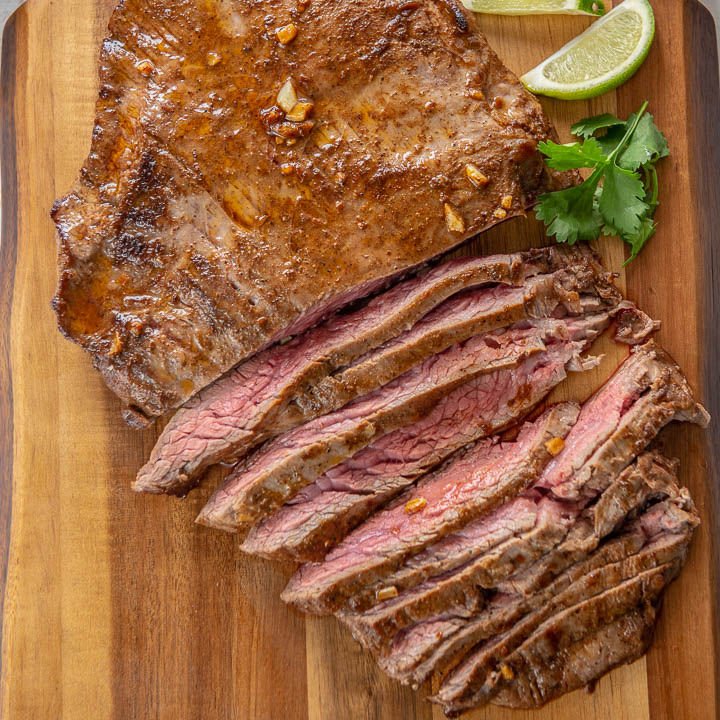 Pan Seared Steak – Cooking Steak in an Oven
Making pan seared steak is a great way to cook steak indoors! Sear it on a stove, then finish cooking steak in the oven. This method creates tender, juicy, perfectly cooked steak, inside and out!
Equipment
Lodge Cast Iron Skillet

ThermoPro TP18 Ultra Fast Thermocouple Digital Instant Read Meat Thermometer
Ingredients
1 ½

tsp

avocado oil (or other high smoke point cooking oil)

2

pounds

boneless sirloin steak (or cut of your choice

– *SEE NOTES)
Instructions
Before you begin cooking, be sure that your steak is at room temperature.

Set your oven to 400 degrees Fahrenheit and allow it to preheat.

Meanwhile, place a 12-inch cast iron skillet or other oven-safe skillet on a stove top burner set to high heat. Allow it to heat up for at least 5 minutes. You want the pan to be very hot to create a beautiful sear on the steak. That sear will keep the juices inside the steak as it cooks.

When the skillet is hot, add oil to the pan. Then, add the steak to the pan and sear for 2-3 minutes on each side.

After the steak has a crispy crust to hold in the juices, leave it in the skillet and place them into the preheated oven.

For a medium-rare steak, cook for about 10 minutes, or until a meat thermometer registers 143 degrees Fahrenheit in the thickest portion of the meat. If you like your steak rare, cook until the temperature reaches 138 degrees For a well done steak, wait until the thermometer reaches 153 F.

After the pan is out of the oven, transfer the steak to a wooden cutting board and tent it with a sheet of aluminum foil. The steak will continue to cook (this is called "carryover cooking") and it will temp up a couple of degrees as it rests.  Allow the meat to rest for at least 10-15 minutes, if possible.
Notes
To prevent the steak from over cooking, use cuts that are at least 1 1/2 inches thick.
Nutrition
Serving:
1
g
Calories:
321
kcal
Protein:
50
g
Fat:
12
g
Saturated Fat:
4
g
Cholesterol:
138
mg
Sodium:
129
mg
Potassium:
776
mg
Calcium:
64
mg
Iron:
4
mg