Instant Pot Spanish Rice with Beef Sirloin or Flank Steak
Instant Pot Spanish Rice with beef sirloin or flank steak, is an easy 30-minute Mexican dinner. I'll show you how to use frozen meat to make this delicious and easy Instant Pot sirloin steak recipe!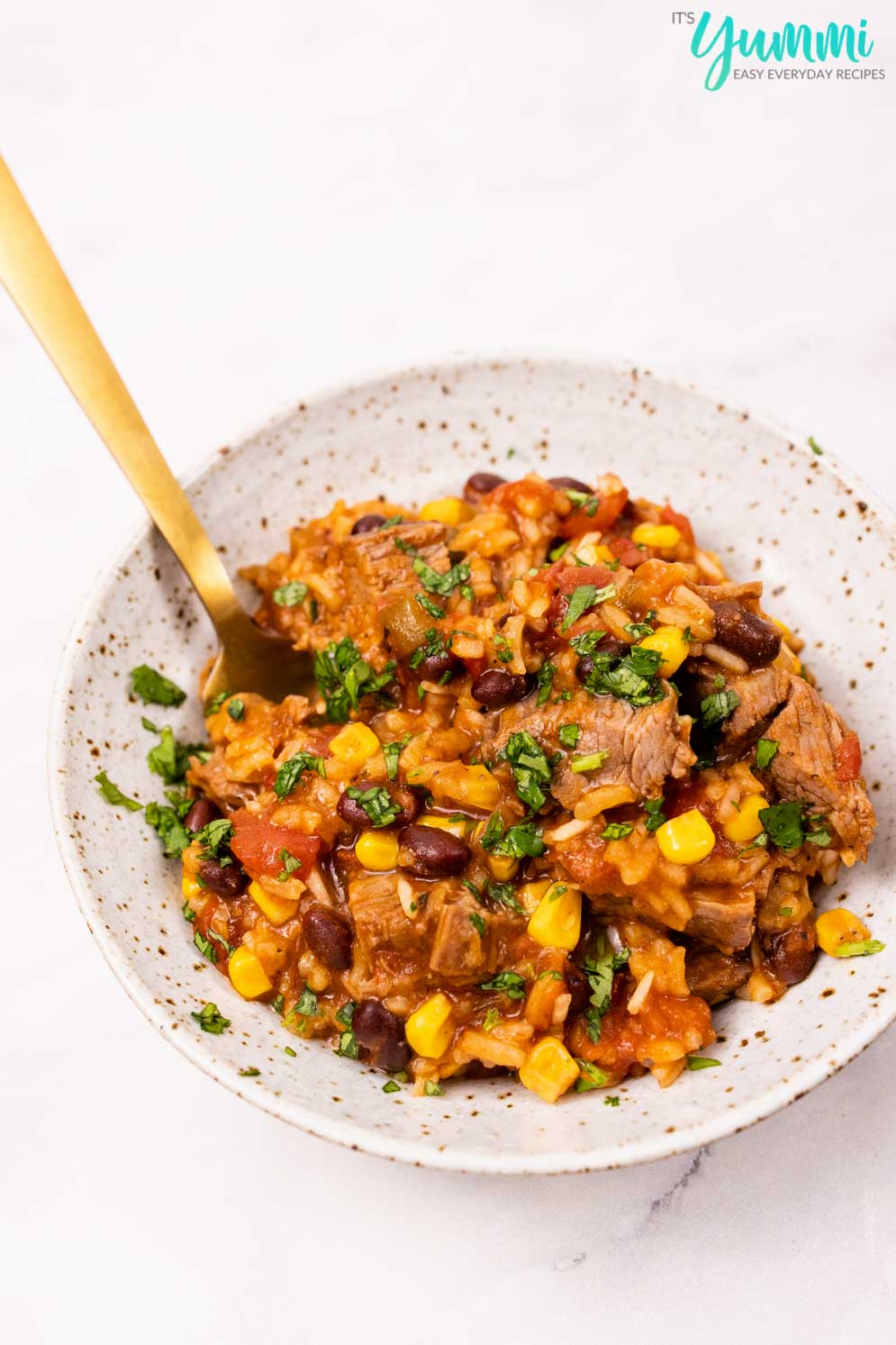 Instant Pot recipes are very popular and I suspect it's going to get even more popular in the coming weeks. There is a good reason why they are so popular though pressure cooker recipes are easy to prepare and the meals are packed with flavor.
Some of my favorite meals to pressure cook are large roasts and tough cuts of beef. I also love to make shredded chicken in an Instant Pot.
I use shredded chicken to make chicken soup and chili recipes, sandwiches, salads, and even dips. My recipe for Instant Pot BBQ shredded chicken sliders is one of our favorites.
The best part of this recipe is it requires all either pantry or freezer friendly ingredients. Which a this point I think we can all agree on… we need these type of recipes in our lives with our current world situation. So thought we'd share with you and perhaps this can help others to make some delicious and cheap food at home.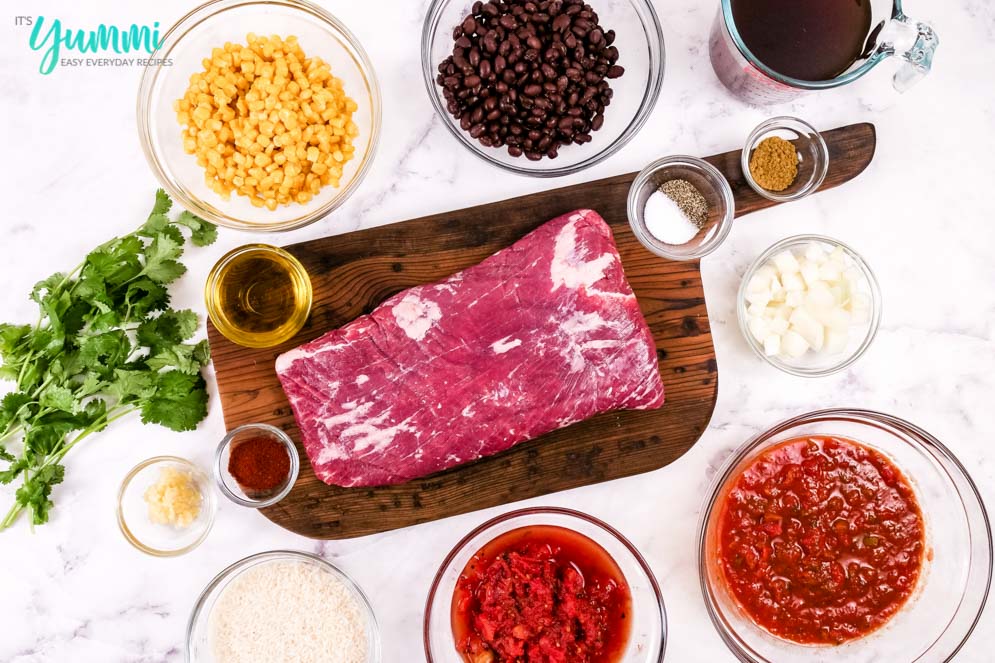 Why is Spanish Rice called Spanish Rice?
Given that Spanish rice is primarily a Mexican dish, I think the answer to this question is sort of interesting.
According to Wikipedia, Spanish rice is named for the Spanish people, because they originally introduced rice to Mexico. Makes sense, I suppose. 🙂
What is the difference between Spanish Rice and Mexican Rice?
Both Spanish rice and Mexican rice recipes use similar ingredients. The key difference is that authentic Spanish rice has saffron, while authentic Mexican rice has no saffron. Instead, Mexican rice is traditionally made with cumin, a common and inexpensive spice.
So in a way I guess our recipe is in fact Instant Pot Mexican rice. But we figured this out after the fact and the recipe we took inspiration called it Instant Pot Spanish rice. Plus.. saffron is an expensive herb and not something readily available in most cabinets. So we are sticking with calling this recipe our cheap Instant Pot Spanish Rice. 😉
History lesson over, let's move on, as I am sure that some of you are curious to know the answer to this question.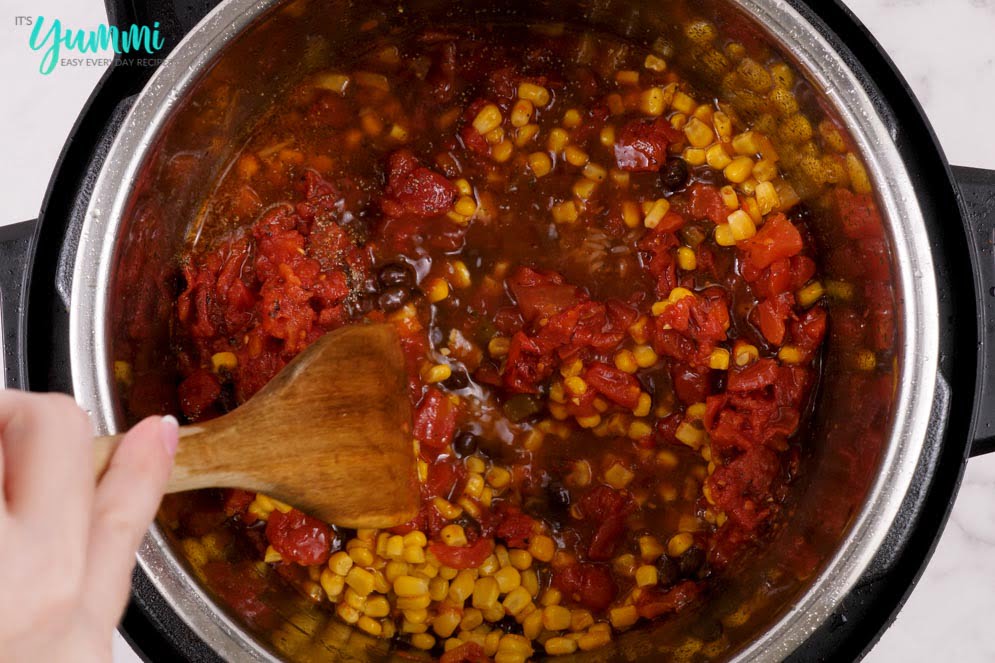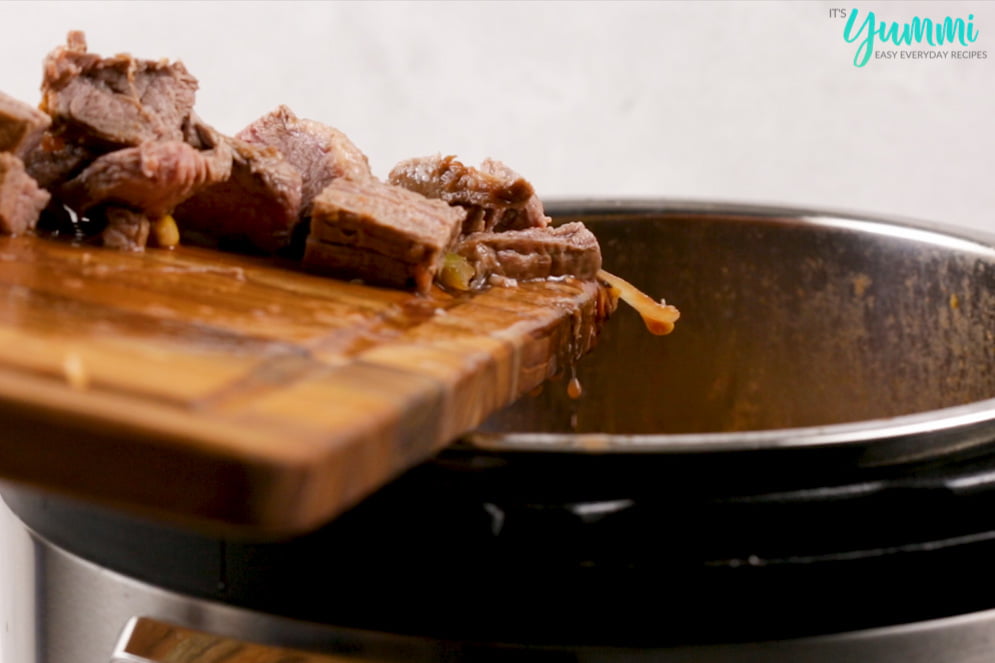 Can you put frozen meat in an Instant Pot?
The answer to this question is absolutely, yes!
Tips on Using Frozen Sirloin or Flank Steak
To make Instant Pot Spanish Rice using frozen sirloin or flank steak, it is best to slice the beef before freezing. This makes preparing the recipe much MUCH easier.
If your steak is already frozen in one piece, just increase the cooking time of the recipe by 5-7 minutes. Those few extra minutes are enough to cook the meat thoroughly. Just slice the meat after cooking, then return it to the pressure cooker.

Freezing and Storage of our Spanish Rice
More reasons to love this dish even more is that it freezes like a dream if you find yourself on your own and don't feel like eating spanish rice for a week straight. Simply store in an airtight freezer friendly container up to 1 month.
Then when you are craving it again simple defrost in the refrigerator and consume within 24hours.
New to the Instant Pot? Start Here.
Know your modes: Saute mode is how it all starts. Cooking for beef and then adding the onions to a delicious start to the spanish rice. They simple dump all the other ingredients in and turn off your saute. I find saute gets hot really really quick so be sure to keep an eye on it.
Know the release: A manual release and natural release are the two main methods of releasing pressure so it is safe to open your Instant Pot. The manual release involves flipping the release valve after the timer has gone off. Make sure that your Instant Pot is free of obstruction above (and protect your kitchen cabinets from hot steam!) and use a towel to help protect your hands as well.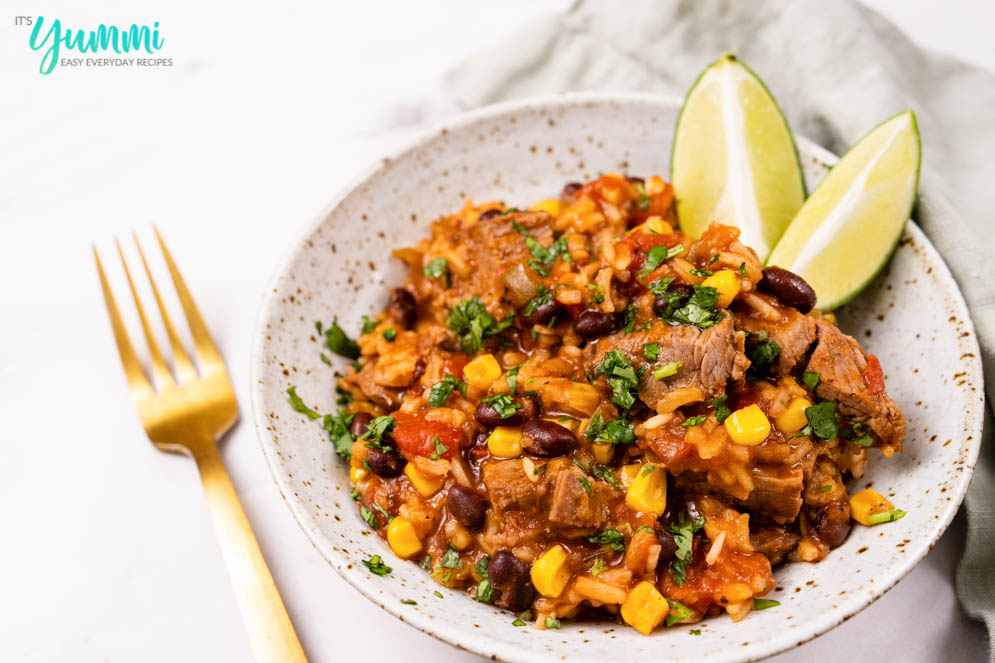 I hope this recipe comes to use for you in the coming weeks and months.
Other recipes you may enjoy: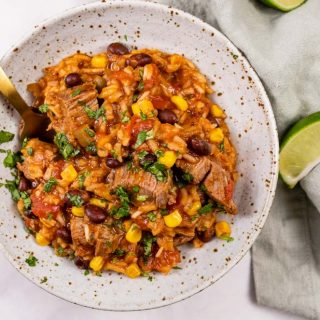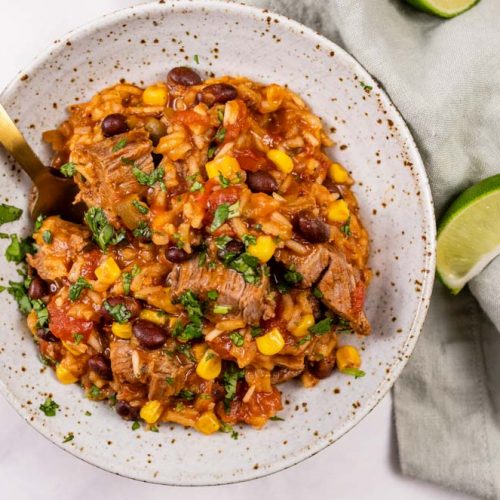 Instant Pot Spanish Rice with Beef Sirloin or Flank Steak
Instant Pot Spanish Rice with beef sirloin or flank steak, is an easy 30-minute Mexican dinner. Learn how to use frozen meat to make this delicious Instant Pot sirloin steak recipe!
Ingredients
1

Tbsp

Extra-virgin olive oil

1

pound

frozen sirloin or flank steak

½

medium onion

chopped

2

cloves

garlic

minced

1

tsp

chipotle chile powder

or regular chili powder

½

tsp

ground cumin

1

cup

long-grain white rice

rinsed (if you prefer brown rice, add 5-7 minutes of additional cooking time)

2

cups

low-sodium beef broth

16

oz

red salsa

store-bought or 2 cups homemade salsa

15

oz

canned black beans

or 2 cups cooked black beans

14.5

oz

canned fire-roasted corn

drained (I use 1 3/4 cups frozen)

14.5

oz

canned fire-roasted diced tomatoes with liquid

or 1 3/4 cups homemade tomato sauce

Coarse salt and freshly ground black pepper
Instructions
Press "saute" to preheat the Instant Pot. When the word "Hot" appears on the display, add the olive oil. When the oil is shimmering, add the frozen sirloin. Brown it well on both sides, 3 to 4 minutes per side, then set it aside.

Add the onion and cook about 5 minutes, until it's soft. Add the garlic, chili powder and cumin and cook for 1 minute. Turn off the Instant Pot.

Add the rice, reserved sirloin and beef broth to the pot, stirring well to scrape up any browned bits from the bottom. Add the salsa, black beans, corn and tomatoes. Close and lock the lid of the Instant Pot. Press "Manual" and immediately adjust the timer to 10 minutes. Check that the cooking pressure is set to "High" and that the release valve is set to "Sealing".

When the time is up, open the Instant Pot using "Quick Pressure Release". Remove the sirloin and shred it with two forks, then return it to the pot and mix to combine.

Taste, then season with salt and pepper and serve.
Notes
Please note that the recipe is written for cooking in an Instant Pot. For different brands of electric pressure cooker or multi-cooker, some of the recipe directions may not apply. 
Recipe Inspired from the cookbook Cooking From Frozen in Your Instant Pot by Kristy Bernardo.
Nutrition
Serving:
1
g
Calories:
627
kcal
Carbohydrates:
93
g
Protein:
42
g
Fat:
10
g
Saturated Fat:
3
g
Cholesterol:
68
mg
Sodium:
1665
mg
Potassium:
1665
mg
Fiber:
14
g
Sugar:
7
g
Vitamin A:
1155
IU
Vitamin C:
15.8
mg
Calcium:
149
mg
Iron:
6.1
mg