Strawberry Lemon Linzer Cookies
It may feel like the summer season is over, but it's not official until next week. This recipe for Strawberry Lemon Linzer Cookies will help you remember your love of summer, strawberries, and lemons all year long!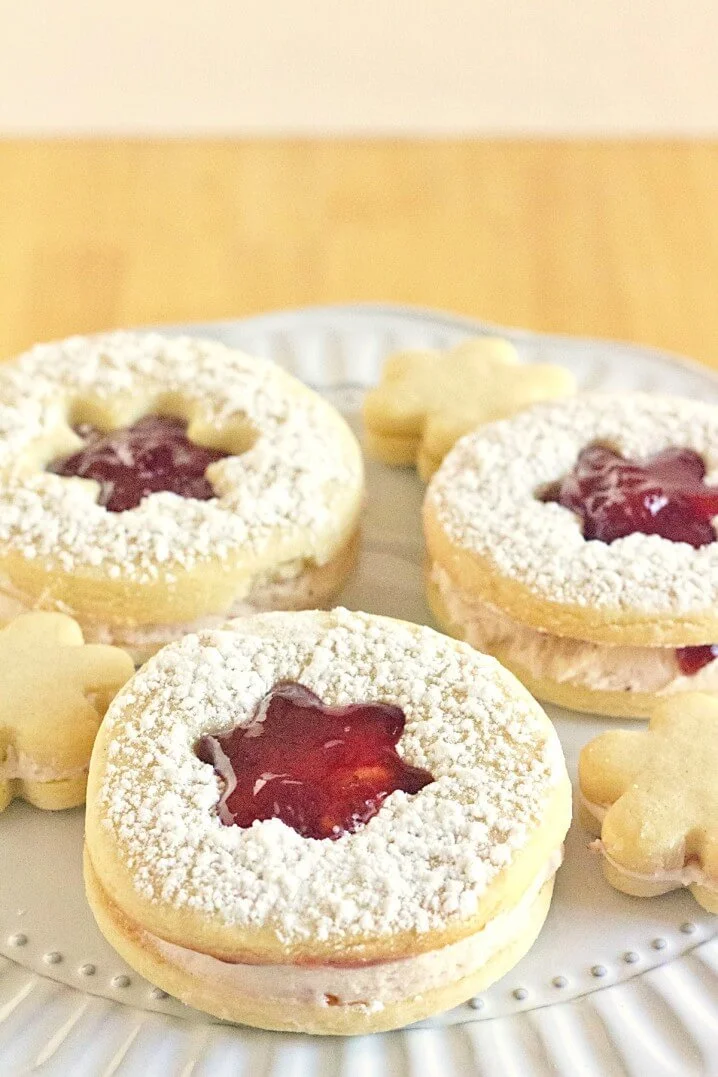 I made these delicious lemon linzer cookies with the help of some awesome kitchen tools that I received from OXO. They asked for my help and I was more than happy to assist, not just because I love their products, but also because it gave me a chance to help raise some money for a very good cause. Cookies for Kids Cancer raises funds to help fight pediatric brain cancer.
Sadly, a long time employee of OXO lost her son to pediatric cancer, and that prompted OXO to create the Good Cookies project to raise funds for research. They will donate a portion of the proceeds from the sale of specially marked tools, just like this one.
I would love for you to please visit the OXO website to see the complete list of products, then head to the store and pick up a couple to help the cause, AND because OXO kitchen tools really are amazing.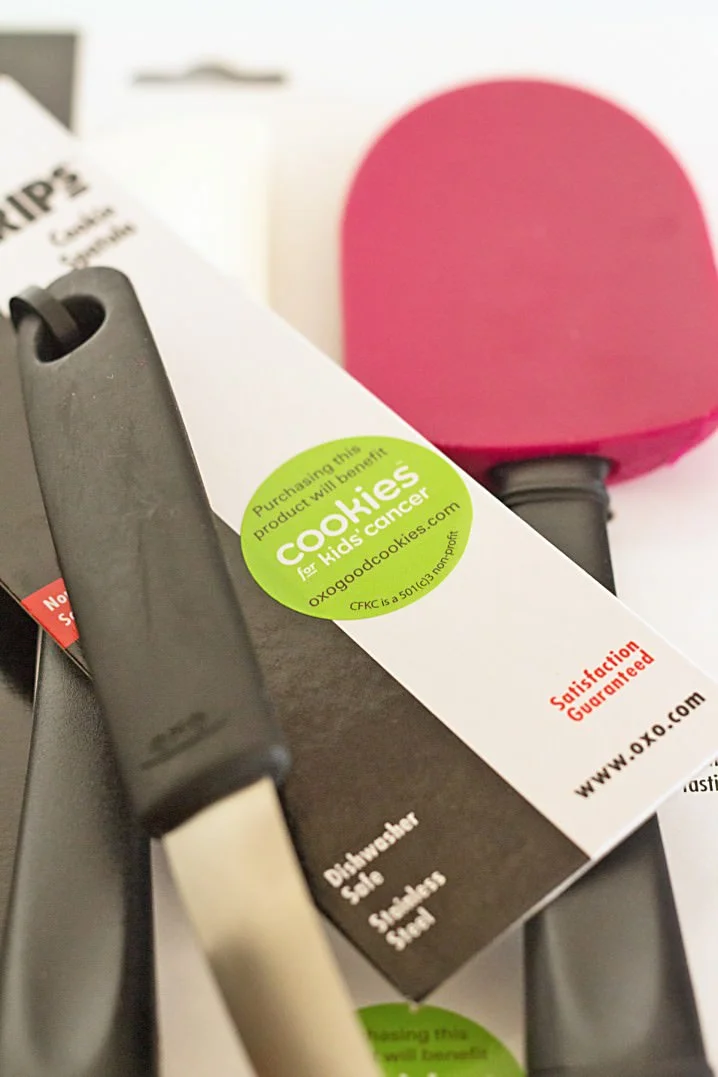 For every stickered item sold, OXO will donate 25 cents in support of pediatric cancer research as part of its $100,000* pledge to Cookies for Kids' Cancer. Look for specially marked OXO products at participating retailers in September.
Once you have those tools in your kitchen, you can feel good knowing that you've helped a great cause, and then can use them to create these yummi strawberry lemon linzer cookies and all will be right with the world!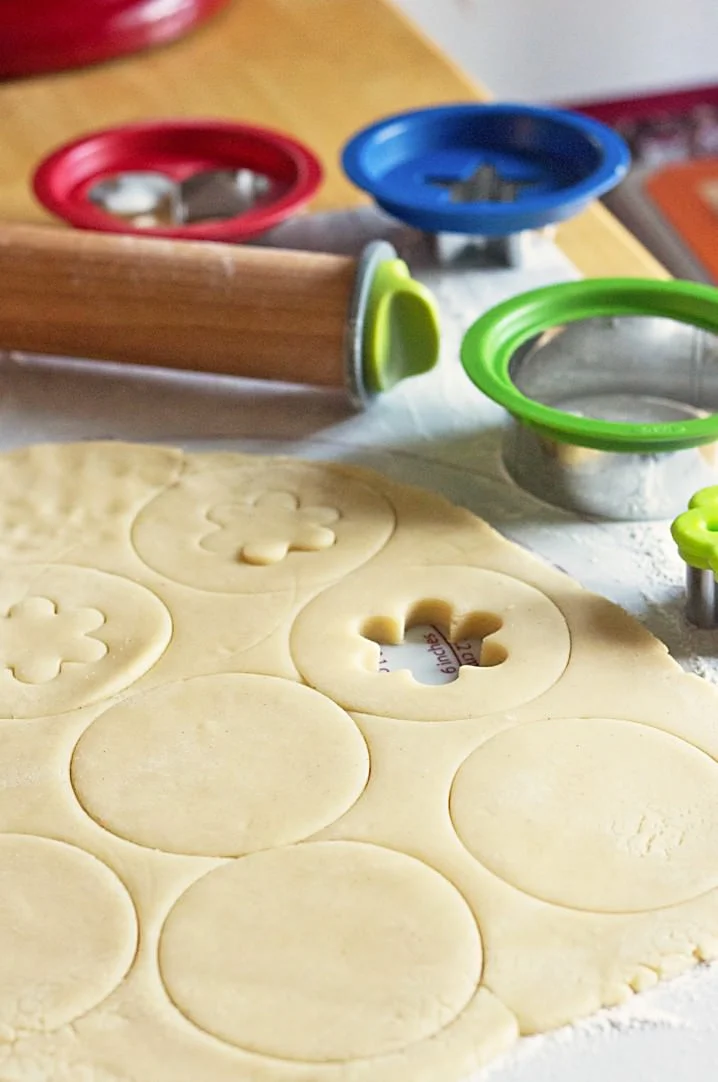 Ready to bake up some strawberry lemon linzer cookies?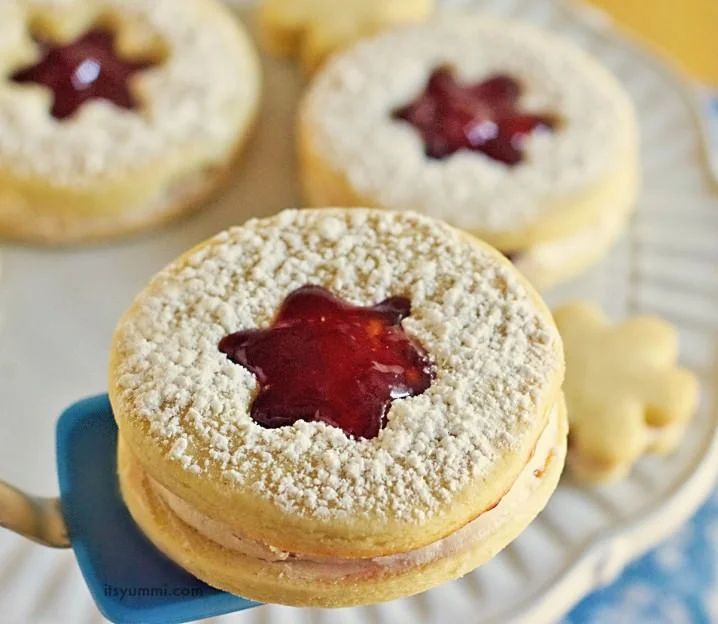 Baking tips for the success of your strawberry lemon linzer cookies
– These cookies can be as large or small as you'd like them, but it's important that you stay consistent with your sizes, so use of a cookie or biscuit cutter is suggested.
– The thinner you roll out the cookies, the crispier they'll be and the faster they'll bake, but they'll also be more fragile and burn quickly. That's why mine are big and thick! 🙂
– To dust the tops of your cookies and keep them nice and clean looking, it's best to shake the powdered sugar onto them before you fill them. If you wait until they're filled to dust them, you'll end up with powdered sugar in your jam. The lemon linzer cookies will still taste delicious, but they won't look as Martha Stewart-ish 😉
Oh, and if you love linzer cookies as much as I do, you should also check out my recipe for blackberry linzer cookies.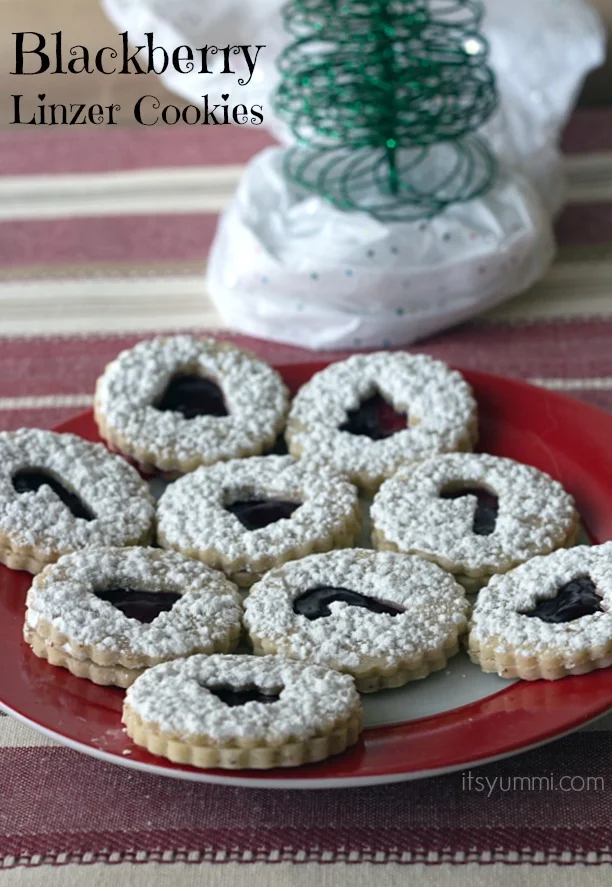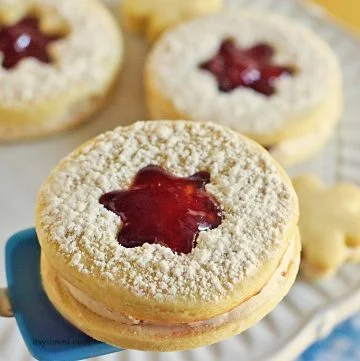 Strawberry Lemon Linzer Cookies
Lemon cut out sugar cookies are sandwiched with strawberry buttercream and dusted with confectioner's sugar.
Ingredients
8.4

ounces

(2 cups) all-purpose flour

1.5

teaspoons

baking powder

¼

teaspoon

salt

3

ounces

(6 tablespoons) unsalted butter

softened

1

?3 cup organic vegetable shortening (coconut oil or butter can also be used)

5

ounces

(3/4 cup) granulated sugar

1

large egg

1

tablespoon

whole milk

1

?2 teaspoon pure lemon extract (or to taste)

FOR THE BUTTERCREAM

2

ounces

(4 tablespoons) unsalted butter

softened

1

cup

confectioner's sugar or confectioner's sugar substitute

2-4

tablespoons

strawberry jam or preserves

plus more for filling.
Instructions
Combine the flour, baking powder, and salt in a small bowl. Set aside for use in Step 4.

Using an electric mixer fitted with a paddle attachment, beat the butter and shortening on medium speed until creamy.

Gradually add the sugar and beat until light and fluffy, about 1 minute. Do not overbeat, or your cookies will dome upon baking, making them more difficult to decorate later.

Whisk together the egg, milk, and lemon extract in another bowl.

Slowly blend into the butter mixture on low to medium speed and mix until smooth. Scrape down the sides of the bowl, as needed, to ensure even mixing.

Turn the mixer to low speed and gradually add the reserved dry ingredients, mixing until just incorporated.

Flatten the dough into a disk, wrap tightly in plastic, and refrigerate about 3 hours, or until firm enough to roll without sticking.

Position a rack in the center of the oven and preheat the oven to 375°F. Line 2 cookie sheets with parchment paper (or silicone baking mats) and set aside.

On a lightly floured surface, roll the dough to a 1?8- to 3?16-inch thickness. (Note: It's best to roll these cookies no thicker than 3?16 inch in order to keep them their flattest for decorating.)

Cut out assorted shapes with your favorite cookie cutters for the top portion of your linzer cookies. Carefully transfer the cookies to the prepared cookie sheets with an offset spatula, leaving no less than 3?4 inch between each cutout.

Baking time will vary considerably with cookie size and thickness. Bake until the cookies are lightly browned around their edges, about 8 to 10 minutes for 2 1?2-inch round cookies. Let cookies cool 1 to 2 minutes on cookie sheet before transferring to wire racks to cool completely before dusting the tops with powdered sugar. Assemble two cookies with buttercream and and a dollop of jam between them.

To make the buttercream: In the bowl of a stand mixer fitted with the paddle attachment, whip the butter and shortening on high speed for 1-2 minutes, until well combined and fluffy. Add jam and milk and mix to combine.

Reduce speed to low and slowly incorporate the confectioner's sugar. For a thicker consistency, add more sugar. To thin it out, add more milk or jam, one teaspoon at a time until desired consistency is reached.
Notes
For easiest handling, the dough should be chilled about 3 hours before rolling and cutting. The dough can be frozen for 1 month or more with minimal loss of flavor if wrapped tightly in plastic and then foil. For best eating, store baked cookies in airtight containers at room temperature and enjoy within 1 week.
Nutrition
Calories:
349
kcal
Carbohydrates:
38
g
Protein:
4
g
Fat:
21
g
Saturated Fat:
16
g
Cholesterol:
41
mg
Sodium:
121
mg
Fiber:
4
g
Sugar:
17
g
Where can you find OXO & Cookies for Kids' Cancer on social media?
Twitter: @OXO / @Cookies4Kids
Instagram: @OXO / @Cookies4Kids
Facebook: facebook.com/OXO / facebook.com/CookiesForKidsCancer
Pinterest: pinterest.com/OXO / pinterest.com/Cookies4Kids