Virgin Mary Sorbet – An Easy Tomato Recipe
Virgin Mary Sorbet, you say?! What happens when you cross a classic, non-alcoholic drink with a frozen dessert? You get Virgin Mary Sorbet!
This post was created in partnership with the Collective Bias® Social Fabric® Community. It's part of a social shopper amplification for Collective Bias® and its advertiser. I was compensated for this post, but as is always the case, all thoughts and opinions stated here are my very own. Thank you for supporting the brands that support It's Yummi!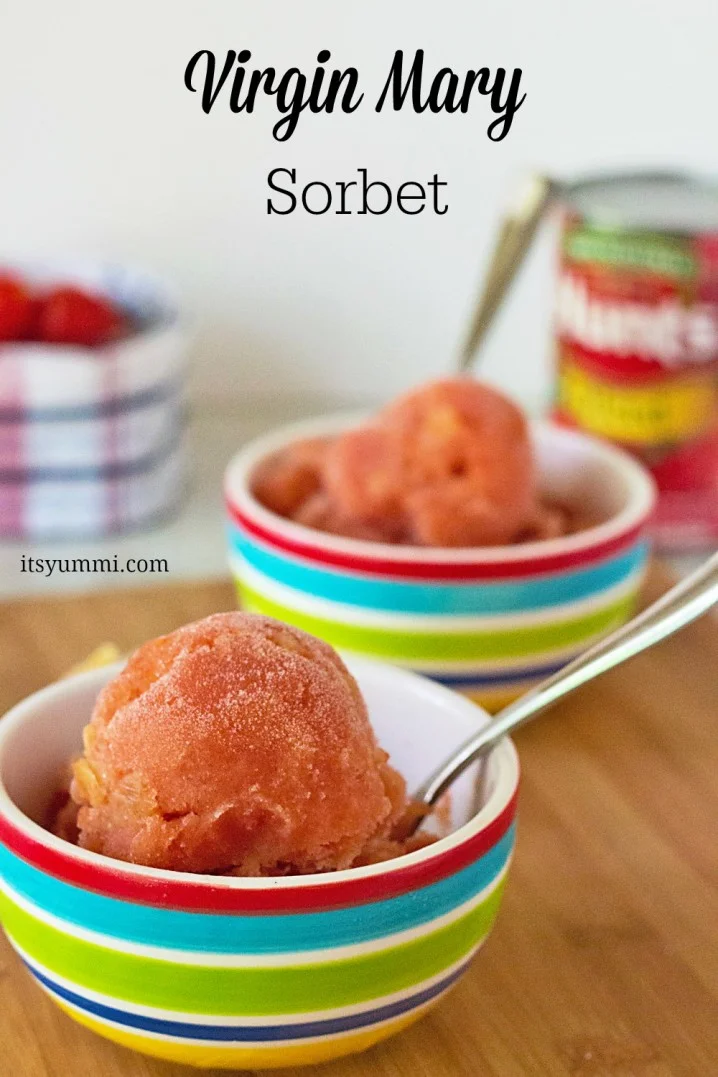 Two simple things that I love about summer are fresh produce like tomatoes, peppers, and squash, and warm days that allow for cooling down with frozen desserts like ice cream, gelato, and sorbet. Today's Virgin Mary sorbet recipe allows offers both of those simple favorites in one delicious dish.
I don't have to be a psychic to know that a few of you are finding the idea of this savory dessert a little bit strange. It's okay.
I'm a "color outside of the lines" type of girl, but I'm confident that if you enjoy tomato juice, virgin Bloody Mary's, and/or frozen desserts like sorbet, you'll absolutely love this virgin Mary sorbet. Think of it as a fresh tomato mocktail that is a snow cone, or something similar. Lime and tomato go together like peanut butter and jelly, and the ginger brings a touch of spicy zing. It's amazing!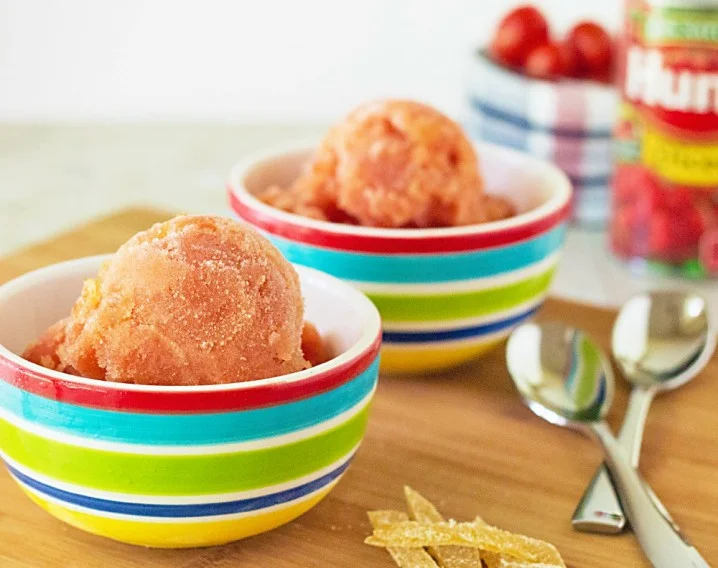 Here's the thing: Wisconsin was hit with a doozy of a winter, which means that fresh tomatoes aren't ready yet. Besides, I live in an apartment complex that doesn't provide me with room for a garden to grow them anyway. That's where Hunt's came into the picture perfectly, helping me out with this recipe.
The nutritional value of tomatoes is something that you don't find on all canned tomato products, but Hunt's uses a unique flash steam peeling method that assures the tomatoes will retain their great taste and their nutritional value. Here are a few food facts to add to your brain: 🙂
Food Facts – Tomatoes
According to the U.S. Department of Agriculture, there are over 25,000 varieties of tomatoes in the world. Many of them are hybrid versions, but heirloom tomatoes have become quite popular lately.
According to the same source, Americans eat 22 to 24 pounds of tomatoes per person, per year. (More than half of those are in the form of ketchup and tomato sauce.) Americans consume 3/4 of their tomatoes in a processed form, like canned tomatoes.
Tomatoes are loaded with lycopene, beta-carotene, phytoene, and phytofluene. In plain English, those are important anti-inflammatory nutrients known as cartenoids. Anti-inflammatory agents are important, especially to anyone trying to lose weight, because when you reduce inflammation, it can boost your weight loss hormones, such as leptin, to work more efficiently, allowing you to lose weight.*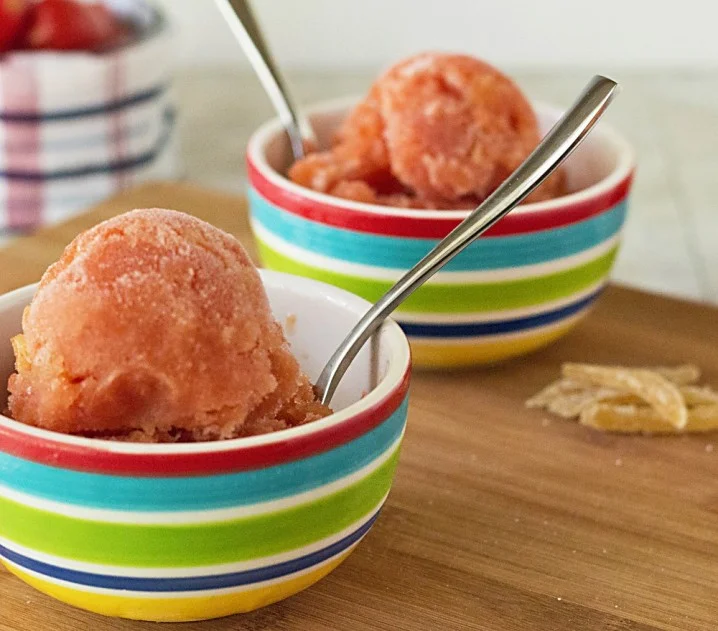 Because of the flash steam peeling that Hunt's uses, I feel like it's a great choice when I'm looking for convenience, but still want the nutrition and health benefits of fresh tomatoes. When I picked up a can of the Hunt's tomatoes at Walmart, I did a quick review of the ingredient and nutrition label, and was really happy with what I read.
OK, learning time is over. It's time to dig into to some sweet, spicy, frozen virgin Mary sorbet goodness!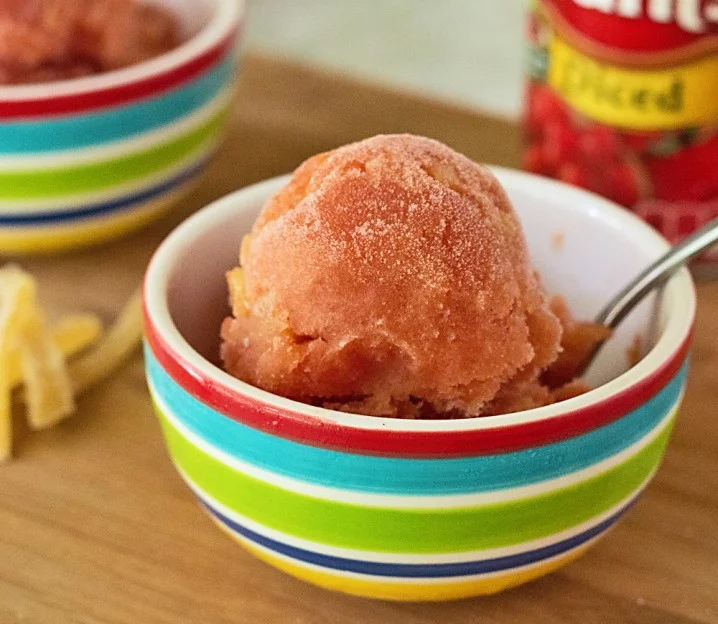 Here's the virgin Mary sorbet recipe. Enjoy!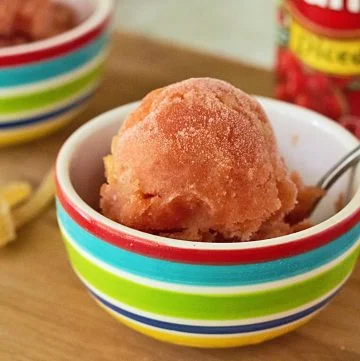 Virgin Mary Sorbet
Using a fresh ginger-lime simple syrup made with sugar substitute and adding bits of crystallized ginger give this tomato sorbet a walk on the sweet side, without all of the calories and sugar!
Ingredients
1

cup

Erythritol

or other cup-for-cup sugar substitute

1

cup

water

¼

cup

fresh ginger

peeled and grated

14.5

ounces

whole peeled canned tomatoes

1

lime

zested and juiced (keep juice and zest separate)

¼

cup

candied ginger

diced small
Instructions
Bring sugar and 1 cup water to a boil in saucepan. Boil for 1 minute. Add ginger and lime zest, and remove from heat. Transfer to a large heat resistant bowl.

Purée tomatoes and lime juice in food processor until liquefied. Stir into the ginger syrup; chill for at least 1 hour, or until the mixture has completely cooled.

Strain tomato mixture through a fine-meshed sieve to remove seeds and skins. (You should have about 4 cups liquid.)

Churn in an ice cream maker according to manufacturer's directions. Transfer to a 1-quart container, cover, and freeze until set.
Notes
Adapted from Vegetarian Times magazine, July/August 2013 p.73
Nutrition
Serving:
1
cup
Calories:
55
kcal
Carbohydrates:
16
g
Protein:
1
g
Sodium:
152
mg
Potassium:
235
mg
Fiber:
1
g
Sugar:
9
g
Vitamin A:
120
IU
Vitamin C:
14.8
mg
Calcium:
37
mg
Iron:
1.1
mg
If you're Pinterest obsessed (like I am!), take a look at their recipe inspiration boards HERE. While you're there, you can hook up with MY BOARDS, too!
Hunt's has a fabulous Facebook page and Twitter account too!
* For more information on the health benefits of tomatoes, check out this article from Dr. Leo Galland (via Huffington Post).