Benihana Happy Hour Times & Menu in 2023
Japanese cooking is love. If you love Japanese foods and looking for some fantastic deals on the same, it is right about the time that you try Benihana Happy Hour meal deals.
Starting from 5-8 pm on weekdays and 3-5 pm on weekends, the happy hour menu of this Samurai restaurant is something you shouldn't miss, especially if you crave Japanese dishes more often than not.
During happy hour time, they offer selected foods and beverages at a significantly reduced price so that you can enjoy your favorite food without cutting deep into your pocket.
So, what does the Benihana Happy Hour menu actually offer?
If you are curious about what you can enjoy during the happy hours, here's a summary for you.
Please note that the information provided might not match your nearest branch.
You must check in with your local branch to confirm the items, offered price, and timings.
A wide range of dishes and beverage items at a reduced price
Rolls and appetizers are available between just $2 and $6
Buy salads and bytes from just $2 to 6
Scrumptious Shushi is only $1.75
You can buy beers for up to $4
Specialty cocktails, wines, and punch bowls are available from $5 to 10
You can buy hot sakes at just $2
It doesn't matter if you are craving the most delicious hand rolls, salads, bites, Shushi, or any other Japanese appetizers; the widespread happy hour menu of Benihana has everything your hungry tummy desires.
Just visit them during the happy hours for the most exciting offers.
If you want to enjoy the best deals during the happy hour, hit the sushi bar and lounge.
Because it is available for dine-in only, you can't enjoy this menu for take-outs or home delivery.
However, you must keep in mind that you cannot avail of any other promotional offers during happy hours' time.
Even if there are the most lucrative offers and discounts going on, they are not available when it's HAPPY HOURS!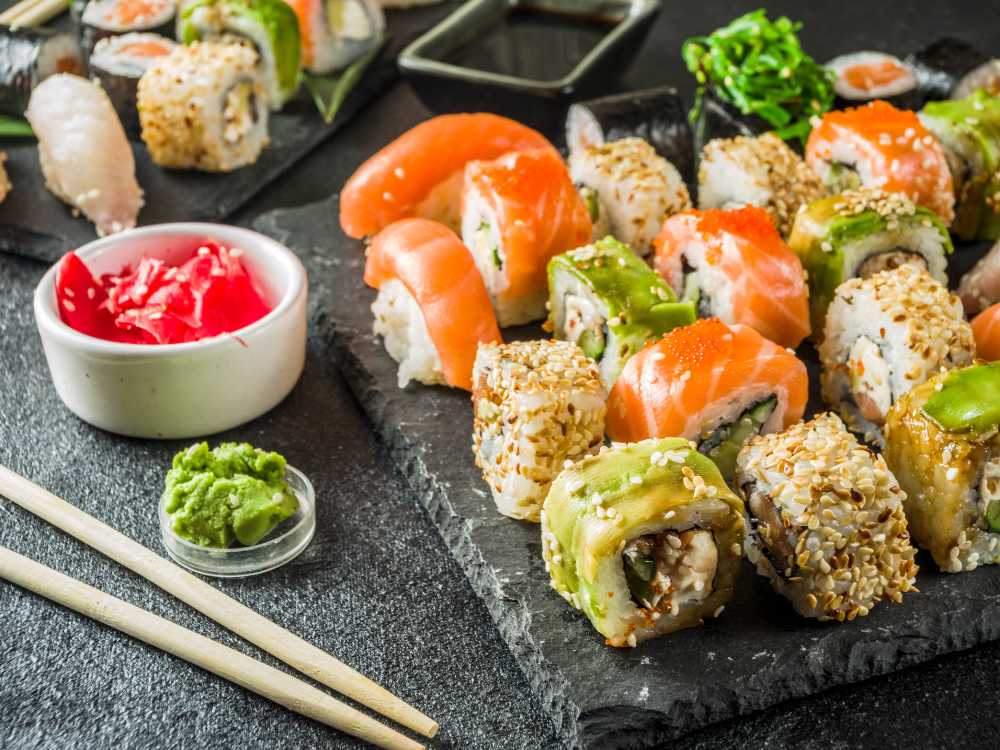 Benihana Happy Hour Times
| | |
| --- | --- |
| Days | Time |
| Saturday | 3-5 pm |
| Sunday | 3-5 pm |
| Monday | 5-8 pm |
| Tuesday | 5-8 pm |
| Wednesday | 5-8 pm |
| Thursday | 5-8 pm |
| Friday | 5-8 pm |
Happy Hour Menu is not available in all branches of Benihana. Menu items, dates and times, prices vary by location. To know more, you are advised to contact your nearest store.
Benihana Happy Hour Menu – Appetizers
Items
Spicy Edamame
Edamame
Vegetable Spring Rolls
Spicy Seaweed Salad
Onion Rings
Shrimp Tempura
Pan Fried Gyoza Dumplings
(Spicy Chicken, Pork)
Salmon Avocado Sashimi
Tokyo Wings
(Tokyo Wings Spicy Sauce, Black Pepper Teriyaki Sauce & Sesame Garlic Sauce)
Crispy Rice
(Spicy Yellowtail, Spicy Tuna & Spicy Salmon)
Sushi Rolls
Items
Avocado And Cucumber
California Roll
Spicy Tuna
Spicy Salmon
Chili Shrimp
Crunchy Calamari
Spicy Lotus
Shrimp Crunchy
Salmon Avocado
Benihana Happy Hour Drinks – Cocktails
Items
Roku Negroni
Toki Old Fashioned
Tokyo Mule
Japanese Spritz
Hendrick's And Tonic
Cosmopolitan
Blue Ocean Punch Bowl For 2
(New Amsterdam Pineapple Vodka, Rumhaven, Blue Curaçao, Sake & Tropical Fruit Juices)
Signature Cocktails
Items
Mai Tai
Beni-Tini
Cucumber Collins
Milagro Margarita
Milagro Paloma
Benihana Punch
Sake Sangria
(Red Plum, White Peach & Sparkling Rosé)
Benihana Mojito
(Exotic, Classic & Coconut)
Wine
Items
Caposaldo Pinot Grigio
La Marca Prosecco (Split)
Kendall-Jackson Chardonnay
Joel Gott Sauvignon Blanc
Bodega Norton Malbec
14 Hands Merlot
Hayes Ranch Cabernet
Louis Martini Cabernet
Benihana Plum Wine
Sake & Beer
| | |
| --- | --- |
| Items | Size |
| Kirin Light | 12 oz. |
| Kirin Sake Bomber | 22 oz. |
| Seasonal Draft | 16 oz. |
| Hot Sake | Large |
Important Links to Get Benihana
To learn more about Benihana, check out the links below.
Frequently Asked Questions
Does Benihana Serve Chinese or Japanese Food?
As the name suggests, Benihana serves traditional-style Japanese foods to fulfill your appetite perfectly.
From steak to chicken, seafood, and fresh vegetables, order whatever you want to eat; your personal chef at Benihana will prepare you just that.
How Many Benihana Locations Are There in The US?
There are a total of 93 locations of Benihana in the USA.
So, if you crave the most wonderful Japanese cuisine, there is a high chance that you will find a location just near you.
Does The Benihana Happy Hour Menu Changes With Locations?
Because Benihana has a whole lot of locations all over the US, their happy hour time and menu subsequently change with each of the stores.
Therefore, check the time and menu card of the happy hours before hitting the locations.
Who Owns Benihana?
Angelo Gordon is the proud owner of Benihana.