Bojangles Breakfast Menu: A Morning Feast Worth Waking Up For
Bojangles breakfast menu consists of 9 biscuit meal combo options that you can get throughout the day and 10 individual biscuit options.
If you get individual biscuits, you can get Bojangles fixin' that includes Green Beans, Dirty Rice, Picnic Grits, and Cajun Pintos to serve your appetite and energy throughout your long work day.
Wanna try their best? You can get the Cajun Chicken Filet Biscuit. You'll get Bo-Tato Rounds, coffee, and a medium drink in the combo.
The best part about these breakfast biscuits is that they are freshly baked every 20 minutes so that you can enjoy the delightful fresh taste and aroma.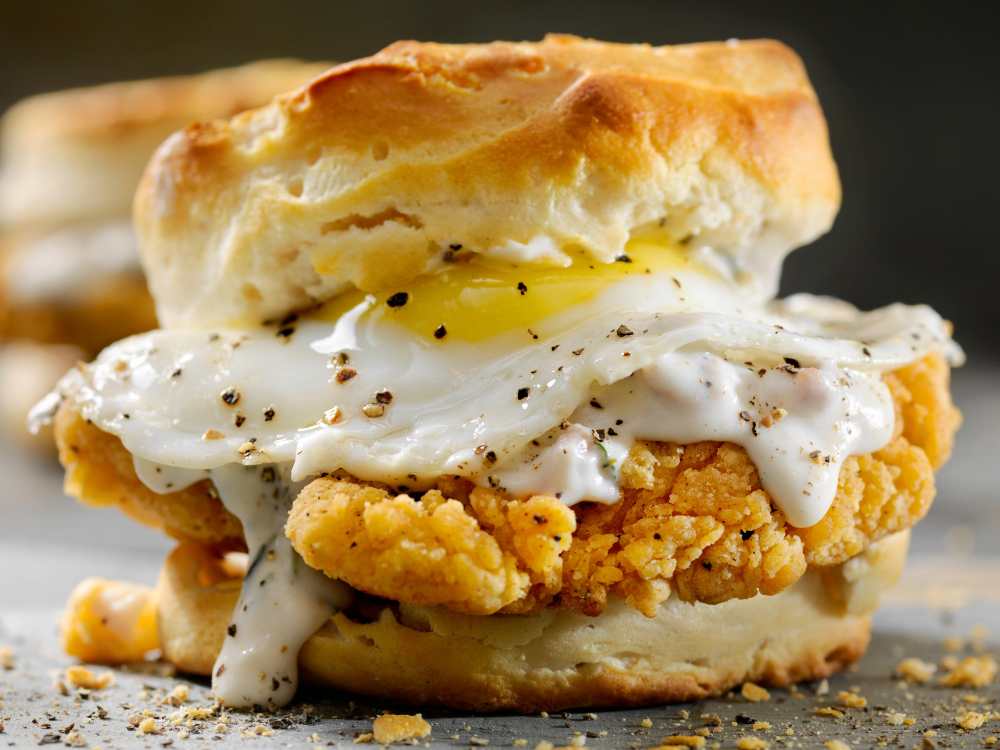 Popular Bojangles Breakfast Items
Cajun Filet Biscuit
The Cajun Filet Biscuit is among Bojangles's top-selling biscuits. The chicken is well-spiced and has a signature Cajun flavor.
The biscuit has a slight buttermilk flavor to it. Don't like it dry? You can get any of their condiments.
These include creamy buffalo, ranch, barbeque sauce, and honey mustard.
Steak Biscuit
Want something that keeps you energized for long? The steak biscuit has 620 calories.
It is enough to neat your hunger. The fried steak used on it is really tender.
You can also get egg and cheese added to it. This energy-packed delicious one will surely be a great option to start a busy day.
Southern Gravy Biscuit
Want something different? Then, this is definitely a must-try.
This ope biscuit has deliciously savory gravy on top. You can get additional items, like an egg with it too.
Pimento Cheese Biscuit
Lastly, we have delicious Pimento cheese on the biscuit. It is a great choice if you want a savory biscuit for breakfast.
The creamy cheese pimento sauce isn't spicy but adds up a lot of flavor and texture.
Bo-Berry Biscuit
If you like sweet instead of savory, this one's for you. It is stuffed with blueberries.
And you get a sweet vanilla frosting on top that makes it even better. You can pair it with your morning coffee or tea.
Bojangles Breakfast Menu (All Day Breakfast)
| | |
| --- | --- |
| Items | Price |
| Biscuit Combo | |
| Sausage & Egg | $7.30 |
| Egg, Bacon & Cheese | $8.30 |
| Sausage, Cheese & Egg | $8.05 |
| Cajun Chicken Filet | $8.81 |
| Sausage | $6.29 |
| Steak | $7.80 |
| Cheese & Egg | $6.92 |
| Country Ham | $7.55 |
| Southern Gravy | $7.30 |
Individual Biscuits
| | |
| --- | --- |
| Items | Price |
| Cheese, Sausage & Egg Biscuit | $4.52 |
| Cajun Chicken Filet Biscuit | $5.28 |
| Egg & Sausage Biscuit | $3.77 |
| Egg, Bacon & Cheese Biscuit | $4.78 |
| Cheese & Egg | $3.39 |
| Sausage | $2.76 |
| Steak | $4.27 |
| Country Ham | $4.02 |
| Pimento Cheese Biscuit | $2.51 |
| Southern Gravy | $3.77 |
Fixins
| | | |
| --- | --- | --- |
| Items | Size | Price |
| Bo-Tato Rounds | Regular | $3.14 |
| | Medium | $3.77 |
| | Family | $5.53 |
| Bo* Fries | Regular | $3.14 |
| | Medium | $3.77 |
| | Family | $5.53 |
Bojangles Breakfast Deals
Want something to go with your biscuit? Bojangles breakfast deals are a great option.
Their most loved lead is the Cajun Chicken Filet Biscuit Combo, which comes with delicious chicken breast with their signature Bo-Tato Rounds on the side and coffee or a medium drink.
You can get other biscuits in this combo too.
Does Bojangles Have a Breakfast Platter?
Yes, Bojangles does offer a breakfast platter known as the Big Bo Breakfast Platter.
On the platter, you get two folded eggs, a choice of sausage, bacon, or country ham, a choice of gravy or Bo-Tato Rounds, and a biscuit, along with the option of a cold drink or coffee.
Does Bojangles Do Breakfast Catering?
Of course! Bojangles does provide breakfast catering with a very diverse menu that is both fresh and delicious and pocket friendly.
In the catering menu, you can get Biscuits by the Dozens, Mini Biscuit Platters, Chicken Supreme and Wings Platters, Catering Packages, Ala Carte Chicken and Biscuits, Boxed meals, and Ala Carte Fixin.
Bojangles Breakfast Time Serves and Stops
Bojangles breakfast timings start at 5:30 in the morning. You can get their breakfast items throughout the day and end at 10:00 at night.
It is extended to 11:00 pm during the weekends. Most fast food chains don't serve their breakfast menu items later during the day, but Bojangles's does.
FAQs
What Signature Bojangles Item Was Developed At Hardee's?
Bojangles signature item, the from-scratch biscuit, was developed at Hardee's.
What Are Bojangles Fries Made of?
They are made of potatoes fried in beef tallow.
They are seasoned with Bo's famous seasoning.
Do Bojangles Biscuits Have Milk?
Bojangles biscuits do consist are a form of a diary.
They are made with flour, powdered sugar, baking powder, shortening, and buttermilk.
Are Bojangles Biscuits Spicy?
The biscuits aren't spicy, but they can be a bit spicy depending on the item or type you choose.
For example, the Cajun filet biscuit is slightly spicy.
What Flavor is a Bo Berry Biscuit?
This is their dessert menu option.
It is blueberries in it and is topped with sweet icing.
What Size Are Bojangles Biscuits?
The approximate weight of a Bojangles biscuit is about 55g.
You can get an idea about its size by it.
How Big Are Bojangles Drinks?
The drinks at Bojangles are available in 32, 22, and 16-ounce size options.