Beef Braciole (Stuffed Flank Steak)
Beef Braciole is one of the perfect dinner ideas for tonight, entertaining guests, or a holiday dinner! This Stuffed flank steak is rolled around tender stuffing, then braised in homemade marinara sauce. It's one of our favorite easy Italian recipes!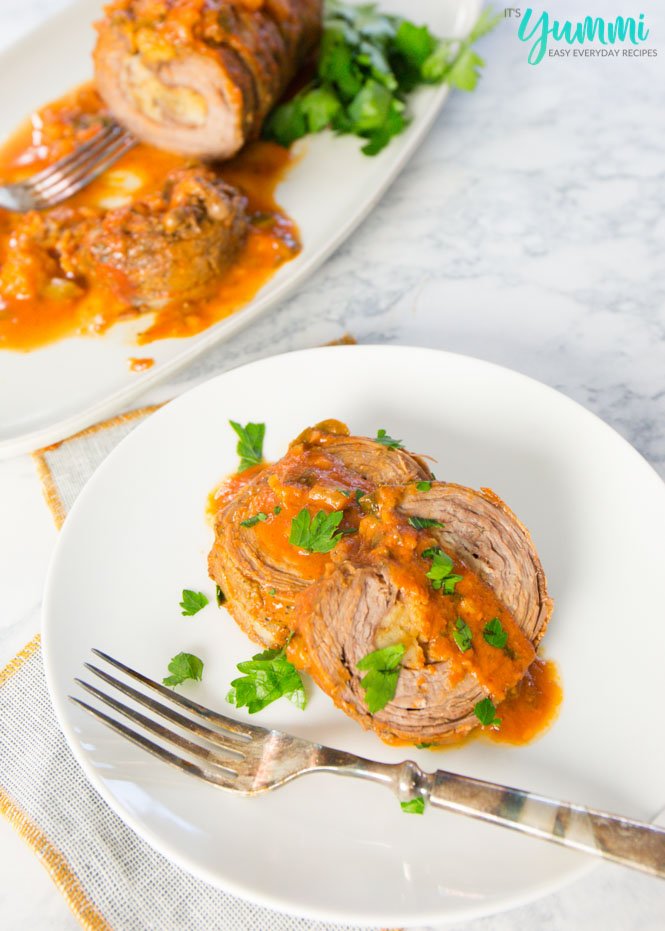 What is Beef Braciole?
Braciole is a classic Italian dish made with a thin cut of meat, most commonly, beef. However, there are braciole recipes that use chicken, pork, and even fish. If you are a fan of the TV series, Everybody Loves Raymond, you are probably familiar with braciole, as Ray's mother made the dish regularly. Easy Italian recipes are perfect for Sunday dinners, and beef braciole is definitely an easy dinner recipe.
What is the best cut of beef for braciole?
Beef braciole tastes best when you can splurge on good quality flank steak or a piece of top round steak. It is flattened, so if you use top sirloin, ask your butcher to butterfly it for you. You can also use smaller pieces of meat to prepare individual portions of beef braciole.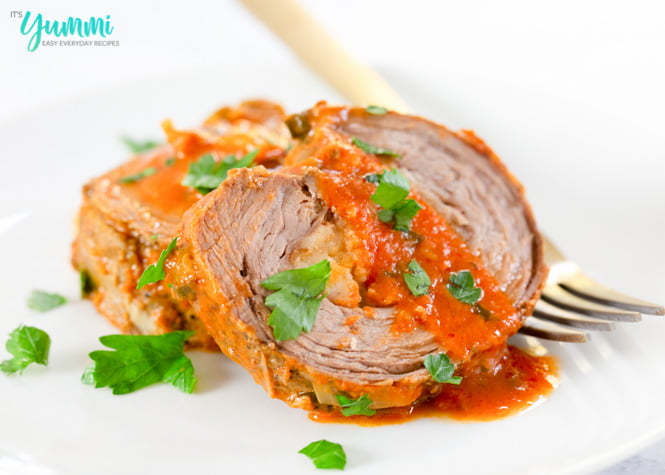 What is braciole stuffed with?
Traditionally, braciole roasts are stuffed with cheese and bread filling.
However, the recipe is versatile, so if you prefer, stuff it with cooked vegetables, rice, or quinoa. Though non-traditional, I think a stuffing of rice pilaf would be delicious!
I make my own bread cubes by cutting stale slices of bread into small pieces. To make things easier, purchase ready-to-use stuffing cubes from the grocery store like we use in our Slow Cooker Chicken Stuffing Casserole.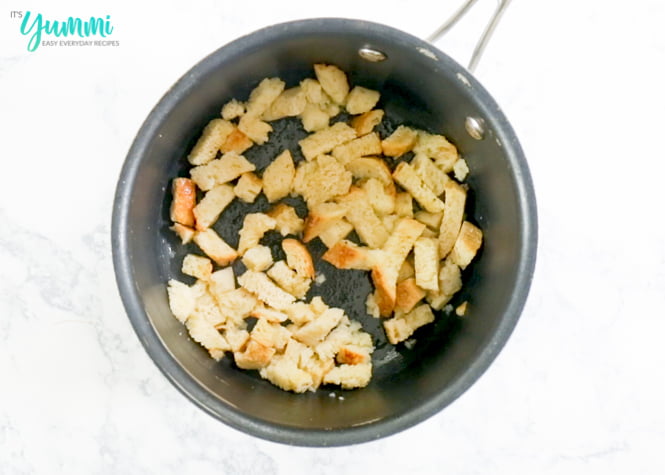 How to Make Stuffed Flank Steak (AKA Beef Braciole)
Preparing this beef braciole recipe is very simple. The key is to start with a flattened cut of beef. You can either ask a butcher to flatten it for you, but it is easy to do yourself.
Simply cover the steak in a sheet of plastic wrap and use the flat end of a meat mallet or a rolling pin to flatten it to a thickness of approximately 1/2 inch.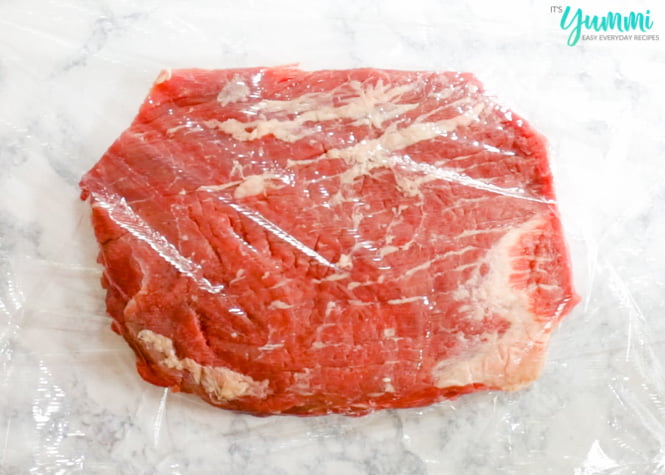 After you have flattened the steak, prepare and cool the stuffing and place it onto the flank steak with Parmesan cheese and herbs.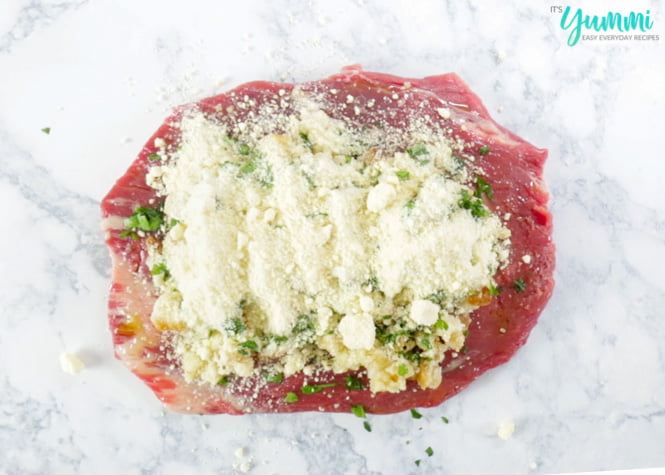 Roll the flank steak with the grain of the meat so that when you slice it later, you'll be slicing against the grain. This will assure that the beef braciole is tender and juicy.
Next, sear the beef braciole in a pan with some oil.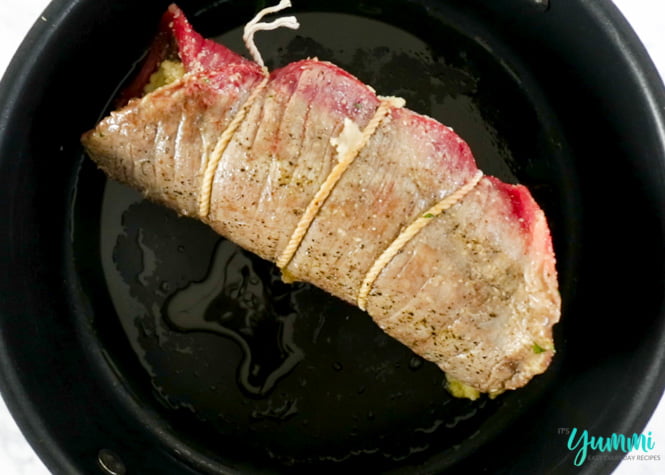 Then make the sauce for the braciole, using the same pan you made the stuffing in. Having less dishes to wash is always a good thing!
Lastly, you will finish cooking the dish by braising the braciole in the sauce on the stove top.
Serving Suggestions for Beef Braciole
Because of it is Italian roots, this easy Italian recipe is traditionally served over some sort of pasta.
If you have time and you own a pasta roller, make homemade pasta from scratch!
If you don't care for pasta, for the perfect Sunday side dish, serve the beef braciole with a side of perfect, creamy mashed potatoes!
For something green on the plate, steakhouse style creamed spinach pairs perfectly with Italian beef recipes Or maybe some green beans with bacon?
Oh, and don't forget the biscuits!
Of course I wouldn't forget to recommend dessert!
I think Double Chocolate Bundt Cake is a perfect finish to the meal. For something lighter, how about this frozen dessert recipe for Virgin Mary Sorbet?
Can I make Beef Braciole in a slow cooker?
This recipe can also be prepared in a slow cooker.
Just follow all the steps of the recipe below, up through the braising, then place the meat and sauce into a slow cooker and cook on low power for 6-8 hours.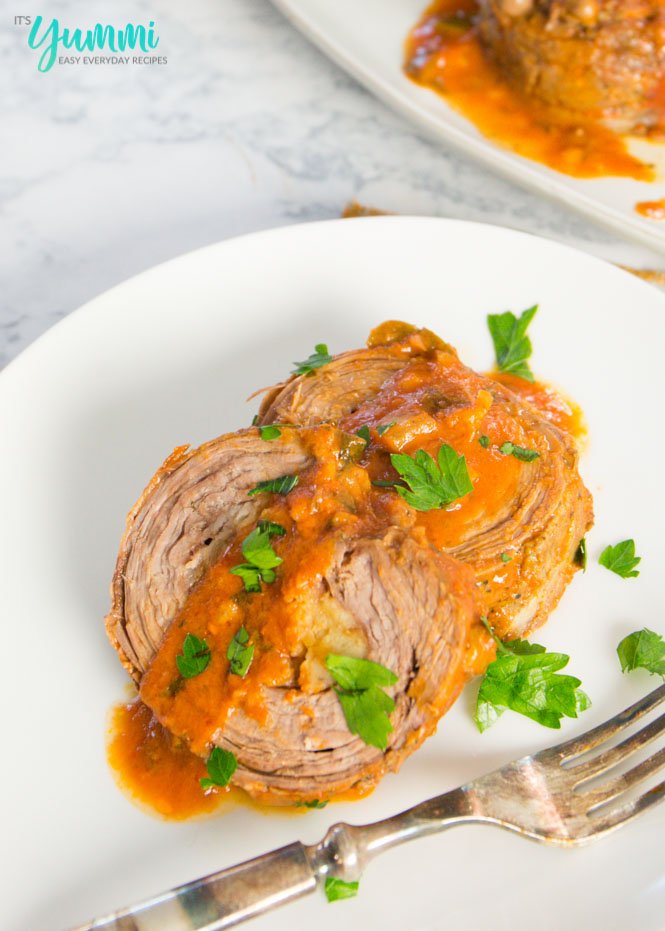 Easy Dinner Ideas for Tonight
For an any night of the week dish when you have very little time to cook, beef braciole is a clear winner.
Are you ready to put some beef braciole onto your dinner table tonight?
More Italian Beef Recipes
Another elevated beef dish with roots from Russian is this Beef Stroganoff.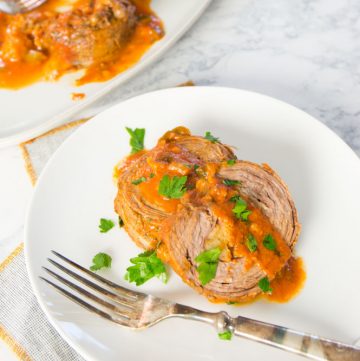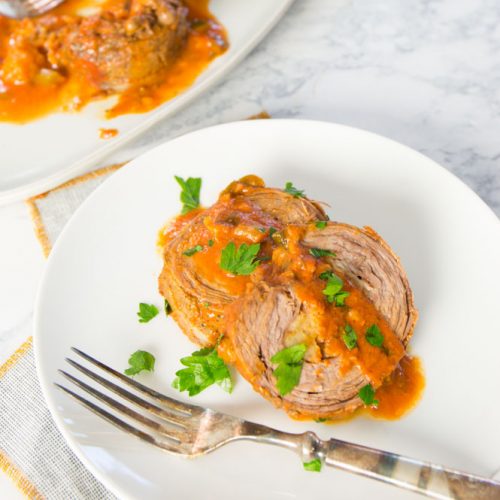 Italian Beef Braciole (Stuffed Flank Steak)
Beef Braciole is one of the perfect dinner ideas for tonight, entertaining guests, or a holiday dinner! This Stuffed flank steak is rolled around tender stuffing, then braised in homemade marinara sauce. It's one of our favorite easy Italian recipes!
Ingredients
⅓

cup

water

2

Tablespoons

butter

1

cup

dry stuffing cubes

1 ½

pounds

flank steak

4

tablespoons

olive oil

divided

1

clove

garlic

minced

⅔

cup

grated Pecorino Romano cheese

4

tablespoons

freshly chopped Italian parsley leaves

divided

½

cup

diced onion

½

green bell pepper

diced

salt and black pepper

15

oz

canned tomato sauce

19

oz

ready-to-eat tomato soup

(if using condensed, you'll need to add water first)

1

teaspoon

dried oregano

½

teaspoon

red pepper flakes

2

teaspoons

granulated sugar
Instructions
Place water and butter into a medium saucepan. Bring to a boil, remove from heat, and stir in the stuffing cubes. Fluff with a fork, remove from the pan and set aside.

Into the saucepan you used for the stuffing, pour half of the prepared tomato soup, the tomato sauce, oregano, red pepper flakes, sugar, and 2 Tablespoons of the fresh parsley. Stir to combine and simmer over medium heat while you prepare the flank steak.

Lay the flank steak flat on a hard work surface. Cover with plastic wrap and use a meat tenderizing mallet or rolling pin to pound the steak until it is in the shape of a rectangle, approximately 1/2″ thick.

Drizzle 2 Tablespoons of olive oil over the surface of the steak. Spread the stuffing mixture over the steak to cover the top evenly, leaving a 3/4″ border around the edges.

Sprinkle 2 Tablespoons of the fresh parsley and the grated cheese on top of the stuffing.

Starting at 1 long end, roll up the steak like a jelly roll to enclose the filling completely. *NOTE: You'll be rolling with the grain of the meat so that when you cut the cooked steak, you'll be cutting the slices against the grain.

Using butcher's twine or wooden skewers, secure the roll together. Sprinkle the braciole with salt and pepper.

Heat the remaining 2 tablespoons of oil in a heavy large pot or Dutch oven over medium high heat until it shimmers and starts to smoke. Add the steak and turn as needed to cook until browned on all sides, about 6 minutes. Remove the steak from the pot, reduce the heat to medium, and sauté the onion for 2-3 minutes.

Add the other half of the tomato soup to the pot and bring to a boil, scraping up any brown bits from the bottom of the pot. Stir in the tomato sauce mixture you prepared earlier and reduce heat to take the sauce to a gentle simmer.

Place the braciole back into the pot and cover. Simmer for 1 hour, until the meat is almost tender, turning the braciole and basting with the sauce every 30 minutes. After 1 hour, uncover and continue cooking until the meat is tender and the sauce has thickened, about 30 minutes longer. The total cooking time should be about 1 1/2 hours.

Remove the braciole from the sauce and allow it to rest for 10-15 minutes. Using a sharp knife, cut the braciole crosswise, into 1/2-inch-thick slices. Transfer the slices to plates. Spoon the sauce over and serve with your favorite pasta.
Nutrition
Serving:
1
slice
Calories:
425
kcal
Carbohydrates:
23
g
Protein:
31
g
Fat:
22
g
Saturated Fat:
8
g
Cholesterol:
89
mg
Sodium:
658
mg
Potassium:
894
mg
Fiber:
3
g
Sugar:
12
g
Vitamin A:
1130
IU
Vitamin C:
29.2
mg
Calcium:
179
mg
Iron:
4.1
mg