Chick Fil A Breakfast Menu Prices 2023
From Chick Fil A breakfast menu you will get to choose spicy chicken biscuits, regular chicken biscuits, hash brown, chick-n-minis, egg white grill, egg and cheese biscuits with sausage/bacon/chicken, buttered biscuit, fruit cup, and Greek yogurt parfait.
Their breakfast price ranges between $3 to $215 based on the menu and the quantity.
Chick-Fil-A has 15 to 17 breakfast items depending on the store location. Among them, popular items are discussed below.
They have created a huge fan base by caring about their customer's priorities and making the dishes with all pure ingredients like- natural sugar from sugar cane, refined peanut oil, freshly hand-breaded buns, etc.
To check what's in the Chick Fil A catering you may browse.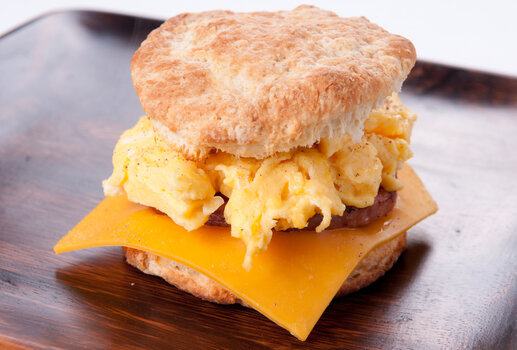 Chick Fil a Breakfast Menu
| | | | |
| --- | --- | --- | --- |
| Menu | Quantity | Price | Calories (Per Piece) |
| Chick-N-Mini | 20 | $19 | 90 |
| | 40 | $37 | 90 |
| Chicken Biscuit | 10 | $30.90 | 460 |
| | 25 | $77.25 | 460 |
| | 50 | $154.50 | 460 |
| Bacon Biscuit | 10 | $25.90 | 340 |
| | 25 | $64.75 | 340 |
| | 50 | $129.50 | 340 |
| Sausage Biscuit | 10 | $25.90 | 540 |
| | 25 | $64.75 | 540 |
| | 50 | $129.50 | 540 |
| Buttered Biscuit | 10 | $13.50 | 290 |
| | 25 | $33.75 | 290 |
| | 50 | $67.50 | 290 |
| Greek Yogurt Parfait | 10 | $42.90 | 240 |
| | 25 | $107.25 | 240 |
| | 50 | $214.50 | 240 |
| Fruit Cup | Small | $2.79 | 50 |
| | Medium | $3.65 | 60 |
01. Chicken Biscuit
It's similar to a burger, but instead of a bun, there's a buttermilk biscuit on top and bottom of the chicken patty.
Deep fried in 100% pure peanut oil, the boneless chicken patty becomes juicy inside and crispy outside. The spicy chicken biscuit has a blend pepper flavor to it.
02. Chick-N-Minis
These tiny bite-sized minis will make you happy. The small nuggets are wrapped in yeast buns. Finally, they spread some butter on top to enhance the flavor.
03. Spicy Chick-N-Strips Biscuit
A couple of chicken-n-strips are served inside the freshly breaded buttermilk biscuit.
04. Bacon/Sausage/Buttered Biscuit
As a patty inside of two buttermilk biscuits, you receive excellent fried bacon or pork sausage.
Alternatively, you can choose butter biscuits, which don't have any patties but do have a little extra butter inside the biscuits, to make them light and yummy.
05. Greek Yogurt Parfait
Greek natural yogurt with juicy berries and your selection of toppings can make your morning refreshing. It can be a good compliment to your low-carb breakfast.
06. Fruit Cup
This soothing fruit salad is made with sliced red and green apples, oranges, strawberries, and blueberries. You can select your portion size following your diet plan.
Customers can purchase a delicious and nutritious breakfast which is the most important factor from the perspective of the customers.
Moreover, they provide flexible proportion sizes, and their independent local caterers are dedicated to offering excellent food made with top-quality ingredients.
Overview Service
Chick-fil-A is renowned for its excellent customer service. They are highly recommended because of both service and satisfaction.
Positive aspects of Chick-fil-A-
Fresh food
A wide range of various menu options
Pure ingredients used for making food
Quick delivery service
Great customer service
Reasonable price
available in every state of the USA (Also in Puerto Rico and Canada)
Guideline for Ordering From Chick Fil a
# Business Hours
Usually, they open at 6 a.m. and close their restaurant at 10 p.m. Except for Sunday, the restaurant stays open on the rest of the days of the week.
# Ordering Process
After you've checked the menu and are ready to order,
select your meal
add the quantity
enter your address (so that they can locate the nearest Chick-fil-A)
place order
add a phone number so that they can call you if need
You can also place your order by calling the restaurant directly
Finally, the meal will arrive within a few minutes.
Additional Information Links of Chick Fil a
Comparison of Chick Fill a With Other Restaurants
Chick-Fil-A is a model of providing high-quality platters with exceptional service at an affordable price. Have a look at some of their main competitors in the market right now
Chic-Fill-a Vs Mcdonald's
The American Customer Satisfaction Index has published a list of the top chain restaurants, there Chick-fil-A topped the fast-food rankings, while McDonald's stayed at the bottom.
Chick-fil-A delivers higher-quality chicken that is healthier and less fatty than McDonald's.
Chick-fil-A may be pricier, although it's worth it. if you want a better chicken meal and more healthful options.
Chick-Fill-a Vs KFC
The KFC sandwich weighed 90% more than Chick-fil-A with 50% more calories (fat contains more calories than protein and carbohydrates).
Clearly, it exceeded the official calorie count. On the other hand, chick fil A is on the right side of the calorie count.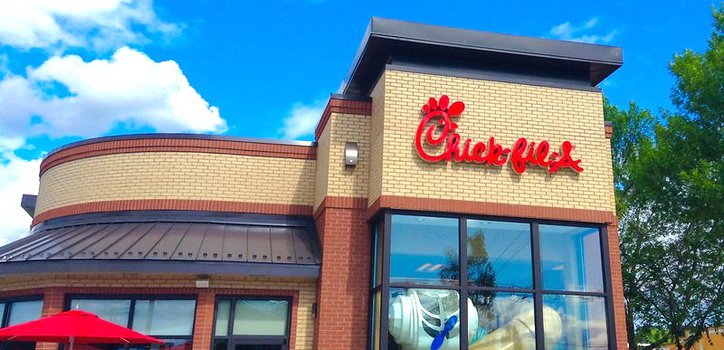 FAQs
What kind of cheese does Chick-fil-A use on their breakfast sandwiches?
Chick Fil A uses shredded cheddar cheese for breakfast. They also use shredded Monterey jack cheese. On their breakfast Sandwich, they provide scrambled eggs and slices of nuggets that make it different from other sandwiches.
What are Chick-Fil-A's breakfast items?
In Breakfast items, there is Chicken Biscuit, Egg White Grill Chicken Egg cheese biscuit & Muffin, Buttered Biscuit, Greek Yogurt parfait, Fruit cup, and so on. Which are delicious food for breakfast.
Does Chick Fil A serve meals in the morning?
It doesn't matter what time it is. If the Meals are ready then Chick Fil A prefers to serve you the meal any time whether it's for breakfast, lunch, or dinner. It's the perfect time for you whenever you like to order your food.
Final Thoughts
Chick Fil A always tries to provide healthy & delicious breakfasts for their customers. For making themselves unique in the market they choose fresh boneless high-quality chickens & use highly refined peanuts oil. Conscious of healthy food tries to give proper authentic taste to the customers.