Dunkin Donuts Catering Menu & Price in 2023
Dunkin' Donuts catering is exactly what you're looking for to add a sweet touch to your next event.
For all catering orders, Dunkin' offers a range of sugary goodness. Let's start with assorted flavors at Dunkin' Donuts.
Currently, this section holds over 10 varieties of donut flavors to make a perfect assortment.
These flavors include glazed, cinnamon, blueberry cake, Boston crème, chocolate, strawberry, vanilla frosted, and more.
Depending on the size of the crowd, you may pick either a dozen or half a dozen fresh donuts.
There's a second assorted flavors category with Munchkin's Donut hole treats.
There are fewer flavors with jelly, blueberry glaze, chocolate glaze or classic glaze, and more.
They are to be ordered in counts of 25, or 50 as per your choice.
They serve multiple bagel choices for you as well. The options are a range of everything bagels, Onion ones, and Poppyseed bagels.
You can purchase half a dozen or a dozen of them, alongside a spread of cream cheese with plain, or strawberry flavor.
They have some of the freshest muffins to get catered to for your next event.
Between blueberry and chocolate chip muffins, your party will surely be the ultimate heaven of baked goodness.
Another great thing about them is that all the items may come in seasonal flavors. You just have to reach your local store to know more.
As for the beverages part, they serve Box O' Joe, ½ and full Cambro coffees, and more.
Some are to be ordered in 10 cups while you can purchase up to 60 cups of full Cambro coffee with them. These come with cups, lids, sweeteners, and stirrers.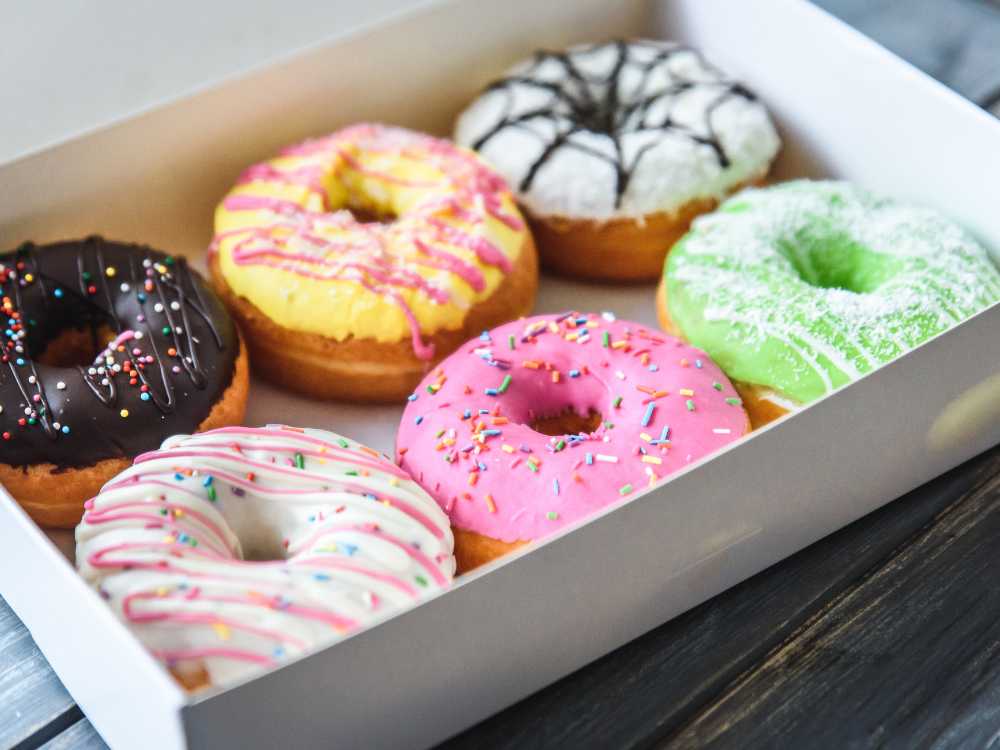 Dunkin Donuts Catering Donut Box
Assorted Flavors
Chocolate Frosted, Glazed, Vanilla Frosted, Strawberry Frosted, Boston Creme, Old Fashioned, Jelly, Glazed Chocolate Cake, Powdered Sugar, Cinnamon, Blueberry Cake.
| | |
| --- | --- |
| Items | Price |
| 1/2 Dozen | $7.99 |
| Dozen | $12.99 |
Flavors: Glazed Chocolate, Glazed, Powdered Sugar, Jelly, Blueberry Glaze, Cinnamon.
| | |
| --- | --- |
| Items | Price |
| 25-ct. Munchkins | $5.99 |
| 50-ct. Munchkins | $9.99 |
Dunkin Donuts Coffee Catering (Big Coffee Box)
| | | |
| --- | --- | --- |
| Items | Serving Size | Price |
| Cambro of Coffee (Half) | 30 cups | $40.00 |
| Box O' Joe | 10 small cups | $17.99 |
| Cambro of Coffee (Full) | 60 cups | $85.00 |
| Box O'Joe Hot Chocolate | 10 small cups | $18.99 |
Muffins
Coffee Cake, Chocolate Chip, Reduced Fat Blueberry, Blueberry, Honey Bran Raisin, Corn.
| | |
| --- | --- |
| Items | Price |
| 1/2 Dozen Muffins | $12.99 |
| 4-ct. Muffins | $8.99 |
| Dozen Muffins | $24.99 |
Freshly Baked Bagels
Cinnamon Raisin, Plain, Everything, Sesame, Multigrain, Poppyseed, Wheat, Onion.
Items
Price
Dozen
$13.49
1/2 Dozen
$7.29
8oz. Cream Cheese Spread
(Flavors: Strawberry, Plain)
$2.79
Dunkin Donuts Delivery Methods
| | |
| --- | --- |
| In-store | Yes |
| Drive Thru | Yes |
| Home Delivery | Yes |
| Curbside Pickup | Yes |
Important Links of Dunkin Donuts
Find Them on Social Media
FAQs
Are There Any Boxes of Coffee For Catering At Dunkin' Donuts?
Of course. Currently, they have four boxes with different coffee flavors.
How Many Donuts Are There in Boxes?
All their donut boxes can be ordered in counts of six or twelve as per your choice.
Does Dunkin' Donuts Catering Offer Delivery?
Delivery is only available in certain locations and for orders over $200. Please make sure to reach the closest Dunkin's for more details.
Is There a Minimum Quota For Catering Orders At Dunkin' Donuts?
Yes, there's one. You have to place an order of $25, or more for catering.
What is The Price of A Box of a Dozen of Donuts on The Menu?
It typically costs around $12.99.
Last Thoughts
No party becomes a hit unless they have some sugary goodness to munch on.
This is why Dunkin' Donuts is there with its catering menu, offering not only rich and creamy donuts but multiple freshly-baked muffins, bagels, and some of the most addictive coffees.
Their prices are fair for the top-quality items they sell. Why not give it a go to feed your sweet tooth at your next party?