Golden Corral Easter 2023
For a scrumptious and quality Easter dinner, Golden Corral Easter meals are the best picks.
These include a Golden Corral ham meal, fried chicken meal, everyone's favorite A-La Carte, and tastier holiday desserts.
For a full-fledged dinner, these ham and chicken meals along with the desserts and A-La-Carte are great choices.
You can either order all of them or choose among them. The cost and serving sizes for these are as follows:
Golden Corral ham meal serves 6-8 people for $119.99
Fried chicken meal serves 8-10 people for $59.99
Fried chicken meal serves 4-6 people for $49.99
A-La Carte and Easter desserts are priced individually so you can buy as per your needs.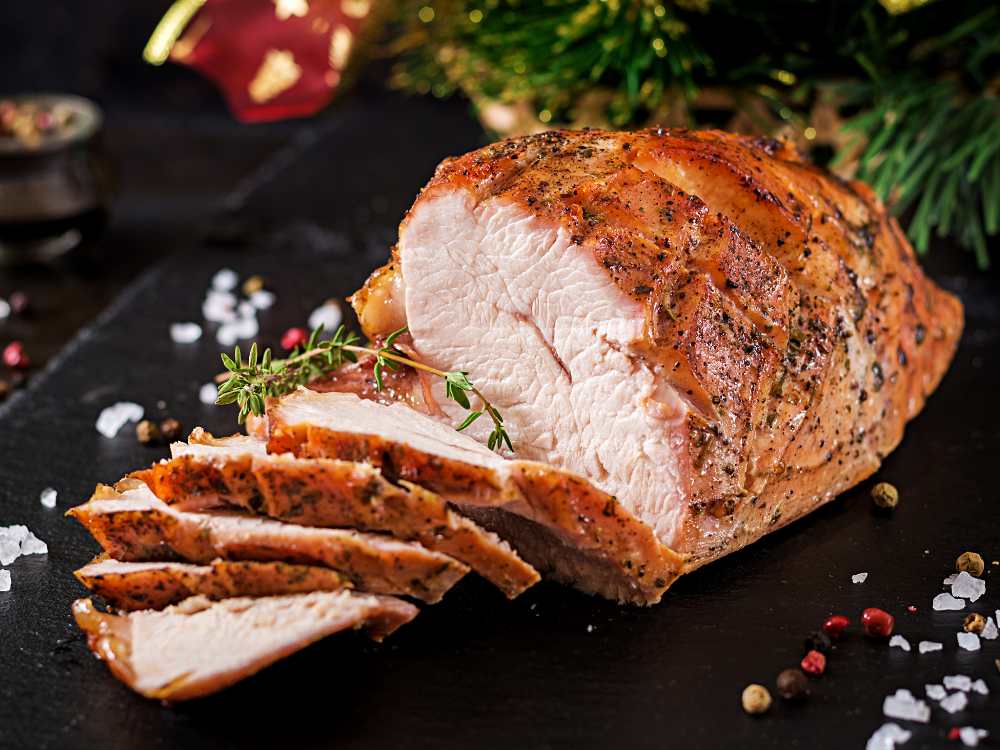 Golden Corral Easter Menu Items
The main dishes offered in their Easter Dinner meals include Easter ham, Easter chicken, A la Carte and desserts.
For the sides, there are several options such as green beans, buttered corn, macaroni & cheese, and mashed potatoes.
Sweet potato casserole, fried chicken, and yeast rolls are also the best options.
Golden Corral also offers steamed carrots and steamed broccoli for those who want vegetarian stuff.
For those who prefer a gluten-free diet, green beans are the best option.
In the desserts, you can order apple pie, carrot cake, lemon meringue, and coconut meringue.
Easter Ham
With the serving size of 6-8 people, Golden Corral Easter Ham is the best option for Easter.
You can get it for just $119.99 to feed your family and guests on Easter night.
It comes with glazed ham, cranberry sauce, gravy, and stuffing.
They also send mashed potatoes and yeast rolls with this meal.
Easter Chicken
They offer two options for Easter chicken. One includes 24 pieces of fried chicken for 8-10 people in just $59.99.
The second option includes 12 pieces of fried chicken for 4-6 people.
Both of these come with yeast rolls, mashed potatoes, and 2 different sides/desserts of your choice.
A La Carte
At Golden Corral, A la carte offers a variety of options for a magnificent Easter dinner. It includes the following things for individual persons.
One pound ham for $7.99
Fried chicken for $1.86 each
One-quarter buttered corn for $5.99
Steamed carrots and broccoli for $5.99 each for 1 quarter
One pint of gravy for $5.99
Mashed potatoes for $5.99
Sweet potato casseroles for $8.59
Macaroni and cheese for $5.99
Yeast rolls for $5.99
And green beans for $5.99
Desserts
Golden corral also serves a variety of delicious desserts to add greater fun to your Easter dinner.
Here are the following desserts that you can order from Golden Corral.
Apple pie for just $11.99
Scrumptious carrot cake for $15.29
Coconut meringue for $11.99
And lemon meringue for only $10.99
Golden Corral Easter Dinner Ham Meals
Items
Serves
Price
Holiday Glazed Ham
(Includes Mashed Potatoes, Glazed Ham, Gravy, Cranberry Sauce, Stuffing, Dozen Yeast Rolls With Honey Butter, & Personal Choice Of Homestyle Side & A Whole Pie)
6-8
$69.99
Golden Corral Easter Chicken Meals
Items
Size
Serves
Price
Fried Chicken
(Gravy, Mashed Potatoes, Dozen Yeast Rolls With Honey Butter, & Personal Choice Of 2 Additional Sides & Dessert)
12 Pcs
4-6
$43.99
24 Pcs
8-10
$53.99
Golden Corral Easter Desserts
| | | |
| --- | --- | --- |
| Items | Weight/Qty | Price |
| Holiday Desserts | | |
| Lemon Meringue | | $16.99 |
| Apple Pie | | $16.99 |
| Carrot Cake | | $15.99 |
| Coconut Meringue | | $16.99 |
| Holiday Favorites A-La-Carte | | |
| Fried Chicken | Each | $1.69 |
| Carved Ham | Pound | $7.69 |
| Green Beans | Quart | $5.99 |
| Buttered Corn | Quart | $5.99 |
| Steamed Carrots | Quart | $5.99 |
| Steamed Broccoli | Quart | $5.99 |
| Gravy | Pint | $5.19 |
| Mashed Potatoes | quart | $5.99 |
| Sweet Potato Casserole | quart | $5.99 |
| Macaroni & Cheese | quart | $5.99 |
| Yeast Rolls | dozen | $3.99 |
Order, Pickup, and Delivery Options
You can order the Easter dinner from the website. They require you to place the order at least 72 hours before you need it.
To get Easter dinner, the available options include delivery, curbside pickup, store pick-up, and drive-up. They don't charge a delivery fee for the Easter meals.
Our Recommendations For Golden Corral Easter Dinner
We recommend fried chicken meals for your Easter dinner.
It is everyone's favorite and comes with additional items such as gravy, mashed potatoes, yeast rolls, etc.
Not only elders, but children would also enjoy the Easter dinner with these choices.
You can order sides and desserts too to add greater value to your Easter dinner.
Important Links