Raley's Easter Dinner 2023
Easter approached pretty fast this year. Why not place an order for Raley's easter dinner now to have the best easter meal ever?
This year Raley's easter dinner calls attention to two major meals – Bourbon pineapple glazed ham dinner and their Coleman Glazed ham dinner.
The protein and multiple traditional sides with delicious veggies are what you get with these delectable easter dinners.
You could easily add more dishes, platters, desserts, florals, and other items by browsing their website.
If you aim to entertain six to eight guests, these meals are exactly what you're looking for to have on your easter dinner table.
With regards to the price tags, you'll have to pay between $90 – $100 to taste this true holiday delicacy.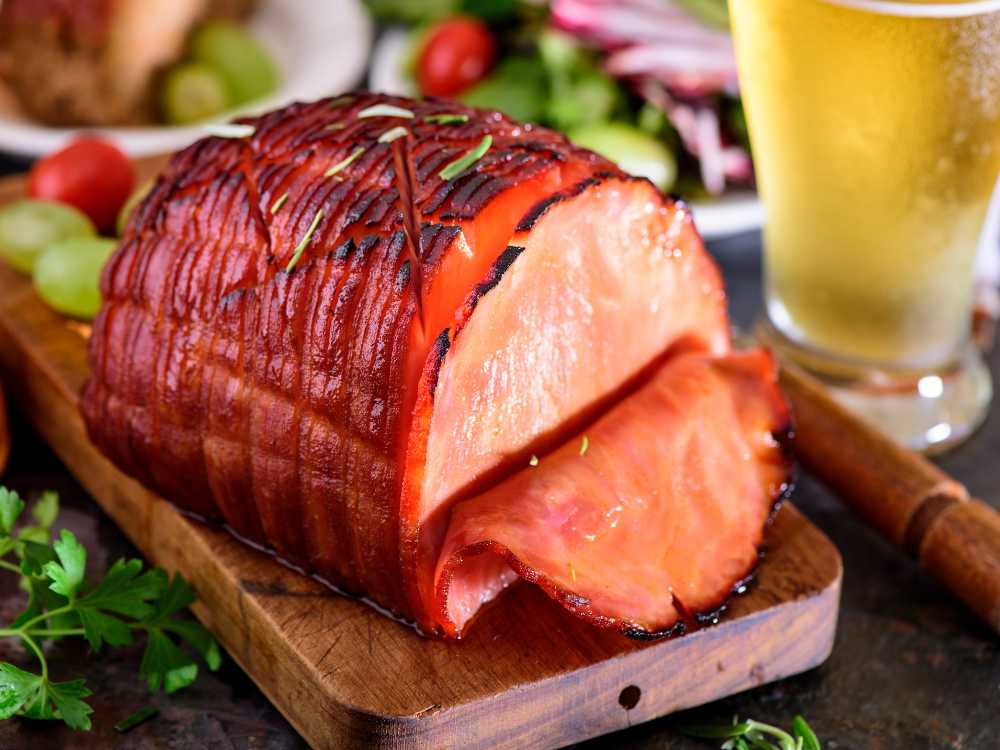 Raley's Easter Menu Items
Diving into the mains in Raley's easter dinners, you get to see that the spotlight is on their protein mains.
There are two types of glazed ham – Bourbon Pineapple glazed, and Coleman glazed(uncured).
Each of these is from 7-9 lbs. and large enough to feed up to eight guests. Up next are Raley's top-notch easter sides.
While different meal packages may carry different sides, the common side dishes include your original mashed potatoes, sweet potatoes, green beans almondine, roasted carrots, herb-roasted potatoes, and sweet potatoes gratin.
Don't let your vegetarian loved ones starve at your easter dinner table.
Vegetarians may happily enjoy Raley's dinners by going without the meat and tasting the sides.
Unfortunately, there are no specific dishes meant for gluten-free people in Raley's easter meals.
Sweet desserts are not a part of Raley's easter dinners.
However, feel free to scroll through Raley's bakery desserts section to find creamy and sugary sheet cakes (full, half, and quarter), Bundt cakes, fruit tortes in man flavors, tarts, cheesecakes, tiramisu, and more.
Raley's Easter Dinner Menu – Holiday Dinners & Desserts
Items
Serves
Price
Coleman Glazed Ham Dinner, only available at Truckee
Includes: Herb- Roasted Potatoes, Coleman Natural Uncured Ham, Green Beans almondine, Roasted Rainbow Carrots, Mashed Sweet Potatoes
6-8
$99.99
Bourbon Pineapple Glazed Ham Dinner
Includes: Mashed Potatoes, Bourbon Pineapple Glazed Ham, Sweet Potatoes, Green Beans Almondine
6-8
$89.99
Raley's Easter Cakes & Desserts
Items
Serves
Price
Family Pack Rolls 12 Ct
$4.29
Butter And Egg Rolls 9 Ct
$4.29
9 " Apple Pie
$9.99
Fruit Tart
$22.99
Raley's Fruit Cheesecake
Topped With Fresh Fruit.
8-10
$19.99
Raley's Birthday Gumball Surprise Cake
10-12
$34.99
Raley's Lemon Velvet Zest Cake
Lemon Buttercream, Lemon Filling, White Crispy Pearls Around The Bottom & Fresh Lemon On Top.
10-12
$34.99
Raley's Lemon Blueberry Cheesecake
Lemon Cheesecake Topped With Blueberries, Fresh Lemon & Mint.
8-10
$19.99
Raley's Peaches and Creme Cake
Peach Filling, White Cake Layers & Almond Classic Whip Cake.
10-12
$34.99
Raley's Neapolitan Dynamite Cake
Chocolate Curls & Pieces Of Almond Bark On The Bottom.
10-12
$34.99
Raley's Strawberry Flower Cheesecake
Cheesecake With Blackberries, Strawberries & Mint With Fruit Glaze.
8-10
$19.99
Raley's Strawberry Cheesecake
Cheesecake Topped With Strawberry Glaze & Fresh Strawberries.
8-10
$19.99
Raley's Whipped Strawberry Cheesecake
Cheesecake Topped With Strawberry Glaze & Fresh Strawberries.
8-10
$19.99
Raley's Whipped Fruit Cheesecake
Cheesecake Topped With Fresh Fruit & Whipped Topping.
8-10
$19.99
Order Process
Visit Raley's official website and search for holiday dinners and desserts to place a pre-order online. Or you may also drop by your local Raley's to order their easter dinner.
You may place an order starting today as the meals will be ready for pick-up or delivery from April 6th – 9th, 2023.
Depending on your preferences, Raley's holiday meals are pretty customizable.
The valid payment options consist of credit and debit cards, cash, Apple Pay, and more.
Pickup and Delivery Options
Raley's easter dinners could be pick-up from a selected participating store. The full list of their product locations is on their website.
Of course, delivery is available for Raley's easter dinners this year.
Delivery is free of charge for your first order. Your zip code may decide on the actual delivery fee after that. Please be aware that there's a service charge (Personal shopper fee) of $5.95 added to any order, worth less than $100.
Raley's allows pick up and delivery for their easter dinner orders this year.
Our Recommendation For Raley's Easter Dinner
We believe that the best of the best on Raley's easter dinner menu is their Coleman Glazed Ham dinner.
Though it's a couple more bucks expensive than other meals, it is more decadent and perfect to serve a family of eight.
The Coleman glazed ham is uncured and delectable and pairs amazingly with its luxurious sides – rainbow carrots, herb-roasted potatoes, etc.
https://www.allrecipes.com/gallery/easter-dinner-ideas-no-ham/