Instant Pot Mac and Cheese
Instant Pot Mac and Cheese is quick, easy and delicious comfort food at its best. Prepare yourself for fewer leftovers and more smiles!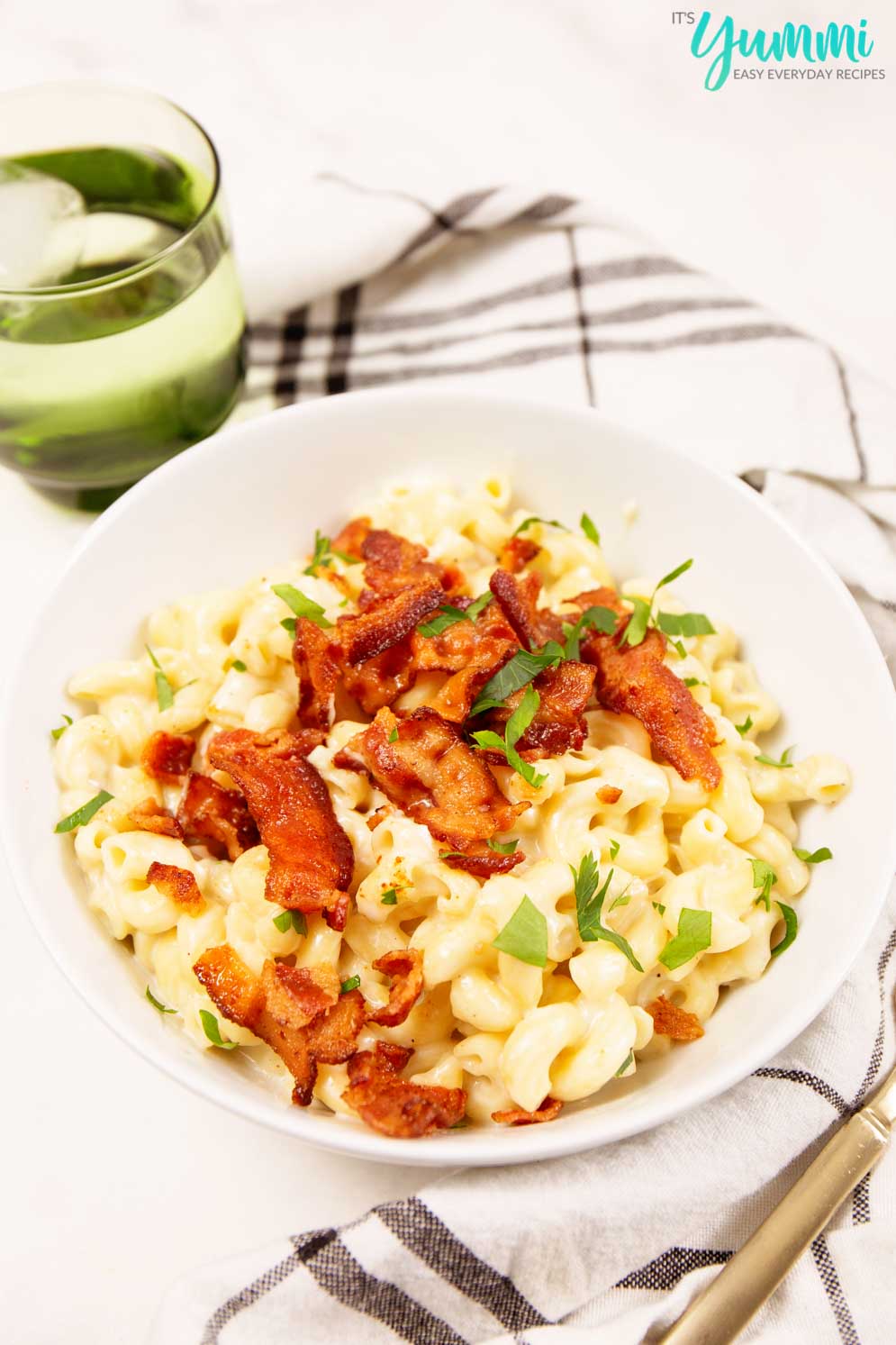 Instant Pot Mac and Cheese may be our absolutely favorite easy recipe of all time. I grew up on boxed mac and cheese but after being an adult I've come to the conclusion that homemade macaroni and cheese is THE ONLY WAY TO GO.
So it's no secret that we absolutely love mac and cheese, but the addition of Instant Pot into the mix makes homemade so incredibly easy and quick, what's NOT to love?
How to make Instant Pot Mac and Cheese
Can you cook macaroni in an Instant Pot? Yes, yes you can! And it's INCREDIBLY simple regardless of whether you're an IP pro or novice.
Start by placing your macaroni, waters, salt and butter into the Instant Pot, cook on high pressure for 5 minutes. Next, a quick release.
Note about a quick release: Make sure to use a towel or something to protect your hands from the hot steam. It's also important to make sure there isn't anything above your Instant Pot so you don't damage your cupboards.
Keep your Instant Pot on warm and add milk, cream cheese, and blue cheese crumbles, still until mixed. Next, add your shredded cheddar cheese and shredded Gruyere, stirring the cheesy ooey gooey goodness until well mixed. Then comes the nutmeg and black pepper (yum!). Last but not least, top with bacon or parsley and serve.
That's it. Roughly 10 minutes to perfect homemade goodness with this Instant Pot Mac and Cheese!
If you don't have an Instant Pot, check out our fan favorite Ina Garten Grown Up Bacon Mac and Cheese. You can follow the same principals regarding storage and freezing of leftovers below.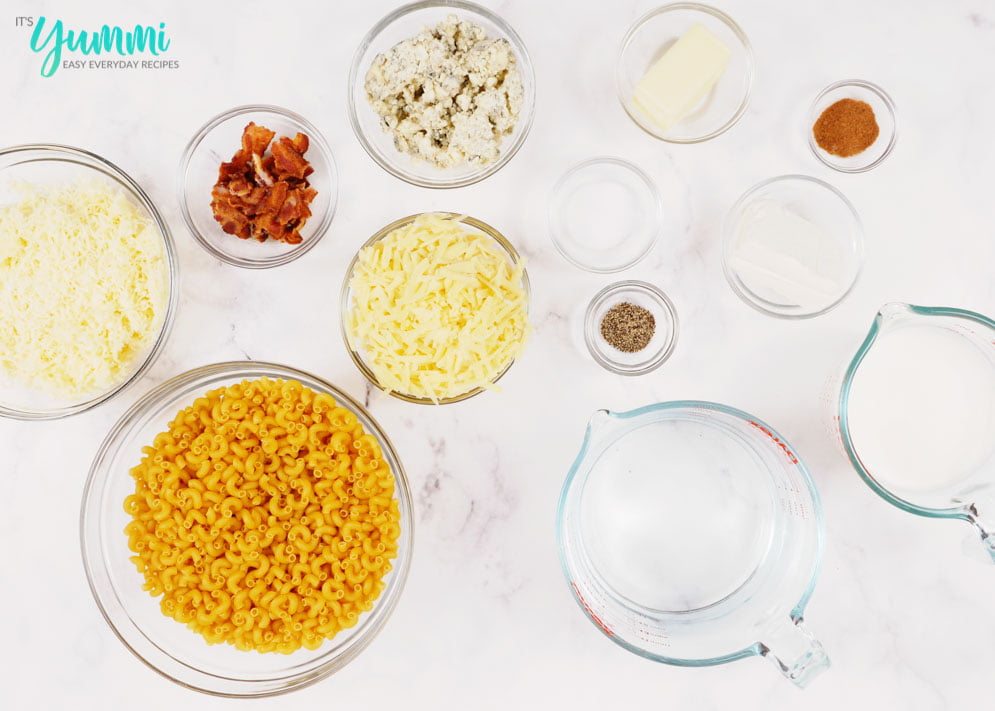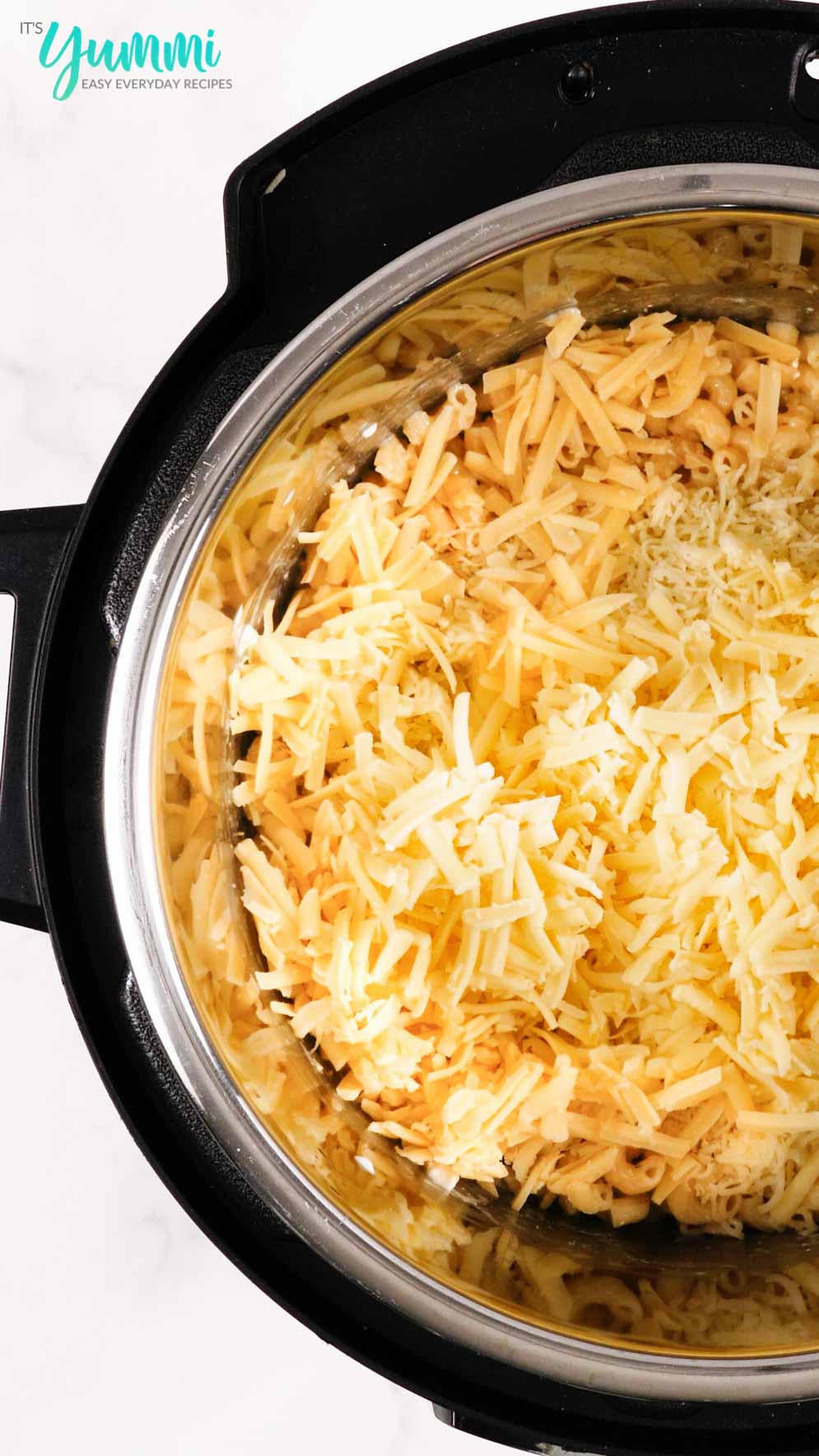 Freeze and reheat Instant Pot Mac and Cheese
Because of the dairy, keep your mac and cheese in the refrigerator in an airtight container. This will last for 3 to 5 days (willpower to resist aside).
You also can extend the life of your Instant Pot Mac and Cheese by allowing it to fully cool and portioning out into freezer bags before placing into the freezer. This is perfect for meal planning because of how quick and easy this Mac and Cheese is to make, you can batch for delicious gooey comfort food at any time with minimal effort.
To reheat, you can bake in a preheated oven at 325 degrees for about 30-45 minutes until browned. You can also thaw overnight in the refrigerator before reheating, but do not thaw at room temperature.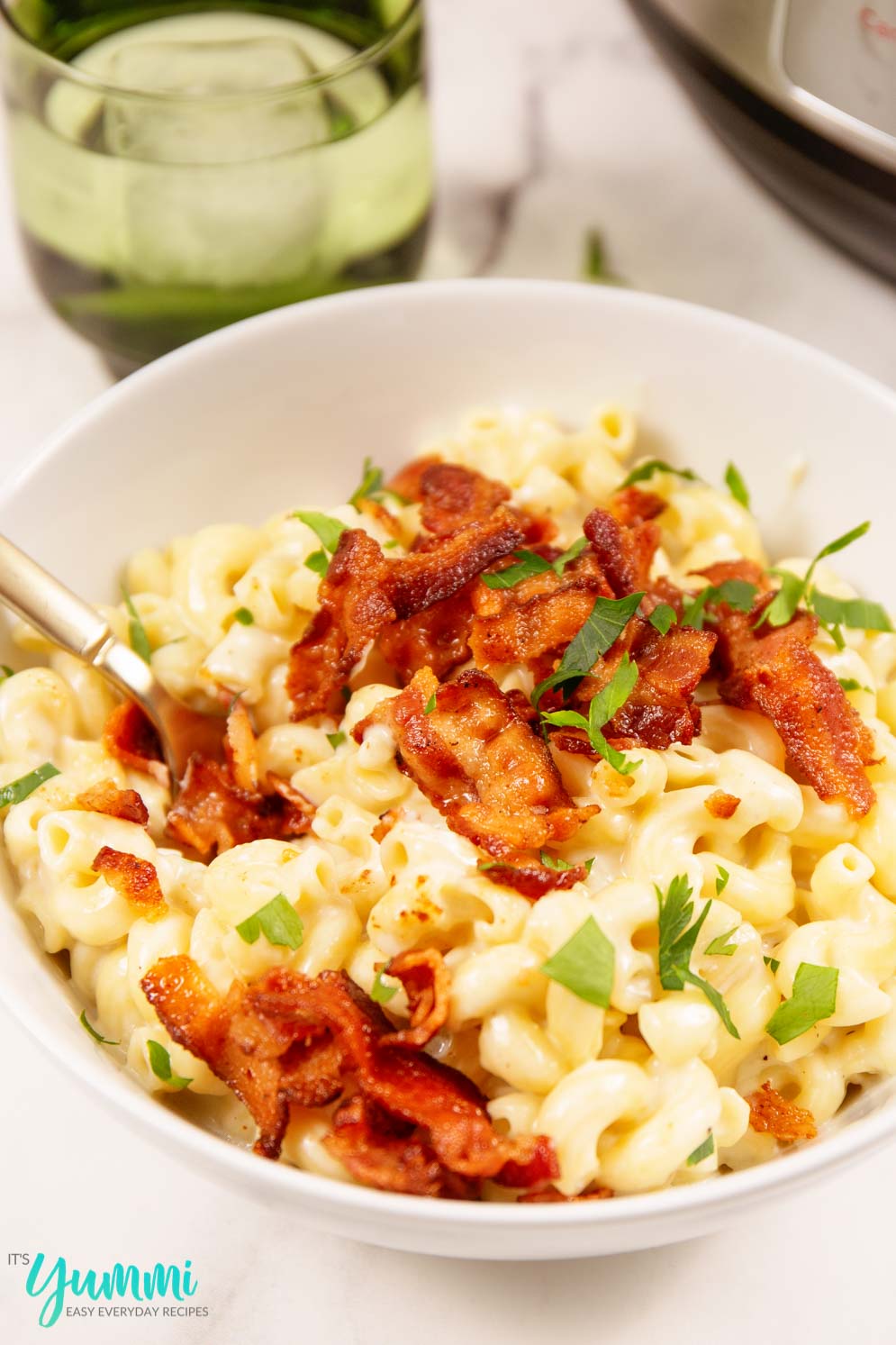 What to serve with Mac and Cheese
This Instant Pot Mac and Cheese can certainly be a solo dish, but comfort food loves company.
It's no secret that Mac and Cheese goes famously with barbecue. Check out our Instant Pot Short Ribs! Now, you may be wondering about how to make two Instant Pot recipes around the same time. The ribs will take longer, so you can make those first.
Now, here's the real secret: If you have a spare Instant Pot Stainless Steel Inner Cooking Pot, you can remove the inner cooking pot and keep it on the stove on a low setting and covered to keep your ribs warm. Bonus, this is where an Instant Pot Stainless Steel Inner Cooking Pot also comes in handy to keep a lid on things.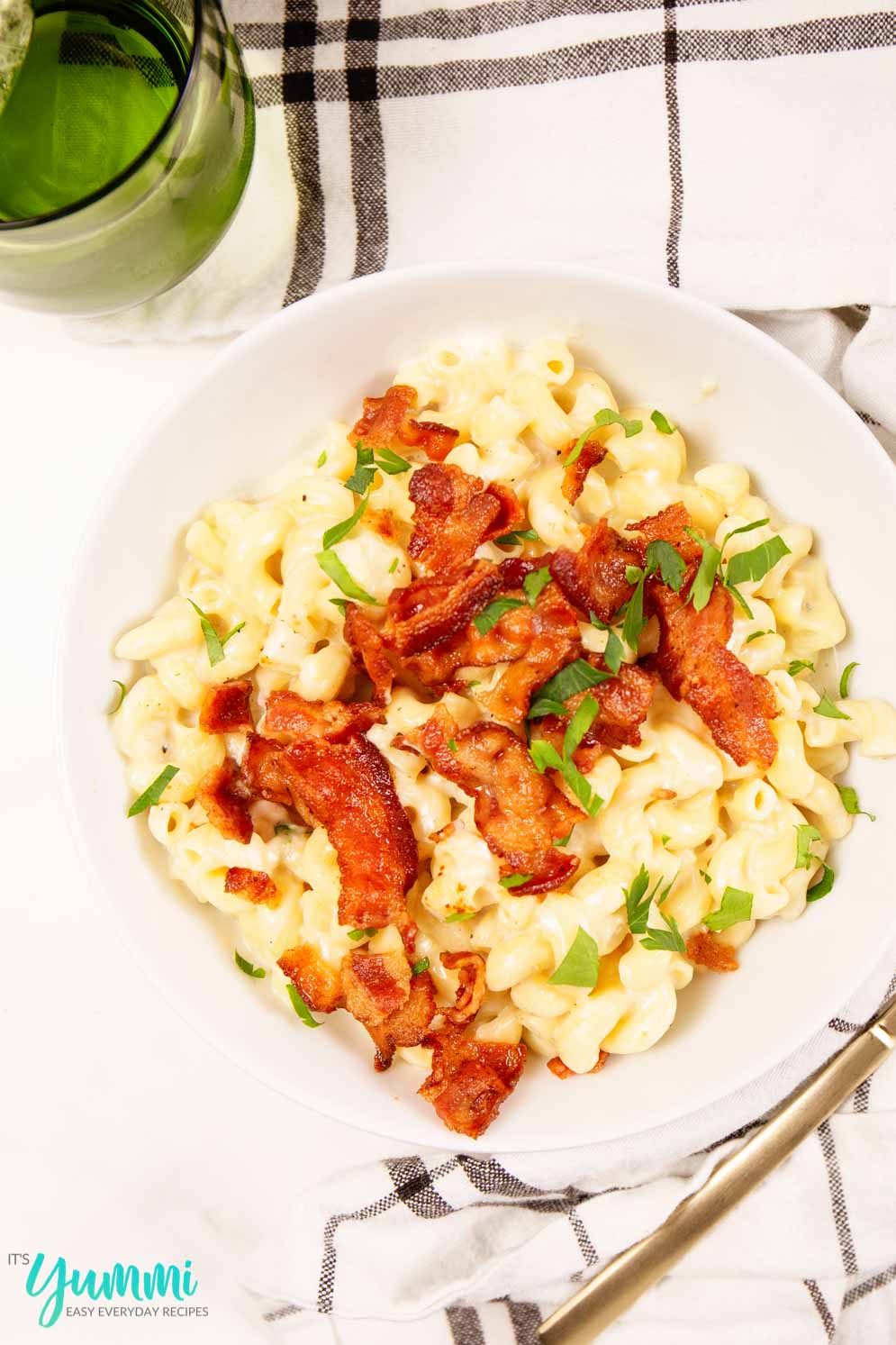 Instant Pot Mac and Cheese, a family favorite
Can you remember a time when Mac and Cheese wasn't on rotation in your family dinner planning? We can't. It's more than a comfort food. It's a staple in our household. It's warm, gooey happiness in a bowl (or on a plate, if that's your thing.)
This Chicken Bacon Ranch Mac and Cheese is another fantastic dinner to add to rotation.
The history of Mac and Cheese is debated. It debuted as a boxed dinner with 1937. Undoubtedly the real origin has Italian roots. But did you know there's even urban legends that credit Thomas Jefferson with inventing what is known today as the ultimate American dinner? It could be true and is certainly the most interesting theory. But regardless of where it's been, the future is Instant Pot Mac and Cheese.
We lead busier and busier lives, trying to fit as much as we can into the time we have. That includes quality time with the family. That's why the Instant Pot is absolutely perfect for this. Quick and easy and full of the flavor (and love) that traditional homemade Mac and Cheese would take much longer to make.
And as always, bonus of easy clean up with just one pot.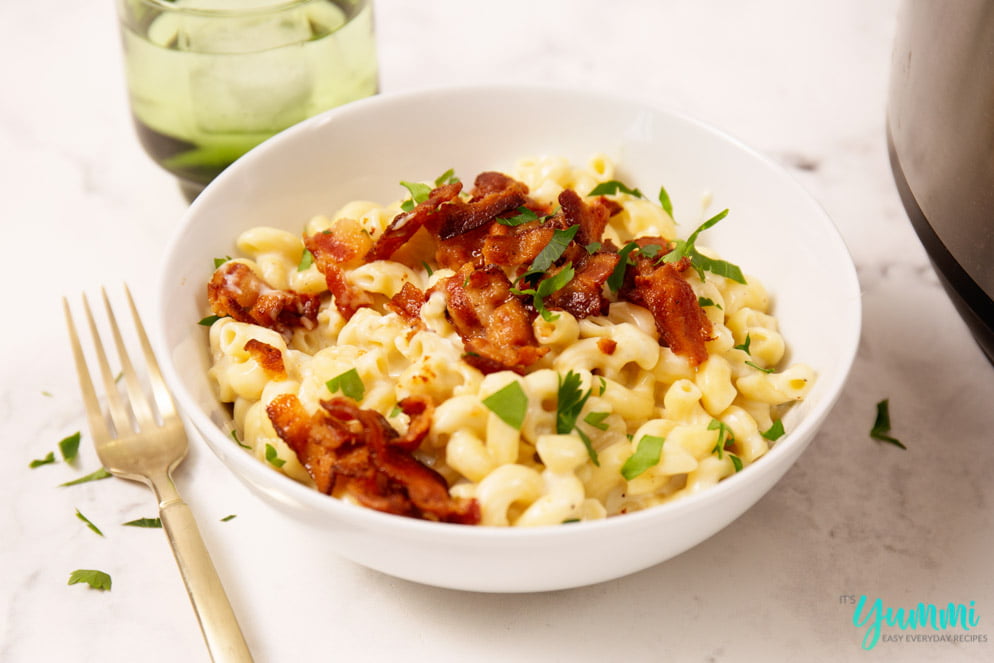 Other recipes you might enjoy: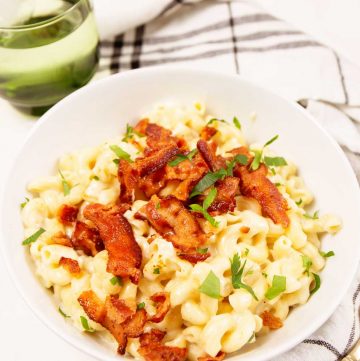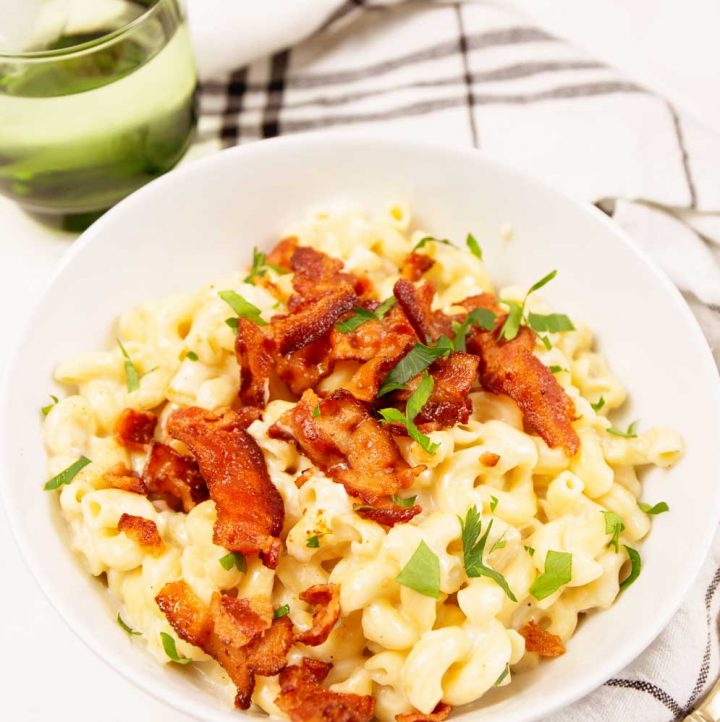 Instant Pot Mac and Cheese
Instant Pot Mac and Cheese is creamy and oh-so-delicious comfort food.
Ingredients
3

teaspoons

salt

1

pound

uncooked elbow macaroni

(or small pasta shape of your choosing)

2

cups

milk

4

cups

water

4

Tablespoons

butter

2

Tablespoons

cream cheese

4

oz

blue cheese crumbles

8

oz

shredded cheddar cheese

6

oz

shredded Gruyère cheese

½

teaspoons

nutmeg

½

teaspoons

black pepper

1

cup

bacon

parsley for garnish

(optional)
Instructions
Add water, macaroni, salt and butter into the Instant Pot.

High pressure for 5 minutes. Use a quick release and keep on warm.

Add milk, cream cheese, blue cheese, shredded cheddar, shredded Gruyere and stir until well mixed.

Add in nutmeg and black pepper, stir thoroughly.

Top with bacon or parsley and serve.
Nutrition
Serving:
1
serving
Calories:
614
kcal
Carbohydrates:
46
g
Protein:
32
g
Fat:
33
g
Saturated Fat:
20
g
Cholesterol:
109
mg
Sodium:
3583
mg
Potassium:
293
mg
Fiber:
2
g
Sugar:
5
g
Vitamin A:
916
IU
Calcium:
586
mg
Iron:
1
mg