Low carb pumpkin pie bars are the perfect healthy fall dessert! With a chocolate almond flour crust and a creamy low carb pumpkin pie filling, they're a healthy pumpkin pie that everyone will love this Thanksgiving!
Greetings, pumpkin pie lovers! I'm here with a recipe for the best danged low carb pumpkin pie bars I've ever eaten. Seriously!
Put this holiday dessert onto your table and you just might put your Grandma's pumpkin pie to shame.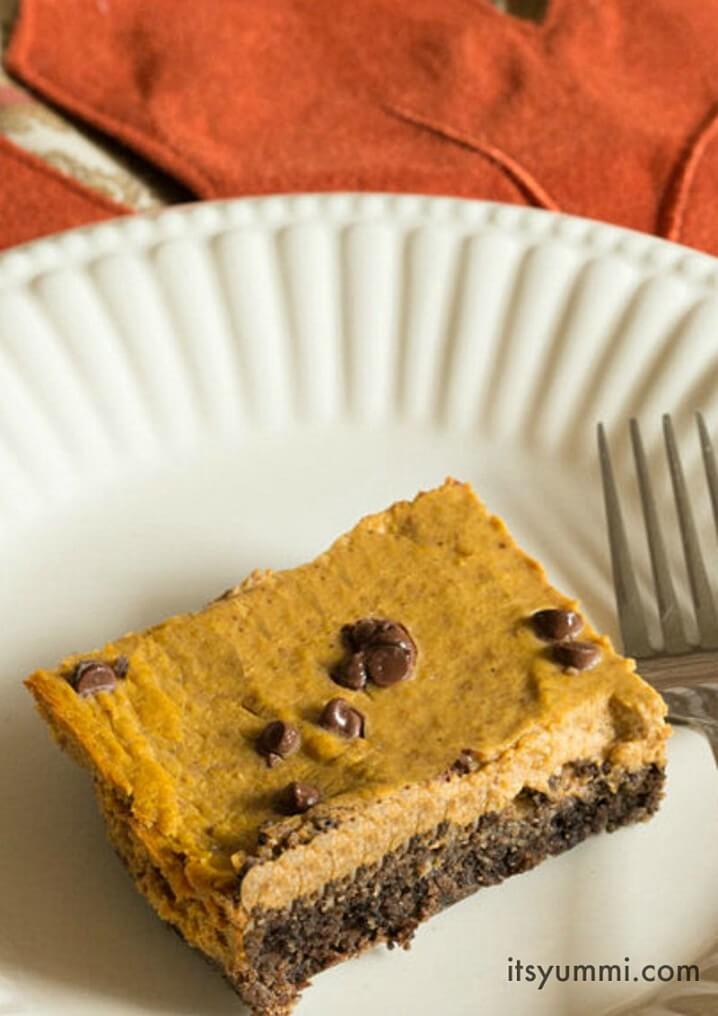 If you like pumpkin pie, you will love this low carb dessert recipe!
Low Carb Pumpkin Pie Bars Recipe Notes
In order to create the healthy pumpkin pie bars, you will need to first make a low carb crust.
How to Make Low Carb Pie Crust
There are primarily two ways to make a low carb crust; using coconut flour or almond flour. Since I have a coconut allergy, I make almost all of my low carb desserts with almond flour.
To make a low carb chocolate crust, you simply add a couple of tablespoons of unsweetened cocoa powder to the crust mixture.
Because I use Greek yogurt for the pie filling, it's higher in protein than regular pie filling is, and it's deliciously creamy. It has all of the wonderful warm flavors that a good pumpkin pie should have, too…cinnamon, cloves, and ginger. Yummi!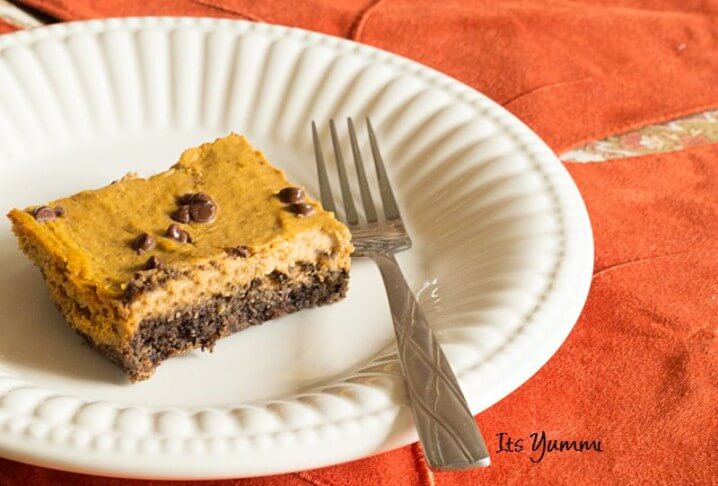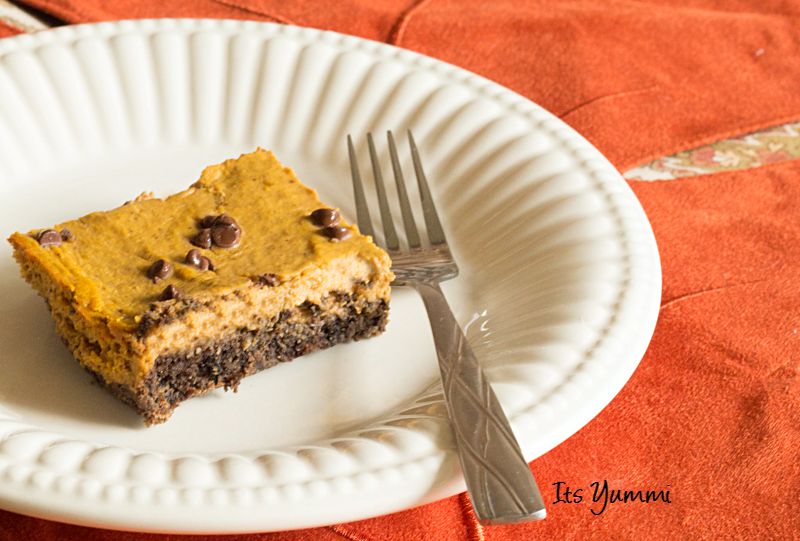 Note: Low carb means low in carbohydrates (low or no net glycemic sugars). It does NOT mean low fat!
I use real butter in the crust, and wowza, does it taste good! It is rich enough that one small piece made me feel like I was indulging in a naughty treat! All things in moderation is the key to my weight loss success.
Oh, and if you're looking for another healthy pumpkin recipe, make these Pumpkin Spice Yogurt Parfaits. For another low carb dessert, check out my recipe for low carb raspberry almond cheesecake bites.
If you make these low carb pumpkin pie bars (and I hope that you will!), please come back and leave me a comment and rate the recipe. I would love to know if you enjoy them as much as I do!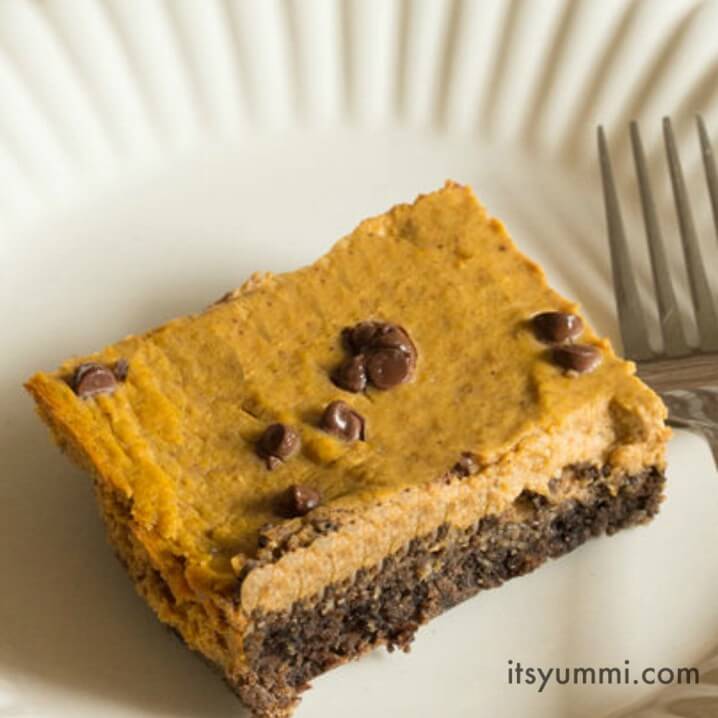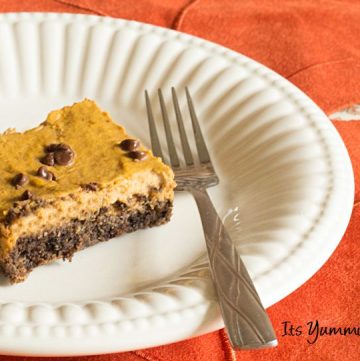 Low Carb Pumpkin Pie Bars
These pumpkin pie bars have a chocolate crust and a creamy filling that's low-carb and absolutely delicious!
Print
Pin
Rate
Ingredients
Pumpkin Pie Filling
2

cups

100% Pure Pumpkin Puree

8

oz

(1 cup) greek unflavored yogurt

1

large egg

2

teaspoons

vanilla extract

1/2

cup

erythritol,

( or granular sugar)

1

teaspoon

ground cinnamon

1

teaspoon

pumpkin pie spice

1/2

sea salt

Pinch of ground cloves

Pinch of ground ginger
Instructions
Heat oven to 350 degrees F (325 if using convection oven)

In a small bowl, combine baking mix, 6 packets Stevia, melted butter, cocoa powder, and maple syrup. Stir with spoon or spatula until it forms a cohesive dough. Use fingers to press mixture evenly into bottom of a 9" x 9" baking pan.

Bake for 12 minutes. Remove pan from oven and allow it to cool on wire rack while you prepare the filling.
FOR FILLING
In a large bowl, combine pumpkin puree, yogurt, egg, Erythritol, vanilla extract, salt, and all spices. Use a whisk or hand mixer to combine until smooth.

Use a silicone spatula to spread batter evenly over the crust. Return pan to oven and bake for 35-40 minutes, or until edges are just starting to crack and the top is set. Remove pan from oven and cool on wire rack for 10 minutes. Place pan into refrigerator and chill for at least 2 hours before slicing and serving.
Notes
Nutrition information is based on the ingredients I used and may vary. It was calculated using the SparkPeople recipe calculator.
Recipe Nutrition
Nutrition Facts
Low Carb Pumpkin Pie Bars
Amount Per Serving (1 g)
Calories 163
Calories from Fat 117
% Daily Value*
Fat 13g20%
Cholesterol 36mg12%
Sodium 147mg6%
Potassium 135mg4%
Carbohydrates 32g11%
Protein 6g12%
Vitamin A 6784IU136%
Vitamin C 3mg4%
Calcium 105mg11%
Iron 1mg6%
Sugar Alcohols 16g
* Percent Daily Values are based on a 2000 calorie diet.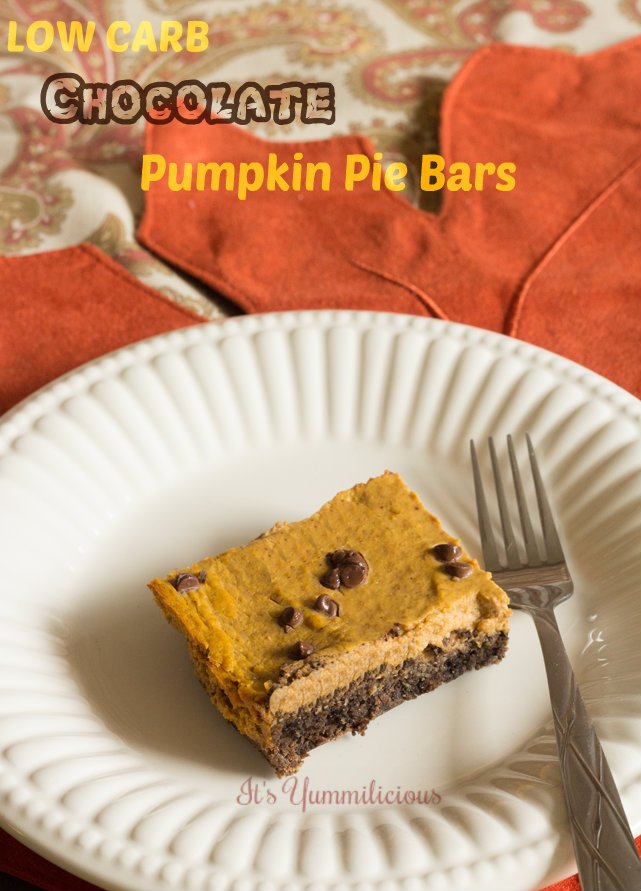 For those of you who've been following my weight loss journey, here's an update:
It's been a week of ups and downs. Keeping in my positive frame of mind, I'll start with the great news:
I'm now 25% to goal on my #FitBy50 program. I stood on the scale and watched the numbers dip into a new range this week. I was SO flipping excited to see that my body is still burning fat, despite not being able to exercise the three times per week that I typically do! I've got 35 pounds left to lose before I hit my goal!
I won't say that the low carb pumpkin pie bars helped me lose the weight, but they sure didn't hurt! 😉
The bad news: Within 24 hours of one another, I suffered two ugly incidents. First, a blood vessel burst in my left eye. Typically, that wouldn't be any cause for concern, but a few hours later, two varicose veins in my right leg ruptured (thrombosis). Ugh!
Seemingly, everyone but me thought I should be taken the ER to be checked out. I was reminded that thrombosis of a vein can lead to an embolism (blood clot) in my lung, heart, or even my brain, so Brian wanted me to go to the ER. I convinced him we should just monitor the condition.
The next evening, everything looked 100% worse and I was starting to lose vision in my left eye (which already has extremely poor vision), so he took me to the ER. After some tests were run, the doctor determined that my clotting factors are fine. He was concerned about my vision loss, though, so I went to see an eye surgeon the following day.
Long story short, I'll be fine in about 2 weeks. In the mean time, I'm not allowed to do any activity that will put strain on my blood vessels… ie, no workouts at the gym. 🙁