Mcalister's Catering Menu With Prices (Updated September 2023)
If it's a special day for you and you're looking to get your food catered, trust McAlister's to get the job done. McAlister's catering menu is an all-inclusive complete one.
Let's first explore their 5 massive sandwich trays that go from classic trays with croissants and baguettes to signature and assorted club trays.
You could simultaneously customize them by adding veggies or pickles.
It's possible to get several salad bowls catered to including their fan-favorite pecan berry salad, Southwest chicken avocado salad, and your classic Caesar salad.
Boxes are the newest catering feature where you get to make individually customized boxes.
Wrap boxes, club sandwich boxes, and premium sandwich boxes are to name a few. They even have made it extra yummier with the two-box deal.
McAlister's catering menu consists of several sides like steamed broccoli and mac and cheese with the best mini-menu of dressings. (Chipotle ranch, sherry shallot, etc.)
They've got three sub-bar menus with Spud, nacho, and, mac and cheese bars with multiple customizations available.
McAlister's does have some good soup and chili options. Their delicious chicken tortilla soup and classic chili are honorable mentions in this category.
If you love to get your breakfast or lunch catered, that's such a realistic dream with McAlister's.
They make amazing breakfast sandwich trays, the freshest fruit trays, and two breakfast boxes.
A yogurt bar, coffee, and orange drinks could also be part of the deal.
Box lunches come in handy with traditional, veggie, tuna, or club sandwich options.
Those who crave something to munch on could order from their snacks and breaks menu with trayfuls of club quarters, fresh fruits or veggies, and pinwheels.
The tea and lemonade come in gallon-size and canned drinks come as part of the beverages.
As for the sweet desserts, they have cakes and trays full of cookies and chocolate brownies.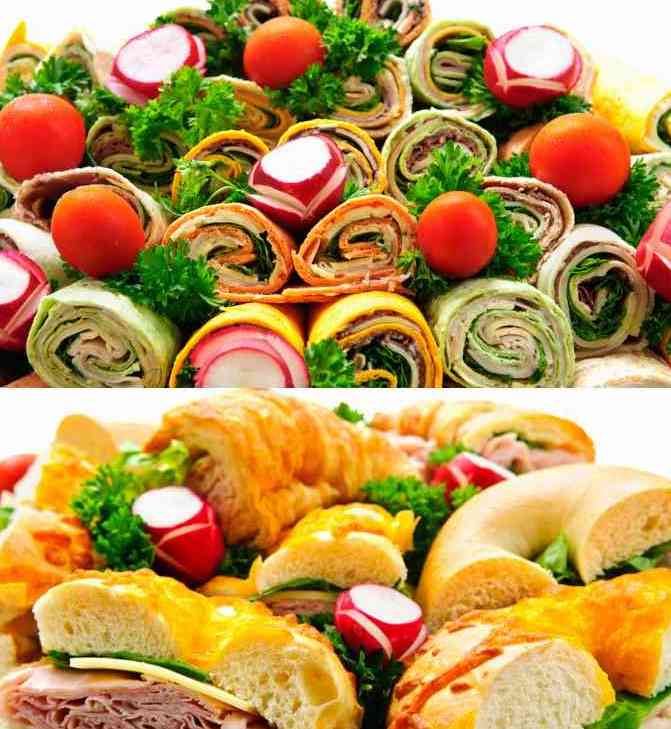 Mcalister's Catering Prices (Sandwich Trays)
Additional Sides @ $1.50 per person
Items
Price/Person
Signature
Assortment of McAlister's Clubs, Caesar Wraps, Grilled Chicken, Harvest Chicken Salad, and Memphian sandwiches
$8.25
Traditional
Black Forest ham, Angus roast beef, assorted cheeses, Butterball smoked turkey, lettuce, and tomatoes
$8.00
Assorted Club
assortment of Clubs: McAlister's, Club Wrap, Black Angus, Orange Cranberry, Veggie & Turkey Croissant
$8.50
McAlister's Club
Ham (Black Forest), applewood smoked bacon, lettuce, Butterball smoked turkey, sharp cheddar, Swiss, tomatoes
$8.25
Wrap
assortment of: McAlister's Club, Turkey Bacon Ranch, Grilled Chicken Caesar, Spicy Southwest Chicken, and Veggie
$8.50
Mcalister's Deli Catering Menu (Box Lunches)
Each box includes choice of side, a cookie, a pickle, and utensils.
Items
Price/Person
Traditional
roast beef (Black Angus) + Butterball smoked turkey or ham (Black Forest)
$8.25
Add Cheese
+$0.75
Club Sandwich Box
Choose 1 signature Club sandwich:
Mc lister's, Wrap / Orange Cranberry
$8.75
Black Angus, Grilled Chicken/Turkey Club Croissant & Turkey Cobb
$9.00
The veggie
$7.25
Harvest Chicken Salad Sandwich
$8.50
Wrap Box
$8.75
Tuna Salad Sandwich
$8.50
The Memphian
$9.00
Mcalister's Breakfast Platter
Items
Size
Serves
Price
Breakfast Box
$7.00
Tray
Muffin & Danish
Regular
8-10
$35.00
Large
12-14
$50.00
Croissant Sandwich
Croissants + Cheese, Applewood Smoked Bacon / Sausage & Forest Ham
8-10
$4.75
Croissant Sandwich
With egg
8-10
$5.50
Fresh Fruit
Served with Strawberry Dip
Regular
Seasonal Pricing
Large
Seasonal Pricing
Snacks & Breads
Items
Size
Serves
Price
Nacho Bar
Chili (Traditional/Veggie Chili), Cheddar-Jack Cheese, RO*TEL Cheese Dip, Diced Tomatoes, Jalapeños, Black Olives, Sour Cream, Green Onions & Tortilla Chips
$6.00
Tray
Fresh Vegetable
Choice of Bleu Cheese / Ranch for Dipping
Regular
Seasonal Pricing
Large
Seasonal Pricing
Pinwheels
Black Angus Club & Turkey Acon Ranch
24
$36.00
36
$48.00
Finger Sandwich
Chicken & Tuna Salad
8-10
$55.00
Fresh Fruit
Regular
Seasonal Pricing
Large
Seasonal Pricing
Mcalister's Salad Catering
Ingredients: Grilled Chicken, Diced Cranberries, Honey Roasted Almonds, Gorgonzola Cheese, Cucumbers, Tomatoes, Salami, Ham, Provolone, Multicolored Peppers, Black Olives, Red Onion, Chili / Veggie Chili, Cheddar Jac Cheese, Tortilla Chips, Guacamole, Jalapeno, Sour Cream, Smoke Turkey, Butterball, Applewood Smocked Bacon, Croutons, Corn & Poblano Pepper Relish.
| | | |
| --- | --- | --- |
| Items | Serves | Price/Person |
| Savannah Chopped | Entree | $8.75 |
| | Group | $5.75 |
| Taco | Entree | $8.75 |
| | Group | $5.75 |
| Italian Chopped | Entree | $8.75 |
| | Group | $5.75 |
| McAlister's Chef | Entree | $8.75 |
| | Group | $5.75 |
| Southwest Cobb | Entree | $8.75 |
| | Group | $5.75 |
| Grilled Chicken | Entree | $8.75 |
| | Group | $5.75 |
| Garden | Entree | $6.25 |
| | Group | $4.25 |
| With a Scoop of Harvest Chicken | Entree | $8.75 |
| | Group | $5.75 |
| or Tuna Salad | Entree | $8.75 |
| | Group | $5.75 |
| Caesar | Entree | $6.25 |
| | Group | $4.25 |
| With Grilled Chicken | Entree | $8.75 |
| | Group | $5.75 |
Dressings
McAlister s Honey Mustard
Caesar, Ranch, bleu cheese
Lite Italian
Sherry Shallot
Thousand Island
Fat-Free Chipotle Peach
Chipotle Ranch
Balsamic Vinaigrette & Olive Oil
Soups & Chili
Serves 4-6
To know about Seasonal soup selections, details & pricing you may ask your catering specialist.
Items
Chicken Tortilla
Country Potato
Cheddar Broccoli
Veggie Chili
Chili
Spud Bars
Items
Size
Price
Max Bar
With Back Forest Ham, Smoked Turkey, Butterball, Black Olives, Green Onions, Applewood Smoked Bacon, Cheese, Butter & Sour Cream
Regular
$5.25
Large
$8.00
Bacon & Cheese Bar
With Cheese, Bacon Bits, Green Onions,
Regular
$4.25
Large
$7.00
Olé Bar
With Chili (Traditional/Veggie Chili), Cheese, Jalapeños & Butter
Regular
$5.25
Large
$8.00
Sides
Add an extra side to your Box Lunch
Items
Chips
fresh Fruit
Potato Salad
Coleslaw or Applesauce
Dessert Trays
Items
Serves
Price
Chocolate Brownie
12-14
$25.00
Fresh-Baked Cookie
12-14
$15.50
Sweets
12-14
$35.00
Variety
12-14
$22.00
Mini Cookie
20-25
$18.00
Cakes
New York Cheesecake, Carrot Cake & Chocolate Lovin' Spooncake
12-14
$48.00
Beverages
Items
Serves
Price
Gallon
McAlister's Famous Sweet Tea, Lemonade/ Unsweet Tea
$5.95
"The Works!"
Coffee
7-8
$12.00
"The Works"
5-6
$7.95
Orange Juice
7-8
$12.00
Bottled Water
$2.00
Add a Flavor! of Real Fruit Purée
Strawberry, Black Cherry & Peach
$3.00
Canned Drinks
12 packs
$15.00
Mcalister's Delivery Options
| | |
| --- | --- |
| In-store | Yes |
| Drive Thru | Yes |
| Home Delivery | Yes |
| Curbside Pickup | Yes |
Important Links to Mcalister's
Social Media Links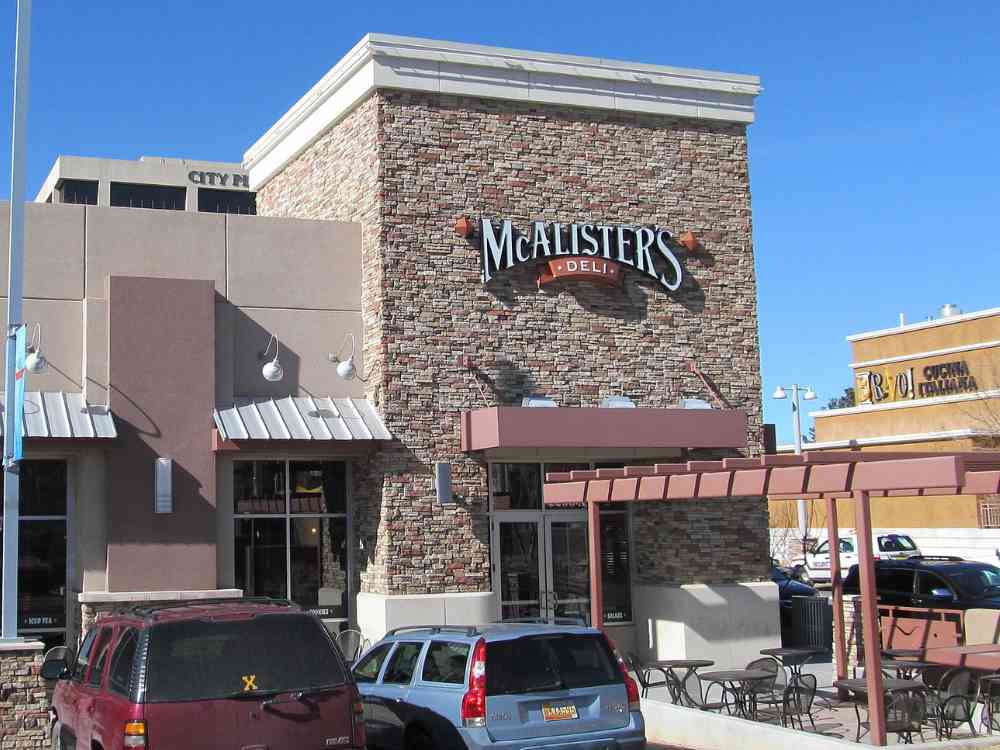 People Also Search
Does Mcalister's Offer Save-Day Catering To its Customers?
That's a big yes. For any of your last-minute functions, you could place a catering order for all types of food and you could even get them delivered for an extra cost.
What is a Two-Box Deal on Mcalister's Catering Menu?
This deal allows you to make two boxes by picking either a signature sandwich or a sandwich served on a baguette and a salad of your choice.
Does Mcalister's Catering Menu Offer Gluten-Free Dishes?
Absolutely. Several of their sides including potato salad, steamed broccoli, spud chips, and fresh fruits are tested gluten-free.
Can I Get Breakfast Catering At Mcalister's?
Of course. They have an entire catering menu for breakfast with sandwich trays, drinks, and desserts.
What Drinks Come in Gallon-Size With Mcalister's Catering?
You could order their sweet tea and lemonade in gallons.
Final Words
Not many restaurants offer catering to every occasion with the same-day catering option.
That's why McAlister's is way ahead of the catering game as they offer a solid service with the most delicious food, several menus, convenient ordering, and fast delivery.
If you're indecisive, just go with their sweet tea, garden salad, and signature sandwich trays.