Honey Baked Ham Catering Menu Prices in 2023 (Boxed Lunch, Salad & Deli Trays)
Honey Baked Ham is an American-based franchise serving meals popular as holiday centerpieces and for events.
The menu includes some fast-casual options such as ready-made sandwiches, however, they are well-known for larger meal portions such as deli trays.
The meat trays come with meat, cheese, and vegetable slices so one can prepare their own sandwiches.
Their catering has various options, ranging from breakfast, buffets, and salads to beverages.
Boxed lunches and buffets are the specialties of Honey Baked Ham.
The boxed lunches are for one person, whereas the buffets serve a minimum of 10 people.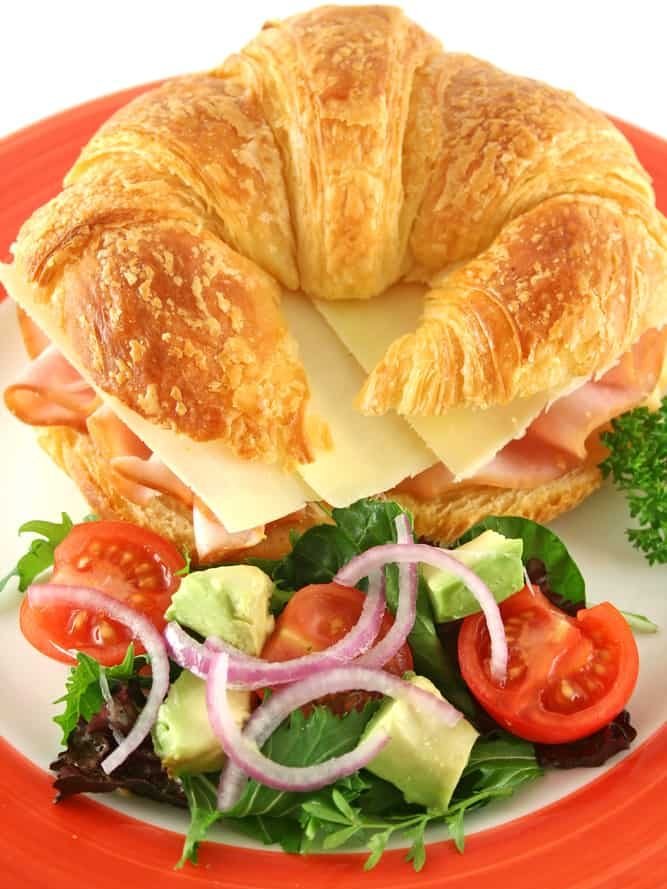 Honey Baked Boxed Lunches Menu
| | |
| --- | --- |
| Items | Price |
| Sandwich (Specialty) | $11.09 |
| Sandwich (Signature) | $9.99 |
| Garden (Salad) | $10.99 |
| Veggie Cobb (Salad) | $10.99 |
| Cobb (Salad) | $10.09 |
Deli Trays
| | |
| --- | --- |
| Items | Price |
| Sandwich Builder (Buffet) | $8.79 |
| Buffet (Vip) | $10.99 |
| Signature Meat | $6.29 |
| Sandwich (Supreme) | $8.99 |
| Fresh Veggie | $52.49 |
| Signature (Meat & Cheese) | $60.09-$83.89 |
| Cookie Temptation | $29.99 |
| Fresh Fruit | $52.49 |
Buffet Salad Menu
| | |
| --- | --- |
| Items | Price |
| Buffet (Cobb) | $34.99 |
| Buffet Garden | $29.99 |
| Buffet (Veggie-Cobb) | $29.99 |
Deli Sides
| | | |
| --- | --- | --- |
| Items | Weight | Price |
| Chicken Salad | 1 Lb | $9.49 |
| Ham Salad | 1 Lb | $9.49 |
| Salad Potato | 1 Lb | $6.99 |
| Bacon Bliss (Broccoli) | 1 Lb | $6.99 |
| Chips (Assorted) | | $1.99 |
| Cookie (Assorted) | | $1.79 |
Beverages
| | |
| --- | --- |
| Items | Price |
| Water (Bottled) | $1.99 |
| Canned-Soda | $2.09 |
| Unsweet Tea (Gallon) | $7.99 |
| Sweet Tea (Gallon) | $7.99 |
| Lemonade (Gallon) | $8.99 |
Our Favorite Honey Baked Popular Items
Honey Baked Ham has various items on its menu; customers may also order buffets along with sides and desserts to get a whole spread, which is popular amongst customers on holiday events.
01. Coffee Cake
It is listed as a breakfast item from Honey Baked and is a fan favorite. It includes coffee cake slices on a tray.
02. One-Person Lunch Boxes
Honey Baked provides catering for boxed lunches which are meant to be for a single person. These boxes include a sandwich and a side of chips plus dessert.
There are three variations with differences in meat selection. The choice of premium meats is costlier than the standard options. There is also a salad-boxed lunch option for vegetarians.
03. Buffets
Honey Baked Buffets are by far their most successful and popular catering item.
The buffets are served in a 'make your own sandwich style because they contain meat, cheese, and vegetable slices on a tray.
However, many customers also enjoy having it as-is. Or they may use it to prepare sandwiches according to their taste.
There are multiple buffet options varying in price according to quantity and selection of meat.
The buffets come with small deli sides and desserts to complete the meal.
04. Dessert and Salads
For customers wishing to have a sweet snack or eat a healthy meal Honey Baked Ham also caters to desserts and salads.
The salads are quite basic but can be customized; for example, there is an option to include meat on top of the salad. For dessert, Honey Baked offers a tray of cookies.
05. Complete Meal
One can host an event using all Honey Baked products because the catering includes items such as beverages.
A customer may order a buffet and add a gallon beverage to their order.
Additionally, there is the option to choose from a variety of Honey Baked signature sides to complement the buffet meal.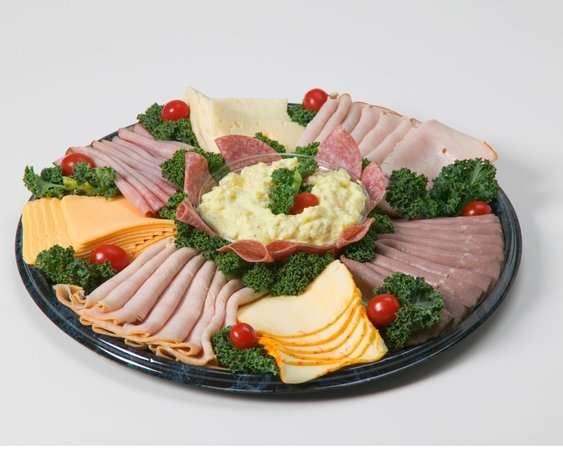 How To Order From Honey Baked Ham
Honey Baked Ham catering can be ordered online; as of now, they do not have a mobile application.
They have a customer support number 1-800-367-7720 for suggestions and complaints.
However, catering orders are only majorly done through their website https://www.honeybaked.com/home.
They have nationwide pickup and delivery in the US. A pdf of the catering menu can be accessed through this PDF link;
https://prepaid-images.azureedge.net/images/cateringorderform/id286.pdf.
Orders are expected to be made ahead of time, usually 2-3 days earlier than the delivery day.
They also mention that in rare cases there may be a delay by a whole day in the delivery date.
Pick-up from restaurant branches can also be done; orders placed on one day can be picked up the next day. Customers are allowed to choose a pick-up time that suits them best.
History of Honey Baked Ham
Honey Baked Ham was founded in 1957 by Harry J. Hoenselaar. The first located in Detroit soon became a favorite amongst people for its unique sliced smoked ham with a crunchy glaze.
The spiral slicing machine used by Honey Baked Ham is patented and one of the main reasons for its success.
Sliced deli-style meats offered by the restaurant were easy to use for customers, especially those wishing to serve them as part of a holiday spread.
There are 400 branches in 40 states of America. The Hoenselaar family still owns the restaurant and continues to develop and expand the company.
Honey Baked Ham prides itself on being family-owned over the years. It is also keen on innovation and upgrading while maintaining high food quality standards.
Innovations are welcomed in the menu as well as in the running of the restaurant, such as offering online catering options for modern customers.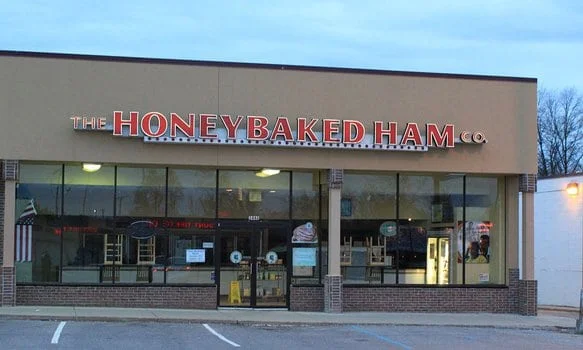 Important Links
Frequently Asked Questions
What is Special About Honey Baked Ham?
The meat's smoking and slicing process distinguish Honey Baked ham.
The ham is smoked for 24 hours and then sliced using their patented spiral sliced method. It is coated with a signature sweet and crunchy glaze.
Does Honey Baked Ham Catering Ship Frozen Or Warm Food?
The food is frozen and separately packed in temperature-controlled boxes. Although it can warm up a bit during transportation, it is targeted to reach customers fresh.
The order boxes should feel cool when they are delivered since the temperature is expected to be under 40⁰F.
Customers may freeze and store it for later use or heat it up and serve it right away.
How Can Honey Baked Ham Catering Orders Be Stored For Later Use?
Honey Baked Ham orders arrive frozen. They can immediately be put in the freezer as is, wrapped with the Honey Baked foil and bag.
They recommend storing the meat for a maximum of up to six weeks to preserve taste and freshness.
If the food is left over it can also be stored in a refrigerator for approximately seven days.
What Are The Serving Sizes of Honey Baked Ham Catering?
The Coffee Cake Tray serves 12 and each boxed lunch serves 1. Honey Baked Buffets serve 10, the Buffet Salads serve 5 and the Cookie Temptations Tray serves 24.
The sides each have a different serving portion – Fresh Fruit Tray serves 30, Fresh Veggie Tray serves 20, and the side salads serve 3. A gallon beverage serves 8.
Does Honey Baked Ham Catering Have a Minimum Order Amount?
Yes, Honey Baked Ham catering specifies some minimum order amounts. 20 minimum servings of Buffets and 8 boxed lunches are required.
Can You Order From Honey Baked Ham Using Credit Cards?
All major credit, debit, and pre-paid cards are accepted for online catering orders.
Final Thoughts
Honey Baked Ham has a menu that fits both in the fast-food category as well as home-cooked style meats.
The most popular orders placed on Honey Baked Ham catering are for holiday spreads such as Christmas or Thanksgiving.
The restaurant is famous for its succulent, thinly sliced meat which can be served as is or used to make sandwiches.
Honey Baked Ham also provides the perfect complementary sides and salads to go with their meat selections.