Peppermint cocoa almond milkshakes are part of a sponsored post for Collective Bias and its advertiser.
No matter what gatherings I host during the holidays, it seems like nuts play a part in the celebration. From simple salted pecans on my sweet potato casserole to ranch roasted nuts snack mix, and now these peppermint cocoa milkshakes, I love using nuts in my holiday recipes. Oh, and they make a great hostess gift option, too. Especially when they come in beautiful seasonal packaging.
If you've been to Walmart lately, you may have seen the aisles crammed full of holiday displays. I say crammed because on my last trip, I could barely walk down the large center aisle without literally falling into the large displays of baking products, holiday candy, Christmas ornaments, and snacks!
Honestly, between carts being slammed into me by crazy cart drivers and me falling into displays, the entire trip was a bit traumatizing for little old me, so after I was done shopping, I went straight home and made myself a cold and creamy peppermint cocoa almond milkshake to wash away my crazy, busy, holiday shopping woes.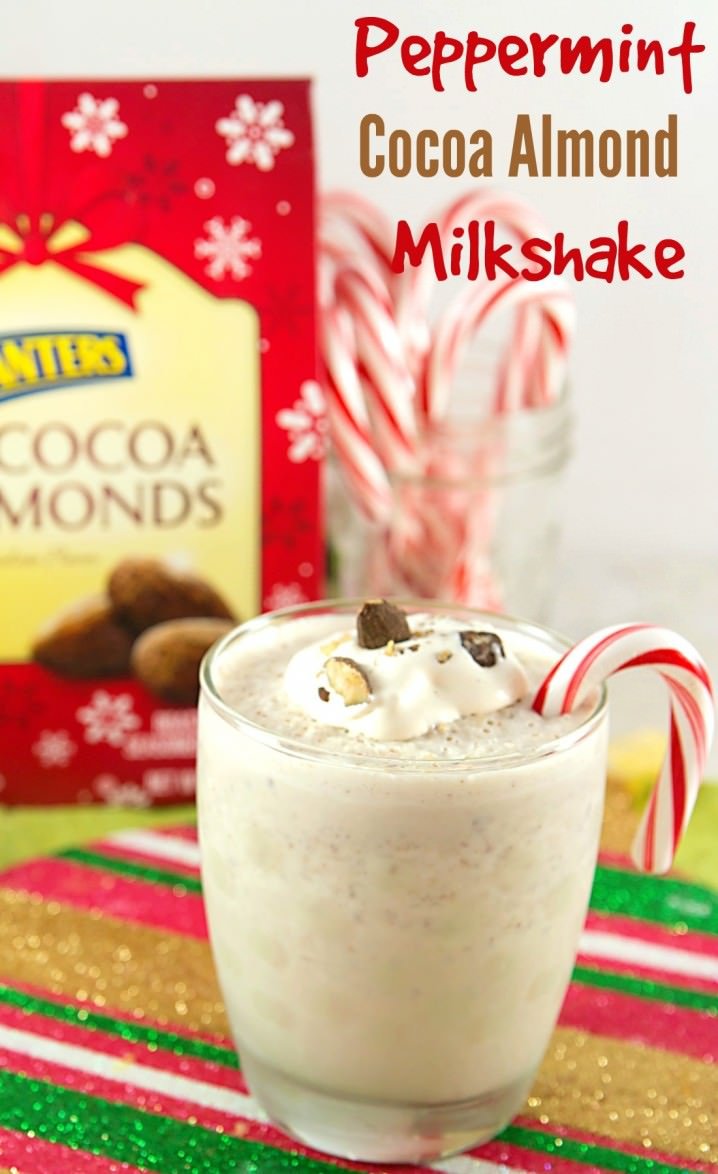 In all fairness, some of the shopping trauma was due to my klutzy demeanor. Did I mention that I fell down a half flight of stairs last week? #TrueStory!  Physically, I'm fine. Mentally.. well. I was already scarred to begin with. Haha! But seriously. Look at this photo and then try to convince me that it's not just a tad bit cluttered. Seasonal food displays are so much tasty fun, though!  I found the Planter's nuts seasonal flavors display right in front of the baking aisle at Walmart. I found a few different varieties of nuts. The cocoa almonds called my name, but here are all of the seasonal varieties:
Holiday Nut Crunch

Cocoa Almonds

Brittle Nut Medley

Winter Spiced Mix

Holiday Collection Tin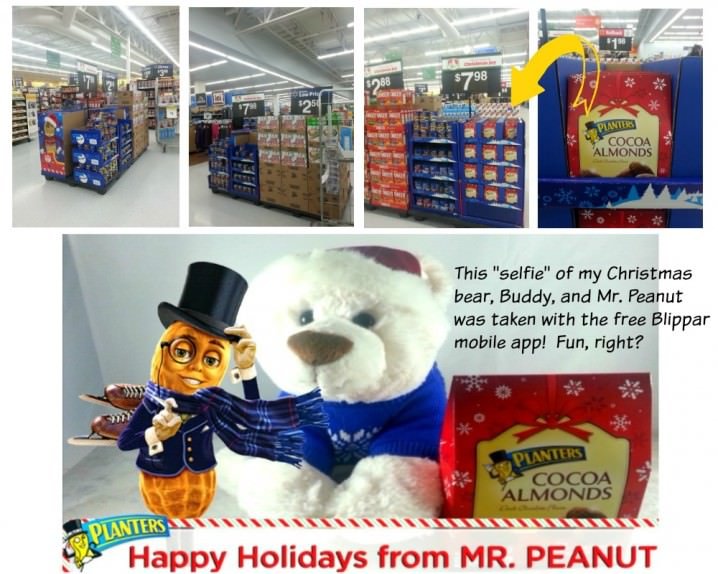 Speaking of fun, there's a mobile app I was just introduced to called Blippar. Lots of companies and brands use it to allow us to engage with them. It's super fun!  Planters got in on the Blippar action and I jumped on to check out the features.
You can download Blippar for free on your Apple, Android, Blackberry or Windows device (learn how to download at: https://blippar.com/en/ )
So make the holidays a fun, festive, and delicious time. Get some ice cream, cocoa almonds, milk, and some peppermint extract. Then make yourself a yummi peppermint cocoa almond milkshake!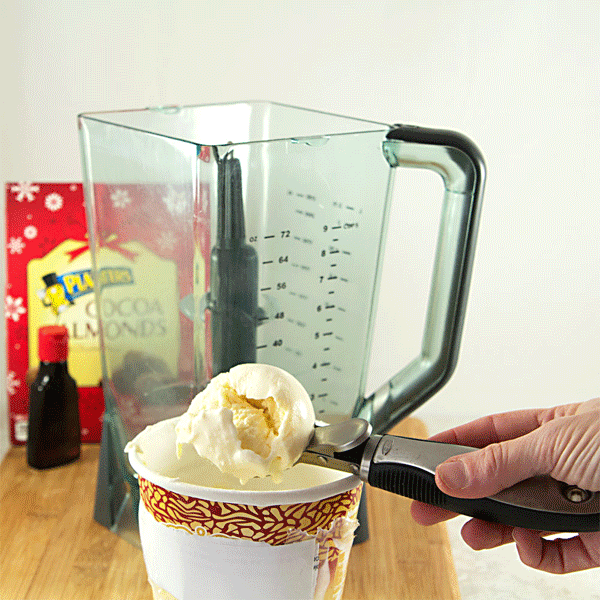 I used unsweetened vanilla almond milk in my milkshake, because that's what I had in the fridge. You can make your peppermint cocoa almond milkshakes with any type of milk you have on hand.
If you want your peppermint cocoa milkshakes extra thick "concrete" style, add a few ice cubes in addition to the ingredients listed below.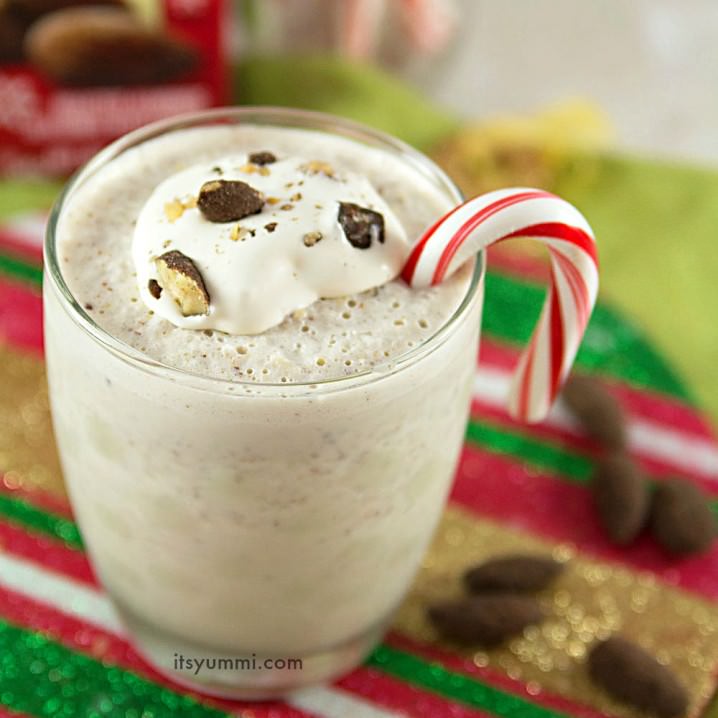 Oh, and so there is no confusion… that little white blob on the top of my milkshake is actually whipped cream.
Yes, I realize that it looks a bit like marshmallow fluff, but it's not.  I put whipped cream on the top of my peppermint cocoa milkshake and went upstairs quickly to put my laundry into the dryer before I took photos.
Little did I know that I'd spend 10 minutes up there unclogging the dryer vent.  I got completely distracted and by the time I got back downstairs, the whipped cream had melted.
Great news! Peppermint cocoa milkshakes are just as tasty without whipped cream!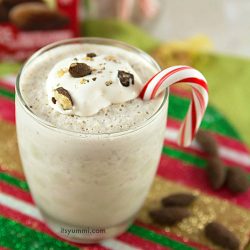 Peppermint Chocolate Milkshake Recipe
Vanilla bean ice cream, cocoa dusted almonds, peppermint, and milk come together to create this peppermint chocolate shake recipe!
Ingredients
1

cup

vanilla bean ice cream

3 scoops

1/3

cup

milk

(I used unsweetened vanilla almond milk)

1/4

cup

roasted almonds

1

tsp

unsweetened cocoa powder

1/8

teaspoon

peppermint extract

Garnish: Crushed almonds, a sprinkle of cocoa powder, and whipped cream
Instructions
Place all ingredients except garnishes into blender. Combine on high speed until thick and creamy.

If a thicker consistency is desired, add a couple of ice cubes or some crushed ice and blend again. If a thinner consistency is desired, add a little more milk.

Garnish with crushed almonds, a dusting of cocoa powder, and whipped cream. Serve cold.
Nutrition
Serving:
1
g
Calories:
494
kcal
Carbohydrates:
39
g
Protein:
12
g
Fat:
33
g
Saturated Fat:
10
g
Cholesterol:
58
mg
Sodium:
214
mg
Potassium:
514
mg
Fiber:
5
g
Sugar:
29
g
Vitamin A:
555
IU
Calcium:
363
mg
Iron:
1.3
mg