Slow Cooker Italian Beef Sandwiches
Slow cooker Italian beef is a one pot meal that's so easy to make, you'll put the ingredients into your slow cooker and forget about it … until the incredible aroma calls you back to the kitchen! Perfect for a family dinner or get-together, your guests will be coming back for seconds with these Italian beef sandwiches.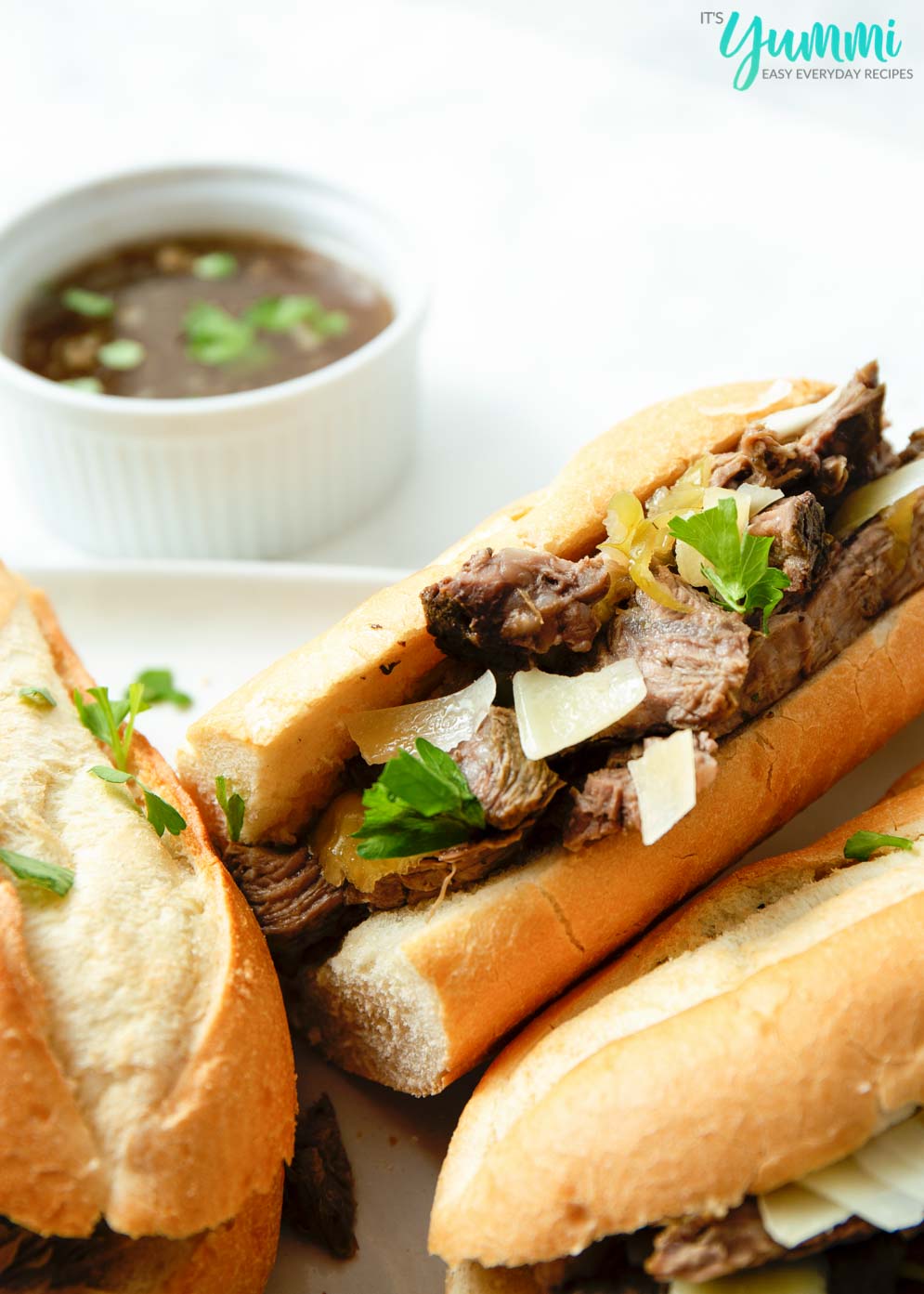 Slow cooker Italian beef is quick, easy and oh so savory. We love a great meal that just comes together with minimal effort and maximum flavor.
Slow Cooker Italian Beef 101
What cut of beef works best? Our go-to is a budget-friendly beef chuck roast. It's a cut of meat that has ample cartilage in it, so it tastes best when it's cooked low and slow to melt the fat, infusing so much flavor. In other words, it's the perfect cut to make in a slow cooker!
Can I freeze Italian beef? If you're going to have leftovers or just wanting to meal prep with freezer meals, you can definitely do that with your slow cooker Italian beef. First and foremost, allow your beef to fully cool. Portion out your beef into airtight containers or freezer bags WITH some of the juices from the cooker. Cooked meats freeze much better with juices or gravy to help maintain their moisture and keep from drying out.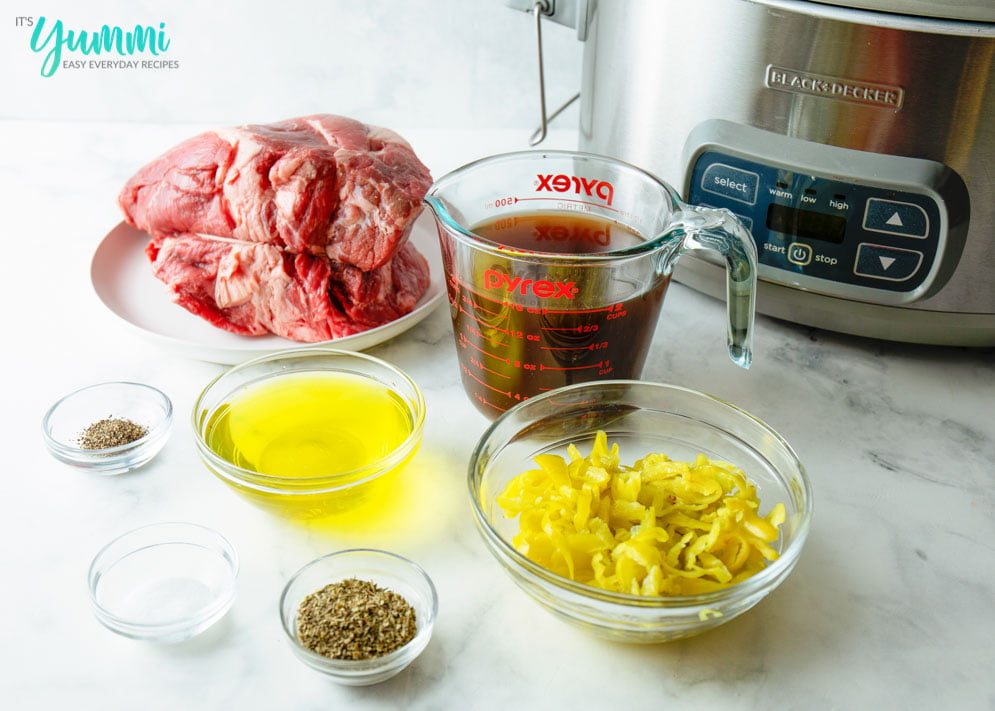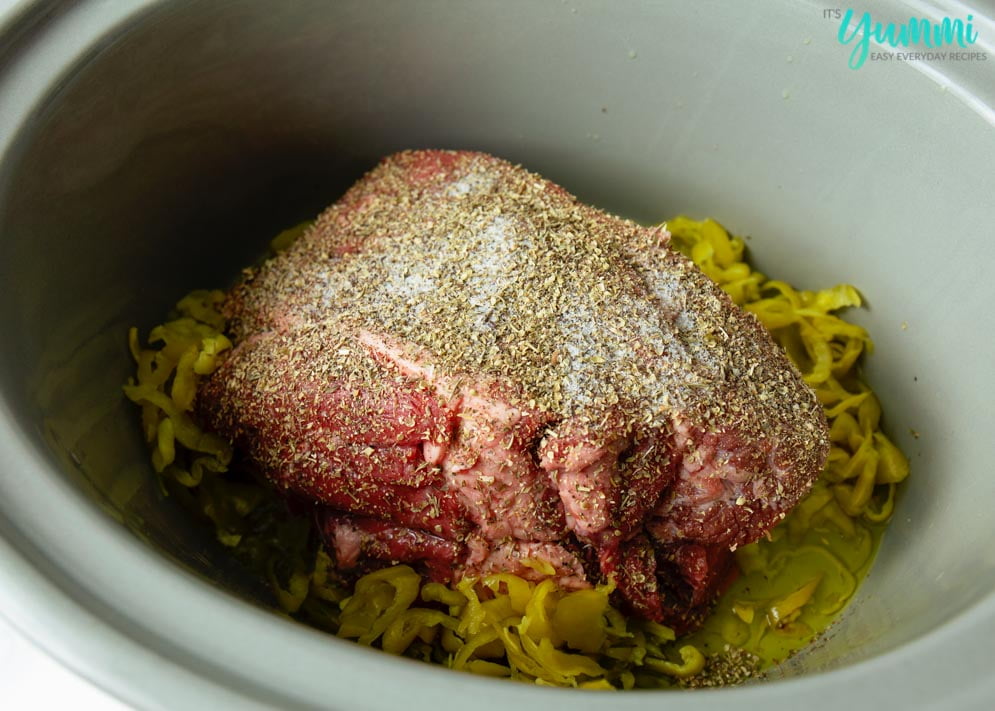 How to make Italian Beef Sandwiches
Making recipe is truly the easiest thing ever! Just put your roast into a slow cooker or Dutch oven. Cover with beef stock, a few spices and a half of a jar of pepperoncinis or banana peppers.
After you've set the slow cooker to go for about 8 hours on low heat, you can go about your day.
It really is that easy. Shred and serve to a happy family. SOOOOO Yummi!
Check out our slow cooker BBQ sticky rice.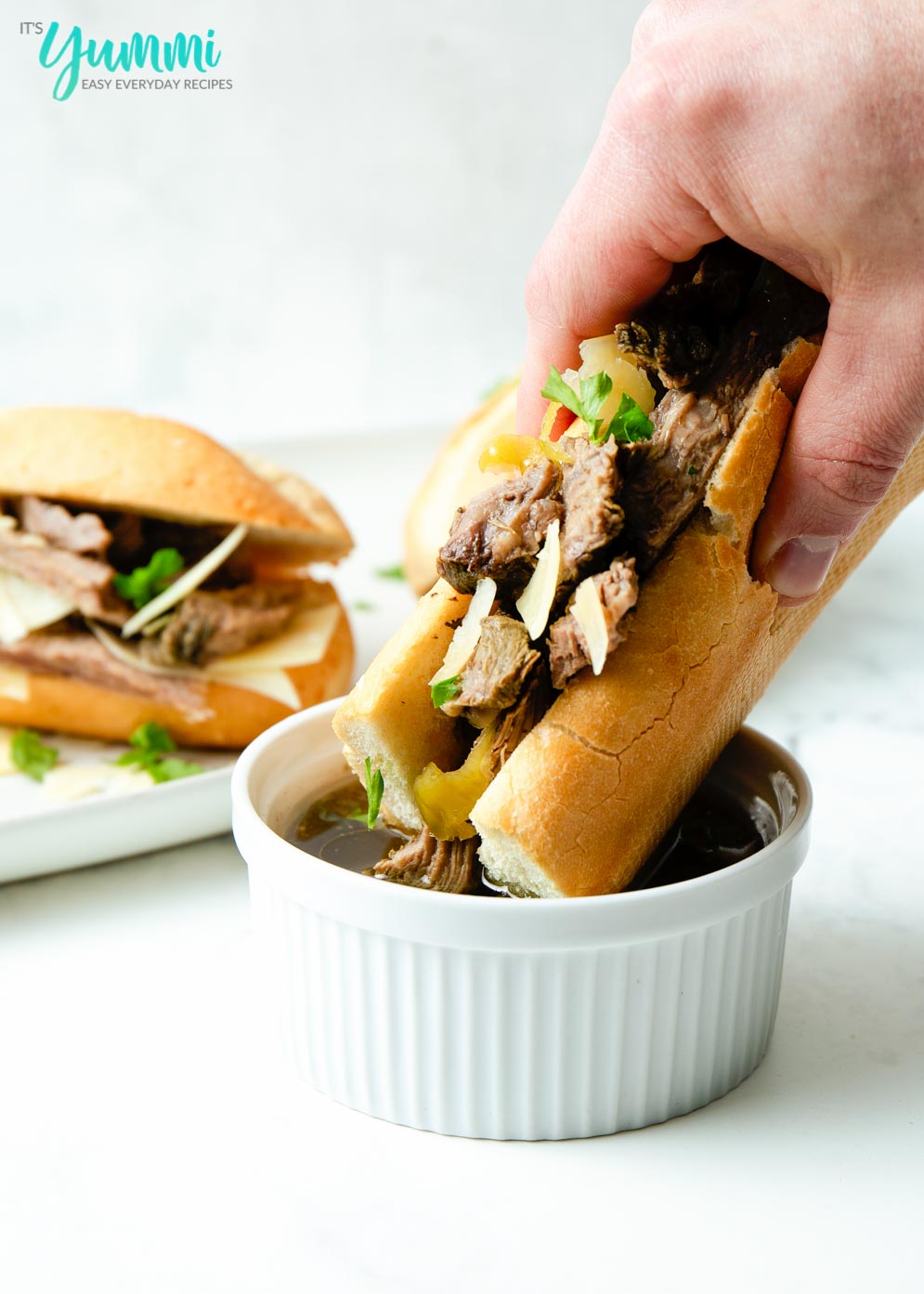 How to Shred Beef like a Pro
Take 2 forks and pull apart the meat, then you can pile it onto a plate or directly onto buns. Serve up the juices in the cooker to use as an Au Jus dipping sauce. Yum!
Another FANTASTIC trick is using a hand mixer by simply sticking your hand mixer into the beef to shred it QUICK.
If you're preparing ahead of time for a party, you can shred and combine the juices back in an airtight container overnight in the refrigerator. Leave the mix in the fridge overnight and you'll get a hard layer of fat on top, which you can pull right off to save quite a few excess calories.
From there you have a few options to reheat. Our favorite is to take your Italian Beef and juices and put it back into the slow cooker for a reheat and serve situation. Perfect for parties!
If you want to reheat just a portion, you can separate out the meat and drizzle a little of the juice back on before reheating.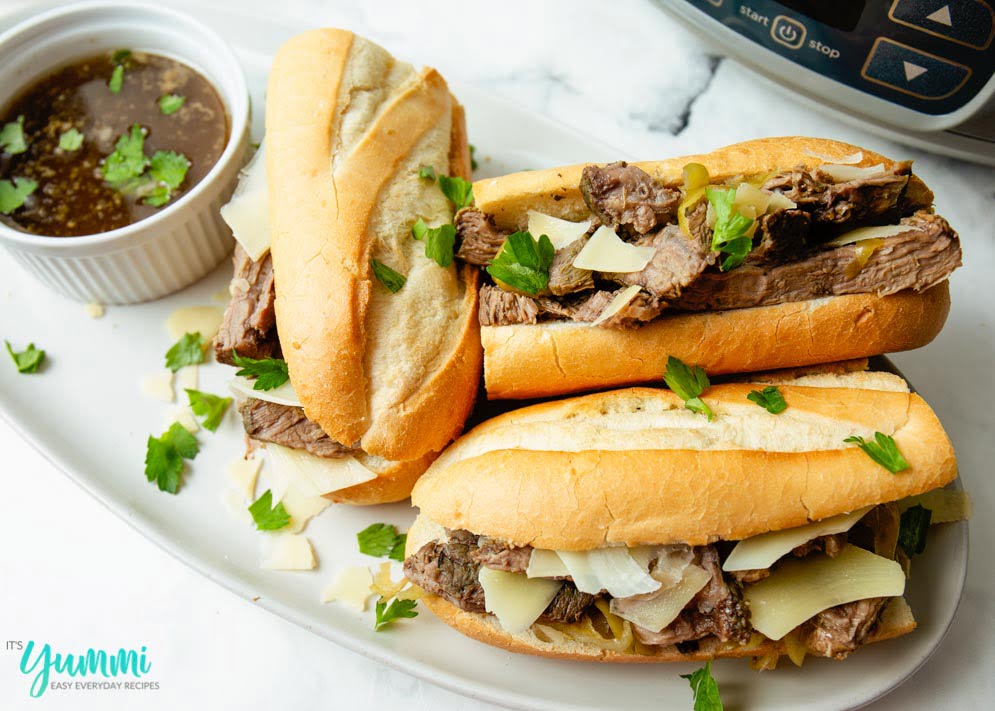 What to serve with Slow Cooker Italian Beef
Another convenient part of this meal is its versatility. Pile onto buttered and toasted buns, layer over buttered mashed potatoes or gently place on a bed of fresh rice. You can't go wrong.
Beef goes well with a lot of side dishes, but since this can be a party food, we like to pair with party friendly culinary companions.
Broccoli tater tots are a great way to add a healthy party friendly food to the mix. Taste amazing, totally count as eating your veggies!
Also party worthy (or just a family favorite to serve with), chips are always good with sandwiches. Try some caramelized french onion dip to go with! Coincidentally, this dip is also quite decadent ON your sandwich as well.
Last but not least, you can't go wrong with some Homemade Cheddar Bisquick Biscuits. A cheesy infusion to compliment the savory Italian flavors perfectly!

Other recipes you might enjoy: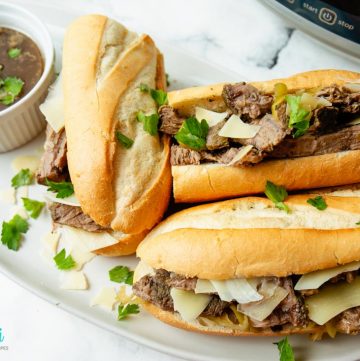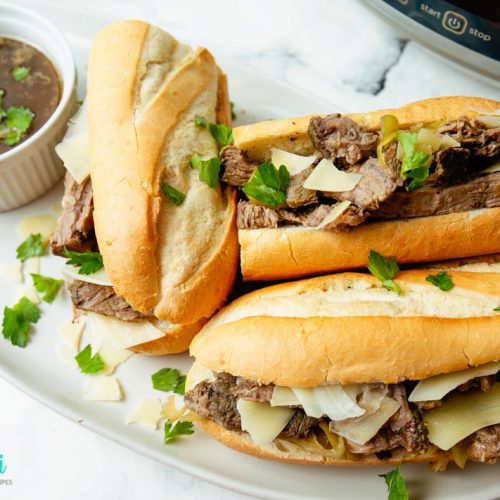 Slow Cooker Italian Beef
Juicy, tender beef chuck roast is seasoned with Italian spices and pepperoncinis, then cooked low and slow until it's falling apart and ready to be piled high onto buns. Don't forget the au jus!
Ingredients
3-4

pound

boneless beef chuck roast

16

ounces

(2 liquid cups) organic low sodium beef stock

¾

cup

jarred pepperoncinis

plus their juice (I used sliced, but whole pepperoncini will work, too)

2

Tablespoons

dried Italian seasoning

½

teaspoon

kosher or sea salt

½

teaspoon

ground black pepper
Instructions
Place roast into the bottom of a slow cooker. Cover with beef stock, pepperoncini, and spices. Stir to combine.

Cook on low power for 7-8 hours, or until beef is tender and falling apart. Use two forks to shred the beef, making sure not to leave any large chunks. Serve on toasted buns immediately, or transfer meat and juices to the refrigerator. Allow to chill for several hours, or overnight. Skim hardened fat from the top of the roast, then use a strainer to separate the juices from the meat.

Reserve the juice and reheat when ready to serve as an au jus dipping sauce. Reheat meat to an internal temperature of at least 165 before serving.
Nutrition
Calories:
54
kcal
Protein:
5
g
Fat:
4
g
Saturated Fat:
2
g
Cholesterol:
16
mg
Sodium:
64
mg