Slow Cooker Pulled Chicken Recipe
Slow cooker pulled chicken is the best dinner recipe ever. Chicken breast Slow cooked with a smoky and sweet barbecue sauce until it's tender and juicy, then piled high onto a bun for an easy, healthy and delicious weeknight dinner!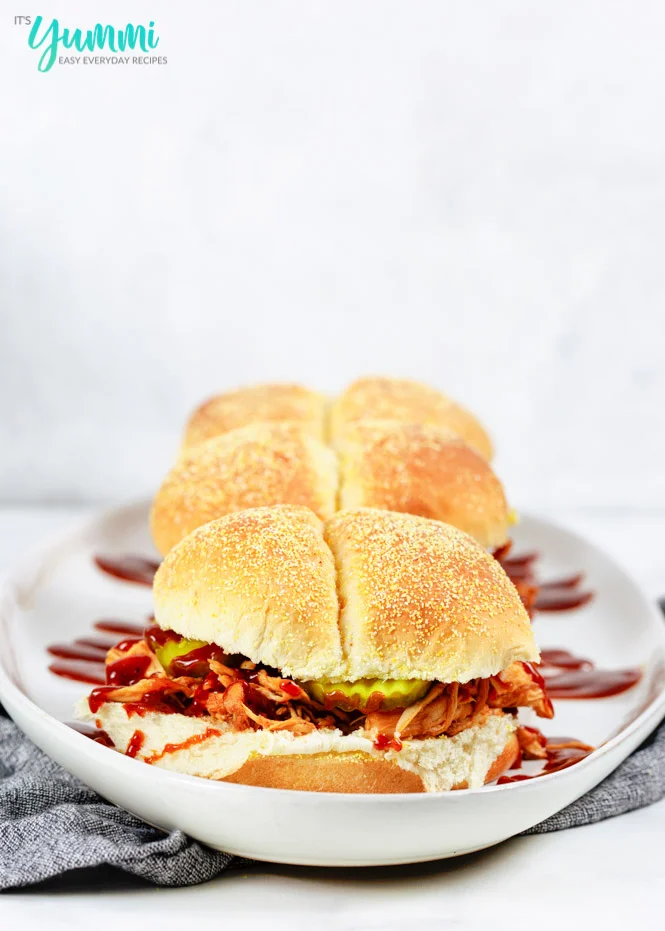 You and I both know that preparing fresh meals from scratch every day can be hard work, not to mention stressful. Especially when there are lots of family commitments keeping you busy and away from the house.
Heck, some families even find it tough to schedule a time to eat meals together around the dinner table. That's where slow cookers come into the picture. Take the stress and mess out of preparing dinner. That's what it did for me in the case of this slow cooker pulled chicken recipe.
I'm pretty confident that using a slow cooker to help with the meal prep is a great way to do it. I can't even explain how much I love my slow cooker!
Real magic to this bbq pulled chicken recipe is the sauce.
It really really is. We've got this homemade barbecue sauce recipe down to a science. You are more than welcome to use your favorite barbecue sauce from a jar but really this sauce is going to make you weak in the knees.
You are already saving time for dinner by using the slow cooker so try this from scratch barbecue sauce!
What you'll need for this smokey barbecue sauce: ketchup, brown sugar, apple cider vinegar, Worchestershire sauce, molasses, lemon juice, yellow mustard, liquid smoke, black pepper, smoked paprika, salt, garlic powder, onion powder, smoked chipotle powder, and chili powder.
I know it seems alot… but just trust me you've probably got most of these ingredients already and it is SO WORTH IT.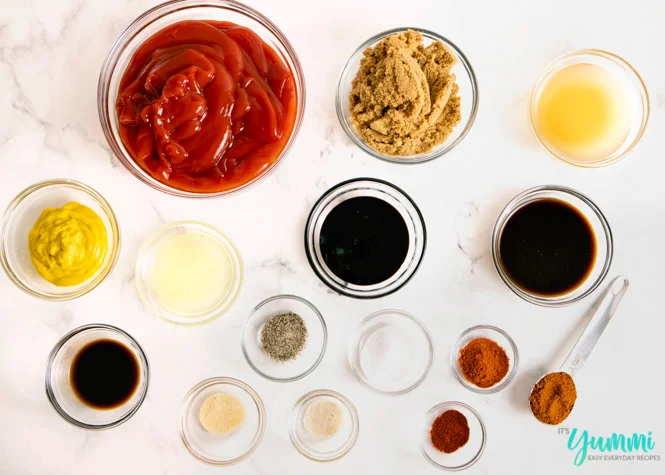 Slow Cooker is the real Hero in this Pulled Chicken recipe
The Hamilton Beach 6-Quart Set 'n Forget Programmable Slow Cooker is such a genius idea and it's been used to make some awesome meals.
My favorite slow cooker recipes to date have been the Slow Cooker Italian Chicken, and Slow Cooker BBQ Sticky Rice. That is, until I made this slow cooker pulled chicken. I used the pulled chicken to put into sandwich buns.
I don't know if it's because the I used the probe thermometer to make sure that I wasn't overcooking my chicken, or if it was the sweet smoky combo of the sauce, but this slow cooker pulled chicken really did knock my socks off.
How to not overcook chicken in the slow cooker
All I had to do was insert the temperature probe through the hole in the lid and down into the thickest part of the chicken breast.
I closed and clamped the lid and programmed the slow cooker to tell me when the chicken reached 163 degrees.
After the timer went off, I opened the gasket sealed lid of the cooker and inserted my manual food thermometer into the same place the probe had been. Wah-lah… 163 degrees popped up. Color me impressed!
I put the lid back on and cooked the chicken for another 30 minutes on high to make the chicken easier to pull apart.
If I had wanted to serve BBQ chicken breasts for dinner, the buzzer would have meant that dinner was ready to serve. FYI, cooking 2 pounds of chicken breasts on high took 90 minutes.
When the food reaches the proper internal temperature, the cooker switches to a "keep warm" setting. Perfect for when I have to run out of the house unexpectedly.
FOOD FACT: 165 is the safe cooking temperature for poultry, but due to carryover cooking, I under cook foods by 2-3 degrees.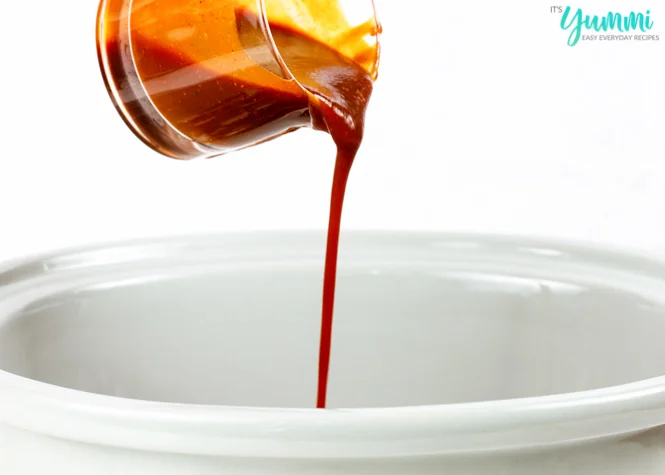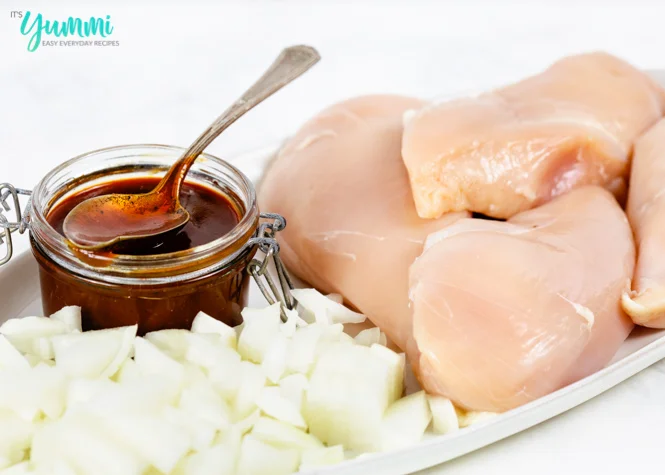 How would I go about Meal prepping this slow cooker recipe??
Chop your onion and make the barbecue sauce. Add to a freezer friendly or airtight container. When you are ready the day of add your onion, chicken and barbecue sauce! The set n' forget slow cooker takes care of the rest!
We personally prefer to just make it immediately on a Sunday and then portion out the dinners in glass containers to quickly pop in the microwave when it's dinnertime.
Can you freeze this pulled chicken recipe
Chicken in itself freezes fantastic! The homemade barbecue sauce, chicken and onion freeze fantastic together after it has been cooked. Whether you have extra leftovers or have maternity leave and need something quick you just want to dethaw and enjoy this recipe has you covered.
Our personal favorite way is to make this immediately and quickly warm up the leftovers, add to some buns and dinner is served. And if it becomes too much leftovers we'll freeze the remaining to enjoy at another time.
How can this Pulled Chicken Dinner fit your diet
Low Carb – Overall this dish can be pretty easily be made low carb by swapping out the bun for a low carb bun and then you are on the low carb track! Next you'll want to use a low carb ketchup and a brown sugar sweetener alternative. Everything else and you are on low carb track!
Dairy-Free – You'll be happy to know that this recipe is automatically dairy-free! So perfect if you have a dairy-free family member or guest.
Gluten- Free – You can simply swap the bun with a gluten-free bun and you are all set! Prettttyyyyy easy peasy and also perfect for a gluten-free family member or guest. Just be sure to give them their own bowl of shredded chicken otherwise when plating onto normal buns you would be cross contaminating the chicken and potentially make them sick!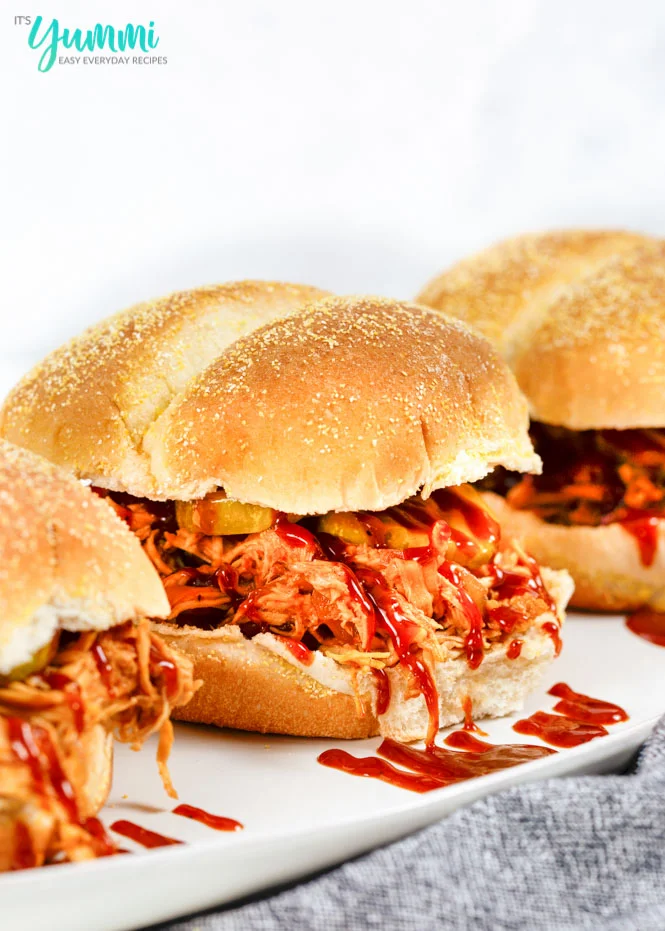 Please let me know what you think of this slow cooker pulled chicken recipe!
Other slow cooker recipes you might like: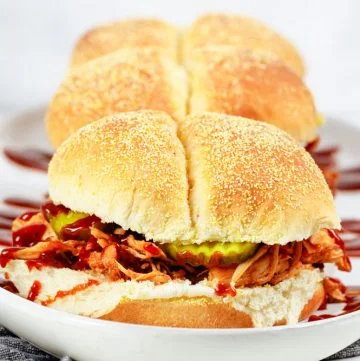 Slow Cooker Pulled Chicken Recipe
Boneless skinless chicken breast is slow cooked with a smoky and sweet barbeque sauce until it's tender and juicy, then piled high onto whole wheat buns for an easy, healthy and delicious weeknight dinner!
Ingredients
3

pounds

boneless

skinless chicken breast (approx. 2 large breasts)

2

medium yellow or white onions

peeled and diced
For the BBQ Sauce
3

cups

organic ketchup

¾

cup

light or dark brown sugar

3

ounces

(1/3 liquid cup) cider vinegar

⅓

cup

Worcestershire sauce

3

Tablespoons

molasses

3

Tablespoons

lemon juice

3

Tablespoons

yellow mustard

1

Tablespoon

liquid smoke

¾

teaspoon

black pepper

1

teaspoon

smoked paprika

2

teaspoons

sea or Kosher salt

½

teaspoon

garlic powder

½

teaspoon

onion powder

¼

teaspoon

smoked chipotle powder

1

tablespoon

chili powder
Instructions
Prepare BBQ Sauce
Place all ingredients into a medium sized saucepan over medium heat; stir to combine.

Bring contents to a simmer and cook until sauce thickens and becomes darker in color, about 10-15 minutes.

When refrigerated in a well covered container, the sauce will store well for up to 2 months.
Prepare Slow Cooker Pulled Chicken
Place chicken breasts and diced onion into the bottom of a 6-quart slow cooker. Cover with sauce and stir to coat.

Using manufacturer's instructions to operate the slow cooker, cook on high for 3–4 hours or on low for 6-7 hours. Chicken is done when meat thermometer inserted into thickest part of the breast reaches at least 163 degrees F. and chicken is starting to break apart on its own.

After chicken has cooked, carefully remove breasts from cooker and transfer to a cutting board. Use two forks to pull the chicken apart and into shredded pieces. Return shredded chicken to slow cooker and stir into the BBQ sauce. Allow chicken to cook on low for another 15 minutes.

Serving Suggestion Serve on buns, wrapped in flour tortillas, over rice, or on top of a garden salad.
Nutrition
Calories:
458
kcal
Carbohydrates:
56
g
Protein:
40
g
Fat:
8
g
Saturated Fat:
2
g
Cholesterol:
107
mg
Sodium:
1688
mg
Potassium:
1235
mg
Fiber:
1
g
Sugar:
48
g
Vitamin A:
890
IU
Vitamin C:
9
mg
Calcium:
81
mg
Iron:
3
mg