Veggie stuffed meatloaf is the best meatloaf I've ever eaten; it is serious comfort food! Ground pork and beef meatloaf stuffed with spinach, onions, and cheese, then topped with barbecue sauce, tomatoes, and more cheese! Serve it for a hearty weeknight dinner or a special Sunday supper. Either way, this stuffed meatloaf recipe is a delicious, family favorite meal!!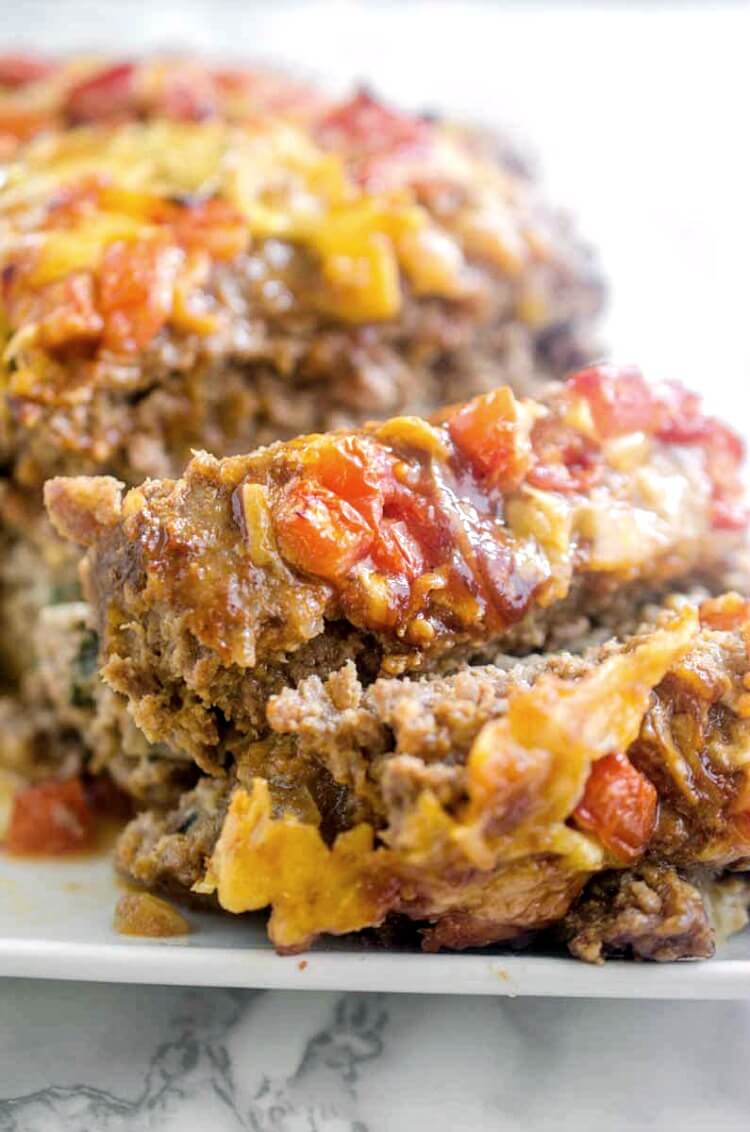 CONFESSION: I seriously need to consider changing my all or nothing lifestyle. It brings a lot of negativity along with it. See, I'm the sort of girl who doesn't feel like doing dishes a few at a time. Instead, I wait to wash them until the sink is filled with dirty dishes, balancing precariously like Jenga blocks. On the flip side, when I  do clean, I go crazy, spending an extra 2 hours scrubbing every surface in the kitchen with a toothbrush, simply because I suddenly had the urge to deep clean.
Like I said, it's all or nothing with me.
Just like today's veggie stuffed meatloaf recipe. It's loaded with everything, because you should over stuff meat loaf, or just not stuff it at all. 😉
[clickToTweet tweet="Veggie Stuffed Meatloaf recipe – you should over stuff meat loaf, or just not stuff it at all." quote="Veggie Stuffed Meatloaf – because you should over stuff meat loaf, or just not stuff it at all."]


Some history on why I created this veggie stuffed meatloaf recipe…
A couple of months ago, I sat on the couch, Lay's Wavy Chips in one hand and a bowl of clams casino dip in the other. I was wearing my "fattie" t-shirt – the one that's 2 sizes too big (on purpose). Oh, and I had on a pair of black stretchy pants, because black is slimming, right?
So anyway, I looked at Brian, completely oblivious to the big gob of dip running down my chin, and announced that I was hell bent on losing 40 pounds. Right then and there, I would be starting yet another diet and exercise plan. Brian rolled his eyes and made this weird groaning noise. His facial expression clearly indicated that he had heard that story at least 200 times during the course of our relationship. Whatever, Hasome… THIS TIME I would be a girl of my word!
The very next day, I bolted out of bed, ready to commit! OK, that is not entirely true… I didn't exactly BOLT – I fell out while reaching to turn off the alarm clock.  Anyway, I made myself a protein smoothie and dashed out the door, ready to walk no less than 10,000 steps. That's what my doctor recommended, so dang it, that's what I would be walking!
Unfortunately, my doctor failed to ask a critical pre-exercise regimen question. He assumed that I had been exercising routinely at least a couple of times a week. I didn't want to let on that the last time I had seriously exercised was when Richard Simmons released his first "Sweatin' to the Oldies" video. Nevertheless, I nodded affirmatively to every question he asked.
"Have you ever run a half marathon?"
Umm…I suddenly remembered the time I dashed through the Dairy Queen parking lot and knocked over a couple of toddlers in my attempt to get a 12-for-10 special on Dilly Bars. That was a half marathon…or at least it felt like one.
"Yup", I answered. "I've got stamina that lasts for days, Doc. Let's do this."
Apparently, without a proper warm up, stamina that lasts for days poops out after two hundred steps. Who knew?
I decided then and there that I didn't need to exercise if it was going to cause so much discomfort. I would just eat all things "in moderation" and everything would be fine. Oh crap…my all or nothing mentality didn't comprehend the eating in moderation plan.  I stuffed down a sleeve of Oreos and called it a day.
Speaking of stuffed, I hit a complete home run in the kitchen with this veggie stuffed meatloaf recipe. It truly is the best meatloaf I've ever had!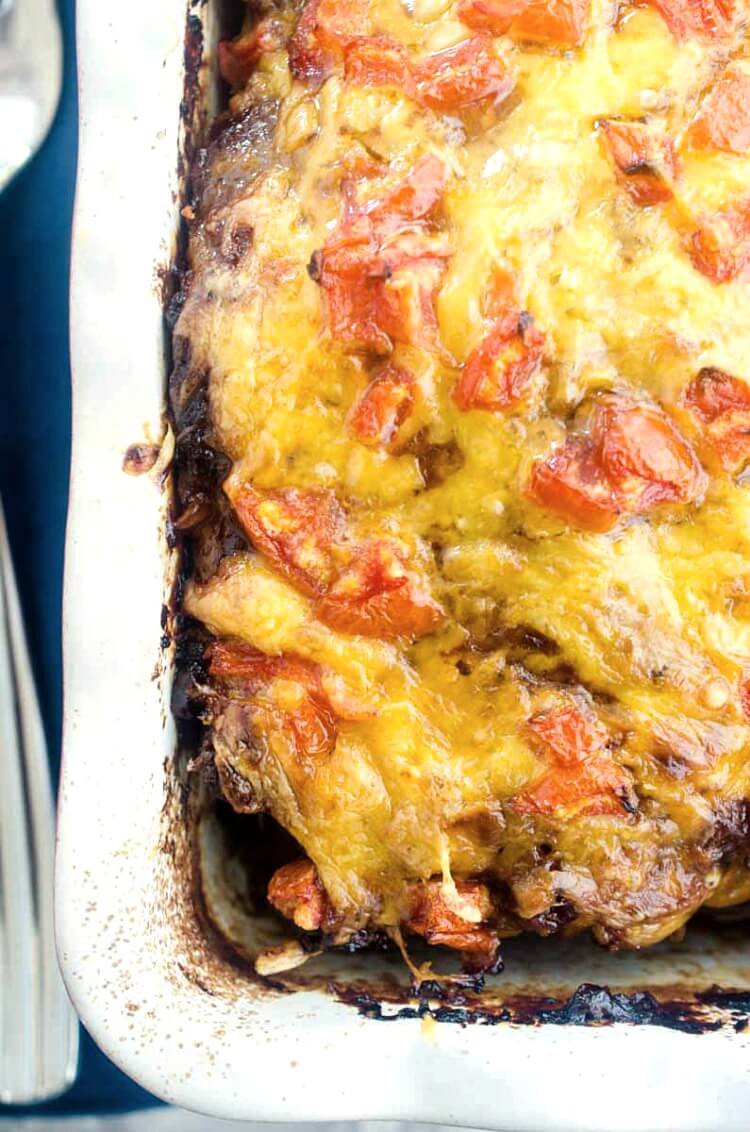 There's a layer of BBQ sauce, diced tomatoes, and cheddar cheese on top. Definitely worth feeding to your stomach. But it gets better  – Watch this quick video and you will see the veggies that are stuffed inside of the meatloaf!

It's stuffed to the gills with great ingredients like spinach, red onion, loads of spices and more cheese. I like to serve meatloaf with a side of perfect mashed potatoes and green beans with bacon.
Is this comfort food meal over-the-top? I don't think so. One bite and I'm pretty confident you'll agree that sometimes, going all the way is just plain yummi!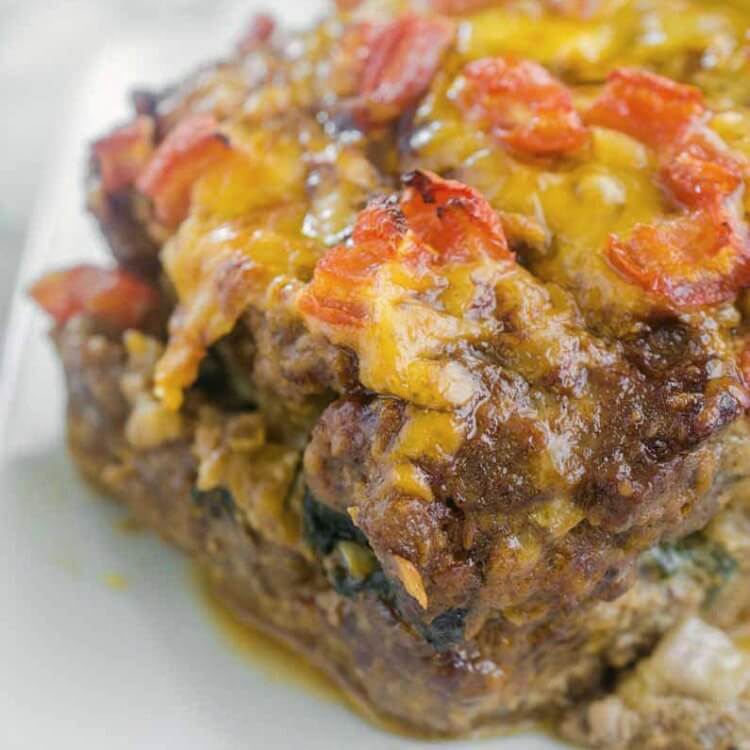 If this veggie stuffed meatloaf recipe is too much indulgence for you to handle, try my recipe for slow cooker low carb meatloaf.
Here are a couple of things you may need to make the meatloaf: (These are affiliate links, meaning if you click and make a purchase, the cost to you is the same, but I will receive a few pennies from the merchant. I use affiliate income to help expense my business costs, so thank you in advance for your support!)
[simple-recipe id="2007″]
Here are some other "stuffed" recipes that I love:
Gorgonzola Stuffed Burgers with Cranberry Mustard
Halloween Stuffed Bell Peppers
Taco Stuffed Peppers, from Wine & Glue.
French Onion Soup au Gratin Stuffed Meatballs, from Cupcakes & Kale Chips.
Buffalo Chicken Stuffed Sweet Potatoes, from Cookin' Canuck.
Southwest Taco Stuffed Spaghetti Squash, from Nutmeg Nanny.
This veggie stuffed meatloaf recipe was originally posted in October of 2012. The images in this post are new, as is the video tutorial.