I am a lover of all things carbohydrate, be it pasta, bread, crackers, muffins, or biscuits. The love has a tendency to turn into an eating frenzy when that carb is fluffy, warm, and slathered with a wonderful spread.
That's why I'm head over heels for these biscuits. I've made and consumed dozens of variations of biscuits over the years, and while some have been heavenly (like these, which sent me into a moany, semi-orgasmic state), I still remain somewhat of a purist when it comes to the perfect biscuit recipe.
The addition of cornmeal gives these biscuits a sweet flavor and crisp exterior that make them lovely when topped with spreads like honey butter, but they're also perfect to serve with a savory dish like sausage gravy.
Buttermilk Cornmeal Biscuits and Honey Butter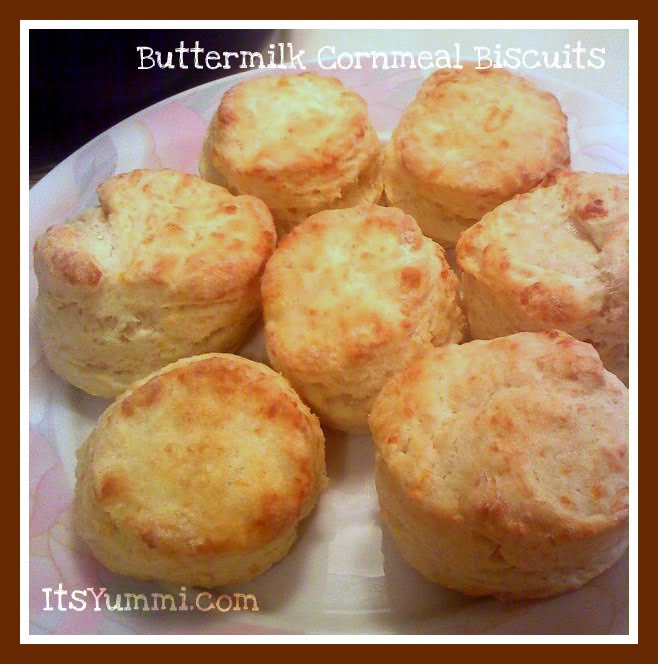 WHAT YOU\'LL NEED
FOR THE BISCUITS

1 1/2 cups (6.6 oz.) all-purpose flour
3/4 cup yellow cornmeal
2 teaspoons baking powder
1/2 tsp baking soda
3/4 tsp salt
4 oz.(1 stick) COLD butter, cut into 1/2 tablespoon sized pieces
1 cup (8 fl. oz.) buttermilk
3 Tablespoons honey

FOR THE HONEY BUTTER

4 oz. (1 stick) unsalted butter, room temperature
2 Tablespoons honey
HOW TO MAKE IT
Preheat oven to 450 degree.
In a large bowl, whisk all of the dry ingredients until combined.
Using a pastry cutter or your fingers, cut in the butter until the mixture resembles coarse crumbs. Try not to overwork the butter, keeping it as cold as possible.
Add buttermilk and honey and mix with a fork until dough forms a ball (it will be sticky)
Turn out the dough onto a lightly floured surface and knead 4-5 times, adding flour if needed to prevent sticking.
Roll out into a 9" diameter circle and cut out biscuits with a 2" biscuit cutter that's been dipped into flour. Place onto a baking sheet that's been lined with parchment paper.
Brush tops of biscuit with buttermilk to help with browning and luster.
Bake for approximately 15 minutes, or until nicely browned on top.
FOR THE HONEY BUTTER
In a small bowl, combine the softened butter and the honey until smooth and creamy.
http://www.itsyummi.com/buttermilk-cornmeal-biscuits-and-honey-butter/
Recipe From: www.ItsYummi.com