Albertsons Easter Dinner 2023
Albertsons could be the best spot to get your Easter dinner from!
On this company's website, you may scroll indefinitely because of the variety of foods it offers.
The holiday dinners from Albertsons are the ideal choice for a productive Easter.
There are 4 different meal kinds available. They include smoked and baked ham and whole or breast turkey.
The fact that the dinner is delivered and prepared is the finest part. It must be put in the oven, and while it is heating, you can relax.
An Easter feast costs $79.99. Seems a lot? This turkey serves a complete family of ten, so it's unquestionably worth it.
Ham costs $89.99, which is a tad pricier. Also, the turkey is only enough for 8 persons or less.
If you're hosting a party, you may want to look at some sandwich trays. They are easier to share and come with more tasty items.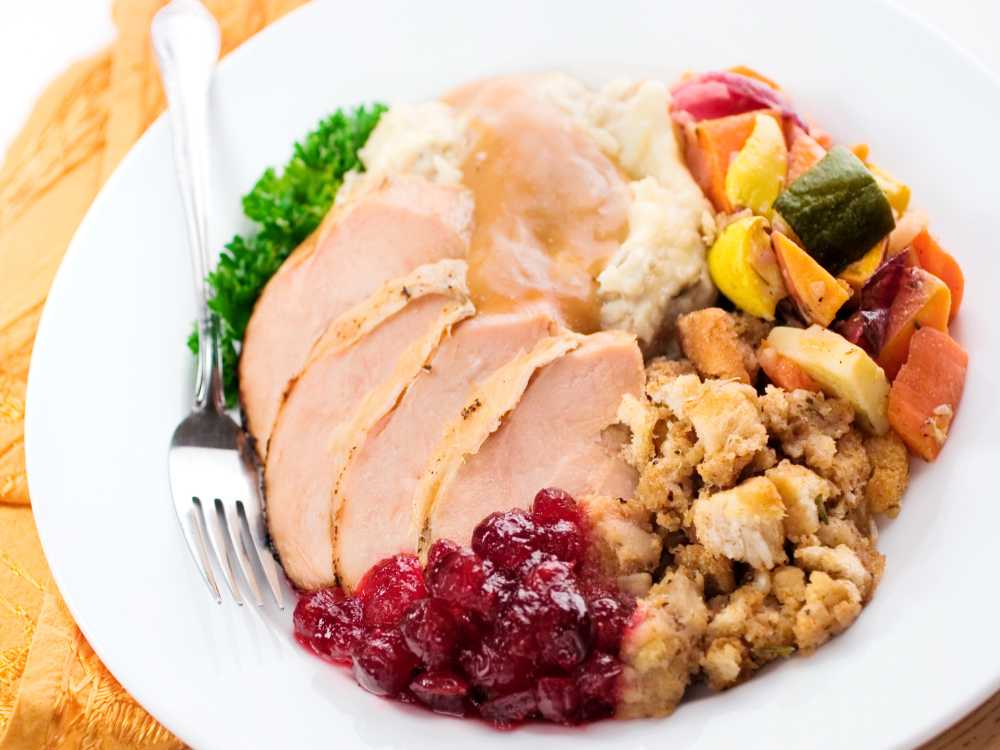 Albertsons Easter Dinner Menu
The introduction sounded pretty good, right? Well, here is even better news. Holiday meals come with the full package.
This means their menu includes dressings, giblet gravy, 2 tasty sides, and even dessert!
As for side items, mashed potatoes are the perfect match for any meat.
And there's also a cranberry delight on the menu to give your dinner a sweet and sour touch.
If you're wondering about the desserts available on the menu, there are tasty, incredible dozen rolls!
These rolls are easy to share, fluffy, and sweet, what more can you ask for? You can also order cupcakes, cookies, and cakes.
These items are not to be found on the Easter Dinner menu but are available separately and can be pre-ordered from the website.
Veggie lovers might have problems getting an item of their choice.
Unfortunately, there are no vegetarian options listed for Albertsons Easter Dinner.
However, you can check out the dinner section and preorder stuffed mushrooms, asparagus, and a lot of veggie platters.
These are separate items not included in the holiday meals section.
Albertsons Easter Dinner Price
Items
Serves
Price
Holiday Dinner
Mashed Potatoes, Turkey, Cranberry Relish, Sliced Ham, 1 dozen rolls, Cranberry Relish & Cornbread Dressing.
Turkey Breast
6-8
$79.99
Smoked Turkey
8-10
$79.99
Baked Turkey
8-10
$79.99
Spiral Cut Ham
8-10
$89.99
Party Trays
Items
Serves
Starting Price
Tray
Vegetable and Dip
A creamy ranch dip + variety of colorful fresh veggies
16″ Square
20-25
$39.99
18″ Square
25-30
$59.99
Salad Sandwich's
Chicken salad, egg salad and tuna salad on potato rolls
12″ Square
10-12
$29.99
16″ Square
16-24
$49.99
Fresh Fruit
Variety of vibrant fresh fruit
16″ Square
20-25
$49.99
18″ Square
25-30
$59.99
Vegetable and Hummus
A creamy original & red pepper hummus dip + variety of colorful fresh veggies
16″ Square
20-25
$39.99
18″ Square
25-30
$59.99
Meat Lovers
Black Forest Ham, Roast Beef, Pan-Roasted Turkey, Butter Lettuce, Salami, Cherry Peppers, Whole Grain Mustard, Rosemary, Red Bell Pepper.
12″ Square
15-20
$49.99
16″ Square
20-30
$69.99
18″ Square
30-40
$89.99
Mini Croissant Salad
Chicken salad, egg salad and tuna salad on buttery mini croissants
16″ Square
10-12
$49.99
18″ Square
16-24
$69.99
Croissant Sandwich
turkey, variety of ham and roast beef sandwiches on buttery mini croissants
16″ Square
10-12
$59.99
18″ Square
16-24
$79.99
Hoagie Sandwich
Turkey & roast beef sandwiches, variety of ham, mustard, mayo, pickled veggies and hoagie rolls.
18-24
$59.99
Italian Sampler
Variety of cured meats + Bold cheeses and pickled vegetables
15-20
$99.99
Sweet Treat Cheese
Fresh fruit, nuts, cured meats, fine cheses and sweet bites
15-20
$79.99
Classic Party Tray
Fresh fruit, crackers, classic cheeses and cured meat selection
15-20
$69.99
Dinner
Items
Serves
Starting Price
Stuffed Mushrooms
Choice of Stuffed Mushroom: Cheddar & Pico de Gallo, Spinach & Mozzarella, Jalapéno & Cheddar
4 – 6
$5.99
Asparagus Spears
Ready and freshly cut for your oven.
2 – 3
$5.99
Fried Chicken Party Packs
Choose from
50 Pieces
$55.99
150 Pieces
$165.99
300 Pieces
$335.99
How To Order From Albertsons
There's no deadline for ordering on the Albertsons website yet. Feel free to call them and find out before anyone else.
The holiday meals can't be customized. The sides are already selected.
But, if you want to be artistic, Albertson has a preorder page with all the party trays and dishes you can think of!
You may combine them and customize your Easter dinner.
To complete the payment for your order, use a credit card for online orders. Direct payment is available for pick-up orders.
Albertsons Delivery & Pickup Options
You can order online, from the official website. Then, choose the pickup option or have your food delivered right at your home.
It's also possible to call and pickup your order. So, there's no excuse left!
You can pick up the order at the nearest store. Enter your address on the store locator and find out.
Delivery fees vary with the location. They will appear at the end of the order.
Important Links of Albertsons
Our Recommendations For Albertsons Easter Dinner
If your family members are not so picky, then we recommend you to choose a fully-prepared holiday meal.
The smoked whole turkey from the easter dinner menu will probably put a smile on everyone's face.
Correspondingly, why waste time searching for sides and desserts when you can have them all perfectly matched with one click?
If you love variety, party trays are the go-to option. Choose a croissant or classic tray with fruits, cheese, meat, and cookies.
People Also Ask
Does Albertsons Have a Holiday Meal?
Yes. Albertsons has, in fact, 4 types of holiday dinners. The items can be ordered for up to 10 people per meal.
The smoked turkey meal option is the crowd's favorite.
If you don't like it smoked, the turkey also comes baked, or as just as turkey breast. Ham is also on the menu if you're tired of turkey.
What Comes With The Albertsons Turkey Dinner?
The turkey dinner comes as a full meal with dressing, gravy, sides, and dessert.
For the dessert, you're lucky to taste some delicious dozen rolls.
Cranberry relish and the classic potato puree are the chosen side dishes for the dinner menu.
Does Albertsons Sell Cooked Turkeys?
Albertsons do sell cooked turkeys, but it sells them whole, breast, smoked, baked, and with dressing.
Does Albertsons Sell Grilled Chicken?
Yes, they sell grilled chicken.