Angel Food Cupcakes are heavenly deliciousness in a portable form. Because cupcakes deserve to be a happiness-to-go dessert option … fluffy, delightful perfection.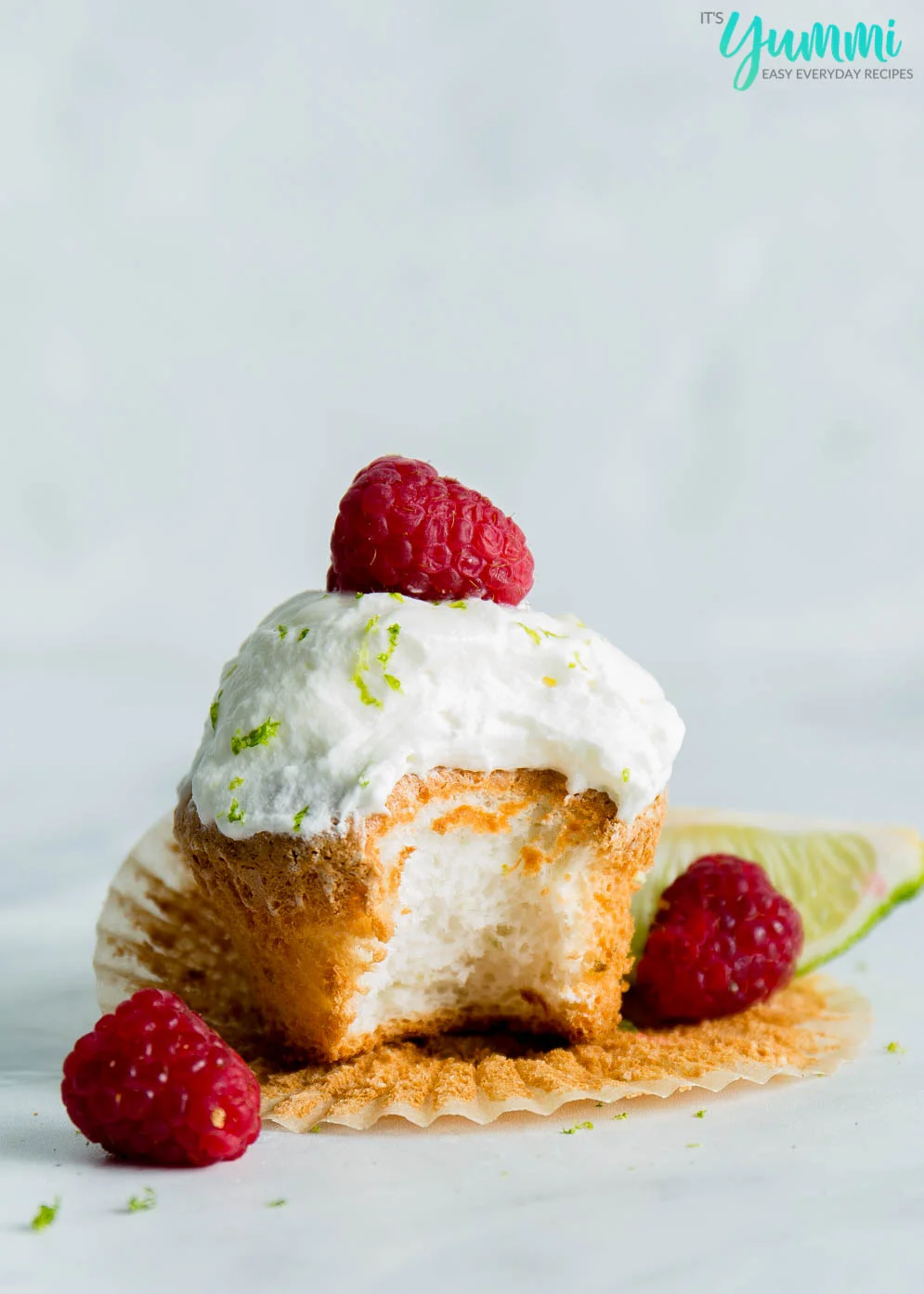 Angel Food Cupcakes are beyond one-size-fits-all perfection. Whether you are making these for a special occasion or just because. Prepare yourself to NOT have leftovers.
We love angel food so much it's just SO GOOD. We can't wait to share this with you and you can enjoy them as well. ????
Angel Food Cupcakes 101
One of the most important things to keep in mind is how to save and savor your delicious angel food cupcakes for as long as you can (or as long as they last).
How to store angel food cupcakes: Place your cupcakes in an airtight container, they will stay good for about 2 days. But if you've already frosted, you're going to want to store them in the refrigerator in an airtight container or in a container covered in foil or plastic wrap. Your cupcakes will last for about 1 week.
Can you freeze angel food cake cupcakes? Yes, you can! We recommend putting your cupcakes (frosted or not) on a baking sheet and freezing uncovered first, then placing them in a freezer bag. This will keep the frosting in tact, but will also keep ice crystals from forming with trapped moisture.
Can we make angel food cake these sugar-free? Yessss! So we've tested it and monkfruit sweetener is the best sugar-free alternative for this recipe and strongly recommend trying it if you are watching your sugar levels.
Can you make angel food cupcakes? We realized that we aren't the only ones who have wanted a smaller more compact version of the angel food cake. SO by this post I'm answering you but YES YOU CAN MAKE ANGEL FOOD CAKE INTO CUPCAKES! ???? ????
How long do you bake angel food cupcakes? 16-18 minutes or until golden brown which is WAY less time than the traditional angel food cake so these cupcakes are a winner in saving time as well.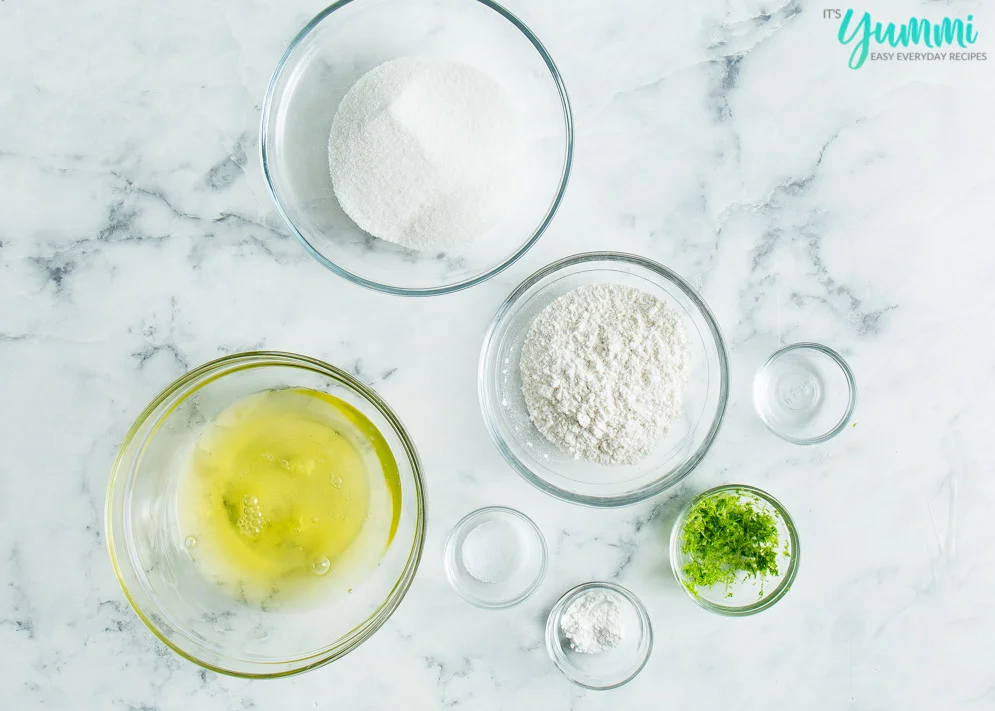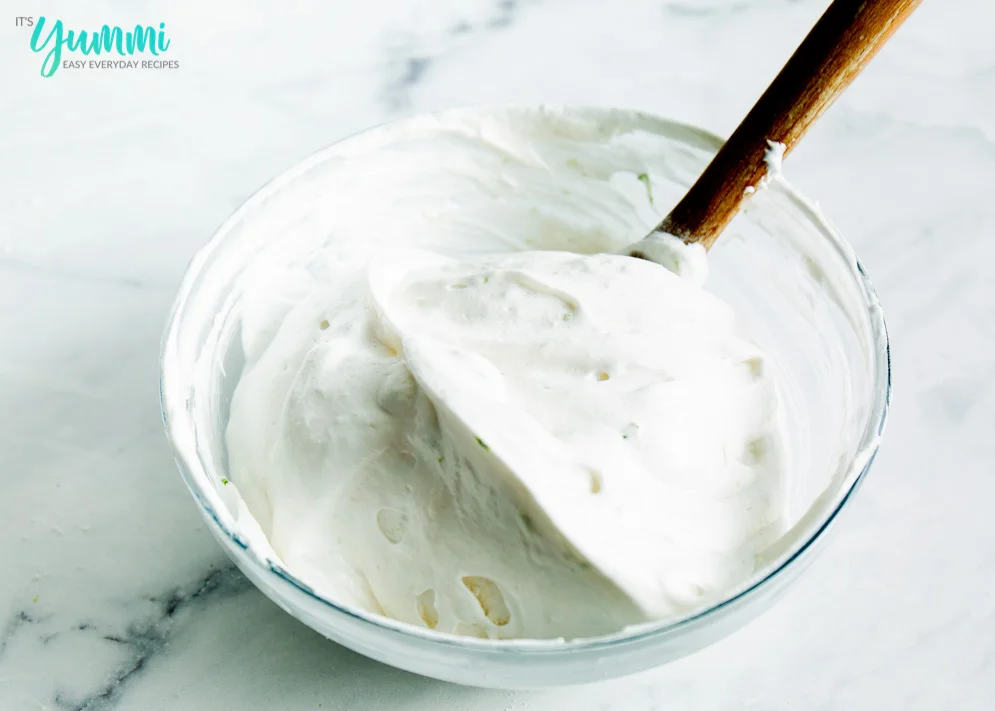 Angel Food Cake is heavenly and almost healthy
The root of this recipe is angel food cake base, which is our personal favorite cake batter base. Why? Because it's perfectly light, fluffy and takes on other flavors without being overwhelmed.
One question that often comes up: Is angel food cake healthy? The answer is a little complex, but we'll get you there!
Angel food cake (and angel food cupcakes) are naturally less dense on the calorie count and fat content, which helps keep from tipping the scales in the wrong direction. But keep in mind, there is still sugar in them and if you get fancy with toppings those can undo the balance that angel food provides.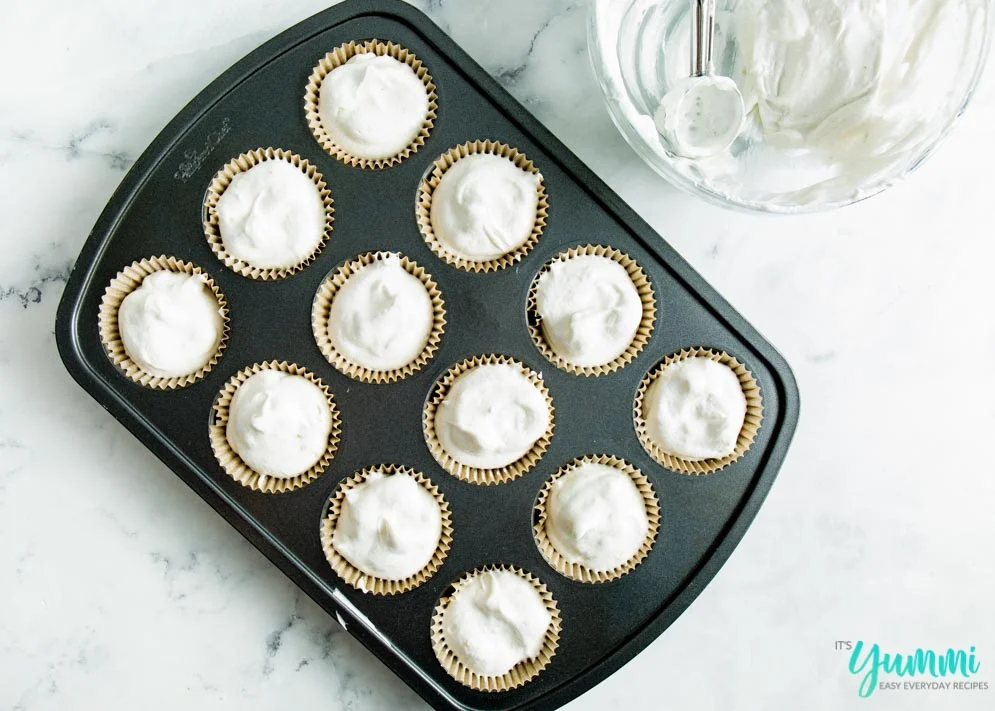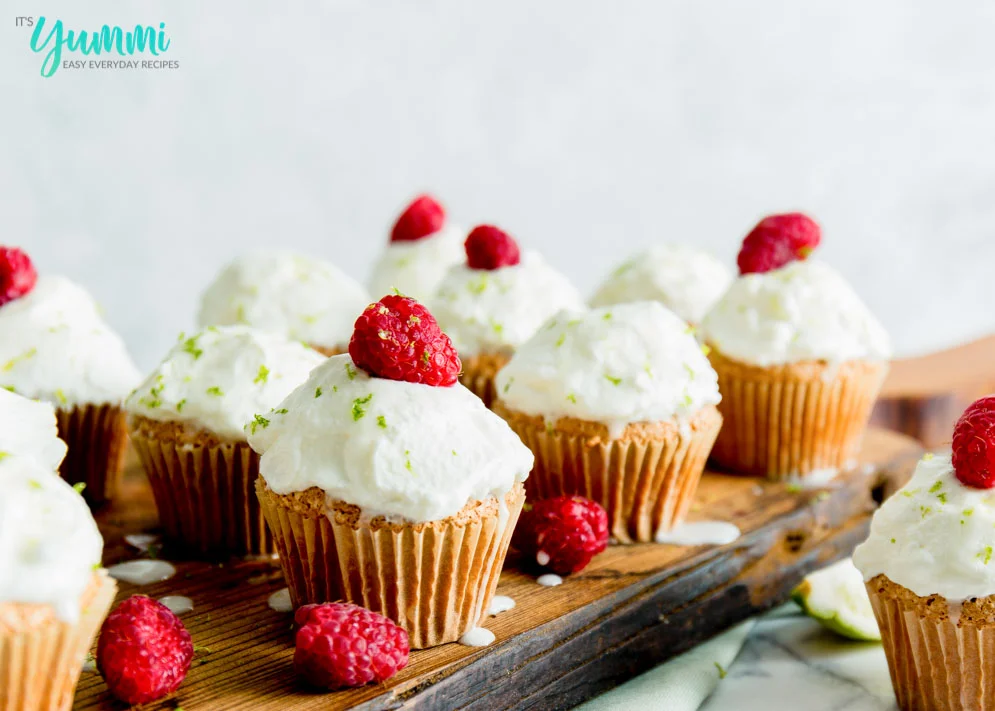 Other amazing cupcake options
We absolutely love cupcakes and not just because they are portable. But we can't lie, that's definitely a plus! 🙂 Cupcakes also offer a perfect portion of cake-like goodness with frosting. The ratio is absolutely wonderful.
Eggnog cupcakes are a delightful way to capture some of the holiday spirit – even after the holidays have come and gone.
If you're in the mood for something a little less traditional, Carrot Cake Cupcakes with Cream Cheese Frosting are a solid option. We LOVE carrot cake, so its even better in cupcake form. Remember, portable!
Craving Italian? We have these delightful Cannoli Cupcakes that will definitely hit the spot.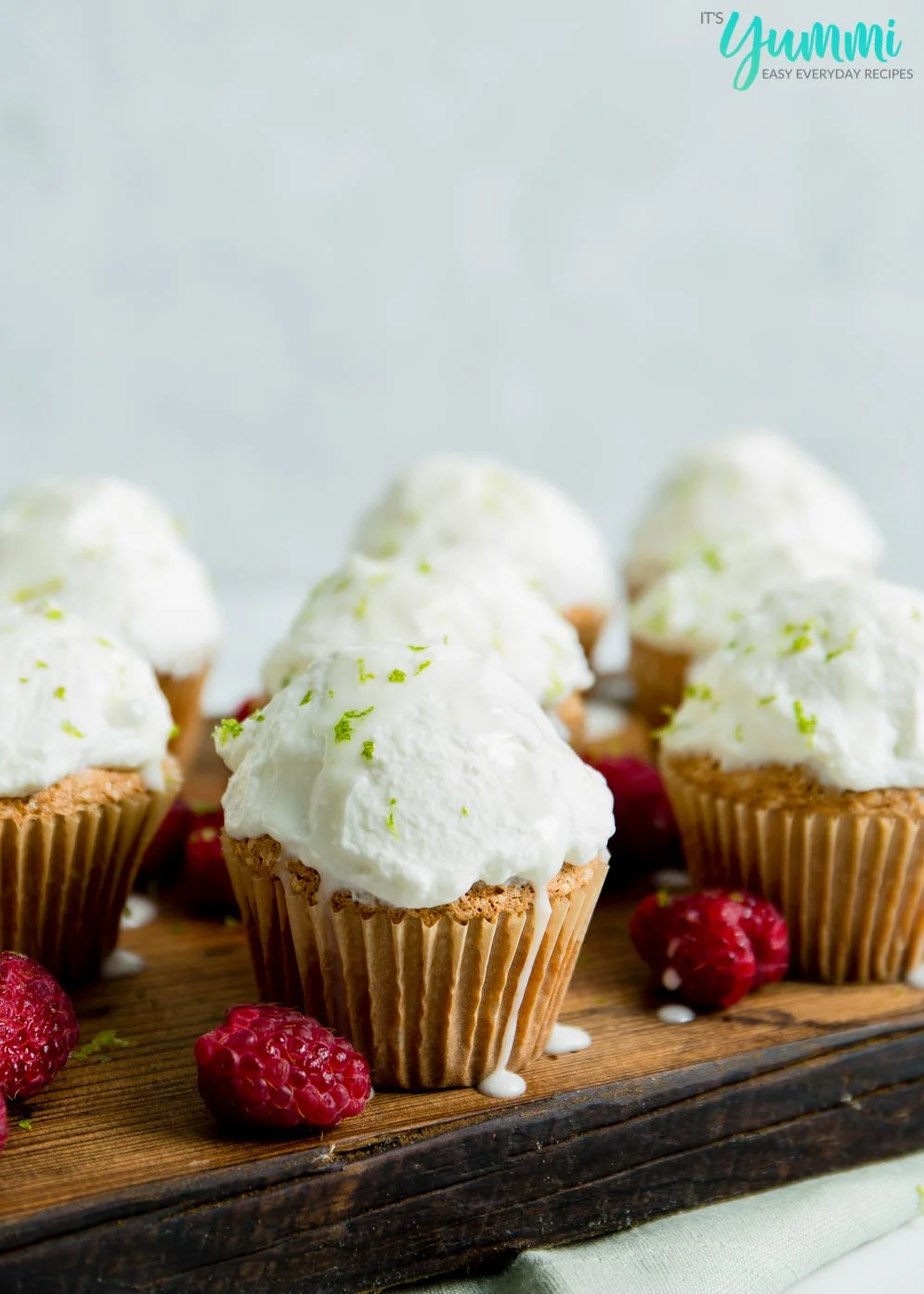 Customize your Angel Food Cupcakes
As we mentioned before, one of the benefits of angel food cake is how it can compliment a range of other flavors without being overwhelmed. We ended up just topping ours with whipped cream but you can get creative and customize to your tastes as well. Some excellent choices include:
Whipped peanut butter frosting and mini dark chocolates.
Cream cheese topping with a fresh strawberry. We have to admit we're tempted to dollop one of these cheesecake fat bombs on top.
Hazelnut frosting (YUM!) with a fresh strawberry or banana slices.
Whipped chocolate frosting with nuts (almonds are delightful!)
Cookie dough frosting may be so naughty it's nice, when it comes to the ultimate cupcake topping!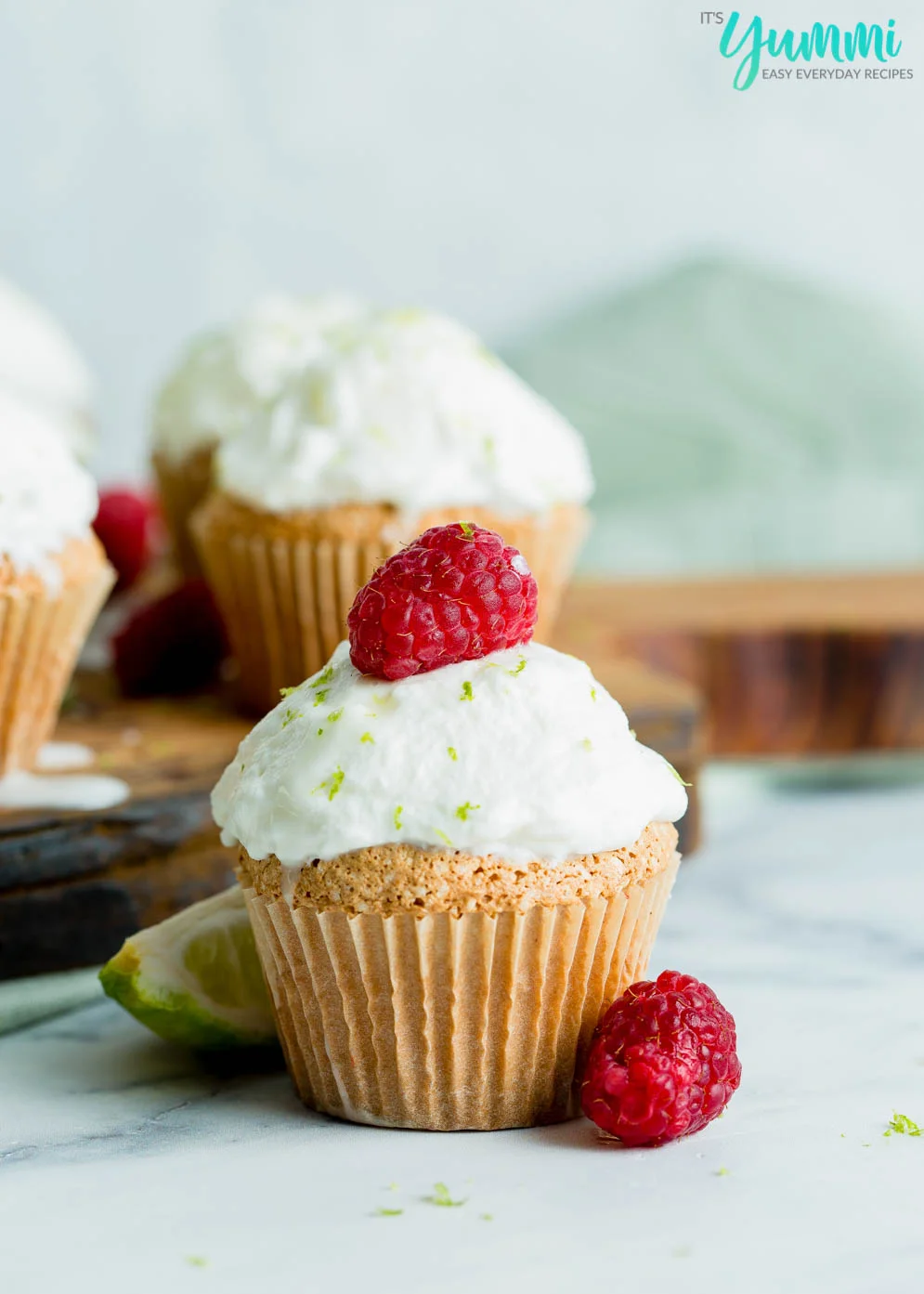 Other recipes you might enjoy: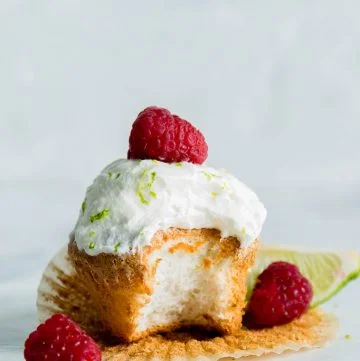 Angel Food Cupcakes
Angel Food Cupcakes are heavenly deliciousness in a portable form. Because cupcakes deserve to be a happiness-to-go dessert option … fluffy, delightful perfection. 
Ingredients
¾

cup

sugar

super fine, pulsed in a blender.

½

cup

cake flour

sifted

5

egg whites

½

tsp

cream of tartar

⅛

tsp

salt

1

tsp

lemon extract

(optional)

1

zest of lime

(optional)
Instructions
Preheat oven to 350F. Line a 12-cup muffin tin with paper liners.

In a small bowl, sift together cake flour and 1/4 cup superfine sugar.

In a large bowl, beat room-temperature egg whites until foamy, then add in cream of tartar and salt. Gradually add in the remaining 1/2 cup of superfine sugar while the mixer is on high speed, beating the egg whites to soft peaks. With a rubber spatula add in the lemon extract and lime zest. Do this very gently to prevent losing the volume in your meringue.

Gently fold in the flour mixture, adding it in two or three additions.

Divide evenly into prepared muffin tins. Fill them almost to the top.

Use an offset spatula or your fingertips to gently flatten the top of the batter.

Bake for 16-18 minutes, until golden brown. The tops will spring back when lightly touched. Cool on a wire rack.

Top with lemon glaze, fresh whipped cream and fresh fruit with powdered sugar.
Nutrition
Calories:
76
kcal
Carbohydrates:
17
g
Protein:
2
g
Fat:
1
g
Saturated Fat:
1
g
Sodium:
45
mg
Potassium:
52
mg
Fiber:
1
g
Sugar:
13
g
Vitamin C:
2
mg
Calcium:
3
mg
Iron:
1
mg