Smoked ribs will become your new favorite way to prepare ribs. This Cajun Smoked Spare Ribs recipe works for smoked beef ribs or pork. The dry rub recipe for ribs is simple, and the ribs are given more flavor with a kicked up, Louisiana-style BBQ sauce. There's so much great Cajun flavor in this smoked ribs recipe, you may feel like you've been transported right into the Bayou of Louisiana.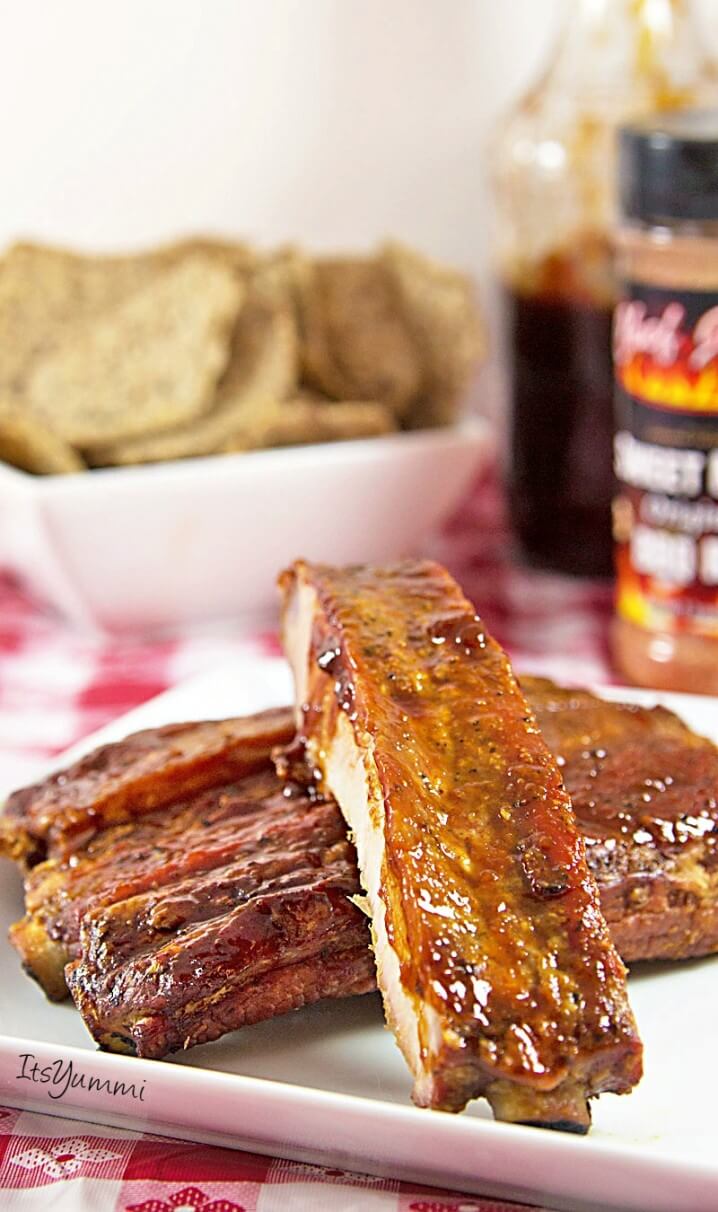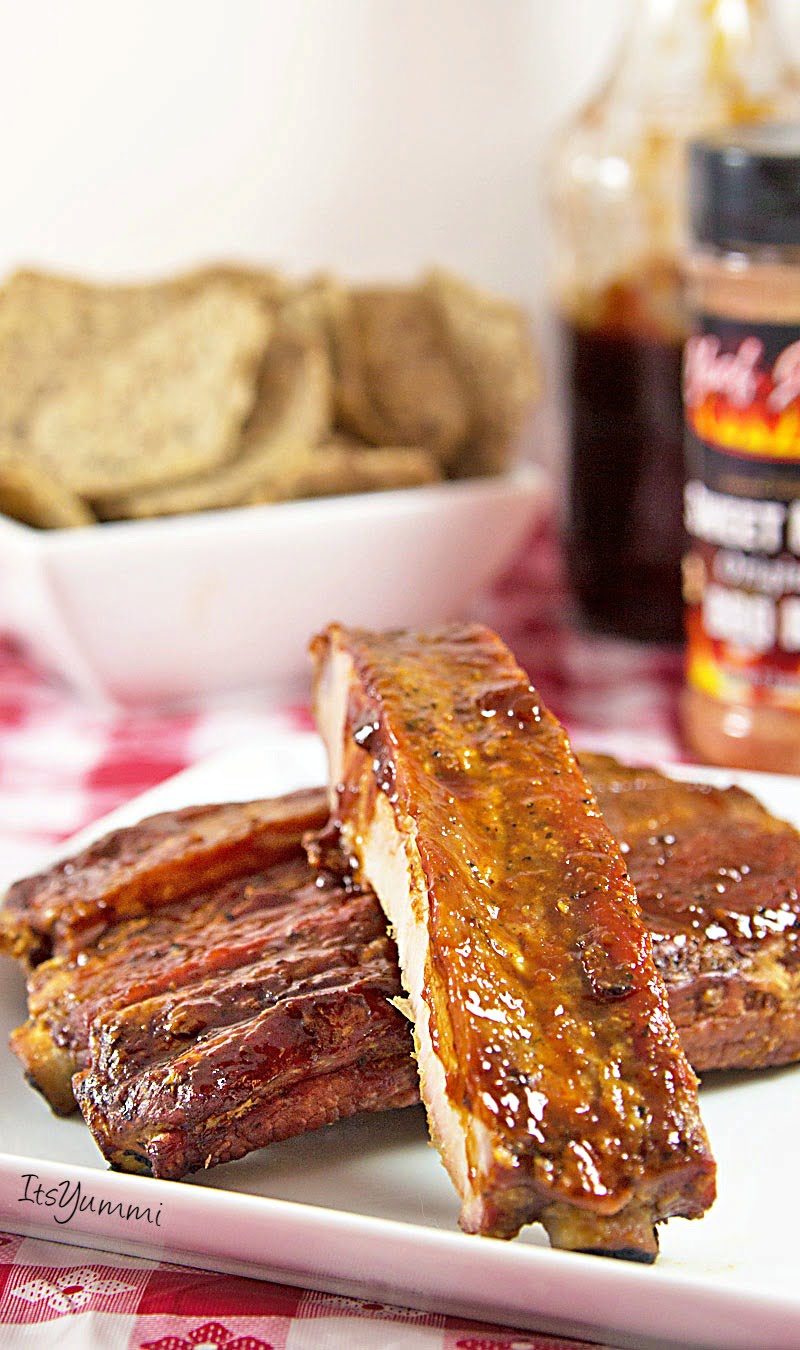 My husband "Hasome" and I recently invested in our first "real" grill, which has a smoker and roaster option on it. The gas smoker/grill is so completely awesome, fun, and easy to use! The roasting rack will fit a 25-pound turkey, so now I don't have to worry about how Thanksgiving dinner will fit into my tiny little oven. I highly recommend that you get one for yourself, if you can afford it.
If you have a grill you love and are simply looking for a smoker, there are some great reviews available online. The Electric Smoker Guy website has a review of the 10 best electric smokers for 2018.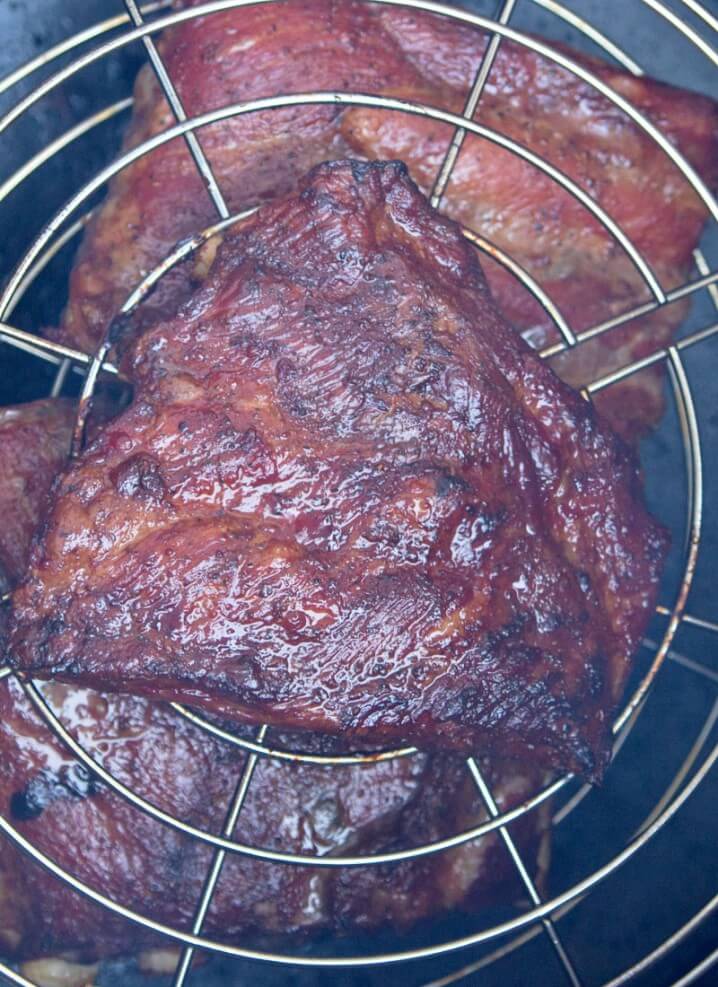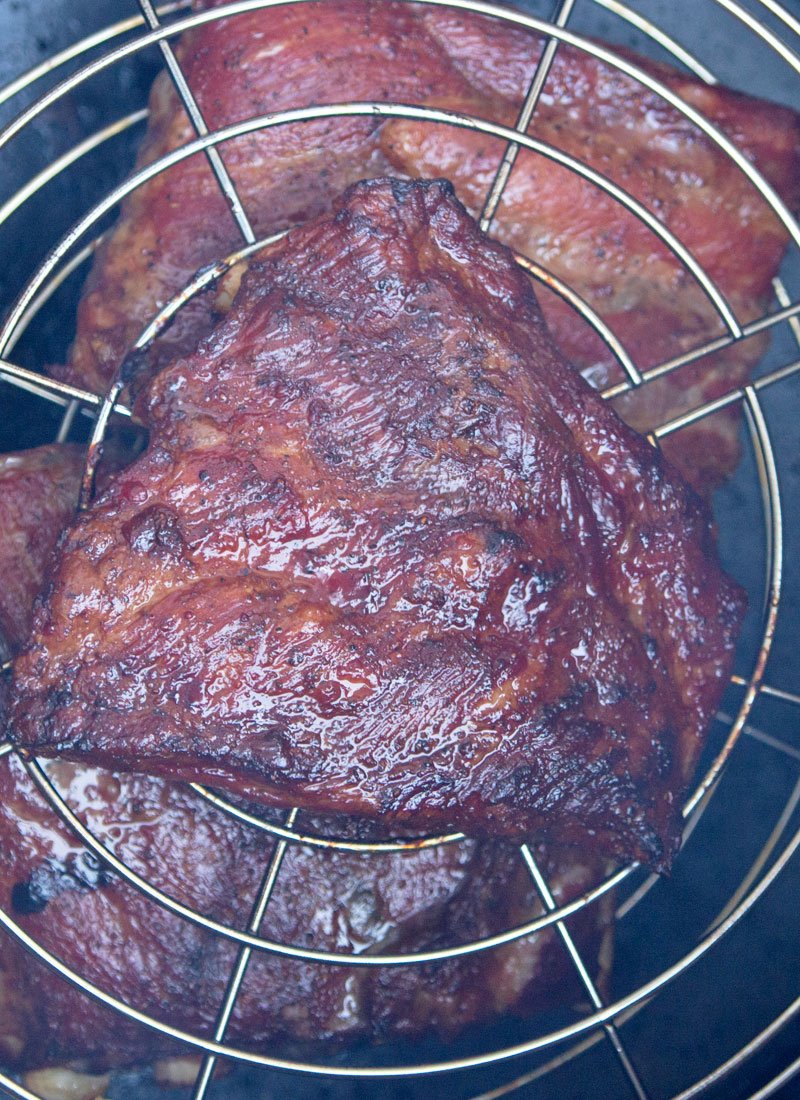 Smoked Ribs Recipe Notes
This Cajun smoked ribs recipe is one that I adapted from a baked ribs recipe I found in an old cookbook at the library. Cooking ribs in the oven is a great option if you don't have access to a smoker, but the flavor you get from smoked ribs can't be duplicated in an oven. The recipe I found uses simple spices in a dry rub recipe, so I knew it would be the perfect recipe to convert. Dry rubbing ribs keeps them moist during smoking and gives them amazing flavor.
I made chipotle rubbed ribs last year on my ridiculously old kettle grill. Those grilled baby back ribs looked awful, but tasted wonderful. The thing I didn't like about them, though, was that they were just dry-rubbed with spices… I never finished them off by mopping them with a wet sauce. The Cajun style barbecue sauce takes the smoked pork ribs to a whole new level; it's downright heavenly!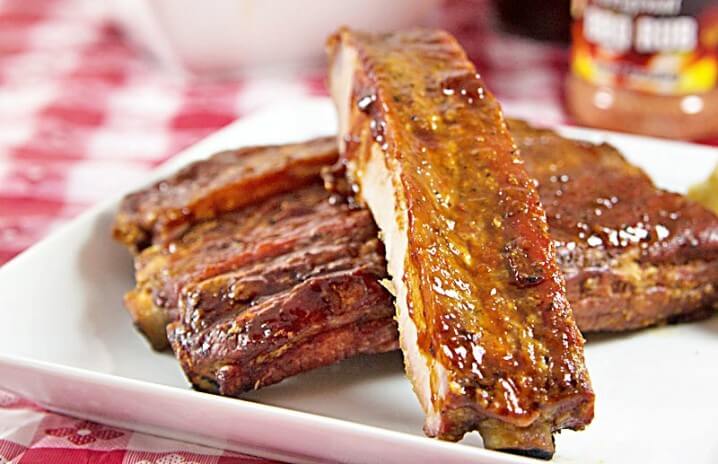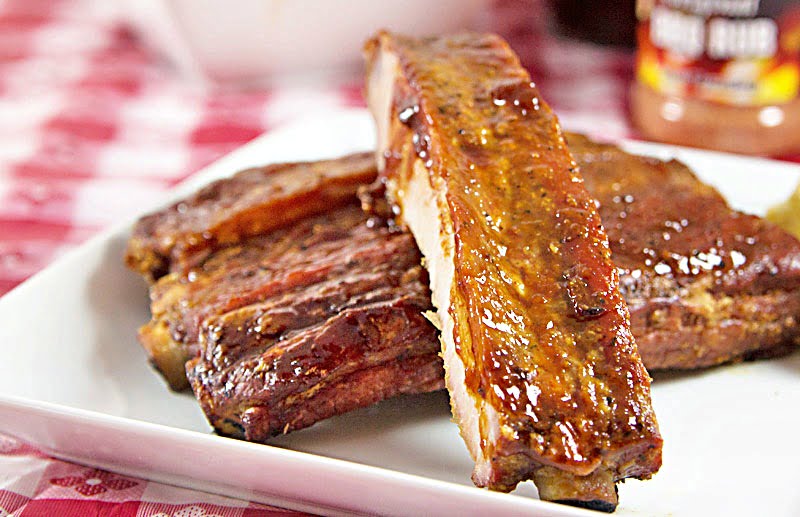 You can mop the smoked spare ribs with any type of BBQ sauce. I love this homemade barbecue sauce recipe from Around My Family Table. I found a brand of bottled Cajun-style BBQ sauce that I like and kicked it up a bit. It's got the perfect amount of spice to amp the flavor without overpowering the ribs with too much heat. I think I'll use it next time I make my slow cooker barbecue sticky rice.
This smoked ribs recipe is for cooking ribs on a smoker, but I've also included instructions for cooking them in an oven. This recipe will work for smoked beef ribs or pork ribs.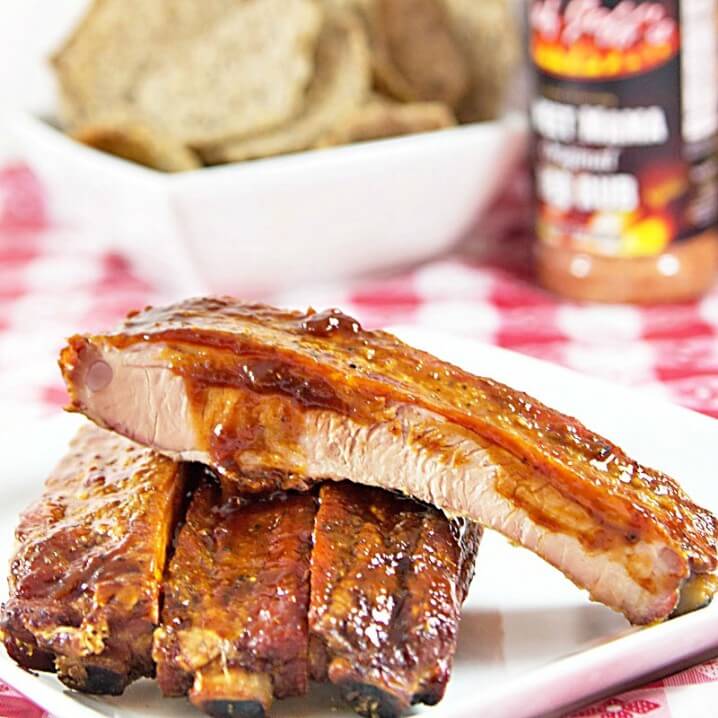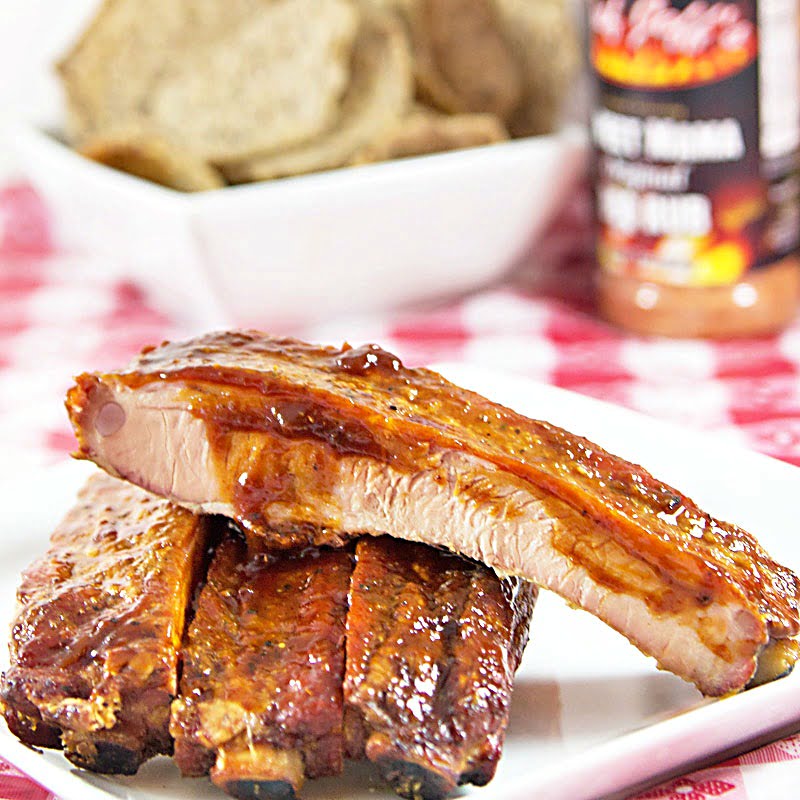 How to Serve Smoked Ribs
You can serve dry rubbed ribs as they are, offer different flavored barbecue sauces at the table, or mop them with sauce. Great options for side dishes to serve with your ribs include:
Happy Grilling!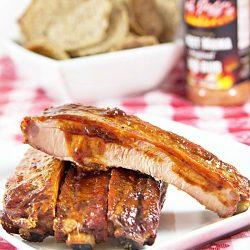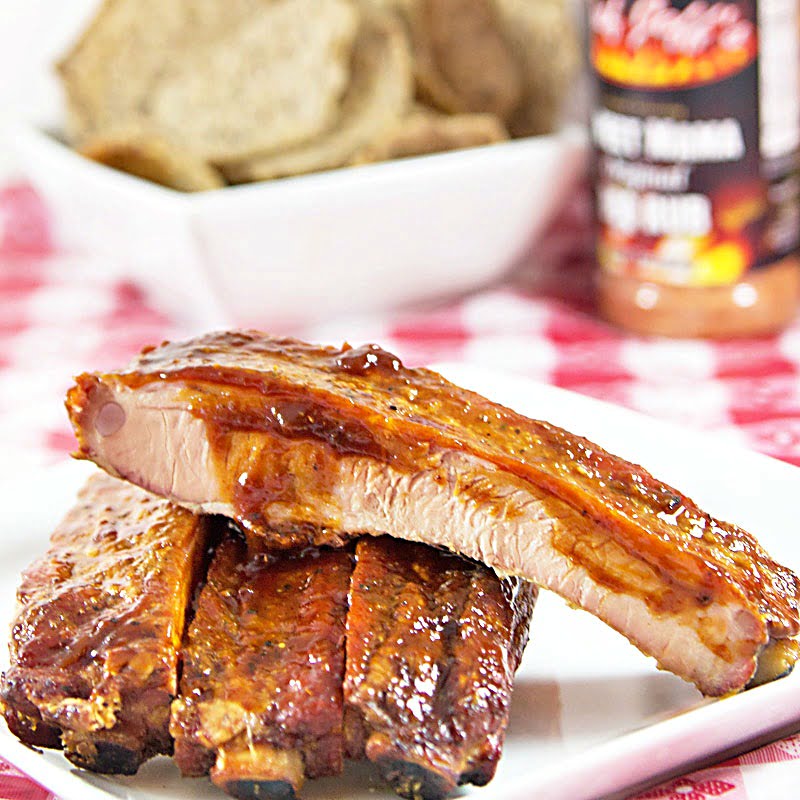 Cajun Smoked Ribs
This smoked ribs recipe is for cooking ribs on a smoker, Instructions for cooking them in an oven is also included. This recipe works for smoked beef ribs or pork ribs.
Ingredients
3

pounds

pork ribs (baby back or spare ribs)
For Dry Rub:
1

Tablespoon

Hungarian paprika

½

Tablespoon

sea or kosher salt

½

Tablespoon

garlic powder

1

teaspoon

black pepper

¾

teaspoon.

onion powder

¾

teaspoon

dried leaf oregano

¾

teaspoon

dried thyme leaves

½

teaspoon

cayenne pepper

½

teaspoon

creole seasoning

¼

teaspoon

crushed red pepper flakes

¼

cup

packed brown sugar (preferably dark)
For Barbecue Sauce:
½

cup

Louisiana-Style Barbecue Sauce

½

teaspoon

molasses

¼

teaspoon

creole seasoning

⅛

teaspoon

garlic salt

1/16

teaspoon

onion powder
Instructions
Remove sinew (silver skin) from back of ribs. Place rack of ribs, meat side up, onto a large sheet of heavy duty foil (2-3 times larger than the size of the ribs).

Add all dry rub ingredients to a small bowl and stir to combine. Rub approximately half of the mixture onto the meaty side of the ribs. Turn ribs over, and rub on the remaining mixture.

If you'll be smoking your ribs, place them onto the smoker and smoke for approximately 1 hour per pound. Spritz them with a 3:1 solution of vinegar and oil every 30 minutes to keep them from drying out. Add more wood chips as necessary. Mop with sauce only during the last 30 minutes to prevent it from burning.

IF OVEN COOKING, CONTINUE HERE:

Bring up sides of foil to the center, then roll down tightly. Roll up each end, using caution so as not to tear or make holes in the foil. Place packet onto a foil-lined baking sheet.

Heat oven to 300º F.

Place pan with ribs into oven and bake for 2.5 hours. Remove pan from oven.

Increase oven temperature to 350 degrees.

Carefully open foil, and flip ribs over so they're bone-side up.

In small bowl, whisk together sauce ingredients well. Coat bone side with a little less than half of the sauce.

When over has reached 350º, place pan back into oven with ribs uncovered and bake for 10-12 minutes.

Remove from oven, turn ribs over, and coat meaty side with the rest of sauce.

Return to oven and bake for another 10-12 minutes.

Remove from oven and use a sharp knife to cut between the bones into serving-sized pieces.
Nutrition
Calories:
1231
kcal
Carbohydrates:
32
g
Protein:
62
g
Fat:
93
g
Saturated Fat:
30
g
Cholesterol:
318
mg
Sodium:
1052
mg
Fiber:
2
g
Sugar:
26
g