Jersey Mike's Catering Menu & Prices: Hot + Cold Subs (Updated September 2023)
If you don't know what food to bring to your friends and family and are in the mood for a great sandwich, consider giving them anything from Jersey Mike's.
You can't go wrong with any item this Sub sandwich chain has to offer. Jersey Mike's sandwich catering is perfect for serving a big group of people.
From sub sandwiches to desserts, expect premium quality food freshly prepared for you.
Grab a bite in a Jersey way. Choose from a wide array of the best-tasting Northeast-style subs and feel the Sub-Above experience like no other.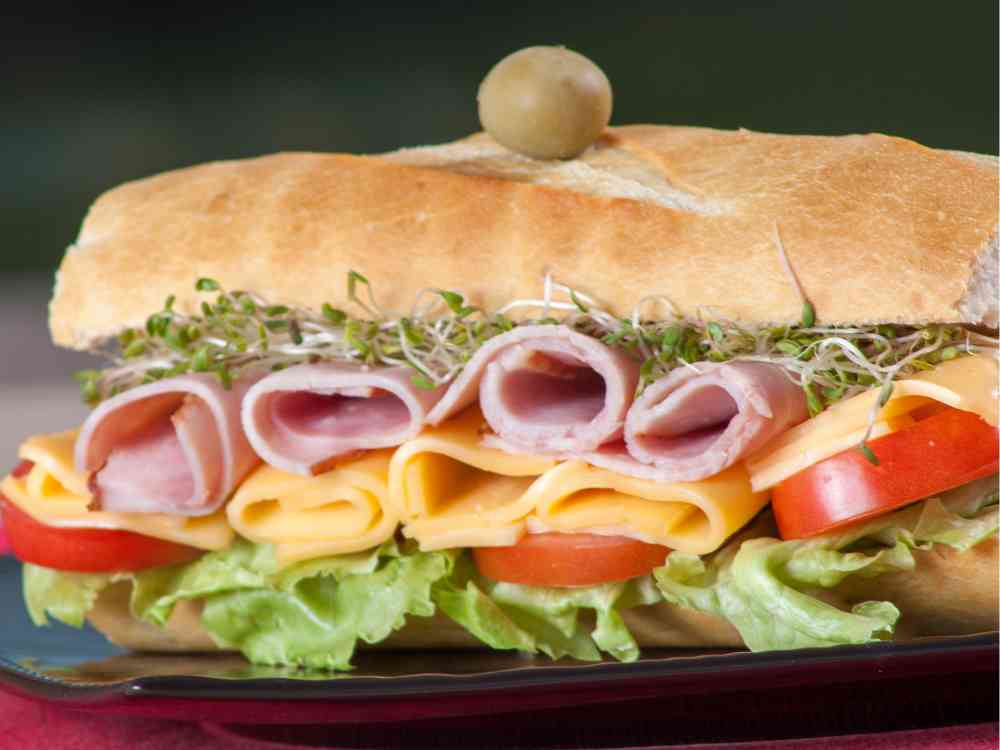 Jersey Mike's Catering Packages
Time to treat your family, friends, or colleagues to Jersey Mike's sandwiches. Choose among the best catering options below-
01. Subs By The Box
This bundle is great if you and your colleagues crave nice sandwiches. Subs by the Box serves 12 cold subs.
The choice of cold subs is customizable. Check the website to know more cold subs included in the menu.
02. Subs By The Bag
Jersey Mikes subs have 3 sizes:
(1) Mini – good for 1 person
(2) Regular – good for 2 people
(3) Giant – feeds 4
Choose your favorite sub sandwiches off the menu. Good for groups who want to get their orders to go.
03. Boxed Lunches
Suppose you like a fully loaded meal, this one is for you. This combo includes any cold sub of your choice, some chips, and cookies.
The boxed lunches are available in both regular and mini sizes. You may choose whether you want to include a drink or not when you order your meal.
Jersey Mike's Subs By The Box
Toppings: Onions, Tomatoes, Lettuce, Red Wine Vinegar, Oregano, Olive Oil Blend, Salt, Mayo, Dill Pickles, No Cheese, Banana Peppers, Jalapeño Peppers, Cherry Pepper Relish, Yellow Mustard, Honey Mustard, Spicy Brown Mustard
Items
Price
Regular Lunchbox with A Drink
(Chips, Regular Cold Sub, 20oz. Bottled Drink & A Cookie)
$13.95
Subs by The Box
Serves 12 people (Choose Up To 4 Varieties)
$69.95
Small Lunchbox with A Drink
(Mini Cold Sub, 20oz. Bottled Drink & A Cookie)
$11.95
Regular Lunchbox
(Regular Cold Sub, Chips & A Cookie)
$11.95
Cookie Platter
(Twelve Fresh Baked Cookies)
$9.95
Small Lunchbox
(Mini Cold Sub, Chips & A Cookie)
$9.95
Brownie Platter
(Twelve Gooey Chocolate Chip Brownies)
$14.95
Jersey Mike's Catering Menu (All About Subs)
Drinks options: Pepsi, Pepsi Zero Sugar, Starry, Diet Pepsi, Mountain Dew, Wild Cherry Pepsi, Diet Mountain Dew
Chips Options: Lays Classic, Baked Lays BBQ, Doritos Cool Ranch, Miss Vickie's Sea Salt & Vinegar, Doritos Nacho, Miss Vickie's Sea Salt, , Sun Chips Salsa, Baked Lays, Miss Vickie's Jalapeño, Ruffles Cheddar & Sour Cream, Cheetos, Miss Vickie's BBQ, Baked Lays Sour Cream & Onion
Cookie Option: Chocolate Chip Cookie, Sugar Cookie, M&M Cookie
Choice of Subs
Items
Calories
Jersey Shore's Favorite
Provolone, ham & cappacuolo
800
Ham and Provolone
Provolone & ham
790
The Veggie
Swiss, provolone, & green bell peppers.
920
The Super Sub Provolone, ham, prosciuttini & cappacuolo
810
Turkey and Provolone Provolone & Turkey
790
Tuna Fish
1030
Roast Beef & Provolone
870
The Original Italian
Provolone, prosciuttini, ham, salami, cappacuolo & pepperoni
920
Club Sub
Turkey, provolone, applewood smoked bacon, ham, & mayo
1140
Club Supreme
Roast beef, applewood smoked bacon, turkey, swiss & mayo
1150
BLT
Bacon, lettuce and tomato
770
The Number Four
Provolone, prosciuttini and cappacuolo
780
Stickball Special
Provolone, ham & salami
860
Cancro Special
oven-roasted top rounds & provolone, with a layer of pepperoni
920
ADD-ONS
| | |
| --- | --- |
| Items | Price |
| Bacon | $1.50 |
| Extra Cheese | $1.00 |
| Extra Meat | $1.75 |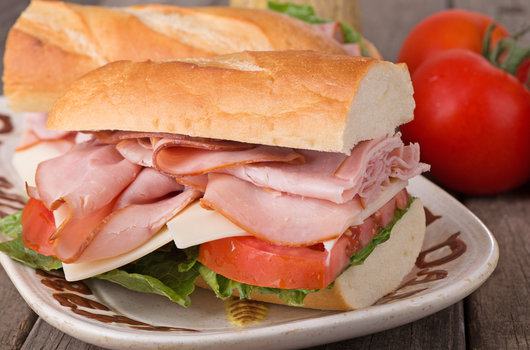 Jersey Mike's Ordering Ways
Mobile Order
Ordering delicious sandwiches is now made easy. To order online, follow these steps:
Get a mobile app. The application is available for download on Google Play and the Apple store. Open the app after it's completely downloaded.
To know the nearest Jersey Mike's location, click the 'Find a store/Order Now' blue button. The app will automatically determine your location. There'll be a list of stores near you.
Select a store that you think is the nearest Jersey Mike's location. After selecting a store, you will see a schedule of the store's available hours and its contact number.
Dial the store's contact number, and place your order.
Pick-Up Order Via Browser
Ordering delicious sandwiches in the comfort of your home. To order online using your computer, follow these steps:
Go to your favorite browser. Enter jerseymikes.com/order into your browser.
Enter your city/state or zip code to find the nearest location.
Once you've picked the store branch, then click the Order button.
Choose if you want to Log In with your Jersey Mike's membership or Continue as a Guest.
Fill out your contact details.
Choose your order type, 'Pickup at Store'.
Then click Choose My Items button. You can choose any items from the store's menu.
Customize your order. You'll be asked the kind of bread, toppings, flavors, drinks, and extras you want in your order.
Select your pickup date and time if you opted for the 'Pickup at Store' order type.
If you logged in with your membership account, you'll get Shore Points ® Rewards.
There's also an option if you want to add a tip or you have to enter a promotional code. Click Review + Pay
Select your payment option and review the order. Once you've filled out all the important order details, press Place Order.
How Did Jersey Mike's Start?
In 1956, Jersey Mike's (known as Mike's subs) opened a mom-and-pop store in the seaside of Point-Pleasant, New Jersey.
The shop serves savory American submarine sandwiches and has become popular among vacationers, visitors, and local residents in New Jersey.
In 1971, 14-year-old high school student Peter Cancro joined the sandwich business as a service crew.
In 1975, when young Cancro learned that the original shop was for sale, he decided to purchase the shop with the help of his football coach, who happens to be a banker.
12 years later, Cancro began franchising Jersey Mike's and eventually set up 35 stores up and down the Jersey Shore.
Fast forward to 2018, Jersey Mike's hailed as the winner for the fastest-growing sandwich joint in the U.S. for four consecutive years.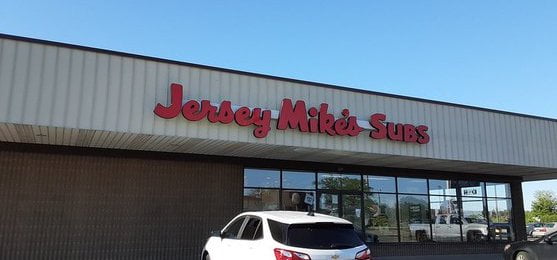 The company continues to receive a lot of media attention, and for the right reasons: quality food and good customer service.
There are 2,309 Jersey Mike's outlets in the United States as of today, and the company plans to add more outlets in the near future.
Additional Information Links of Jersey Mike's
Frequently Asked Questions
Are Jersey Mike's Open 24 Hours?
All of the outlets are operated individually, and each store has its specific open hours. To know more info about your nearest Jersey Mike's location, go to jerseymikes.com/locations.
What Kind of Meat Does Jersey Mike's Use?
Not only do serve real meat, but it also makes sure to use USDA grade A meat.
At Jersey Mike's, They make their own in house roasted-beef, and all beef is slowly-roasted at restaurants.
Subs are made with freshly sliced meat (which is made of Certified Angus Beef), cheese, and other toppings.
That alone proves that creating quality sub sandwiches is always their top priority.
What Are The Available Sandwich Sizes?
Jersey Mike has three sizes available: (1) the 5 -inch Mini, (2) the 7-inch Regular, and (3) the Giant. Other than sub sandwiches, It also offers chips, wraps, desserts, and drinks.
Does Jersey Mike's Have Vegan Options?
Although Jersey Mike doesn't have a 100% vegan option on their menu, have this one sandwich for vegetarians.
14 cold sub, the "Veggie," comes with green bell peppers, onions, tomatoes, lettuce, layers of provolone and Swiss, red wine vinegar, olive oil, oregano, and salt.
If you want to make your Veggie sandwich vegan, simply request the crew to remove anything dairy in the sandwich, like all the cheese.
Whom Could I Contact To Arrange a Catering For My Event?
Prices of the sandwiches and other items vary from store to store location.
To know if there is a Jersey Mike's store near you that offers catering services, simply go to the website.
Look for the online ordering icon and contact the store for large orders and special requests.
Final Thoughts
Jersey Mike's growing sandwich company always commits to giving quality food service.
Jersey Mike always makes sure that Jersey Mike gives the best quality sub sandwich that the company can provide.
From freshly roasted Angus beef to fresh veggies combined with the right dressing, it's their goal to satisfy your taste buds and bring you to a Sub-Above experience.