Chicken Casserole with Spaghetti Squash
This spaghetti squash chicken casserole is one of my favorite chicken dinners! Featuring juicy chicken breast, spaghetti squash, mushrooms, tomatoes, green peppers, and lots of cheese. It's healthy comfort food that's low carb, gluten-free, and kid-friendly! It's an easy meal prep idea and perfect for freezer meals, too.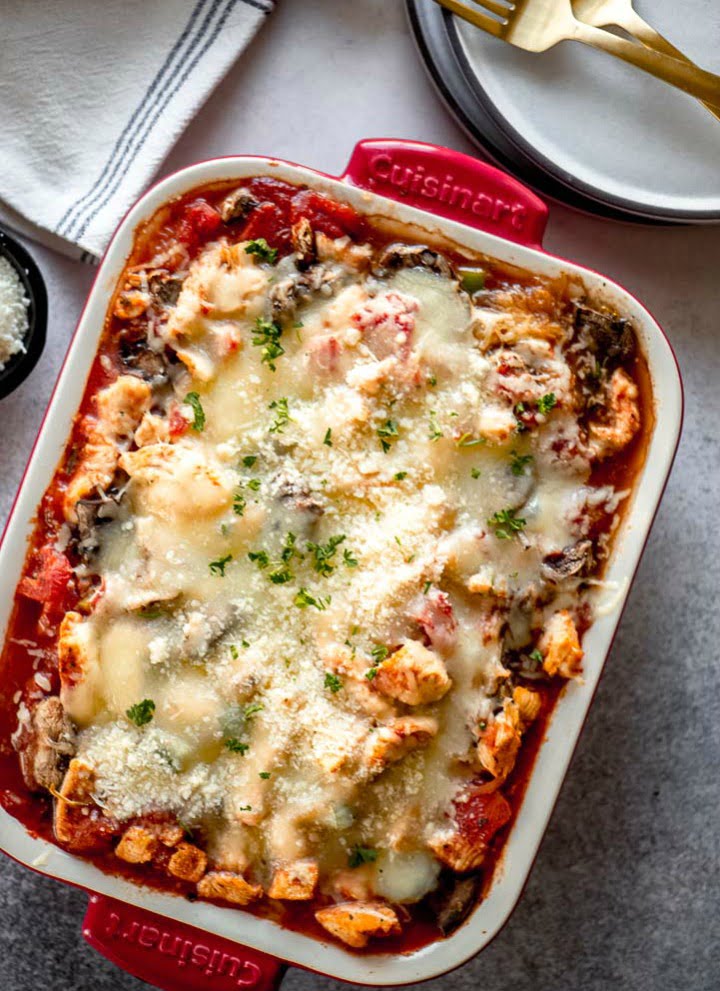 What are casseroles?
Basically, a casserole is nothing more than a few ingredients baked together in a pan. They can be sweet or savory, eaten for breakfast, lunch or dinner. Casseroles are versatile, easy to throw together at the last minute, freeze well, and are a great way to use up leftovers lurking in the fridge.
Chances are, you have eaten a casserole at some point in your life. Some of my favorite casserole recipes are:
I love them, but apparently, there are people out there who detest casseroles. The mere mention of the word "casserole" can make them run in fear. I suppose that if I were left to choose between a mushy casserole made with cream-of-something soup or a plate of lasagna roll-ups, I might choose the lasagna.
The thing is, I'm here to prove to you casserole haters out there that casseroles are not ALL mushy and gross. There are some awesome casserole recipes in the world.
Think about this… Casseroles are essentially one-pan meal prep recipes. They freeze beautifully, and since casseroles were here long before the idea of make-ahead meals, I think that makes them uber cool!
Chicken Casserole with Spaghetti Squash
My chicken casserole is full of flavor and real food ingredients. So please don't fear this chicken dinner recipe; it makes a quick, easy, and delicious meal.
Just open your mouth and close your eyes and you will get a healthy casserole surprise! 🙂
Tips for creating perfect casseroles
The first rule of casseroles: Use enough liquid to assure that any grains and meat in the casserole don't dry out in the oven.
I realize that some people LIKE the crusty, crunchy edges in a casserole, but not this girl. I want every bite to be juicy and moist. You can have my crispy edges, okay?
The second rule of thumb: There will never be a casserole with too much cheese.
That rule may only be pertinent in Wisconsin, where fresh cheese is in abundance. Regardless, there is something wonderful about eating a forkful of a cheesy casserole, having warm cheese run in strands from the fork down onto your chin.
This low carb chicken casserole with spaghetti squash has all of the elements noted above, and it's sure to please even the casserole haters in your family.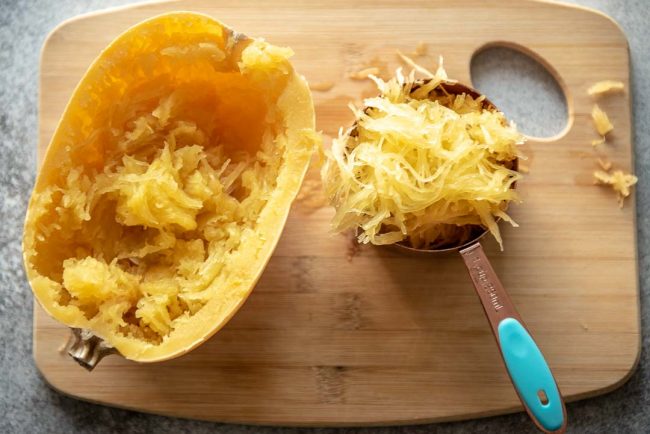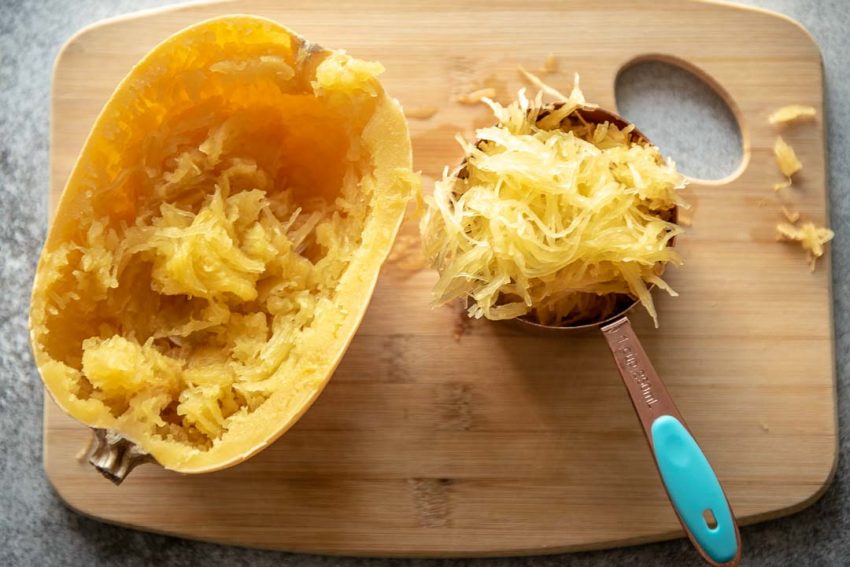 Is spaghetti squash good for you?
For those trying to eat healthier, rejoicing may be in order, as spaghetti squash is gluten-free, low carb, and keto friendly! In fact, spaghetti squash is also paleo and Whole30 compliant! Of all the winter squashes, spaghetti squash is my favorite.
Because it comes out of the squash in long strands, I use it as a low carb substitute for pasta when I make Shrimp Scampi
Using spaghetti squash in this low carb chicken casserole makes it easy to get extra veggies into your diet. Most kids love spaghetti squash, especially with a chicken dinner.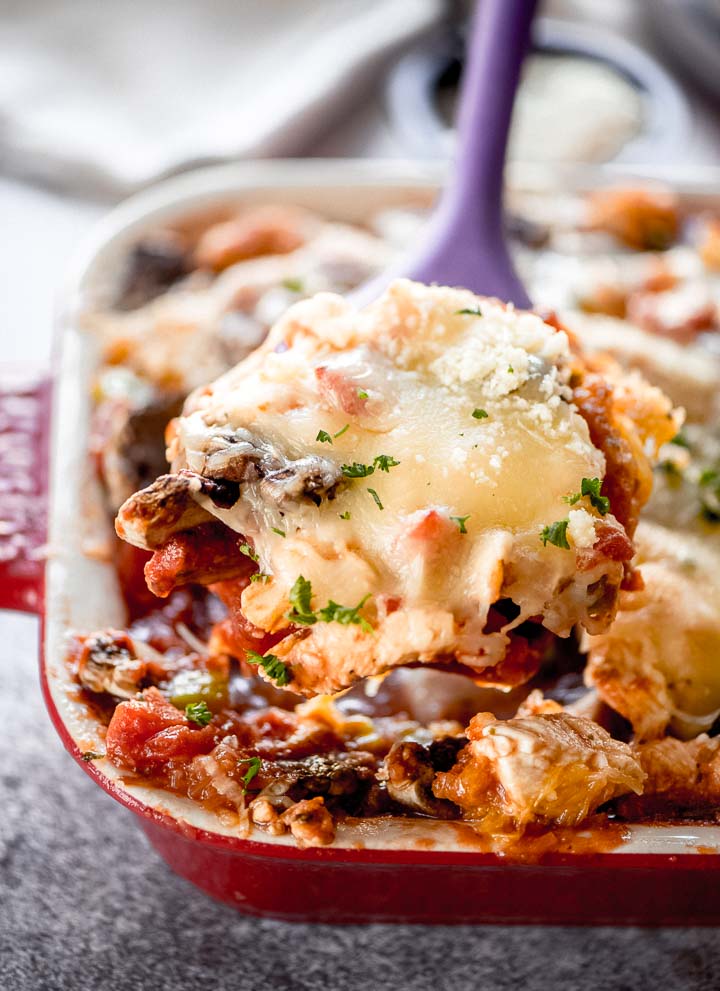 If you plan to make or have already made this easy chicken dinner recipe, will you please leave a comment and rate the recipe for me?
Your comments and recipe ratings help me to know how I'm doing, and it helps other readers to know how well a recipe will work for them. Thank you!
Other easy chicken dinners to make:
chicken casserole recipe notes
Sadly, because cheese isn't allowed on the Whole30 plan, this low carb chicken casserole is not paleo or Whole30 compliant. But it IS a gluten-free casserole recipe. You can certainly make the casserole recipe without cheese, or substitute nutritional yeast for the cheese, if desired.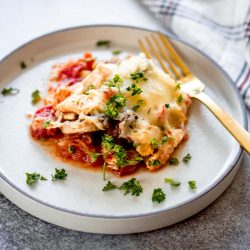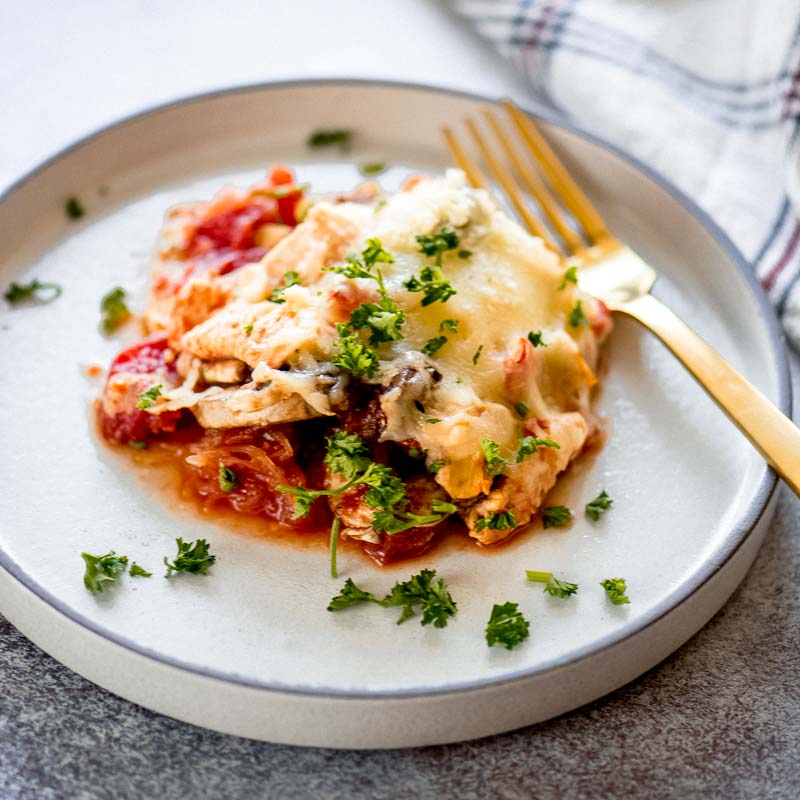 Chicken Casserole with Spaghetti Squash
This spaghetti chicken casserole is a budget-friendly, healthy chicken dinner recipe. Everyone in the family will love this chicken dinner. It's a great meal prep idea for make-ahead freezer meals.
Ingredients
3

cups

cooked spaghetti squash

(1 large squash)

2

Tablespoons

chopped fresh parsley

divided

¾

cup

chicken bone broth

or chicken stock

5

ounces

tomato paste

4

ounces

mushrooms

fresh or canned, sliced

½

cup

onion

chopped

½

cup

green bell pepper

chopped

12.5

ounces

canned diced tomatoes

with liquid

1

tsp

dried basil

1

tsp

garlic salt

½

tsp

Italian seasoning

¼

tsp

black pepper

1

pound

boneless skinless chicken breast

cut into bite-sized pieces

1

cup

shredded mozzarella cheese

¼

cup

grated parmesan cheese
Instructions
Heat oven to 375° F.

Lightly coat a 2 quart (or larger) casserole dish with non-stick cooking spray.

Spread cooked spaghetti squash into an even layer on the bottom of the dish.

In a small bowl, stir together 1 tablespoon of the parsley and all

remaining ingredients except chicken and cheeses. Pour contents over the squash.

Arrange chicken pieces over the squash mixture.

Cover dish with aluminum foil and bake for 25 minutes, or until chicken is no longer pink.

Uncover and sprinkle cheeses on top.

Return to oven and bake uncovered for another 10 minutes, or until cheese is melted and bubbling.

Sprinkle remaining 1 Tablespoon parsley over casserole just before serving.
Nutrition
Serving:
1
serving
Calories:
218
kcal
Carbohydrates:
12
g
Protein:
25
g
Fat:
7
g
Saturated Fat:
3
g
Cholesterol:
66
mg
Sodium:
947
mg
Potassium:
791
mg
Fiber:
2
g
Sugar:
6
g
Vitamin A:
815
IU
Vitamin C:
25.5
mg
Calcium:
189
mg
Iron:
2.2
mg