Chocolate Sour Cream Bundt Cake
Chocolate sour cream bundt cake is everything you dream of when you want a moist, decadent chocolate cake. With fresh whipped cream and strawberries on top, this is the perfect dessert!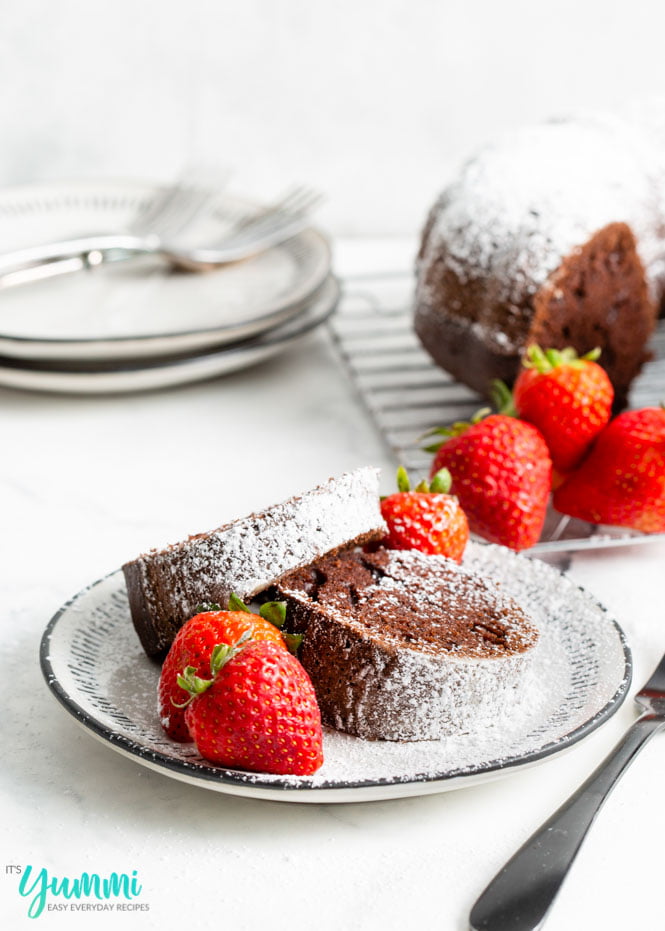 Do you crave moist chocolate cake? Do you dream about it? We know we do! That is why we are bringing you this recipe for chocolate sour cream bundt cake today! Because it is seriously the besttttttt and is truly where chocolate dreams begin. ????
Some recipes are so complex that they require detailed, step-by-step instructions, complete with a photo tutorial. In my experience, those types of recipes are almost always worth the extra time and/or effort required to complete them to perfection.
But let's be real here… how many of us have time in our day (or DAYS) to master a recipe so gourmet and fancy that the title requires at least one word in Italian or French? Or if you DO have time to spare, do you really want to spend it hanging out waiting for your masterpiece to come to fruition?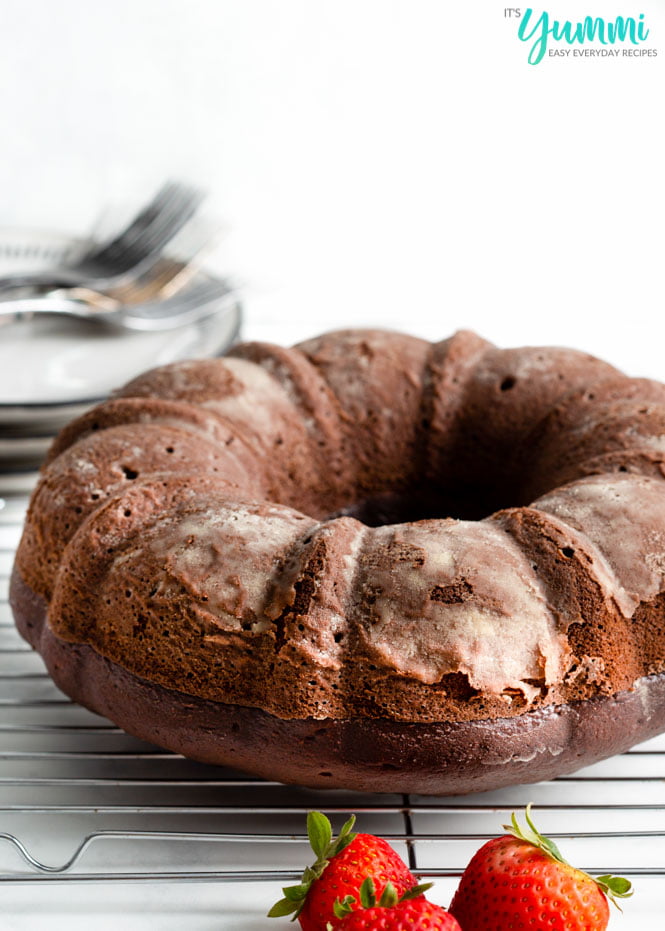 I can't even begin to describe how many profiterole fails happened before I got it. It's time when this easy chocolate bundt cake 100% deserves a spot in the kitchen more often than the more complex desserts..
Have no time but want something easy and sweet? This chocolate sour cream bundt cake is for you. As you see below you get sweet sweet chocolate perfection. Queue heavenly chocolate pours that will convince your soul….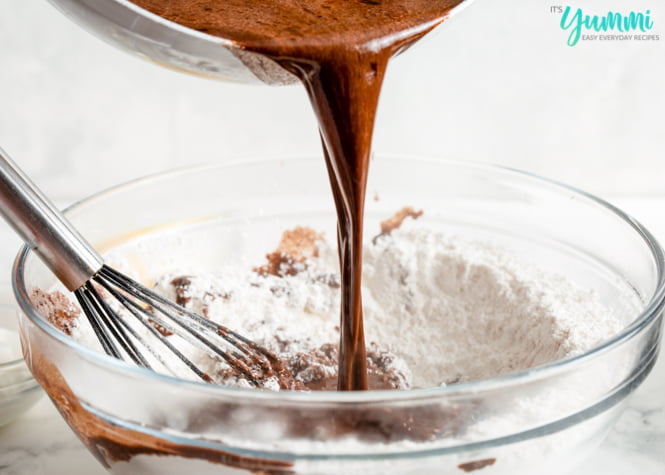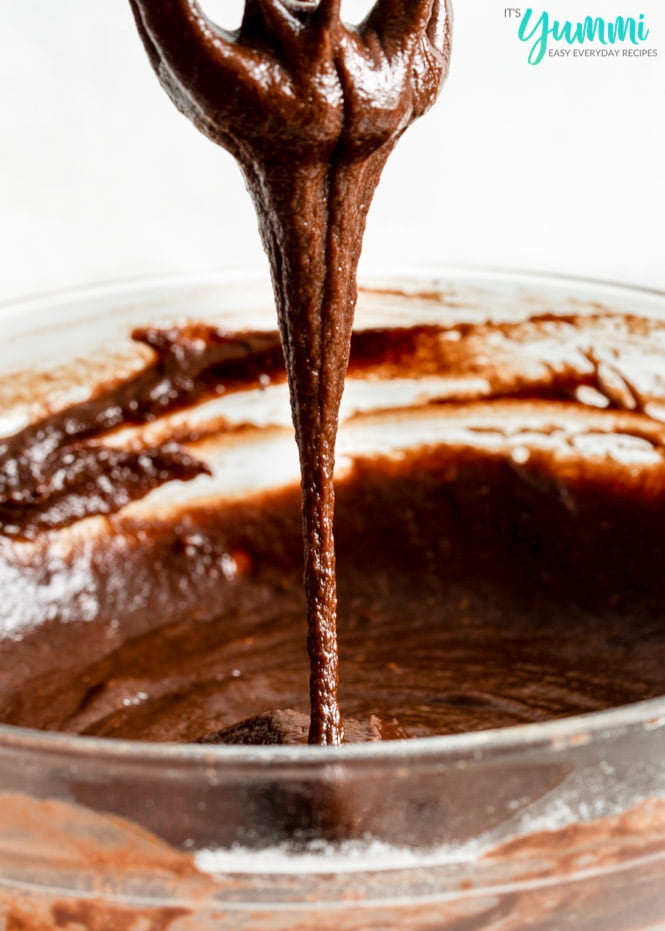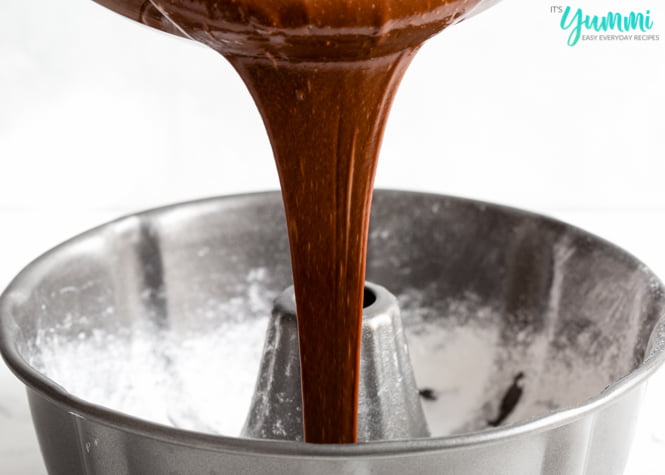 Something about pouring chocolate goodness just sings to our soul. ????????????
Some Baking Tips when it comes to our Chocolate Sour Cream Bundt Cake
Just a heads up and as you can probably see with the above picture. The batters end result is a bit thick after stirring in the flour. It will thin up after you add the remaining ingredients though so have no fear. I do recommend opting out of using the whisk at this stage because you'll just end up with clumps all in the whisk. Anyone else hate when that happens?
The Bundt Pan – We've found you really can use any bundt or tube pan that you have. This recipe in particular is pretty forgiving and doesn't stick horribly at all.
I suppose that I'll make that time once or twice a year for the more complicated desserts when I'm in the mood or it's for fancy birthday dinners or special holidays. But there are days, like today, where all I wanted is a slice of decadent, moist chocolate cake, and I don't want to wait days for it!
I am not the most patient person in the world just so you know.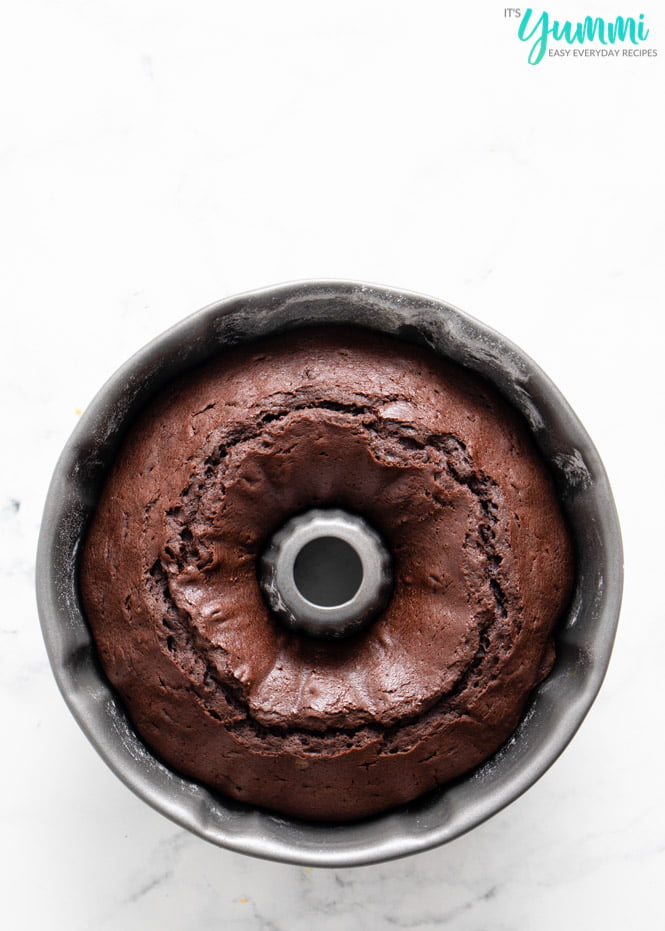 Topping Options for this Chocolatey Bundt Cake
Powdered Sugar – This is the option that we opted for, easy and beautiful. Told you we were being lazy. ????
Chocolate Ganache – You can make this extra chocolatey by pouring a chocolate ganache over the top with our homemade ganache recipe.
Caramel Glaze – Now I know this isn't everyones go-to flavor combination but it's seriously FANTASTIC. With autumn quickly approaching I need all the excuses to add more caramel to my life. Use our Microwave Caramel Sauce Recipe.
Now all you need to do is take 30 minutes out of your day and you can relax with a plate of this chocolate cake. Hello perfect chocolate cake bliss. ???? ????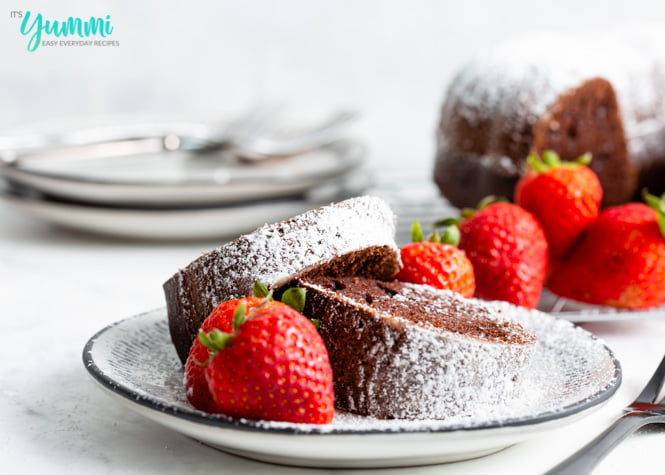 If you love bundt cakes try these cake recipes next!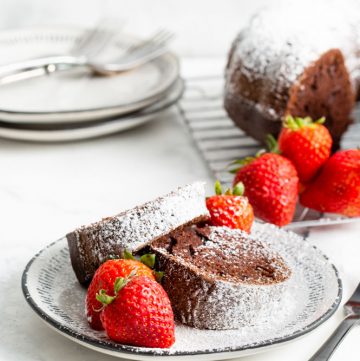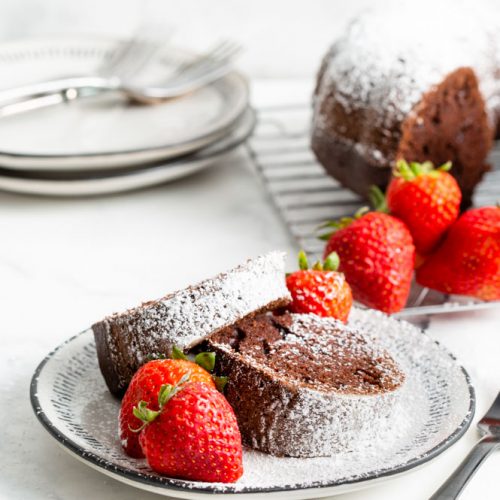 Chocolate Sour Cream Bundt Cake
This rich chocolate sour cream Bundt cake is splashed with a little dose of coffee, and is truly a dreamy, decadent dessert that you will have a difficult time forgetting!
Ingredients
8

ounces

unsalted butter

, (2 sticks) plus more for the pan for greasing

1

ounce (1/3 cup)

Dutch process cocoa powder

1

teaspoon

kosher salt

6

ounces (3/4 cup)

water

2

ounces (1/4 cup)

brewed coffee

9

ounces (2 cups)

all-purpose flour

plus more for the pan

1

cup

sugar

1

teaspoon

baking soda

2

large eggs

½

cup

sour cream

1

teaspoon

pure vanilla extract

Confectioners sugar

for dusting (optional)
Instructions
Heat oven to 350°F (325°F if using a dark nonstick or a silicone baking pan) Butter and flour a 10- or 12-cup bundt pan and set aside.

In a small saucepan over medium heat, combine the butter, cocoa powder, salt, water, and coffee. Cook, stirring, just until melted and combined. Remove from the heat and set aside.

Place the flour, sugar, and baking soda in a large bowl and whisk to blend. Add half of the melted butter mixture and whisk until completely blended (the mixture will be quite thick). Add the remaining butter mixture and whisk until combined. Add the eggs, one at a time, whisking until completely blended before adding the next egg. Whisk in the sour cream and vanilla extract until smooth.

Scrape the batter into the prepared pan and bake until a toothpick inserted into the center of the cake comes out clean, about 40 to 45 minutes. Place pan onto a cooling rack and allow the cake to cool in the pan for 15 minutes, then invert onto a rack and allow cake to cool completely.

Lightly dust cake with confectioner's sugar or garnish as desired.
Nutrition
Serving:
1
slice
Calories:
362
kcal
Carbohydrates:
43
g
Protein:
5
g
Fat:
20
g
Saturated Fat:
12
g
Cholesterol:
83
mg
Sodium:
375
mg
Potassium:
103
mg
Fiber:
2
g
Sugar:
20
g
Vitamin A:
644
IU
Calcium:
32
mg
Iron:
2
mg